Chosen ahead of Cesc Fabregas for AS Monaco's crucial away clash with high flying Nantes, Adrien Silva's impressive performance vindicated Leonardo Jardim's decision to hand him the start.
Adding stability, balance and serving as a key figure on both sides of the ball, the Portuguese midfielder was a vital component in Monaco registering their first away win of the season. By beating Ligue 1's second placed team 1-0, the Monegasques have significantly now won four of their last five matches and moved into equal eighth on the table. And Silva certainly played his part in triumphing over the extremely tough to beat Canaries.
To start with his defensive exertions, and he helped Monaco limit the effectiveness of the Nantes frontline through his reading of the play, positional sense and diligence. From his holding midfield station, Adrien did a proficient job of protecting his backline by blocking passing lanes and dropping back to support his colleagues when needed. By checking his surroundings, this meant he could situate himself to use his cover shadow to cut the supply lines to the Nantes frontline and be awake to any runners bursting into the box or into the channel.

Using his cover shadow to block multiple passing lanes
This subsequently saw him make some vital interceptions to break up many of Christian Gourcuff's team's attacks in varying areas of the pitch.
It was also positive to see him recognise when to step out and respond to pressing triggers like when an opponent received with their back to goal or in an open body posture. In addition, the way he timed his interventions cleanly, shifted to the ball near side to suffocate his adversaries and responded swiftly to second ball sequences to recover possession for his team warranted praise.

Top pressing and reading of the play

Excellent backwards pressing
Constantly communicating with his colleagues and putting his body on the line, which even meant he suffered a nasty head knock before getting bandaged up to continue, his leadership was another upside.
Meanwhile, on the attacking end, Silva played an integral role in connecting and constructing Monaco's attacks with his passing, ball carrying and movement. Distributing the ball with clarity and precision, his decision making and judgement was typically on point. This subsequently meant he could break the lines with vertical passes, switch the angle of attacks, recirculate possession calmly or engage in some fast combination play.

Terrific line breaking pass

Wicked pass to break the lines
Getting the ball into the likes of Aleksandr Golovin, Islam Slimani and Wissam Ben Yedder accurately and with ideal weighting, this gave them the opportunity to receive and do damage in the final third.
In terms of his dribbling, and the Leicester City loanee used his close control and first touch to weave out of trouble, protect the ball or to beat his man or buy time before executing his actions. Checking his surrounds nicely by scanning his environment, Silva could therefore identify where his opponents were located so he could adjust his receiving angle, turn and receive in the one motion or play a quick lay off.
Tying everything together with his movement, Silva took up strong positions to provide an option and to help create space for others. Knowing when to move to generate 3v2 numerical superiorities to aid build up, these overloads were key in breaking the Nantes press. In addition, the way he'd position himself between the first and second line of Nantes' setup effectively pinned the Nantes front two centrally, which crucially created space for the sidebacks to push up and dribble forward.

Silva helping generate a 3v2 in midfield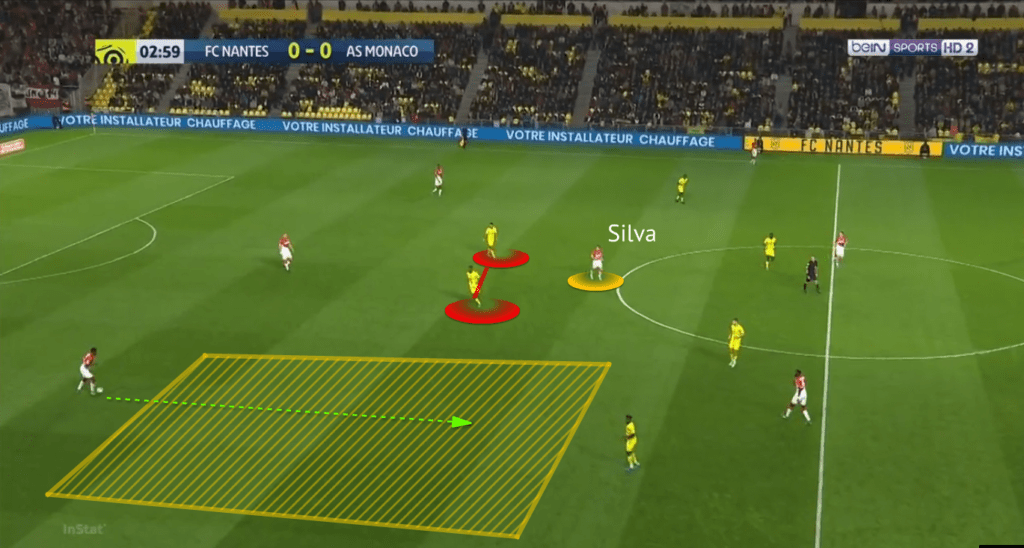 Silva pinning the Nantes first line to create space out wide
His deep lying positioning notably gave his team an option to recycle possession if they couldn't break through while giving their backline security in case of a turnover. The way he embarked on the odd upfield burst to receive in ideal forward facing postures also added variety to his game.

Smart run to exploit the space and receive in a forward facing shape
By the numbers, his 10 interceptions, eight ball recoveries, seven tackles, two blocked shots, three clearances, three accurate long balls, four successful final passes into the final third at 80% and the fact he completed 47 of his 51 attempted demonstrated his all-round contribution.
Cool under pressure and fulfilling his responsibilities with assurance, the polished 30-year-old, who's only started five of Monaco's 11 league games, once again reminded his manager of what an important member of the squad he is.
With challenging fixtures coming up against Marseille in the cup and Saint-Etienne and Dijon in Ligue 1 action ahead of the next international break, Silva could well prove vital in propelling his team into the European places by then if consistently given a chance.