Compared to Robert Lewandowksi and Martin Palermo by Argentine U23 manager, Fernando Batista, and drawing interest from a host of European clubs, Adolfo Gaich's certainly come into sharp focus in recent times. 
One of the hottest properties in Argentine football at present, the powerful, multifaceted San Lorenzo striker looks set to make the step up in class in the near future. With no shortage of suitors including Barcelona, AS Monaco, AS Roma, Paris Saint-Germain, Manchester United, Galatasaray and Club Brugge, Batista believes Gaich is ready for whatever challenge he chooses. "I am not surprised that Barcelona is looking for Adolfo as a future project. It is worth betting on Gaich. I do not have doubts," he gleamed.  
"He has power, is great in air play and is strong. In runs in open play, his speed can also prevail. Despite his height of 1.90, he knows how to get an opponent off his back. His characteristics would perhaps fit better in the Premier League, in the Bundesliga or in Italian football. But he could also play perfectly in Spain and in Barcelona."
Although an inherent period of adjustment would be needed, one factor that should help his on field integration is his mature frame and that he's comfortable with the physically demands senior football requires.
Upon analysing his game, and it's easy to see why the man who's earned one senior Argentine cap is such a coveted young player. Having scored five goals in his last seven Superliga matches before football was put on hold, Gaich's devastating form owed much to his instinctive movement, reading of the play and already well developed finishing. 
Providing the platform for him to be such a menace, his movement has been a joy to watch. Reading the play so astutely, which gives him the information he needs where and when to begin his runs, he's shown great awareness. Indeed, this allows him to embark on his runs with precise timing and directing, as he gets the jump on his markers.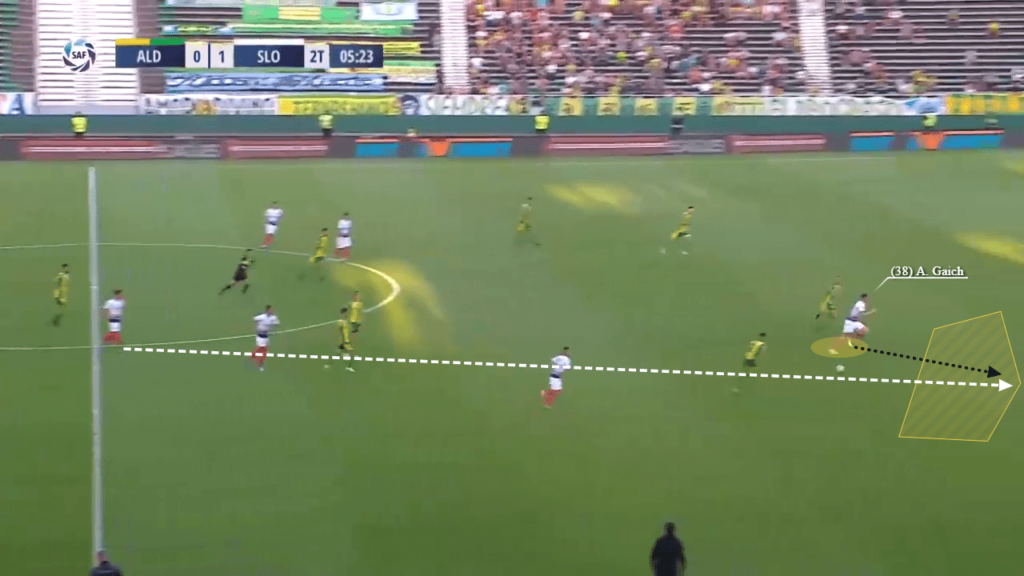 Smartly timed depth run
Quality angled run to latch onto the through ball
Moreover, how he targets gaps between defenders, when his man is ball watching or preoccupied, uses blindside runs and how he gives himself separation before starting his run so he can get up to speed to gain momentum on his man have all been fine assets. 
Brilliantly timed run in behind as his timing is spot on
Crafty channel run as he notices the opposition fullback out of position
Another byproduct associated with his smart positional sense emerges from how he frequently draws and pins one or more opponents to open up space for others (as illustrated in the graphic below).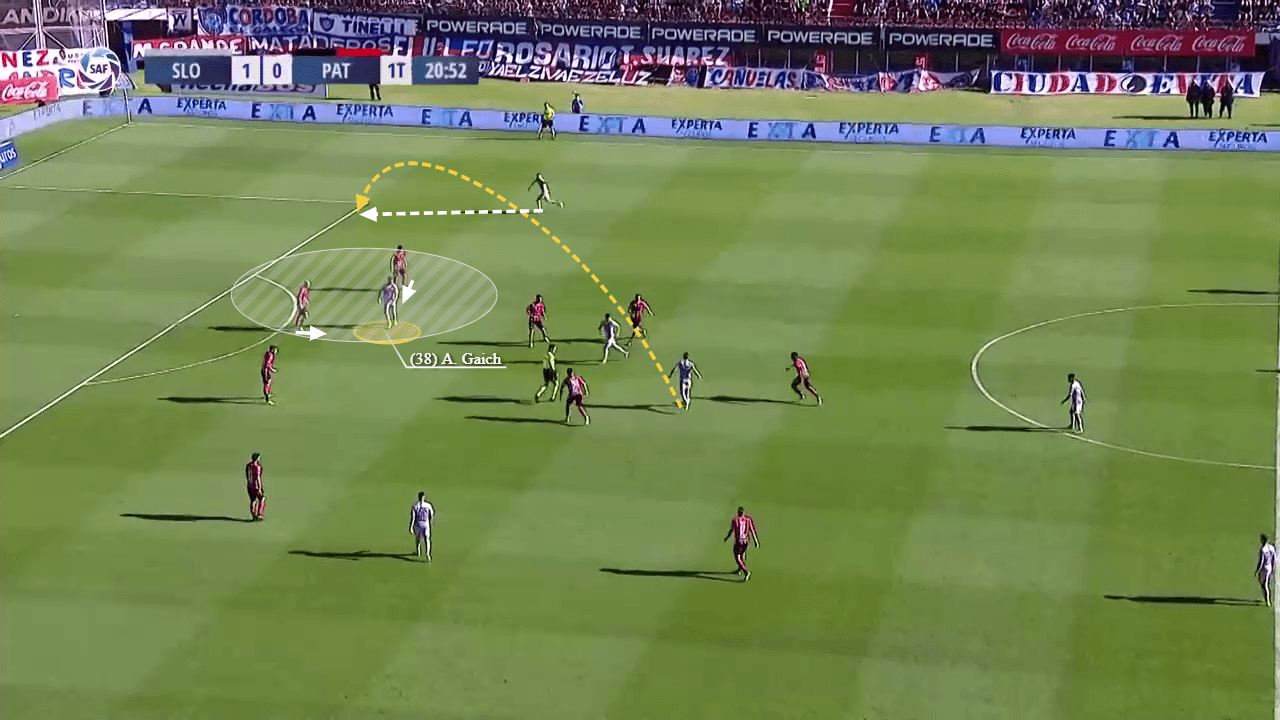 Drawing two markers to free up space for his winger
Upon parlaying this with how he picks up the ball's flight rapidly so he can attack deliveries into the box or adjust his runs in relation to the ball's speed and trajectory has amplified his threat. Indeed, this has made him a particular weapon inside the box, where he can then put his clinical finishing to good use.
An impressive finisher, who's scoring 0.62 goals per 90 from an XG reading of just 0.37, how he's clinically converted his chances has definitely caught the eye. Although he's benefitted from the odd poor piece of goalkeeping and defensive error by opponents, the way he can find the back of the net in a variety of ways and gets into such quality positions has been notable.
Able to net with slick placed finishes with his instep, use his poaching prowess from close range, blast home with scorching power and use his amazing leap to rise above his man and score glanced or powered headers, he's unquestionably a danger for any backline. It also warrants mention how his strength helps him hold off opponents to remain balanced so he can still get shots off despite being under duress. 
Amazing first time volley direct from a cross into the area
Powerful and accurate finish from the angle
Using his powerful leap and judgement to head home
Superbly placed finish into the corner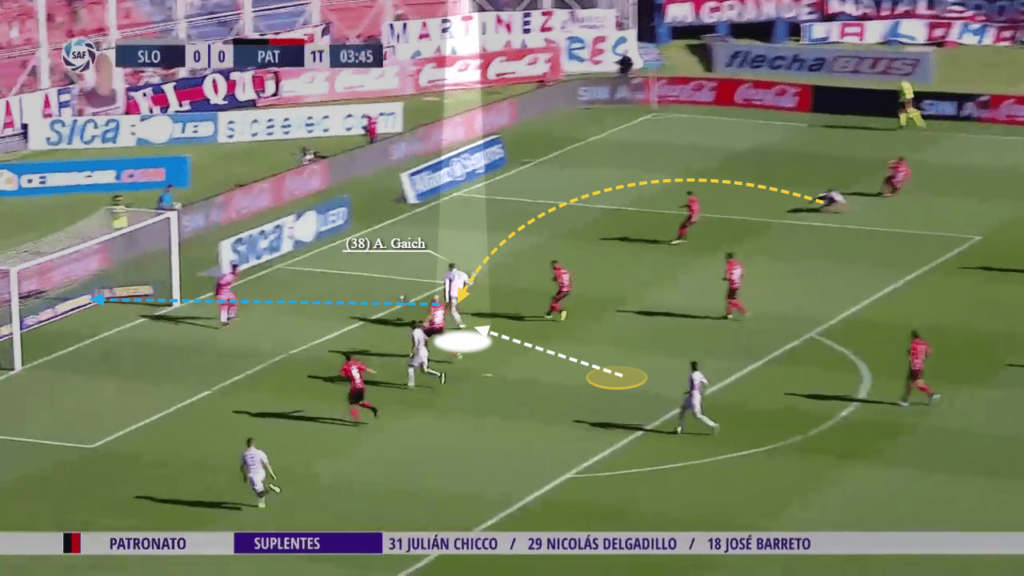 Smartly timed run and finish as his reading of the play is superb
The hulking Gaich's size and athleticism also puts him in good stead when holding up the ball and in aerial confrontations. Able to use his arms and body to unbalance and fend off challenges, this means he can set himself to control the ball with his feet or get the upper hand when using his dynamic leap for headers.
To focus more on his heading, and this is a key piece of his arsenal, for the 190cm spearhead offers a quality target for goal kicks, when his team need to go long when pressed and for both offensive and defensive set pieces. Whether flicking the ball on to a coordinated run from a fellow attacker, nodding it down to a teammate in front or directing his efforts on goal, this element of his play is at a good standard. 
Excellent flicked on header into the path of Romero
Meanwhile, in terms of his work with the ball at his feet, he's proven he is a competent passer and dribbler. Even though there's room for improvement in this compartment, as his touch can let him down on occasion and he sometimes loses the ball cheaply, he still does some excellent work. 
Improving all the time with his link play, there's been many instances where he's remained composed to hit some neat one touch passes to forward facing teammates, slid a through ball into a teammate, crossed effectively and switched the angle of attacks. Looking at his passing statistics that state he only completes 69.4% of his passes, and it's clear he has some work to do here. But it must, however, be noted that he plays in a heavily populated area of the pitch so it's only natural his figures will be a bit lower.
Despite looking awkward at times on the dribble, Gaich's demonstrated what a handful he can be when afforded space to surge into. Boasting good pace for a man of his size and able to outfox his marker with some neat body swerves, feints, shoulder drops, stop gos and the odd nutmeg, he's no slouch in 1v1s.
Some additional statistics that punctuate his promise come from his 3.58 touches inside the box per game, 2.44 shots pg, 2.13 dribbles pg, 3.32 won headers pg, 0.62 shot assists pg and 1.66 fouls suffered pg.
Still just 21 and with such a huge scope for improvement, it's understandable why Gaich is attracting interest from many elite European outfits. In the case of Robert Moreno's Monaco, he'd certainly give them some extra firepower while nicely supplementing their already exciting frontline that includes the likes of Aleksandr Golovin, Wissam Ben Yedder and Islam Slimani. 
If any deal were to be struck, it's expected the transfer fee would be around the €15 million mark, which is pretty good value for a player of his age with so much upside.
While he's still got a long way to go to reach the levels of Lewandowksi and Palermo, all the signs are evident that he should enjoy an excellent career. He'll just need to ensure he chooses his next destination wisely and make sure he joins a team that suits his style and that plans on giving him plentiful game time.