Such an integral component of Robert Moreno's AS Monaco outfit, the club deserve immense credit for wisely extending Aleksandr Golovin's contract.
Securing his services for an additional year, the extremely talented Russian midfielder is now signed up until 2024, something the club would be absolutely delighted about given he's a significant part of their plans to return to the upper echelons of European football. 
Now in his second year with the Red and White, the gifted 23-year-old continues to go from strength to strength. After a difficult first season, where the club endured plenty of issues both on and off the pitch, his second term's been one full of upside.
Whether playing under former manager Leonardo Jardim or Moreno, Golovin's been a major contributor towards Monaco reviving their season in recent months, as he's played the third most minutes of any Monaco player on 2069.
Able to be deployed in a number of positions, including as a central midfielder, a number 10, out wide or as an inside forward, his versatility has given his coaches plenty of flexibility as to how best to deploy him depending on the opposition. In addition, the fact he's comfortably adapted to playing in many tactical systems ranging from 5-3-2, 4-4-2, 4-3-3 and a 4-4-2 diamond only amplifies his value. 
A technically elite player, his work with the ball at his feet gives him a fine platform to impact proceedings. Using his masterful first touch and Velcro like ball control, these serve him well in so many situations. Upon factoring in his awareness, which is enhanced by his quality head scanning, and this adds to his menace.
Capable of twisting and turning out of danger and wriggling out of tight jams while protecting the ball in the process, Golovin's maneuverability is a big asset. Moreover, how he can outfox his man with stepovers, wicked changes of direction, feints, shoulder drops and pass and shot fakes, further complicates things for his opposition. 
Remaining composed under pressure as he coolly assesses his options, this allows him to make coherent decisions on the ball. Aside from effectively provoking pressure from opponents, thus allowing him to find a free man upfield, this also sees him pinpoint teammates with his incisive passing. 
Boasting an excellent passing repertoire, the former CSKA Moscow starlet can find his targets over short, intermediate and long distances. Excellent at combining smoothly in confined zones, where his cushioned lay offs, backheels and neat flicks are beneficial in unlocking defences, his aptitude here animates many attacks.
So creative and ingenuitive in his passing, his ability to break the lines with his penetrative vertical passing, play in his colleagues with defence splitting through balls and hit diagonal passes that move can crucially move defences horizontally and vertically, offers another dimension for Monaco. Furthermore, by possessing that rare quality of being able to conjure a moment of magic in the final third makes him particularly handy against deep sitting backlines.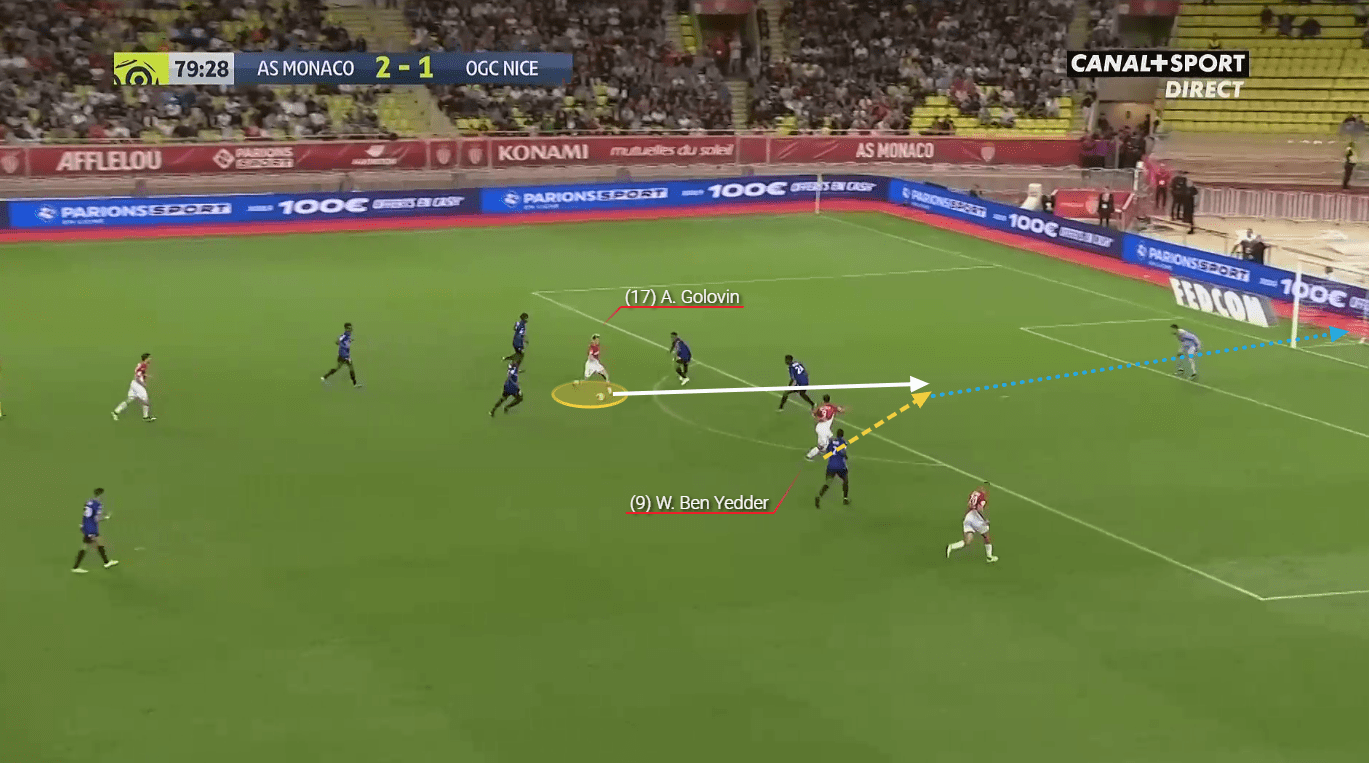 Golovin's precise, defence splitting through ball assist
Lovely through ball to oblige his fullback's run
While he's never afraid to attempt riskier, progressive passes, the way the set piece specialist recirculates possession patiently and switches the angle of attacks with raking diagonals ensures he blends his playmaking gifts with sound judgement. 
Sublime set piece to tee up Bakayoko to score
Terrific corner to set up Slimani's goal
Tying everything together with his strategic movement, there's a lot to like about his work in this compartment. Typically granted a good deal of freedom to use his spatial understanding, he picks his moments when to move into unoccupied space.
A master at exploiting spaces between the lines and in the half spaces, where he constantly asks questions of defenders, Golovin's brilliant at finding room to connect play. Moreover, how he checks his surroundings means he knows where nearby defenders, teammates and the vacant spaces are located so he can choose the best course of action to take. 
Another vital feature is how he often receives the ball in goal facing postures, thus ensuring he can instantly drive ahead, which is far more preferable to receiving back to goal.
Top job of finding space between the lines in a goal facing posture
Great scanning and space finding to support the attack
Being so elusive and hard to monitor, he's transferred this over to when he's running in behind or marauding forward into the box. Timing and directing his runs in order to remain untracked, he takes full advantage of defenders being preoccupied by the ball or their opponent to gain an edge. Especially key has been his late arriving surges into the box that places him in excellent positions inside the box to shoot or assist a teammate.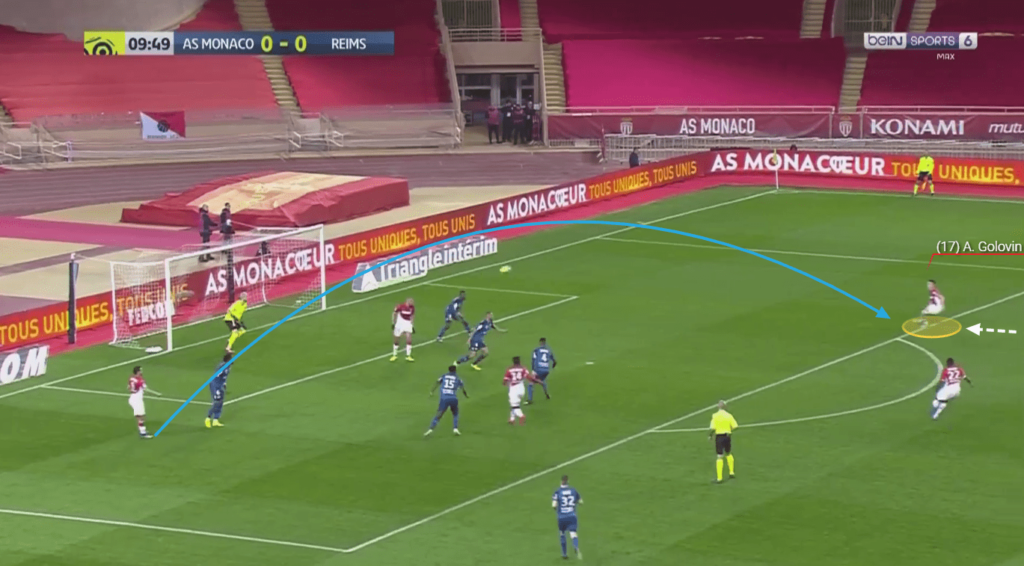 Ghosting into the box smartly to create a chance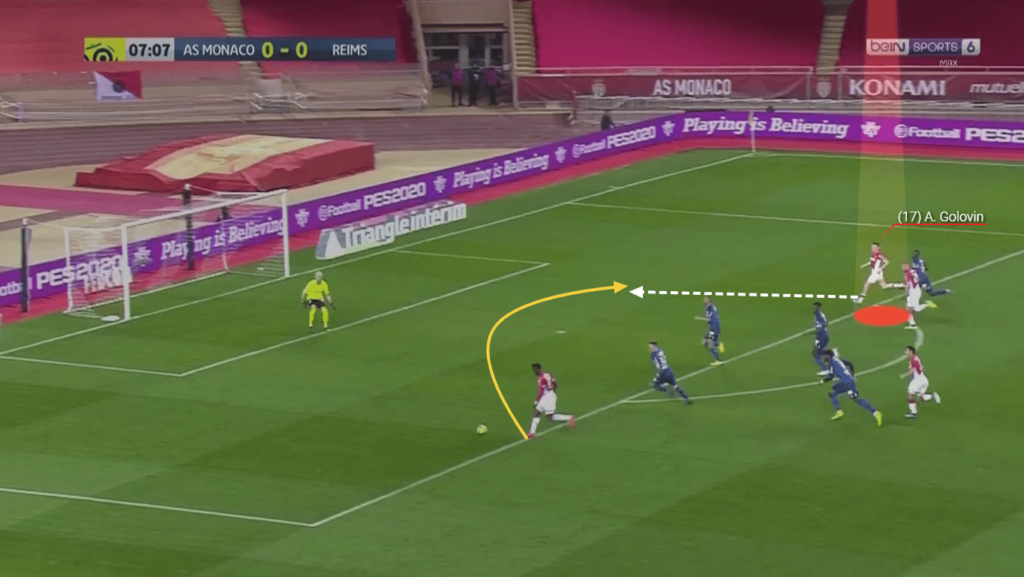 Superb blindside run into the box
Wicked run in behind the defence
Nifty depth run on the counter
Meanwhile, if Monaco require some extra control in midfield, Golovin will smartly drop back into deeper areas to help form numerical superiorities to support their attempts to build play. In doing so, he can notably use his progressive distribution to breathe life into attacks and operate under less pressure, thus allowing him extra time on the ball to orchestrate moves. 
Intelligent movement and awareness to form a 4v3 to free up Fabregas
Developing his relationships with his teammates all the time, it's been encouraging to see some slick rotations with his colleagues and how he's right on the same page as them. Giving Monaco some additional offensive impetus by altering defenders' reference points, this dovetailing has been another string to his bow.
Golovin gave a fascinating insight into the aforementioned, where he spoke of the almost telepathic relationship he shares with Wissam Ben Yedder and Islam Slimani. "I'm very comfortable playing with them and we understand each other very well on the pitch," he explained.
"At times, I don't even need to look to know where they are. Ben Yedder is a great player and spent several years in Seville, so he knows the game quite well – just like Slimani."
A significant byproduct attached to his intelligence here arises from how it manufactures space and opens pass routes for others by drawing and pinning opponents out of shape.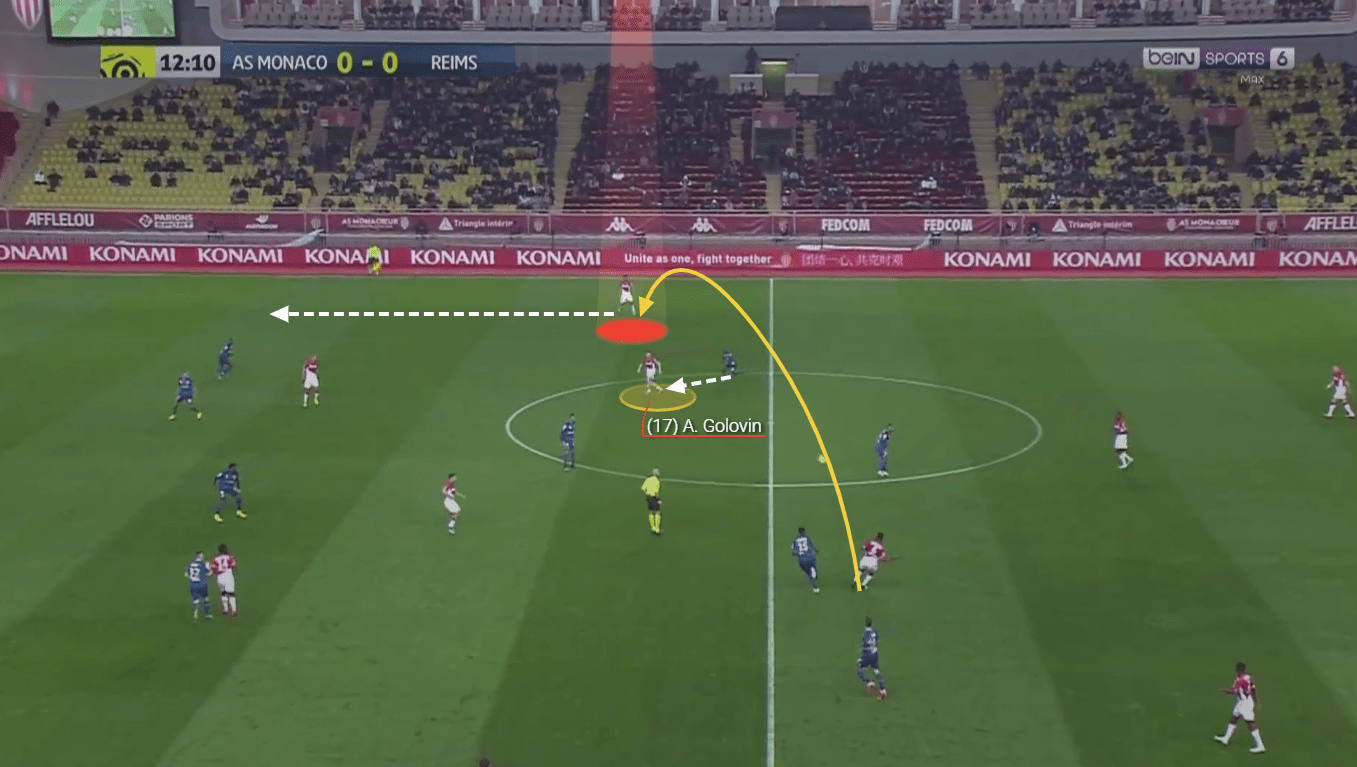 Pinning his marker infield to create space for his fullback
Golovin's smart movement to draw his man and find Aguilar's third man run
By the numbers, his 1.93 shots per game, 36.16 passes completed pg at 82.8%, 2.54 dribbles pg, 1.85 shot assists pg, 2.41 touches inside the box pg, 2.63 progressive runs pg, 1.5 fouls suffered pg and 6.72 accurate passes into the box and final third pg depicts his qualities. 
While the fleet footed technician recognises the need for more consistency and improvement in his game, there's no doubting what an exceptional player he is at present. With the potential to be a truly world class offensive midfielder, it'll be fascinating to observe his development. 
Working in an environment where he gets to train with and learn from some experienced midfielders such as Cesc Fabregas and Adrien Silva every day, this should unquestionably help his cause to become a bonafide star.
Such a highly coveted player who was reportedly attracting interest from the likes of Chelsea, Arsenal and Juventus, Monaco have done brilliantly to lock in his future with the club, for his best is still yet to come.