After scoring his 19th Turkish Super Lig goal this season last weekend, Alexander Sorloth was aptly nicknamed the "King of the North" by his countryman and national team colleague Erling Haaland.
In absolutely scintillating form this campaign, the Norwegian's been a tremendous driving force behind Trabzonspor's fine season that sees them sit second in the standings with a game in hand.
Moreover, the fact he's bagged 25 goals in all competitions duly punctuates what a weapon he's been for Huseyim Cimsir's men. His form's been in stark contrast to his time at Crystal Palace, which saw him struggle badly before being sent out on loan to Gent, where he regained some confidence working under his boss from his time at Midtjylland in Jess Thorup.
Not considered to be worth keeping for this season either by Palace manager Roy Hodgson, Sorloth has relished his loan opportunity in Turkey, as he's found the best form of his career during his loan spell. Being in such lethal form, the imposing 24-year-old's now reportedly attracting the interest of some of the most prestigious European clubs including Real Madrid, Bayern Munich, Manchester United and AS Monaco.
The player himself was quick to play down these rumours when speaking to Diario AS, stating: "I have seen the rumours. There are always many. I've read about it and I keep getting told about teams that are interested.
"However, I am focused only on Trabzonspor. There's a great sense of team spirit here and we want to win. It would be irresponsible and inappropriate to talk about a transfer at the moment."
In the case of Monaco, he'd certainly add an interesting offensive option, but his purchase would surely be dependant on the future of Islam Slimani whether the Algerian stays or leaves.
Proving himself to be a hugely challenging proposition for any backline to deal with, the towering 195cm hitman's decisive finishing is one of his most eye-catching attributes. Capable of finding the back of the net with some amazing guided and powerful headers, plus with some instinctive close range finishes, neat efforts when 1v1 with the keeper and some venomous blasts from range, he's been a force to be reckoned with.
His wicked finishes from the left hand side of the box that go across the goalkeeper have been a particular highlight, with keepers and defenders struggling to combat how he blends power, accuracy and finesse.
Incisive, powerful finish from the angle
Towering header and leap to rise above his marker to score
Upon accompanying the aforementioned with his strategic movement, and this is crucial towards him getting into such promising positions to score. Quick to read the ball's flight, where his nearby opponents are and where the vacant spaces are, Sorloth's very effective at targeting specific zones to enhance his shooting chances. Whether it be attacking the near post, peeling off his man to make blindside runs at the back post, making sharp zig zags and stop go movements to gain separation or finding room centrally, he's a tough man to pick up.
Excellent glancing header after his good diagonal movement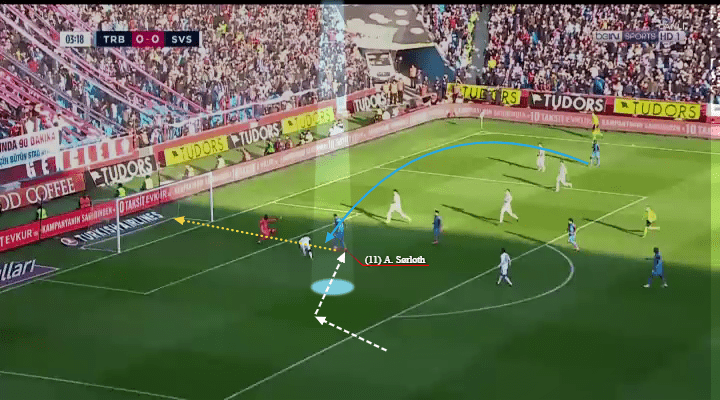 Smart zig zag run to get goalside of his man to finish
In addition, how he picks up the ball's trajectory means he can alter his body position ideally before applying his finishes. The fact he's scoring 0.78 goals per game from an Expected Goals reading of 0.59 demonstrates what an outstanding finisher he's been.
When outside the box, his runs in behind have been a further highlight, for he times and angles them smartly to gain an edge. Boasting good pace for a man of his size, once he sees a colleague with their head up who's aware of his presence, he'll start his movement. Often targeting the space between the two central defenders or the gap between fullback and central defender, he finds openings to embark on his runs unimpeded.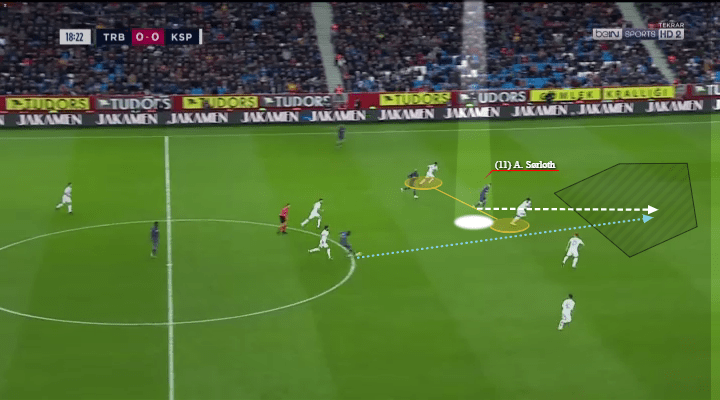 Quality depth run between markers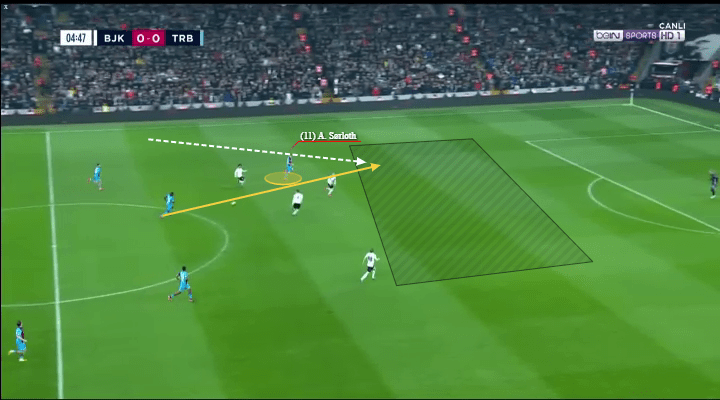 Wonderfully timed run in behind
Crafty blindside run into the box before scoring
By getting on the shoulder of the last man and even remaining offside briefly before getting back onside, he does a fine job of stretching and pinning opposition backlines too, which can create vital space in between the lines for teammates.
Curling his run precisely down the channel
It's been good to see how he'll cleverly pull wide when his team regains possession so he can attack the vacant spaces behind the opposition fullbacks, thus giving his team a good out ball to start the counter while ensuring he has plenty of time to assess his options.
Exploiting the space out wide on the counter
The Stavanger born forward's drops towards the ball to link play have also been of a high standard. Picking his moments when to come short and link play, he's done well holding up the play using his hulking strength and huge frame to protect the ball and withstand incoming pressure. Doing a good job of waiting for the contact so he knows if he can turn his man sharply or needs to shield the ball, he's a handy asset in these instances. The way he unbalances his man with some nifty double movements and by pushing off them before dropping deeper deserves mention, with this being key towards him finding space between the lines.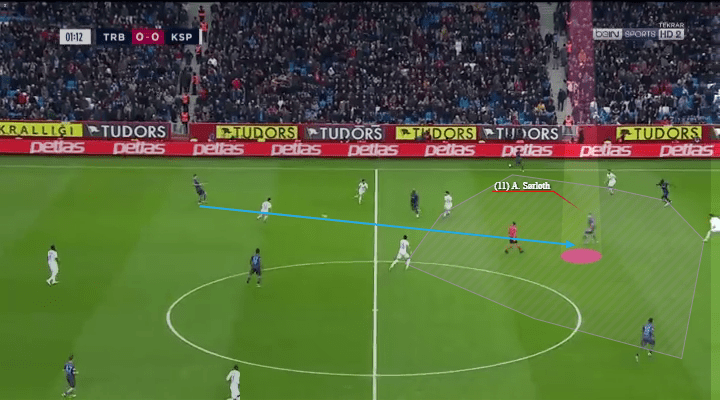 Clever drop between the lines
His usually neat and tidy ball control and first touch place him in good stead to execute his actions cleanly, with him able to fire off passes and knit passes together smoothly. Not one to play a heap of progressive passes, his role is more to lay the ball off to goal facing teammates and add momentum into attacks. But if an opening arises, there's been occasions where he's struck some incisive through balls and penetrative passes, which his seven assists illustrates aptly.
Handy with the ball at his feet, his dribbling has been notable too, for his array of feints and shimmies, plus his athleticism and strength on the ball, have enabled him to power upfield effectively into the final third.
Meanwhile, in terms of his aerial ability, it's fair to say he's an elite target due to his size and judgement. Offering himself as a brilliant outlet for goal kicks, set pieces and from open play, this makes him such a wonderful option if his team can't beat the press, need a route forward quickly or when looking for a target inside the box.
Good headed knock down to a goal facing teammate
Giving his team a great reference point, in combination with how he wins so many of his headed duels, means he can win headed flick ons and knock downs to increase his team's chances of winning crucial second balls. So good in this regard, this allows his teammates to coordinate their movement around him, knowing he'll triumph frequently.
By the numbers, his 4.57 touches inside the box per game, 2.7 shots pg, 2.62 won aerial duels pg, 2.53 successful dribbles pg, 1.96 progressive runs pg and 0.98 shot assists pg show what a sizeable contribution he's having for Trabzonspor.
With so many big clubs circling to acquire his services, it'll be fascinating to see where his future lies. Having stated that his preferred option would be to remain with Trabzonspor, citing how happy he is with the Turkish giants, a deal could be challenging to finalise.
Regardless of what happens, it's positive to see Monaco linked with the excellent Sorloth, for their recruiting team are clearly awake to the many exciting players all over the continent and not just the players plying their trade in the top five European leagues.