The 2016/2017 season is one fondly remembered by AS Monaco and their supporters, for Les Monegasques were crowned Ligue 1 champions and remarkably reached the Champions League semi finals.
This memorable campaign also held a particularly strong significance for then teenage sensation, Kylian Mbappe, who enjoyed a breathtaking breakthrough crusade. Having made his first team debut for the Red and Whites during the previous season, he really kicked on, with his dynamism and unpredictability wreaking havoc on defenses both domestically and in Europe.
Notching an outstanding 26 goals and 14 assists in his 44 Monaco appearances, he was a major force to be reckoned with. His exploits in the Champions League deserved special mention, however, with his six goals in nine matches especially catching the eye. Finding the back of the net against some of Europe's elite including in both legs against Borussia Dortmund and Manchester City, plus vs. Juventus is their semi, Mbappe took the competition by storm. 
Named in the UEFA Champions League team of the year and performing at a similar level to the likes of Lionel Messi, Cristiano Ronaldo and Paulo Dybala, there was no denying what an impact he had.
His magnificent, game changing efforts against Borussia Dortmund in Monaco's quarter-final first leg win was certainly an outing to savor. Bagging a brace and displaying so many of the characteristics that make him such a devastating opponent to stop, the Frenchman was superb in the 3-2 triumph.
Despite being just 18 at the time, Mbappe's mature performance belied his tender years, with him looking right at home on the big stage, unfazed by the occasion. 
Causing issues for BVB with his unstoppable speed and movement, they struggled heavily to contain Mbappe. Excelling at timing his movement to exploit the blindside of adversaries, when a foe was caught ball watching or out of position and if any gaps between defenders were present, he pounced with conviction. To further elaborate on his blindside runs, and they were especially important, for they meant he could get a dynamic advantage over more stationary opponents who couldn't spot him due to their ball oriented stance. As a result, once in full flight, there was no catching him, particularly when bursting ahead on one of his customary out-to-in diagonal runs.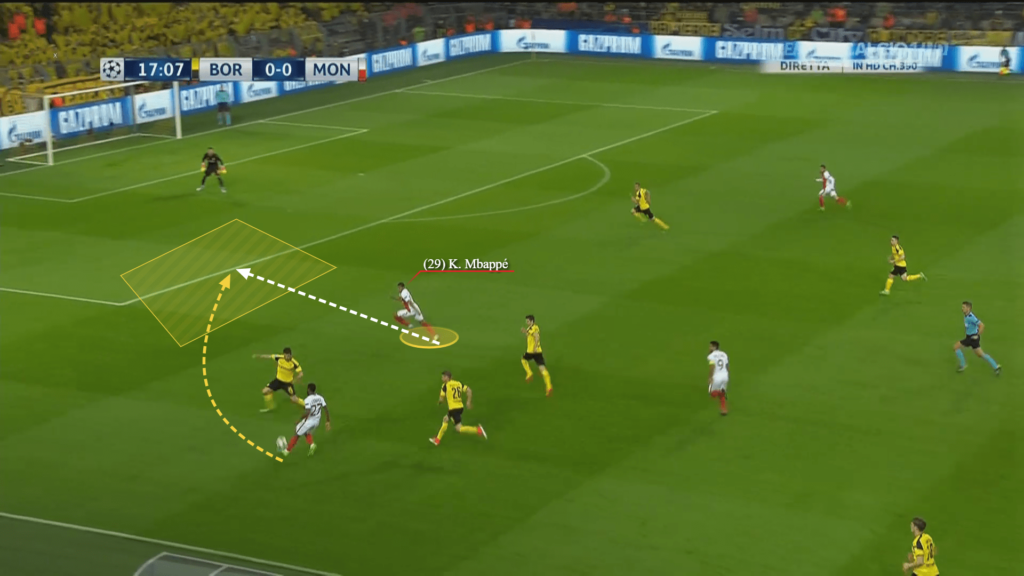 Brilliantly timed depth run
Crafty blindside run in behind
Sharply timed out to in diagonal blindside run
Key to his success was also that he'd give himself separation from his man prior to embarking on his depth run, allowing him to get his speed up to then breeze beyond his marker unimpeded. Sharp to notice when a colleague had received in a position to oblige his runs on their preferred foot, this would be a trigger to begin his run.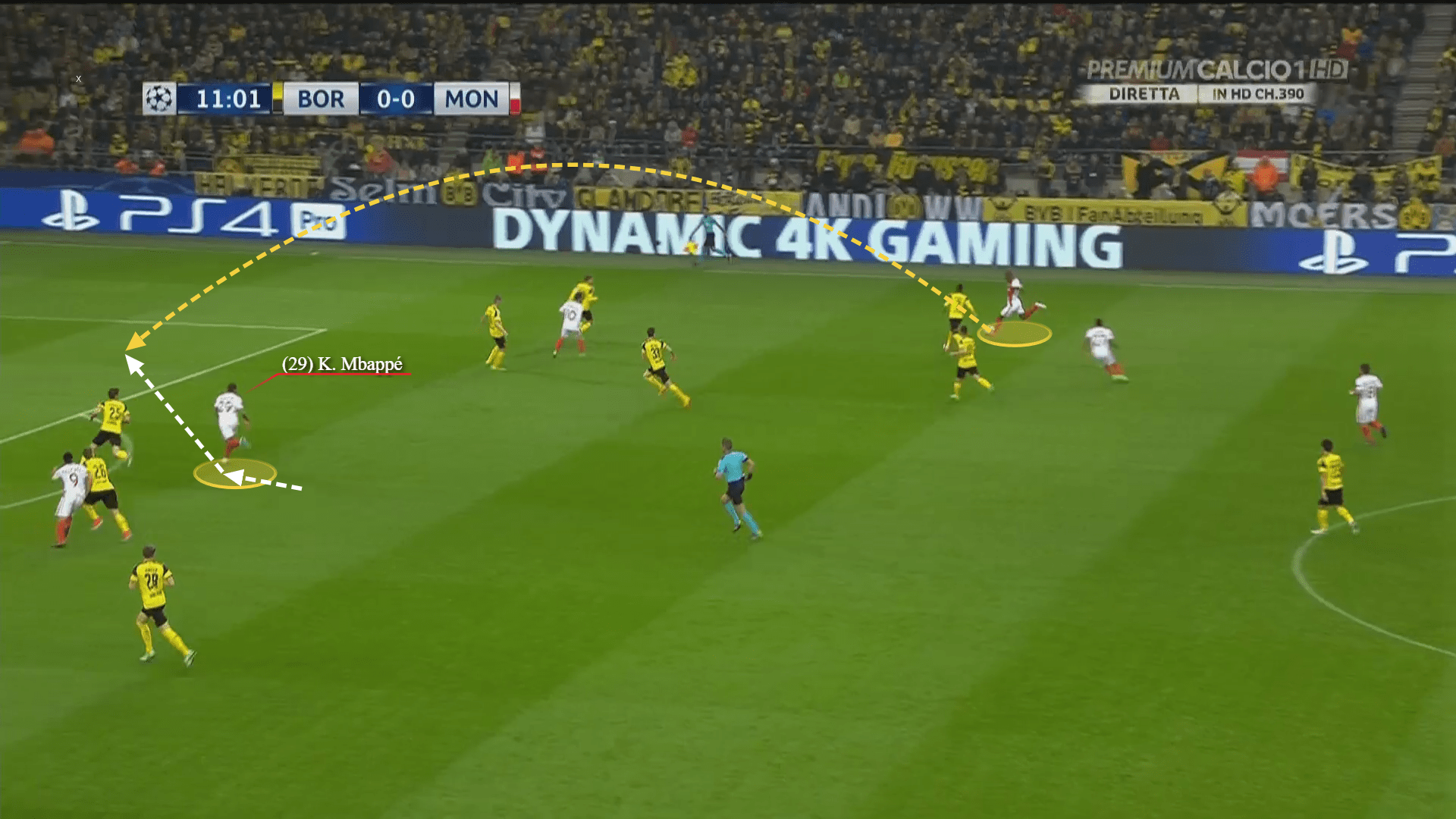 Shrewdly timed run in behind
Searing run in behind in transition
A key byproduct of his aptitude here came from how his strategic movement would attract multiple opponents to create space for teammates. As shown in the images below, his presence saw his decoy runs draw two to three opponents to clear a path for his fellow attackers while stretching the BVB backline.
Mbappe's decoy run creates space for Lemar inside the box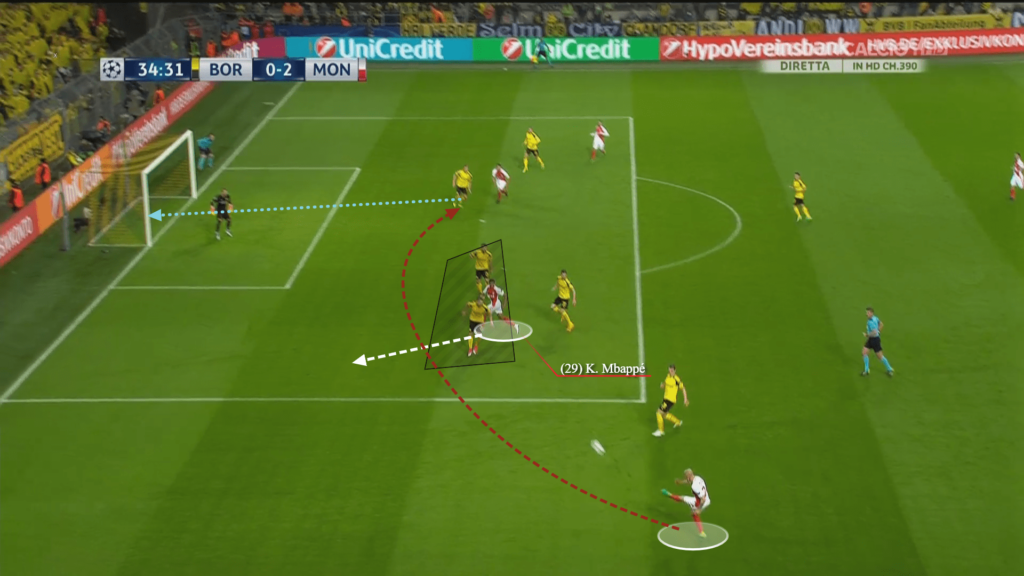 Mbappe pinning two markers to generate space in the box prior to Monaco's second goal
Mbappe attracting two markers to free up Falcao
Mbappe drawing opponents to make space for Lemar in transition
Furthermore, how he used subtle double movements and stop gos compounded issues for markers by unbalancing them and leaving them hapless to change direction quickly enough and still keep up with him. The way he took advantage of the spaces in behind the onrushing fullbacks on the counter also deserved mention, for he cleverly targeted these areas once possession was recovered by Monaco. 
By rotating coherently across the frontline, Mbappe was able to alter Thomas Tuchel's side's reference points and disrupt their rhythm. Indeed, constantly interchanging positions with Radamel Falcao, Thomas Lemar and Bernardo Silva had an unsettling presence, which persistently made their foes unsure of who to mark in what area.
While his movement was the predominant feature of his work, there were many glimpses of his technical qualities too. These included his explosive dribbling skills, neat footwork to weave out of trouble and tidy link passing. 
That lethal finishing of his was also on show, with his second goal in the 79th minute an absolute beauty. Nipping in cunningly to intercept a sloppy sideways pass by Lukasz Piszczek, Mbappe then breezed past Sokratis Papastathopoulos with his first touch. As he neared the box, he prepared his feet to shoot before unleashing a wonderful finish that parlayed placement and finesse, as his shot arrowed into the top corner beyond a helpless Roman Burki.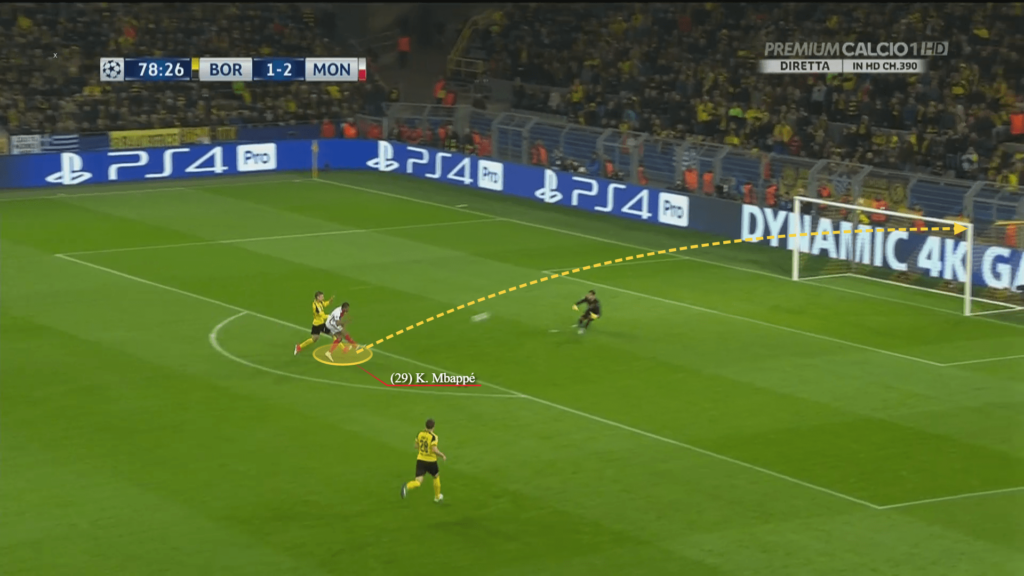 Beautifully placed finish to seal the victory
On a night where he also won a penalty, there could be no hiding away from the fact everyone inside the Signal Iduna Park had witnessed a masterclass from a youngster destined for the top of the sport. What he's done since with both Paris Saint-Germain and the French national team has emphatically illustrated what a uniquely gifted talent he is. 
Even though his path to becoming one of the truly elite players in the world continues away from the French Riviera, it's still nice to remember his exploits in that remarkable season for Monaco.