Taking Ligue 1 by storm this season and further establishing his reputation as one of the standout young defenders in France, Axel Disasi's form for Reims has been a real highlight.
Forming a formidable partnership with Reims star man Yunis Abdelhamid, they've been an integral component towards Reims having the best defence in the French top flight. Going from strength to strength under David Guion's tutelage, Disasi, who's now in his fourth season with Les Rouges et Blancs, has improved tremendously over this time. Making the step up admirably from Ligue 2, which Reims were promoted from in 2018, his first season in Ligue 1 was a learning experience, with Abdelhamid and Bjorn Engels (now at Aston Villa) the starters, meaning Disasi's appearances were limited.
But with Engels' departure, this granted him the opportunity to fill the void. And he's done so impressively, with his performances oozing clarity, maturity and intensity throughout the majority of his 32 appearances.
As is usually the case with the best youngsters in Ligue 1 at smaller clubs, it doesn't long before they're spotted and earmarked by many top clubs. Disasi's certainly no different, for a host of teams are reportedly keen on him, including Arsenal, West Ham, Wolverhampton Wanderers and AS Monaco. Indeed, with Monaco's intent to snap up elite young players, he'd fit the bill perfectly. And due to his familiarity with the league, he'd be able to slot straight in and hit the ground running.
Moreover, the fact he'd be available for around the €15 million mark, as his contract expires next year, represents excellent value for a player so young and with so much scope for improvement.
Displaying his qualities on both sides of the ball, the 22-year-old's a fine example of what's demanded of a modern day central defender.
Such a powerhouse in terms of his physicality and athleticism, Disasi's aptitude in these regards have held him in good stead to deal with the rigours of Ligue 1. To start with his pace and acceleration, and this ensures he can track runners diligently, recover his position if his man gets the jump on him, cover for colleagues and step out or across to get at an opponent in his designated area of operation. Couple this with his usually good awareness concentration, and this enhances what a tough opponent he is to face off with in such scenarios.
Getting across to cover his defensive partner Abdelhamid
Extremely strong and powerful to boot, this accompanies his mobility nicely, for he can unbalance adversaries and force errors with his strength. Forceful and combative in the challenge, he's an intimidating presence who makes his presence felt. Indeed, this places doubt in the minds of forwards, who are anxiously waiting for him to pounce, especially when they have their back to goal.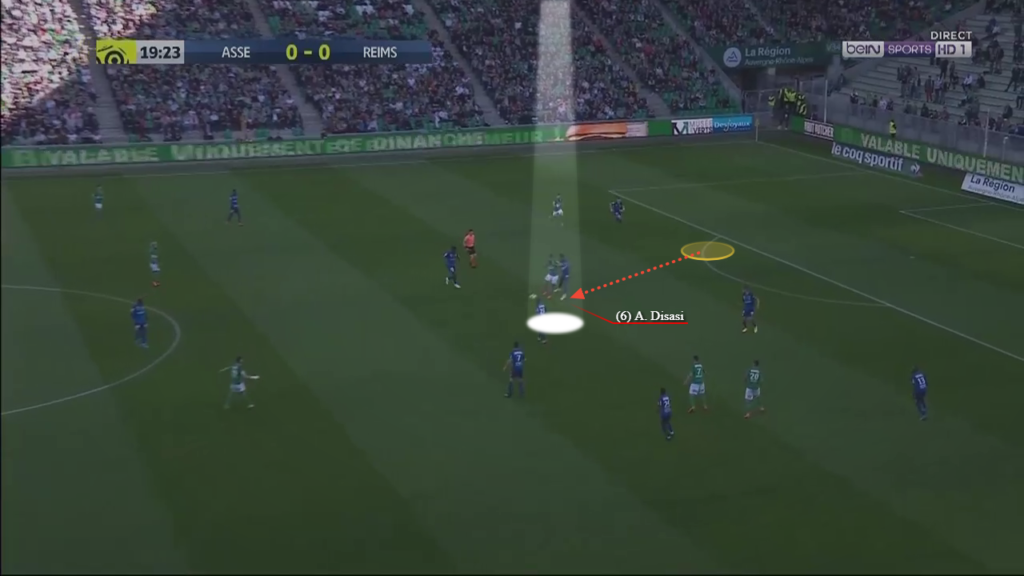 Getting touchtight as his man drops deep
By using his arms and shoulders, he can importantly impede runners and slow down their momentum in order to limit their ability to gain an edge on him.
Although he's made the odd error of judgement and mistake, which is to be expected for a player of his age, Disasi's shown some solid decision making and usually got the fundamentals spot on. Picking his moments when to step out and react to pressing cues, shift across to the ball near side, plus push out or drop back in unison with his backline, he's done so with authority. His judgement also sees him organise and space himself ideally with his backline, where he's clearly learned plenty from veteran Abdelhamid.
The way he checks his blindside to see if any markers are running off him, and operates in a powerful sidewards stance, thus allowing him to move forwards, backwards or diagonally quickly to handle threats has been crucial too.
Proving himself to be an asset at defending crosses and cutbacks into the box, opponents haven't found it easy to get clean efforts on net due to his positioning and quality in the air. Adjusting his body shape and possessing a springy leap, it's been a regular occurence to see him clear the danger coherently.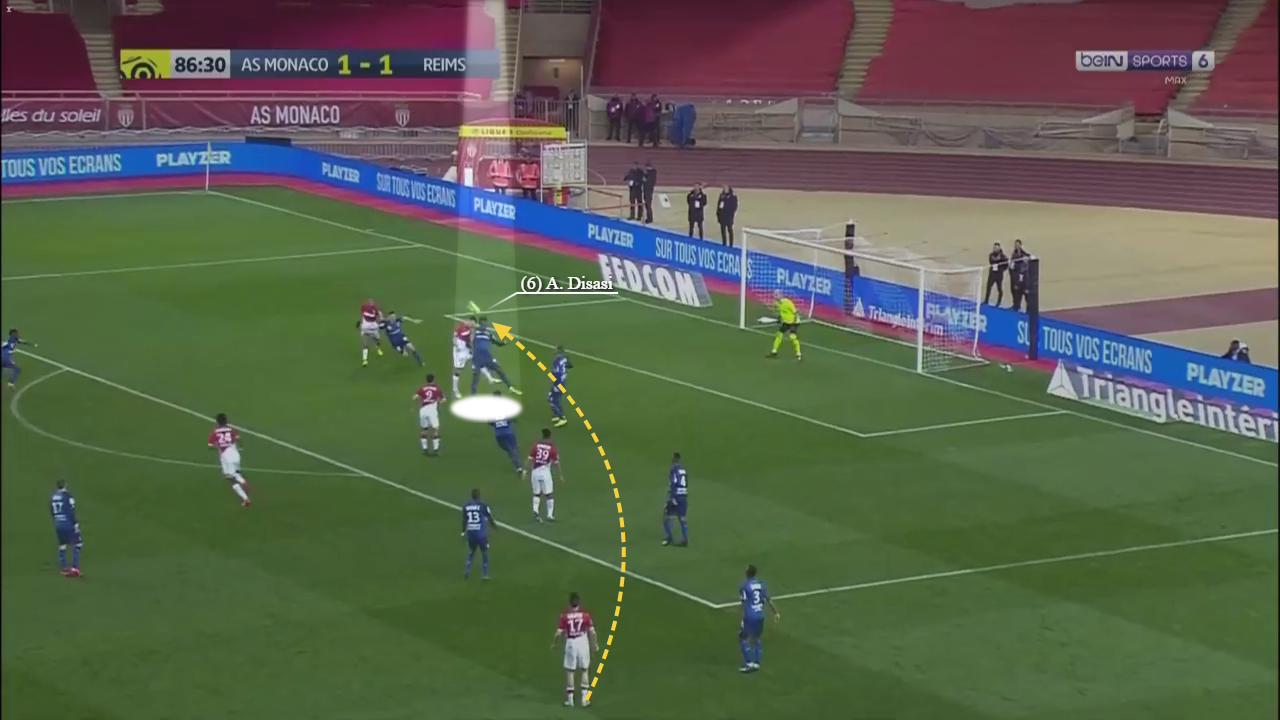 Superb positioning and header to clear the danger
Fantastic leap and header
Also handy defending 1v1 courtesy of his long legs, reactions, aforementioned athleticism and explosive crouched posture, this has seen foes face an uphill battle to outfox him.
Meanwhile, upon switching the focus to the offensive side of things, there's much upside to be drawn here too. A crisp passer who enjoys helping his team's build up phases, his good range over short, medium and longer range enables him to contribute heavily.
Whether it be playing simpler passes into the feet of his fullbacks and midfielders or more progressive passes to his forwards or attackers in between the lines, Disasi's repertoire has aided his team's possession work nicely. To further touch on his distribution, and it has been notable how he can strike some accurate and measured long balls (chiefly through balls and crossfield diagonals) to either beat the press, isolate the wide men or oblige his forwards' runs in behind. 
Beautiful pass into the path of his marauding fullback
Beautifully weighted through ball to set up a chance
Superb ground through ball right into his teammate's path
Perfectly measured long ball to beat the press
Another key element of his offensive armory is his driving dribbles upfield. Not only do they gain valuable territory but they also lure out opposition pressers, which makes space for a free man or a third man runner to receive upfield. Able to breeze by opponents with his pace, feints, shimmies, stop gos and changes of speed and direction, his dribbling has accentuated his quality.
By the numbers, his 11.52 ball recoveries p90 (17th best in Ligue 1 among defenders), 4.19 counterpressing recoveries p90 (31st best), 5.23 won aerial duels p90 (15th best), 4.15 interceptions p90, three clearances p90, 1.38 progressive runs p90, 8.69 progressive passes p90 and 4.01 passes into the final third p90 punctuates his worth. 
Having progressed brilliantly this campaign under Guion's expert tutelage, it's been a joy to watch him improve this term.
Already very complete and seemingly well equipped to handle a step up in class to another elite European club, Disasi's future looks set to remain a topic of hot discussion throughout the summer. Weighing up if staying at Reims, continuing to hone his craft at a team like Monaco or moving to the Premier are questions that he'll need to consider carefully.
Whatever happens, Disasi's exploits for Reims this season will be remembered fondly, for he, the club and the supporters will be hugely satisfied with his amazing form that was instrumental towards his team finishing fifth and provisionally qualifying for the Europa League.