Three tactical takeaways from AS Monaco's loss vs. Lens
RC Lens continued their recent dominance over AS Monaco by inflicting a crushing 3-0 defeat on Philippe Clement's men to put themselves in the driver's seat for Champions League qualification while leaving ASM with an uphill battle to finish on the podium.
Now undefeated against Les Monegasques in their last six (four wins and two draws), Lens have certainly been a formidable foe for Monaco to face off against of late.
Such a tough team to play against, especially at home, where they've won 14 of 16 this term, and so excellent in all phases of the game, Franck Haise's superbly coached team outthought, outran and outmuscled the visitors on their way to a merited victory.
"We suffered from the start and failed to gain control of the ball. We didn't play like last weekend. We were keen to do well because we knew what was at stake in this meeting. We knew that Lens are a team that is intense and aggressive. They were the strongest today and deserved their victory," explained Krepin Diatta.
Here are three key takeaways from Lens' dominant triumph at the Stade Bollaert-Delelis over Monaco.
Shrewd build-up mechanics
Lens' smartly devised build-up mechanics were unquestionably an integral component towards their thumping win, with their capacity to exploit the half spaces and wide areas particularly notable.
Masters at manipulating their foes and placing doubt in the minds of their opponents, ASM endured major issues trying to combat this with their pressing animation and shape.
With nominal left-sided central attacking midfielder Florian Sotoca often positioned high and wide to pin Caio Henrique deep and Ismail Jakobs often edging infield to mark a nearby midfielder or central defender, this typically left oceans of space for wing-back Przemyslaw Frankowski to receive freely. From here, Henrique would then jump to the Polish international, which, in turn, left a huge gap behind for Sotoca to exploit.
This would then force centre-back Guillermo Maripan across, which subsequently meant the rest of the ASM backline had to alter their positioning, thus often leading to gaps opening up for the likes of Lois Openda and Adrien Thomasson to utilise.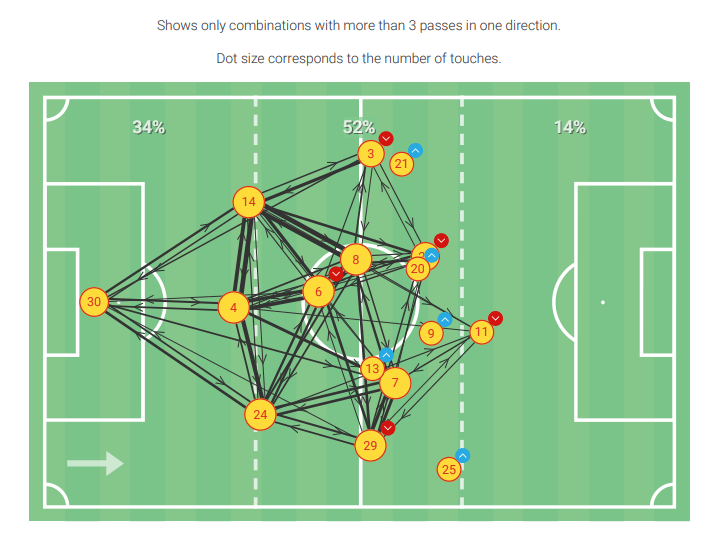 The same principle also applied to the right where Deiver Machado and Thomasson wreaked havoc, with Lens' second goal serving as a glowing example of their astute tactics to disrupt and punish their adversaries.
Here, with Diatta pressing central defender Facundo Medina and Vanderson inside monitoring Thomasson, Medina was able to find the free Machado, who then played a one-two with Thomasson to set the move into motion that led to Openda scoring in the 16th minute.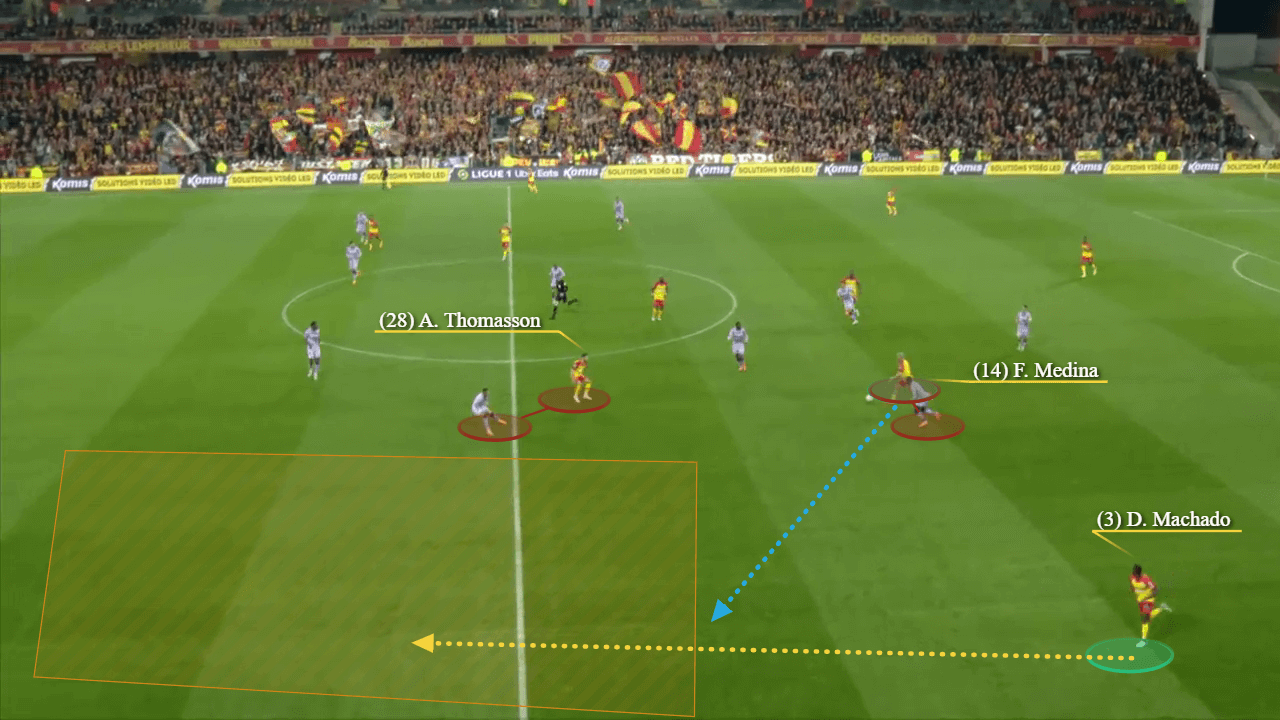 Confusing and discombobulating Monaco's setup, Haise would've relished seeing his plan coming together so brilliantly, in a match where this avenue of attack persistently bore fruit.
Openda outstanding
Openda emphatically stamped his mark on this fixture, with his two goals and one assist crucial in propelling his team to glory.
Instinctive, clinical and forever on the lookout to pounce on any weaknesses, the Belgian international's coherent reading of the play and execution combined to see him wreak havoc on his adversaries.
So awake to vacant spaces and when gaps arose between defenders, he duly got on his bike to get into fantastic positions to be an outlet for his colleagues. Effective at surging into the box, hitting the channels and dropping deep with his back to goal, Lens' multifaceted forward certainly kept Monaco's backline busy.
The March Ligue 1 player of the month's goals and assist encapsulated precisely why he's such a menace, for his alertness to space, timing and directing of his runs, finishing, dribbling and pressing parlayed to see him have a hand in all three of Lens' goals.
Now up to 17 league goals this term, eight of which have come in the last six clashes, there was no stopping the electric 23-year-old, who just keeps going from strength to strength.
Seko Fofana's immense impact
While he didn't grab the headlines like Openda did, there was no denying what a monumental impact Seko Fofana had on proceedings. Flexing his muscles on both sides of the ball, the all-action, physically imposing and technically proficient midfielder was a constant thorn in the side of Monaco.
Proving a tough man to keep tabs on with his varied movement, it was admirable how he constantly found space all over to help his team beat the press and progress upfield. Be it rotating out wide to receive freely, forming overloads centrally in build-up, pushing up between the lines or embarking on his customary damaging runs into the final third, Fofana's intelligent movement and anticipation was superb.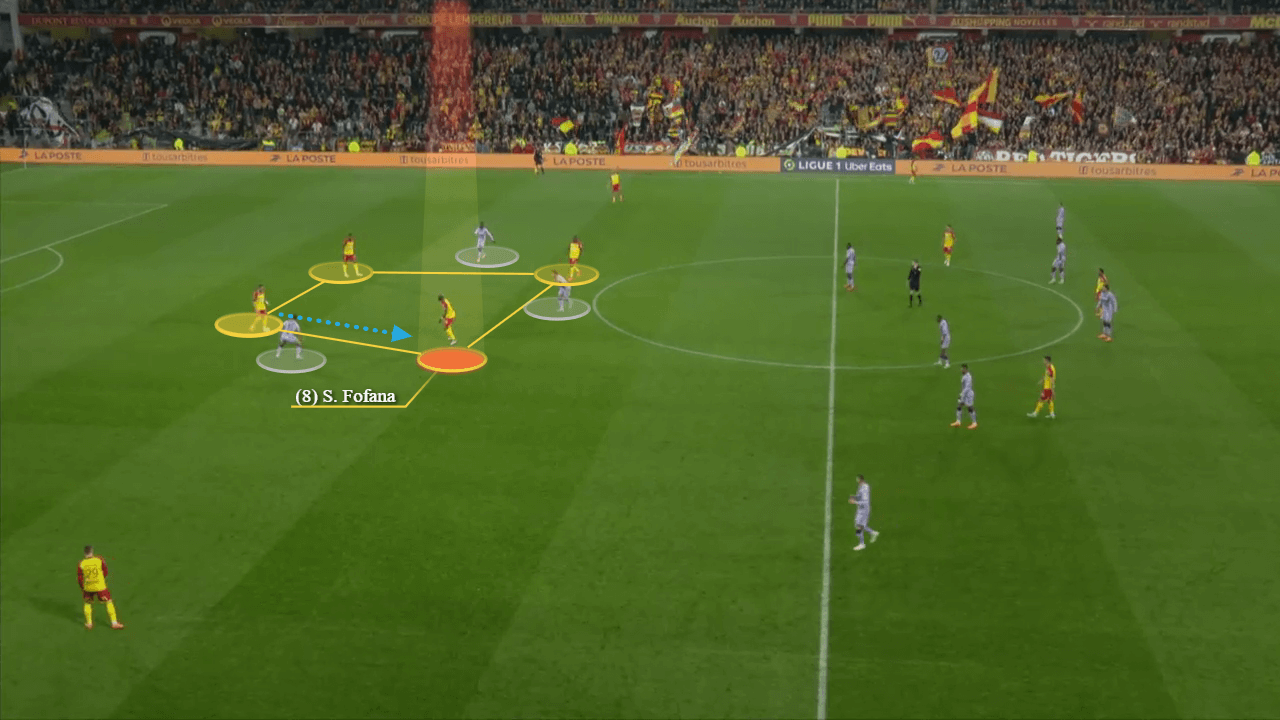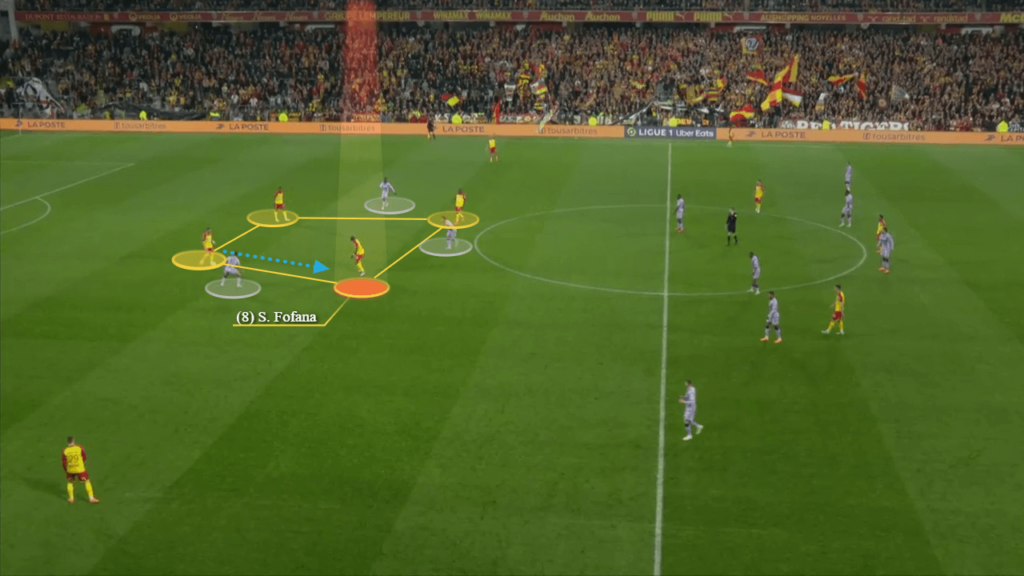 Moreover, his intense pressing, enviable ball winning powers, ferocity in his duels, powerful dribbles and slick passing further compounded issues for ASM when attempting to nullify him.
By the numbers, his 61 passes at 92% accuracy, five shots, five ball recoveries, four interceptions, three dribbles and two touches inside the box punctuated his tremendous output.
Haise full of praise for his team
Following his team's dismantling of Monaco, Haise was rightfully full of praise for his team's efforts, with him even stating this was possibly his side's finest game of the campaign.
"I think it was our best match of the season. I really enjoyed it. After 30 minutes, I was wondering whether we would be able to keep up that pace. We managed to for a while. We were facing a Monaco side who are very much at ease away from home," he insisted.
"I thought it was a great match. Lois Openda was decisive on all three goals, he's been in form for a while. But everyone put in a massive performance. There are so many strong teams with a high number of points. We owe it to ourselves to keep going until the end of the season, to put in these types of performances and get our reward for the club and for those who love Lens."
With still so much to play for, both teams will be looking to close their crusades in fine style in what's set to be a fascinating battle for the final two Champions League places, as one of Lens, Olympique de Marseille and Monaco are set to miss out.