Arriving at AS Monaco for a transfer fee of €30 million last summer just after he'd starred for Russia at the 2018 World Cup, much was expected from Aleksandr Golovin this season.
While things didn't get off to a good start in the opening months due to a combination of injury, the team playing poorly as a whole, him needing to adapt to the more physically demanding Ligue 1 and how he took time learning the language and familiarising himself with his new surroundings, he's come on in leaps and bounds in the second half of the season.
Gaining in confidence with every passing opportunity and now feeling much more settled in his environment, Golovin's form's been on a steady upward curve in 2019. He's been particularly impressive since Leonardo Jardim was reinstated as manager, with the versatile attacking midfielder demonstrating his tremendous quality on many occasions of late. "I think he was influenced by the coaching change," Russian footballer Dmitri Sychev, who previously played at Marseille, told Itar TASS.
"With the new coach, he has been recharged. He has also finished adapting to the championship, he has recovered from his injuries and is back in great shape, which allows him to play his game and to score goals. Ligue 1 is not easy at all in terms of its level; it's difficult to be technical, fast and creative like Golovin, but it can be a springboard to an even stronger team."
An incredibly gifted player, the 22-year-old combines technique, finesse, creativity and intelligence superbly. Silky skilled with the ball at his feet, his crisp first touch and Velcro like ball control form a strong foundation from which to go about his work.
Fleet footed and full of ideas with his dribbling, he excels in evading his tracker to either beat them or gain separation from them as he waits for an option to become available. Capable of driving his team forward in so many ways, he's used shimmies, feints and neat changes of pace and direction to get the better off opponents or to provoke pressing actions to free up teammates. Whether it be weaving out of high pressure situations, in 1v1 duels with his man or embarking on his dangerous slaloming runs in transition, his ball carrying is such an asset.
Accompanying this with his frequent scanning of his nearby surrounds, and this gives him an edge in identifying where his teammates, the opposition and the vacant spaces are prior to him receiving possession, so he knows if he should turn and go, adjust his body posture to protect the ball or play a clean lay off. This holds him in good stead when he drops deep to link play, meaning he knows how close his opponent is to him, thus giving him the information he needs to know what action to take.
Golovin's smart head scan

Progressive in his passing too, the former CSKA Moscow sensation's aptitude in this regard has been very useful in helping his team bypass their foes' defensive structures. A competent reader of the play and alert to his colleagues' movement, he duly obliges their runs with his incisive deliveries. Adept at unlocking deep sitting defences with ingenuitive through balls, flicks and dinks, plus via pinpoint through balls in behind and wicked cutbacks, his ability to break down adversaries is very handy indeed.
Golovin's lovely through ball

Golovin's perfectly weighted assist for Falcao's goal

Meanwhile, his distribution also serves the team nicely in helping them build out from the back, for his precision and range benefits the Monegasque outfit in constructing their upfield passages. Two footed and forever probing to make things happen, it's important to note how he has the presence of mind to calm things down and recycle possession if no viable forward options are available, instead of unleashing a low percentage pass.
Weighting his passing competently to boot, this means he gets a good amount of power to break the lines while ensuring his target can control the ball at a manageable speed. His set piece taking ability warrants mention too, for he's whipped in some wonderful deliveries from dead ball situations to enhance his team's offensive threat.
Sublime set piece

Astute at recognising unoccupied spaces within or outside opposition defensive blocks, his cunning movement serves to amplify his worth. Shining brightly when finding openings in the 10 spaces in between the lines and regularly in ideal forward facing body postures, this lets him receive the ball on the move in advanced areas to wreak havoc.
Smart positioning while facing forward

Golovin receiving between the lines in a forward facing posture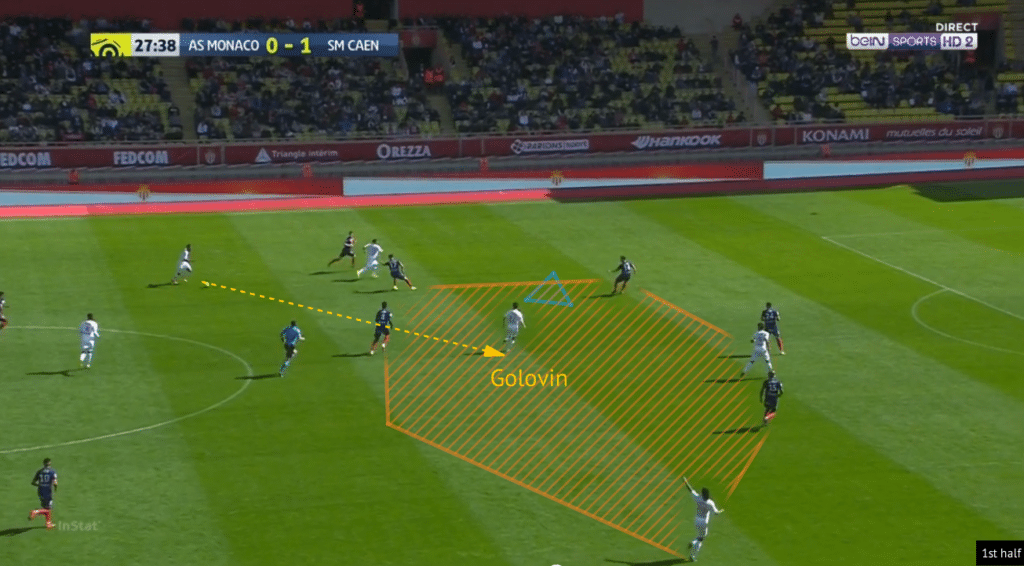 A subtle yet equally vital element of his game comes from how he smartly moves laterally to get out of his opponents' cover shadows in order to not only find space to receive but to do so on their blindside so they don't notice him.
Clever lateral movement

Working hard to support wide attacks, he'll push across to create advantageous 4v3 or 3v2 numerical and positional superiorities to enhance his team's chances of breaking through. In addition, this means, when he's the free man, he can therefore act as a link man to access the middle or the far side of the pitch.
Helping create a 3v2

Having forged a strong relationship with his fellow attackers, they're now dovetailing effectively with one another, something which is illustrated by the shrewd rotations he performs with the likes of Gelson Martins, Rony Lopes and Radamel Falcao. Moreover, the way they've used opposite movements has furthered their impact, for this is another great way to cause confusion within the opposition to manufacture space to exploit.
Slick rotation with Martins

Great use of opposite movements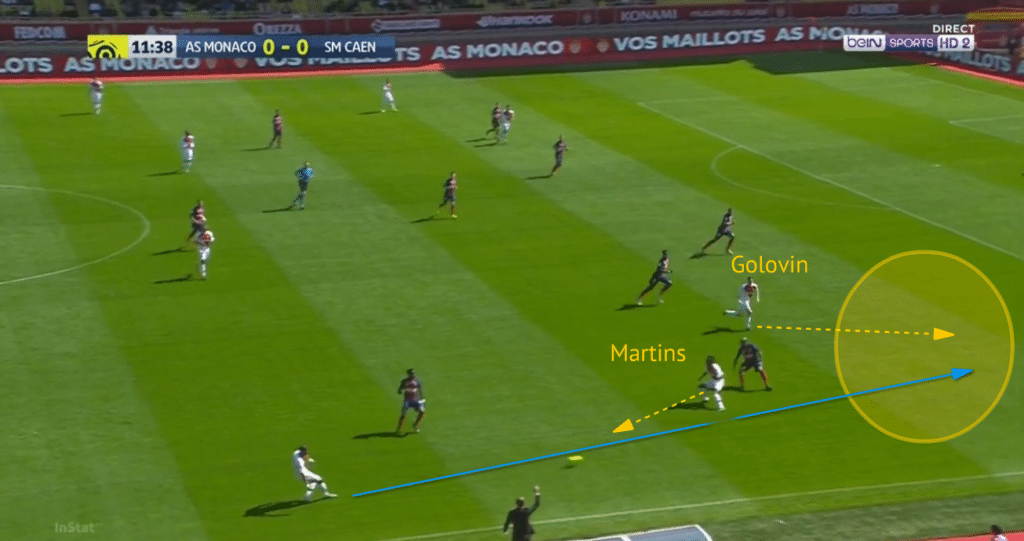 Golovin dragging marker away to create space

Courtesy of the aforementioned variations and his ball mastery, there's no doubting what a tough proposition the Russian international's been to keep tabs on for his foes. Statistically speaking, his solid numbers depict his tidy output, as he's averaging 1.64 shots per 90, 0.98 shot assists p90, 1.76 touches in the box p90, 1.99 progressive runs p90, 3.34 passes into the final third p90, 31.59 accurate passes p90 at 83%, 1.44 fouls suffered p90 and an amazing 3.08 dribbles p90 at 78.5% (which is the eighth best dribbling completion rate in Ligue 1).
While the elegant starlet's had a challenging first year in Ligue 1, it's been positive to see how we'll he's overcome his initial struggles to enjoy a good second half of the campaign to become an integral member of Jardim's squad.
Gaining some absolutely crucial experience, the man who's clearly earned the belief of his manager has impressively featured 35 times for Monaco, including 30 times in the league and in three Champions League contests, which will be invaluable to his development. Bagging four goals and four assists in that time, some of which were absolutely brilliant, the man who most notably scored against the mighty PSG can certainly be satisfied with his contribution during Monaco's turbulent crusade.
Superb finish after his incredible run vs. Amiens

Slick finish vs. Toulouse

Getting the chance to work alongside some of his vastly experienced teammates day in, day out is something he's relished too, with him noting that it's been a particular pleasure to learn from the legendary former Barcelona, Arsenal and Chelsea star Cesc Fabregas.
Elegant and playing with such artistry and influence at such a young age, the future unquestionably looks bright for Golovin, as he'll look to build on his efforts for next season.
With all this in mind, Golovin should end this season feeling vindication over his decision to join Monaco over the likes of Real Madrid and Chelsea, where he would've received minimal playing time, as he's proven he has what it takes to produce the goods in one of Europe's top five leagues and thrive in a completely new environment.
After a well earned rest over the summer, he'll be ready to hit the ground running from the off next term as Monaco will be relying on him heavily to propel themselves up the table and into the Champions League qualification places at least.
All graphics created using football scouting analysis platform InStat