Having impressed tremendously since making his professional debut for Bordeaux back in 2018 and especially shining under Paulo Sousa's tutelage, who took over in 2019, Aurelien Tchouameni's progression has been a joy to watch. 
Establishing himself as a quality midfielder in Ligue 1 and handling the step up in class to the senior level with aplomb, Monaco shrewdly acquired his services in the January transfer window for a reasonable €17.5 million.
While it would've been a tough decision to leave the team he joined as an 11-year-old, the immensely talented central midfielder, who can play as a holding midfielder or as an eight, clearly liked the project at Monaco, believing it to be a great place for his development.  
Les Monegasques' executive vice president, Oleg Petrov, was delighted to get the deal over the line too, knowing full well what a gifted player they've signed. "We are very happy to welcome Aurelien Tchouameni to AS Monaco. He is a player that we have been following for a long time and who has shown a lot of quality during his time at Bordeaux," he gleamed.
"His arrival is the latest as part of our strategy to improve players with strong potential. Aurelien is going to be able to continue his development here with us whilst also contributing to the team."
While it'll take some time for Tchouameni to get fully up to speed with Moreno's demands and life at his new side, once settled the Monaco fans should really enjoy watching the man who idolises Paul Pogba and N'Golo Kante. Boasting so many endearing qualities on both sides of the ball and with so much scope for improvement, watching him progress will be extremely interesting indeed.
To start with his defensive output, and the athletic 185cm midfielder has blended physicality and positional nous smoothly to break up attacks in many ways. Whether playing in Sousa's variety of formations that have included 4-3-3, 3-4-2-1, 3-4-3 and 4-2-3-1 animations, it's been impressive how he's adapted to the different roles asked of him.
Playing with a maturity that belies his tender years, it's been notable how he's occupied strong positions to stop attacks while blocking forward passing routes for the opposition. Reading the game admirably, this gives him a solid base to make coherent decisions whether to shift across, step out to press or make a tackle, drop back to help his defence or cover a blown marking assignment.
Robust when applying his interventions, Tchouameni intervenes with conviction and confidence to stop attacks dead if he believes he can win back possession. If he can't, however, he's happy to use his strength to jostle and harry his opponent with a look to slowing down attacks or forcing an error. His long legs and arms also come in handy, for they allow him to reach out to recover possession or push his man off the ball to unbalance them.
Able to cover the ground efficiently, the 20-year-old's running power ensures he can get back quickly so his team can regain structural stability, jet across to make vital interceptions or keep up with runners from midfield.
Meanwhile, when it comes to his offensive output, the Frenchman stacks up incredibly well here too. A fine place to start is his brilliant passing range, which allows him to dictate his team's offensive passages and act as a deep lying playmaker. Accomplished at hitting short, medium and long distance passes, the youngster connects, constructs, sets the tempo and animates passages from his midfield station.
Not afraid to attempt high risk passes if the opportunity arises, Tchouameni's shown how he can comfortably break the lines, play intricate one and two touch passes in close quarters, strike slick through balls or hit raking switches of play. Weighting and measuring his passes nicely, this sees him regularly find his targets so they can receive on their preferred foot.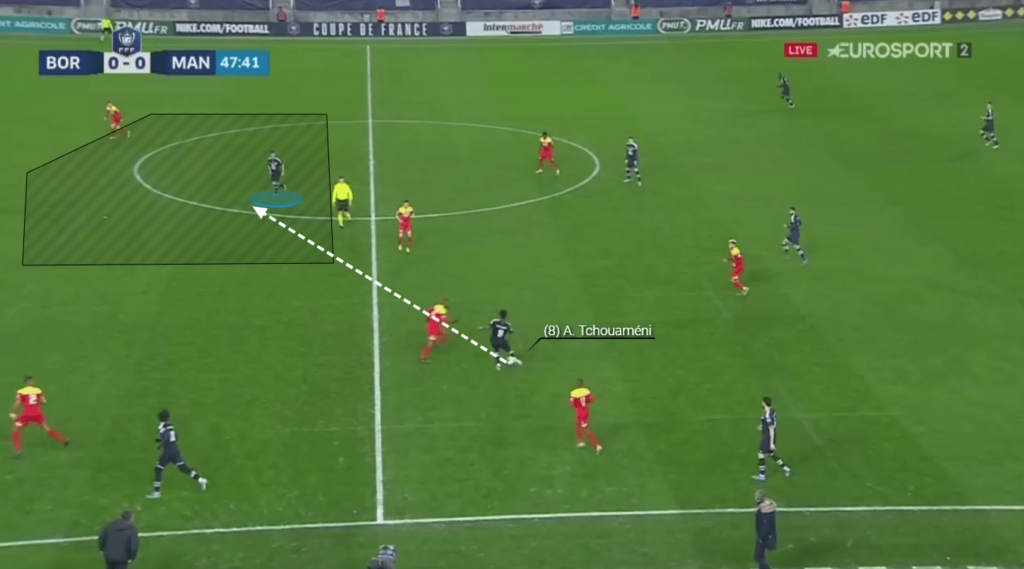 Lovely line breaking pass to a teammate in a forward facing shape
Playing a lovely one-two to free up his fullback in behind
Splitting through ball in behind
Neat pass between the lines
The fact he's so composed when inheriting the ball and scans well so he's aware of his surroundings helps him make quality decisions when under pressure. As a result, the man with a tidy first touch knows when to protect the ball, let it roll past his man or onto his ball far foot, turn and face or if a quick lay off is in order. 
By receiving in good body postures, this, in combination with his strength to fend off and outmuscle adversaries, enables him to withstand pressure and ride challenges well. His adeptness at the afore puts him in good stead to carry the ball successfully too. Displaying a good turn of speed, quick change of direction and nifty feints and shimmies to beat his man, gain separation or spin away from his foes, this duly adds to his press resistance. 
Tying everything together with his movement, opponents have their work cut out preventing him from impacting proceedings. Tchouameni will frequently drop deep nearby his defenders to generate numerical superiority to aid his team when building out from the back, thus affording him or teammates some valuable extra time on the ball. As the ball progresses, he'll continually offer himself as an outlet to support attacks in wide areas, be an option to receive lay offs from the forwards or to recirculate possession patiently while waiting for a weakness in the opposition shape to emerge.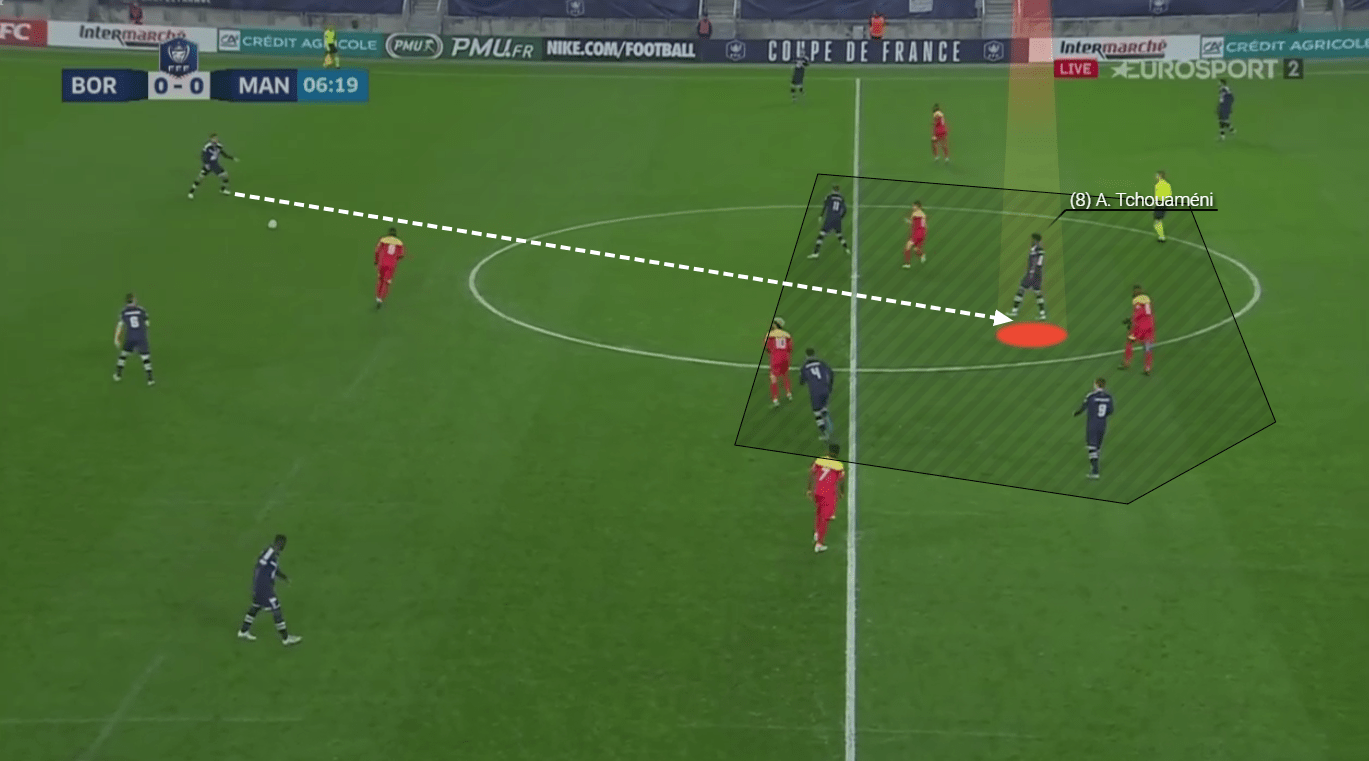 Forming a handy 4v3 in midfield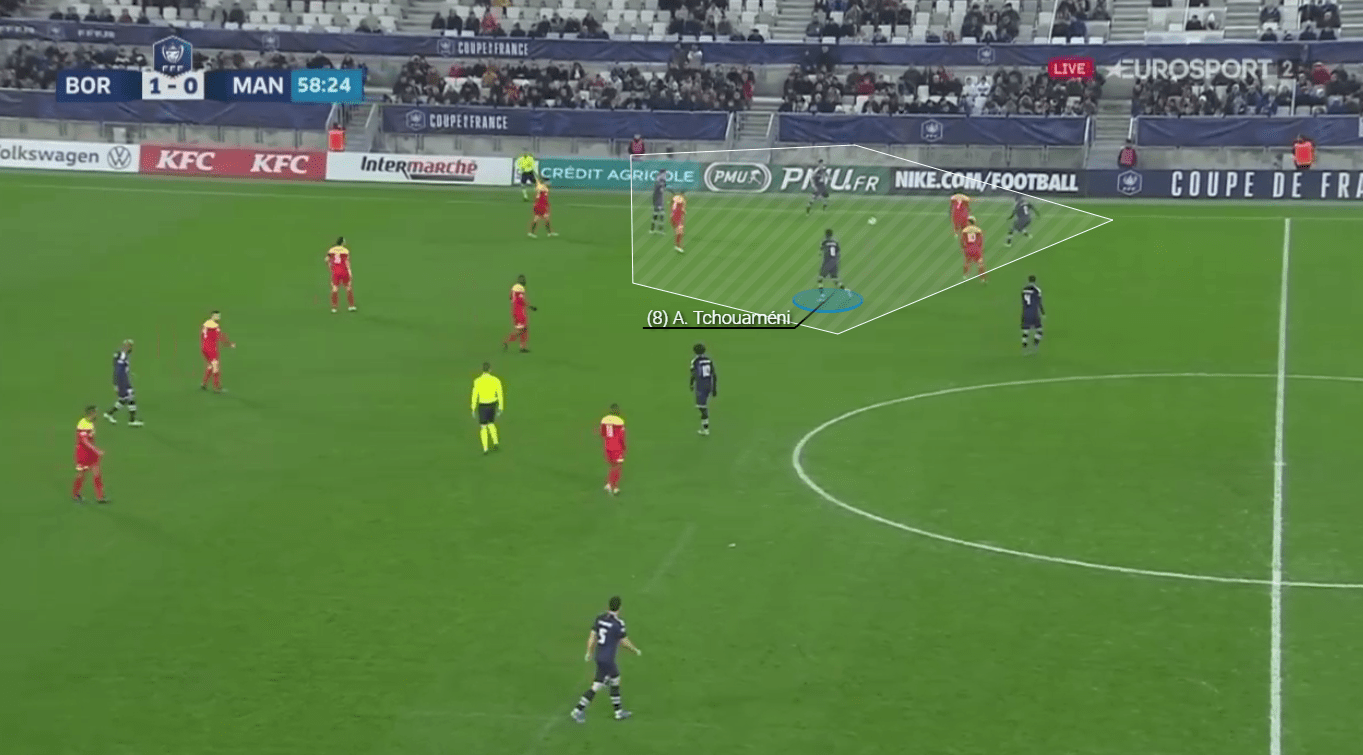 Forming a 4v3 out wide to help progress the attack
If playing as a more offensively minded eight, he's demonstrated how he can efficiently receive between the lines or in the half spaces, plus embark on runs in behind if a gap is available.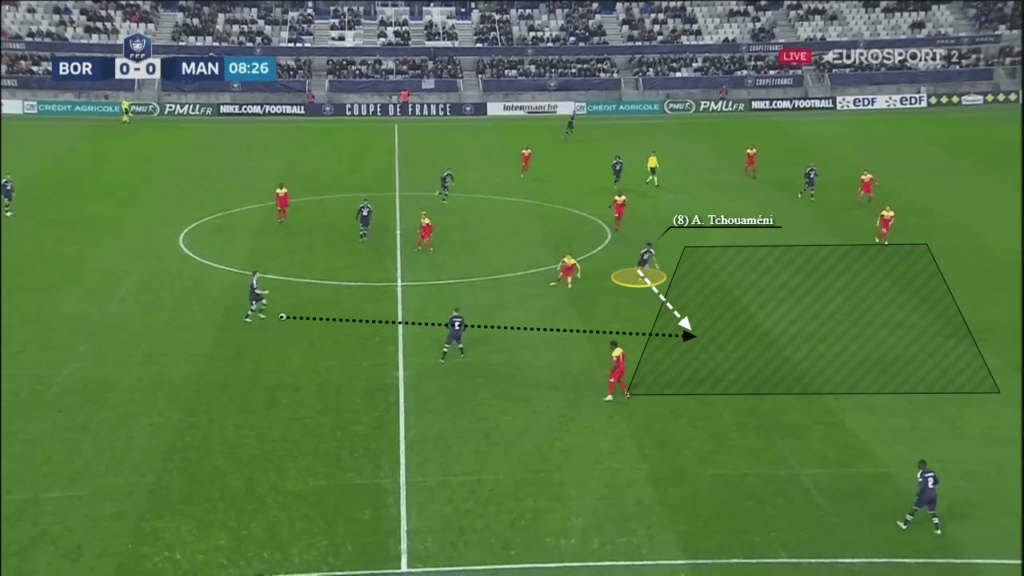 Superb movement to find room between the lines
Smart movement to receive in a forward facing posture to receive and burst forward
Superbly timed run in behind
If he recognises he's marked, how he draws his nearby opponent away to manufacture space for a teammate by opening a passing lane has been another upside.
Top job of drawing two men before finding the free man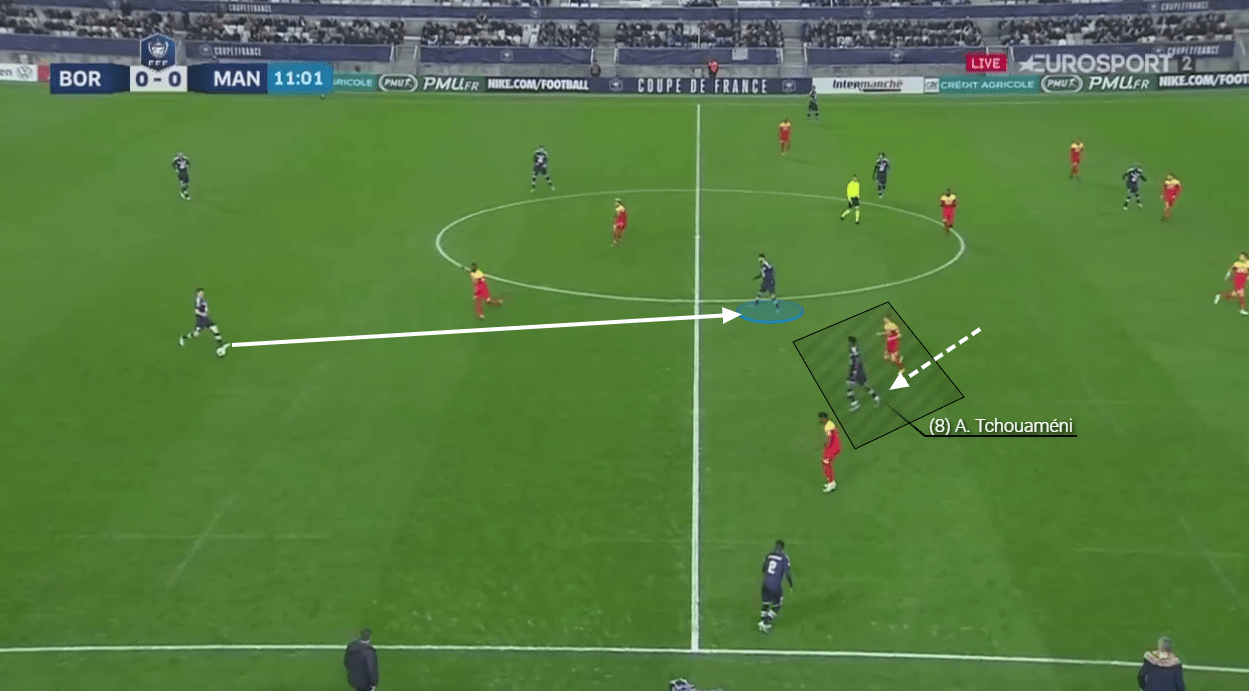 Drawing his man to create space for a teammate
By the numbers, his 45.73 completed passes per game at 87.9%, 5.46 accurate passes into the final third pg at 72.4% 1.14 dribbles pg, 4.66 interceptions pg, 2.83 ball recoveries in the opposition half pg and two tackles pg depicts his all round contribution. 
Although he'll have to be patient as he adjusts to life with Monaco and waits for his chances in Moreno's fiercely competitive midfield ranks, there's no doubting he has the skills to be a huge hit on the French Riviera. 
Already so talented and operating at an extremely high level, you can guarantee he'll be eager to stamp his mark every time Moreno grants him minutes. With all this in mind, it wouldn't be a surprise at all to see him nail down a starting berth at his new team in the not too distant future given his tremendous talent.