Analysis: Ben Yedder's wizardry comes to the fore yet again
There was no doubting Wissam Ben Yedder was AS Monaco's man of the match in their crushing 7-1 win vs. Ajaccio, with his rapid fire hat-trick and all-round excellence instrumental towards propelling his team to victory.
Emphatically proving his class in front of the home fans at the Stade Louis II, the experienced veteran was at his clinical best on a night where his 14 minute triple also helped move him into third on Monaco's all-time scoring list with 89.
"I've always said it, Wissam is a striker who inspires me," explained Breel Embolo.
"Many talk about my progress, but Wissam plays a part in it. It's a treat to play with him, he's a great guy and an excellent striker. For young players like Eliesse, Myron and me, it's a pleasure to learn from a striker like that. I'm very happy for him and for the team. We need everyone, and succeeding in unfolding like that, it makes things easier."
Deployed in his usual striking role, there was much to like about his accomplished body of work, with his intelligent movement providing a fine foundation from which to wreak havoc.
Causing issues for Ajaccio both in front of and in behind their defensive line, the way he constantly mixed things up ensured they were faced with dilemmas and were often caught in two minds. Timing and directing his drops deep and runs in behind masterfully, the 32-year-old provided an excellent option for his teammates, as he'd pounce once a teammate could spot him and the ball was on their preferred foot.
So proficient at reading if defenders were ball watching or preoccupied, plus at recognising where gaps were available and if passing lanes were open, it was a joy to watch him expertly exploit vacant space to inject life into attacks.
Be it attacking spaces in behind, down the channels, inside the box or in between the opposition's line of midfield and defence, he was attentive and ready to strike at the precise moment. So good at reading the play, tailoring his movement depending on the situation and taking advantage of any weaknesses, he avoided detection brilliantly to terrorise his foes.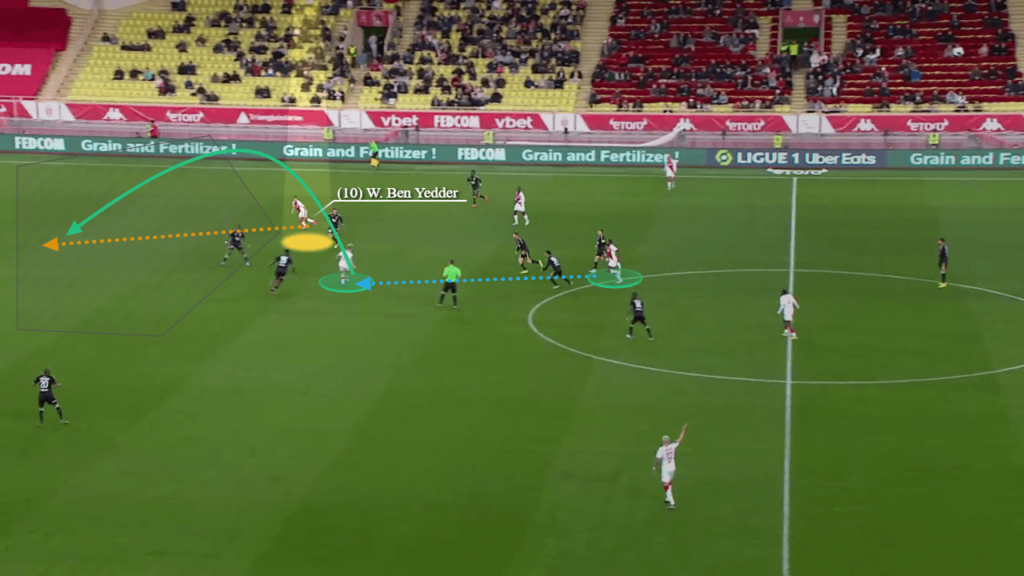 How he dovetailed wonderfully with his colleagues and executed crisp rotations with them to persistently alter reference points further compounded issues for markers, who struggled to settle into a rhythm of how best to combat him.
A key byproduct of his aptitude here came from how he pinned and dragged defenders out of shape to create space for colleagues to explore in the final third.
Giving him a platform to shine, his second goal in particular owed much to his prowess here, as his calculated run served as the catalyst for him to apply his magical finish from the angle.
To place the spotlight on his finishing, and all his goals underlined what an instinctive and deadly scorer he is, with him parlaying power, placement, technique and finesse, which can be seen in the images below.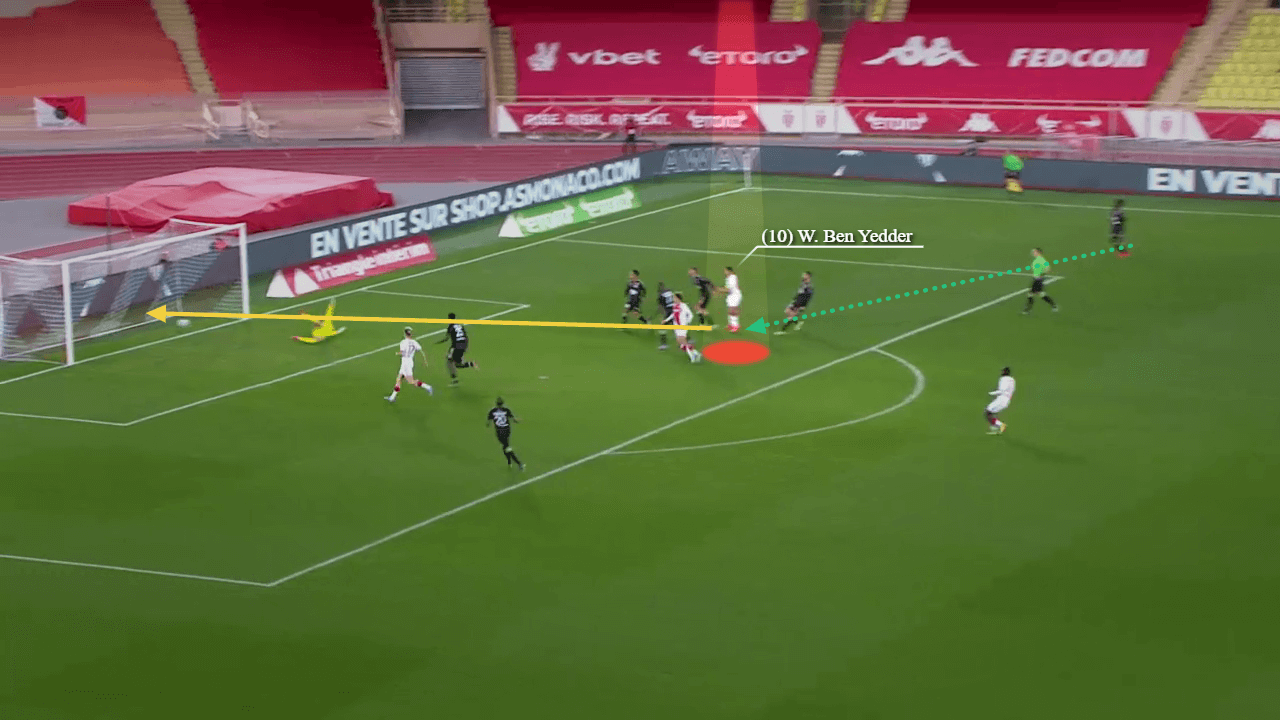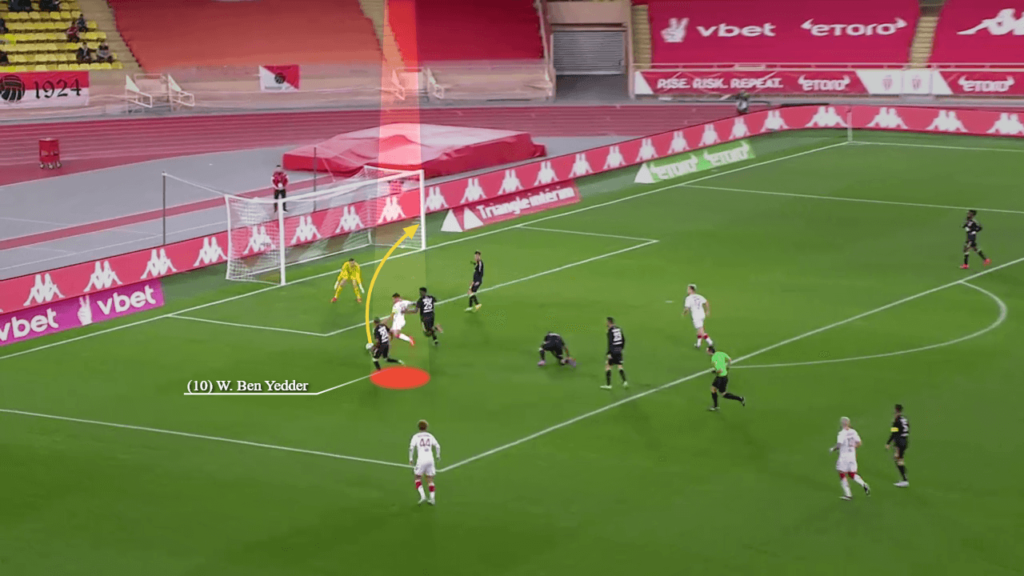 Remaining calm and composed under pressure, his ability to still execute warranted praise too, as the calculated talisman flexed his muscles assertively when finding the back of the net with aplomb on all three occasions.
His measured passing and incisive dribbling also offered reason for upside, with him progressing the ball admirably, combining intricately in close quarters, carrying the ball with gusto, gaining territory and provoking opponents out of shape.
Boasting a low centre of gravity and fantastic strength, Ben Yedder rode challenges soundly and withstood harrying to still maintain possession as well, in a match where he relentlessly asked questions of his opponents.
Showing what a force to be reckoned with he is when he's on top of his game and in full flight, Ben Yedder's masterclass certainly demonstrated he's still got it even if he's entering the twilight of his career.
Although things haven't all been plain sailing for him this crusade, he deserves tremendous credit for turning around his fortunes, as he's eye-catchingly now bagged eight goals and one assist in his last nine games.
In blistering form and performing at a level resembling his best, Monaco will be desperately hoping he can carry his momentum into their colossal clash with Olympique de Marseille next weekend, where a win would close the gap to just two points to OM in third place.
Never one to be written off, age appears to be just a number for the outstanding marksman, who's currently cutting a refreshed and revitalised figure for Les Monegasques.