Analysis: Silky skilled Volland a real difference maker for AS Monaco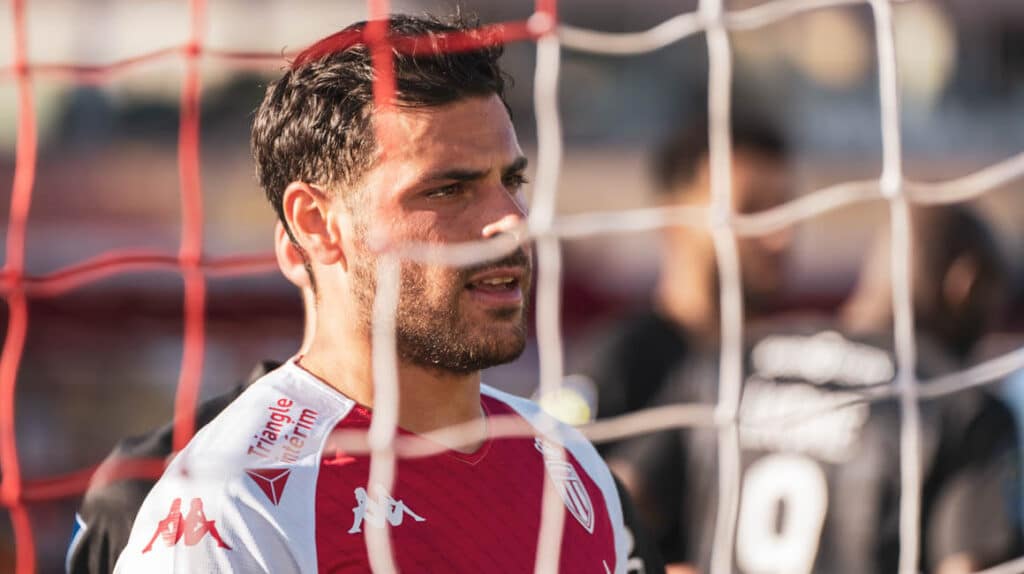 Having endured an injury ravaged campaign that's ensured he's struggled to gain much continuity, it was brilliant to see Kevin Volland back showcasing his class in AS Monaco's thumping 3-1 win vs. Lorient.
Handed his first Ligue 1 start since suffering a fractured rib against Troyes at the beginning of March, the German emphatically repaid his manager's faith by producing a superb display.
Starting alongside Wissam Ben Yedder up front for Les Monegasques, his intelligent movement, nifty reading of the play and technical ability saw him impact proceedings heavily.
While his sensational goal to power ASM into a 3-0 lead rightfully drew the headlines, there was much more to admire about his outstanding body of work than solely this piece of genius.
To begin with, his incisive movement gave him a firm framework to make such a nuisance of himself. Indeed, from his nominal left-sided central attacking post, the wily customer expertly used the freedom afforded to him by Philippe Clement to constantly serve as an outlet for his team to progress upfield.
A master at choosing when to drop deep between the lines and in the half spaces, there was much to admire about how quickly he identified when gaps opened up to be exploited.
Taking full advantage of vacant spaces when defenders were pinned by his fellow attackers or drawn out of shape by ASM's central midfielders, he clinically pounced.
In addition, how he formed advantageous overloads centrally and in the half spaces, plus wasn't afraid to check into true central midfield zones, where opponents were unsure if they should follow him, added to his value. It was also notable how he posed as a handy target from goal kicks to win headed flick-ons to the likes of Aleksandr Golovin and Ben Yedder.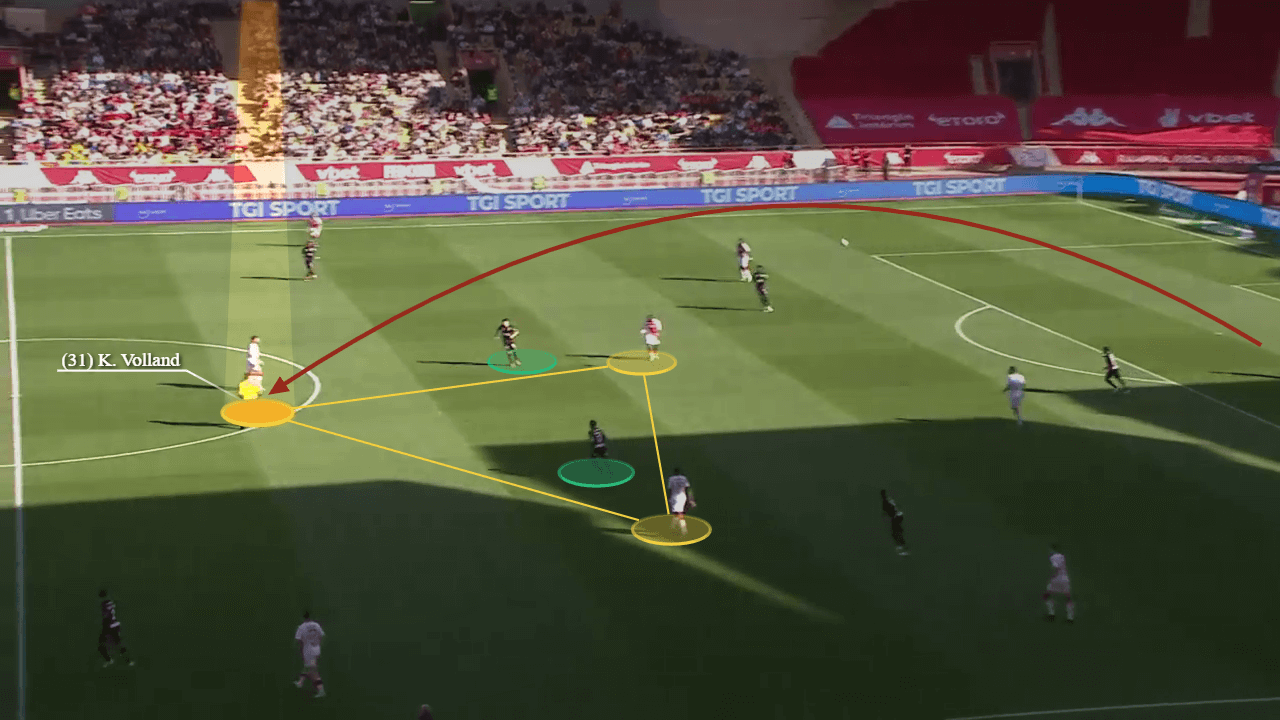 The way he neatly rotated with left winger, Golovin, compounded issues for Lorient, with this adding to their foes' issues in preventing him from influencing the contest while meaning he and Golovin could make headway.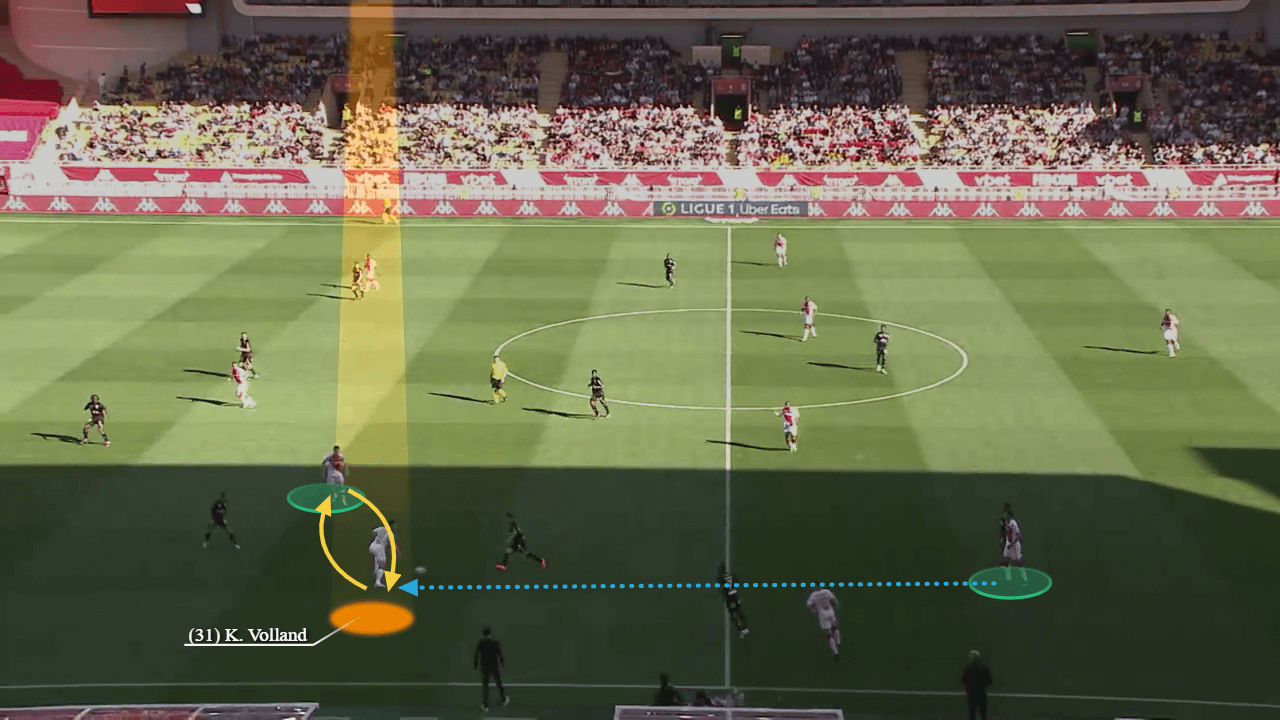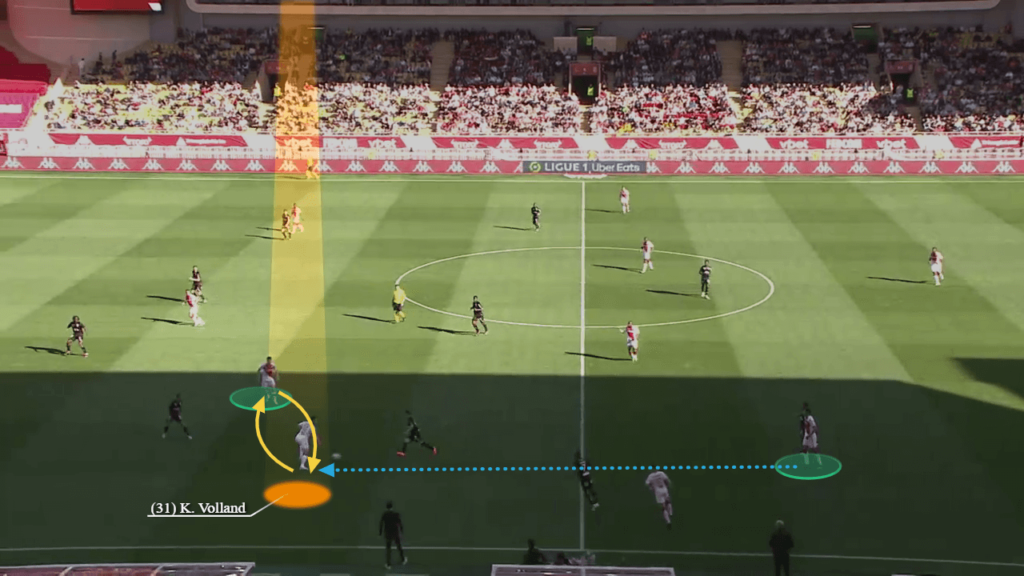 Aside from regularly altering reference points for opponents, which crucially manufactured space for teammates, Volland's threat also extended to his excursions into the final third, with his goal serving as a testament to this, where he held his run perfectly to receive the pass from Ben Yedder so he could smash his strike home first-time.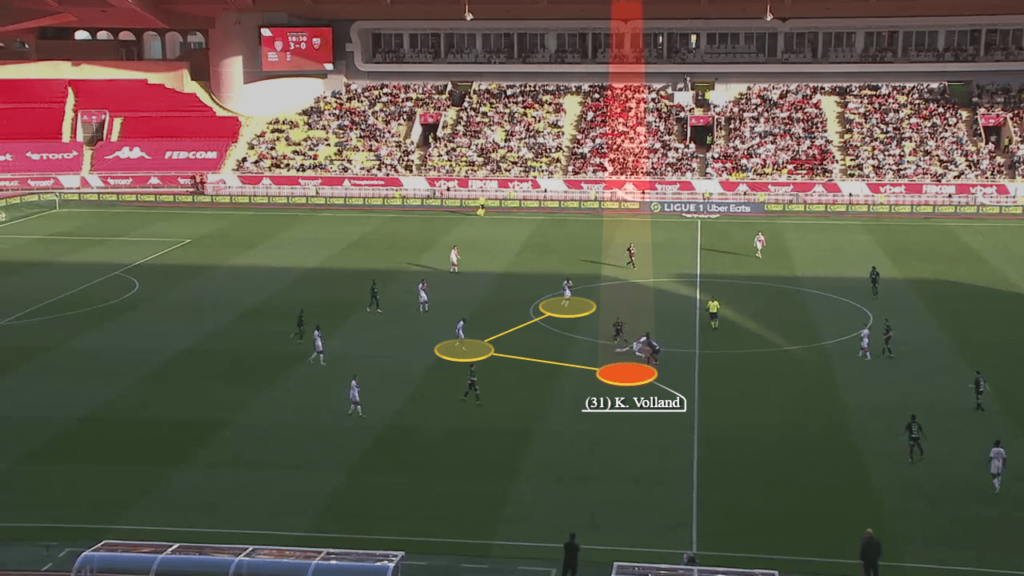 The experienced attacker's cultured passing game ensured he frequently put his playmaking skills to good use. Attentive to the positioning of teammates and their movements, he often obliged their runs with his brilliant repertoire of passes.
Stamping his mark especially with his measured through balls, it was fantastic to see him carve open the Lorient backline to conjure chances. The examples below demonstrate how he stamped his mark here.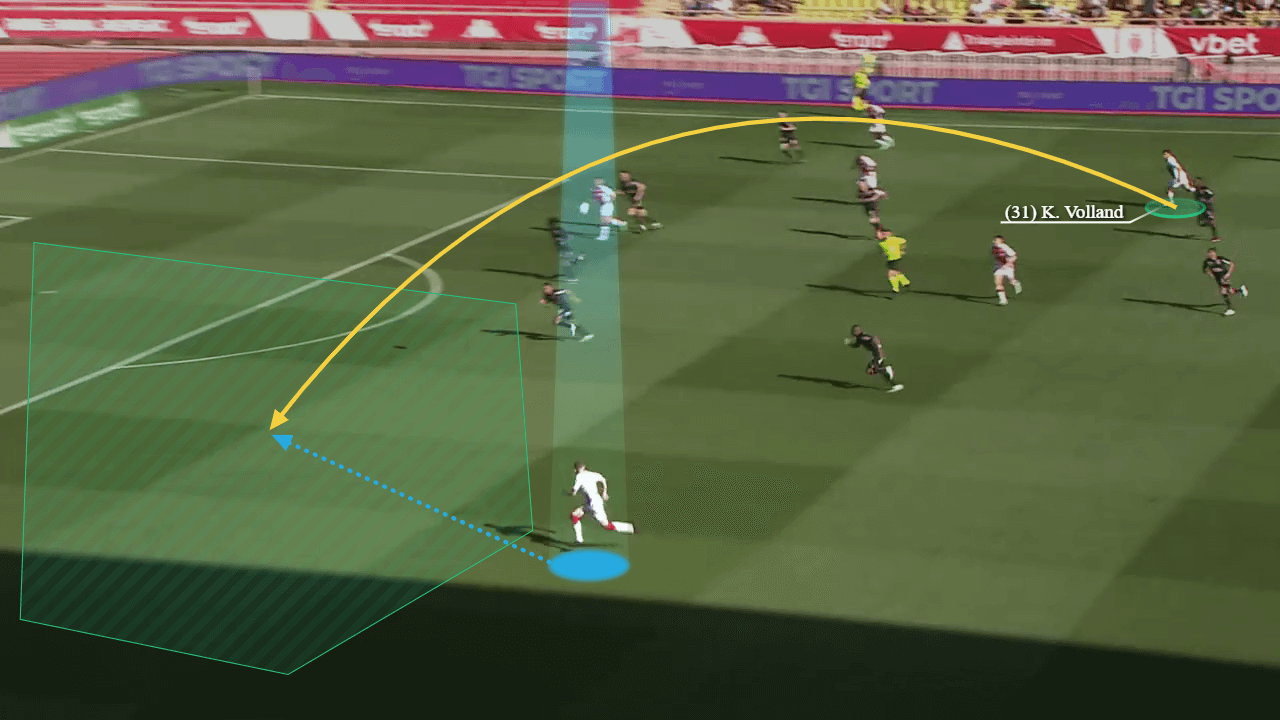 Additional upside came from how he combined superbly in close quarters, switched the play and broke the lines on occasion, in a match where his distribution rose to the fore.
The diminutive 30-year-old's crafty work on the dribble also deserved mention, for not only did he embark on some powerful surges, but he also weaved away from danger calmly, drew players to find the free man and gained separation smoothly to execute his actions cleanly.
Volland also endeared himself to the fans with his intelligent pressing and defensive energy, as he effectively blocked lanes, regained possession with incisive interventions and fulfilled his roles and responsibilities without fuss.
"Kevin has always been an important player, although he has had a lot of bad luck this season with injuries. He is an experienced player who knows how to do things well for the team and who is a good scorer as he showed today," explained Clement.
"With Breel's injury, it's a good thing he's back in the squad. It's also good for Eliesse who can breathe, because he had played a lot until now."
Bringing so much to the table, the veteran showed why he's still such an important member of the squad despite him not being as fast or explosive as he once was.
Fleet of foot and mind, the return of Volland gives Clement that extra touch of class going forward, which will definitely come in handy in Monaco's crucial run home. In a campaign that's been scuppered by injury, Volland's comeback could be a real game-changer for ASM in their quest to secure Champions League qualification.
Even though he might not be the first name on the team sheet at present, there's no denying what an asset he is to call upon both as starter or coming off the bench, with his unique skill set ensuring he can generate a moment of magic out of nowhere to turn a match on its head in an instant.
All in all, the sight of a fit and firing Volland can only be seen as good news for Monaco, which he emphatically showed last Sunday.