With AS Monaco looking to bolster their attacking ranks in the summer transfer window, the news linking them again with Bordeaux's exciting flyer, Francois Kamano, is certainly reason for excitement.
After coming close to signing the Guinean starlet in January, where Monaco reportedly were unwilling to match Bordeaux's asking price of €25 million, the Monegasques have reportedly rekindled their interest in Kamano. Seeing as Kamano was keen to move to Monaco six months ago and was disgruntled by Bordeaux not helping to facilitate the transfer, the move will hopefully get done this time around.
Signing him won't be easy, however, for the likes of Southampton, Newcastle United, Watford, Sevilla and Tottenham Hotspur have all been credited with an interest in the player. But a move to the French Riviera would serve his development well, for he'd get plenty of opportunities to impress in a league he knows well while learning from some hugely experienced veterans like Cesc Fabregas, Kamil Glik and Radamel Falcao.
Starting off last season in brilliant fashion by bagging 11 goals in all competitions by the fifth of December, his form tailed off drastically after his move away failed to materialise, with him only scoring twice in the final 21 matches of the campaign.
Despite his poor form to end the term, there's no doubting what a talented player the 23-year-old whizz is, for he parlays power, physicality and technical qualities effectively.
Strong and blessed with outstanding pace and agility, he's a real handful for any marker to contain. He rides challenges well, fends off opponents comfortably with his robust core and lower body strength and has the speed to surge beyond them in a flash both with or without the ball. In addition, his wicked acceleration and rapid changes of direction only compound his threat.
Frequently displaying his capacity to instinctively time his runs into the box and behind the opposing defence, the way he targets the blindside of his markers and gaps in between defenders allows him to gain a dynamic advantage over his more awkwardly oriented trackers to gain an edge. It's subsequently common to see his depth runs provide a damaging threat, as he stretches and unbalances stopping structures while also creating space by drawing multiple markers.

Superbly timed and directed run in behind

Fantastic blindside run and finish against Lille
One to watch on the counter attack too, he's lethal charging at retreating, unset backlines with time and space to run into. So whether in transition, operating on the shoulder of the last man or operating inside the box, how he angles and directs his runs is a real highlight.
Also adept at dropping deeper to find spaces to receive in between the lines or in the half spaces, something he's done quite well under Paulo Sousa's stewardship, his ability to identify unoccupied space has been positive. This has enabled him to support attacks by exploiting vacant zones to generate numerical superiority in midfield areas and connect offensive moves while notably manufacturing space out wide for the wingbacks/fullbacks to use.

Kamano smart movement to find space between the lines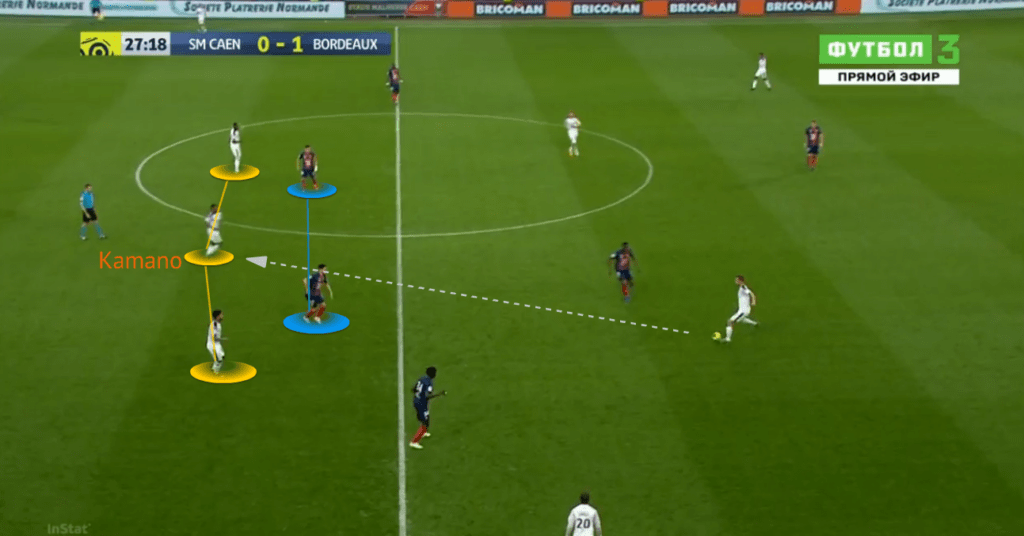 Kamano helping create a 3v2 superiority in midfield

Kamano clever space finding between lines
Even though he's prone to the odd poor touch and guilty of forcing the issue too much with his dribbling on occasion, his ball carrying is a massive weapon for him. Possessing a fantastic repertoire of maneuvers to beat his man 1v1, including stepovers, feints, shimmies, shoulder drops and shrewd variations in speed and direction, Kamano's an unpredictable proposition to handle in isolation duels. Able to turn in an instant and weave out of trouble, he has the unique athleticism to immediately put his adversaries under pressure with a moment of magic.

Kamano's excellent 1v1 dribbling as his fast stepover sees him beat his man
Aided by his knowledge of how vital it is to control the ball on the foot furthest away from his man so they can't nip in, he does a fine job of getting himself between his marker and the ball, so he can obtain crucial extra time before making a decision.
Kamano's finishing also deserved mention, for the powerful attacker is quietly proficient in this regard. On top of being an accomplished penalty taker, he's also shown an admirable array of ways to beat the keeper, ranging from strikes outside the box, crafty placed finishes, powered drives and neat side footers.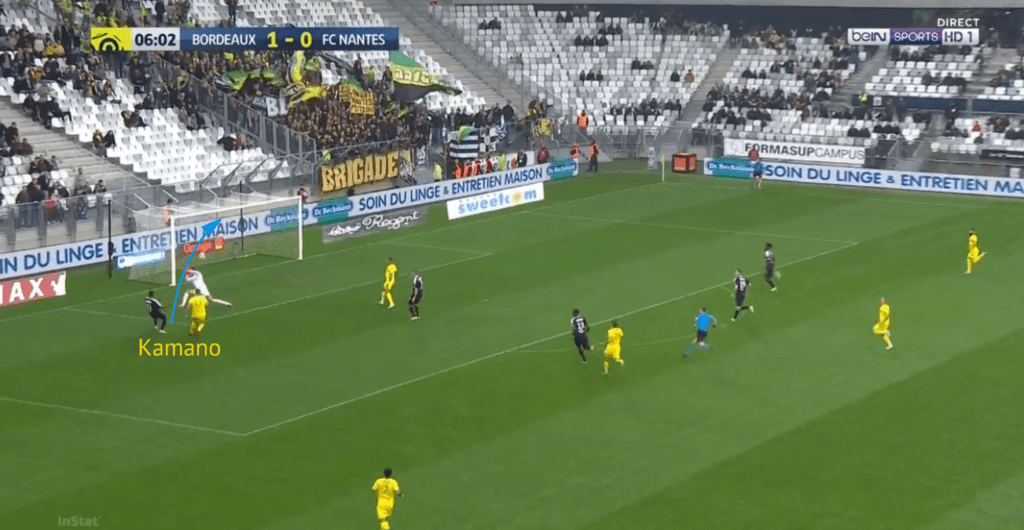 Precise finish from a tight angle vs. Nantes

Sublimely placed finish vs. Monaco
Meanwhile, in terms of his passing, which isn't the strongest area of his game, he shows plenty of ambition and creativity to set up his colleagues. Even though he can be overzealous with his attempts to unlock the opposition, his confidence deserves to be applauded, as he still hits some wonderful through balls, vertical line breaking passes and crisp cutbacks to find teammates in promising locations.

Kamano superb line breaking pass

Kamano's brilliant cutback to set up Sankhare
By the numbers, his 2.6 shots per game, 0.30 XG pg, 3.47 dribbles pg, 24.06 completed passes p90 at 82.2%, one shot assist pg, 2.23 touches inside the box pg and 2.13 progressive runs pg demonstrate how effective he can be.
While he's not yet the finished article, he unquestionably has many of the raw ingredients to be a high level player in the future. As talk continues to rumble on about where he'll be plying his trade next season, Monaco and the other interested parties will probably have to wait until he's finished his exertions with Guinea at the African Cup of Nations currently going on in Egypt before any deal can be done.
Versatile, extremely talented and able to play in a variety of offensive roles, the acquisition of Kamano would certainly give Monaco another dimension going forward if they were to secure his services.
For now, though, in the race for Kamano, it's a case of watch this space.
All graphics created using analysis platform InStat