Despite AS Monaco taking the lead against Bordeaux through Islam Slimani early on, they ultimately succumbed to Paulo Sousa's men, with Slimani's red card proving a key determining factor in the 2-1 defeat.
While this was obviously not the result Leonardo Jardim's men were after, there were still some positives attached to their performance. And the display of Tiemoue Bakayoko was definitely one of them, as the Frenchman put in a good shift on his return from injury.
Operating in his customary central midfield post within Jardim 3-5-2 formation, Bakayoko produced a quality showing, with his work on both sides of the ball very promising indeed.
Defending with aggression and intensity when pressing his opponents, they found little joy turning him, executing their actions coherently or outmuscling him. So strong and forceful, this, in combination with how swiftly he responded to the pressing trigger of his man receiving with their back to goal, ensured they often got outmuscled, unbalanced and had little time on the ball.

Brilliant pressing as he tracks his marker aggressively when they drop deep to recover possession
Importantly, when stepping out to press, he angled his harrying to use his cover shadow to block passing lanes behind, which further compounded issues for his targets.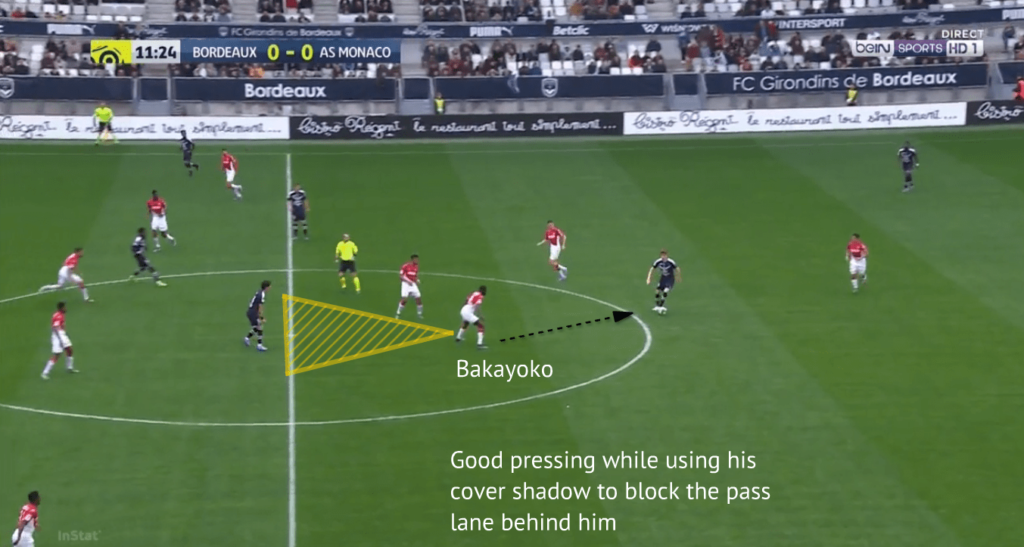 Good pressing while using his cover shadow to block the pass lane behind him
Some other notable aspects of his pressing came from how he shifted to the ball near side to condense the pitch and how he quickly counterpressed once Monaco lost possession in the hope of immediately regaining the ball so Monaco could attack again against a disorganised backline.
Meanwhile, when not pressing, the 25-year-old dropped back into a mid block smoothly, as he positioned himself well to cut off forward pass routes, shifted across depending on the ball's position and tracked foes in his designated area of operation.
When it came to the act of applying his interventions and tackles, his timing was largely spot on, meaning he regained possessing cleanly. Aided by his long legs too, which he used to reach out to chime in or intercept passes, this posed another problem for Bordeaux.
Powerful and imposing in aerial confrontations, Bakayoko used his leap and judgement to win many headers to help his team win second balls. This also saw him contribute on both offensive and defensive set pieces, with his heading being a good weapon for the Monegasques.
Moving onto his attacking output, and the former Chelsea man passed and carried the ball effectively to help progress his team upfield. Distributing the ball competently over short, medium and longer distances, he formed a key cog in animating and constructing Monaco forward forays.
Changing the angle of attacks well, switching the play crisply, bypassing the lines with penetrative ground passes and engaging in some beautiful combination play, these were all significant for the away side. To focus on the latter, and his wonderful layoffs and flick ons were especially effective, for he played some wicked one touch passes into the feet of goal facing teammates.

Bakayoko playing a superb flick to Slimani before turning and receiving a return pass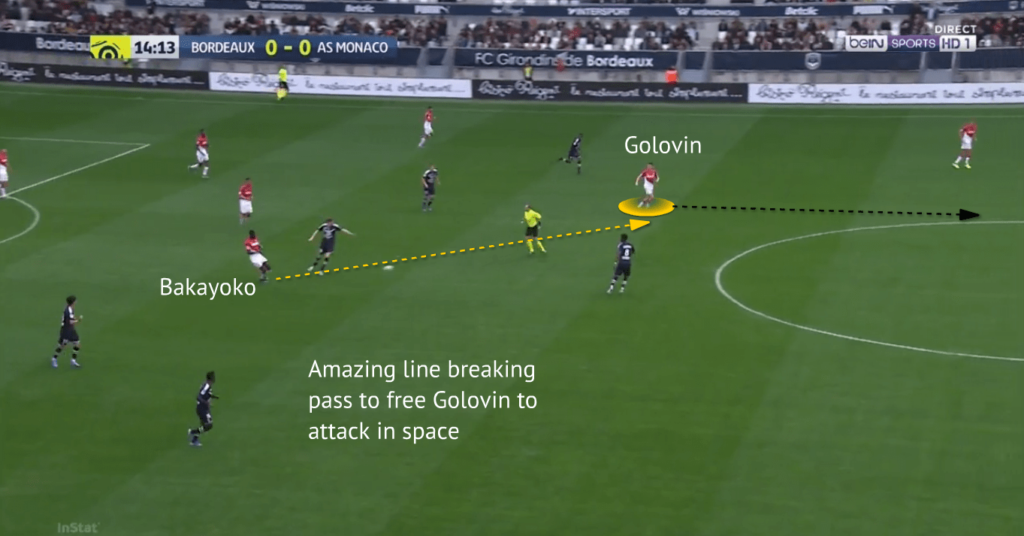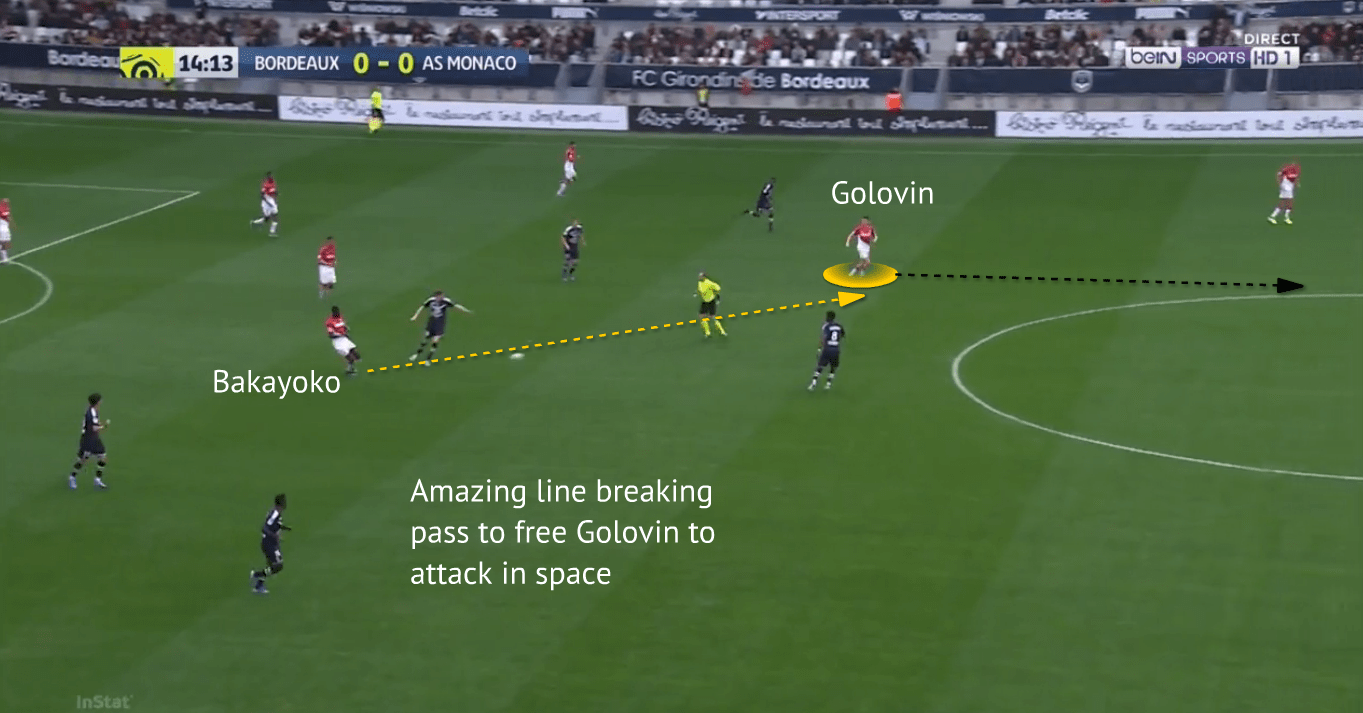 Amazing line breaking pass to free Golovin to attack in space

Superb one touch pass to Henrichs who can then receive while facing forward and attack the vacant space
Very aware of his surroundings as a result of head scanning, this also meant he received the ball in ideal body postures to protect the ball or let it run so his opponent couldn't reach him. If caught in a tough spot, it was great to see him spin out of danger explosively or hold onto the ball robustly while waiting for an option or beat his man.
Accompanying the aforementioned with his smart movement, there was much to admire about how he opened passing lanes for teammates and found space for himself to utilise. Helping form some triangles and diamonds, plus numerical and positional superiorities, to connect moves, opponents found him an elusive proposition to keep tabs on him.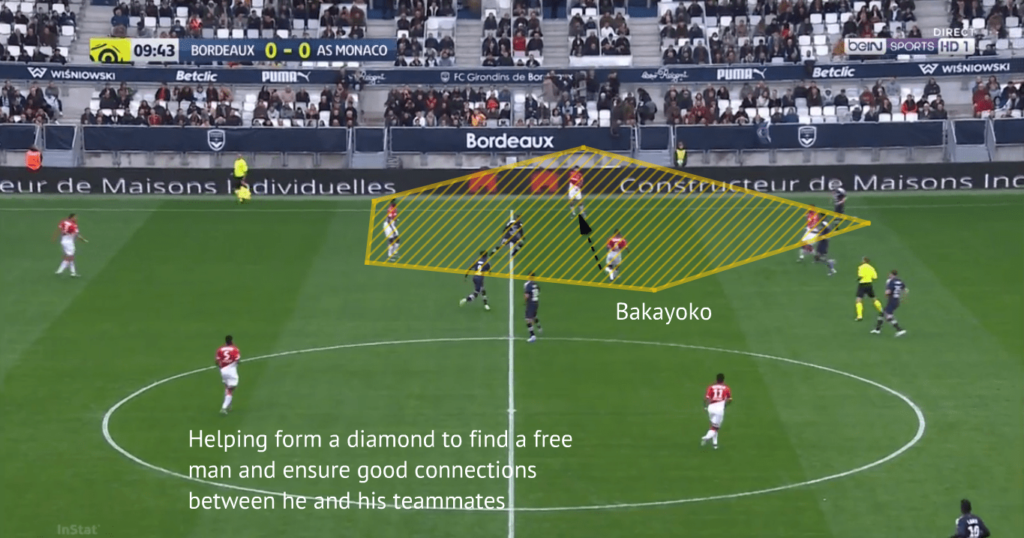 Forming a diamond to help progress the attack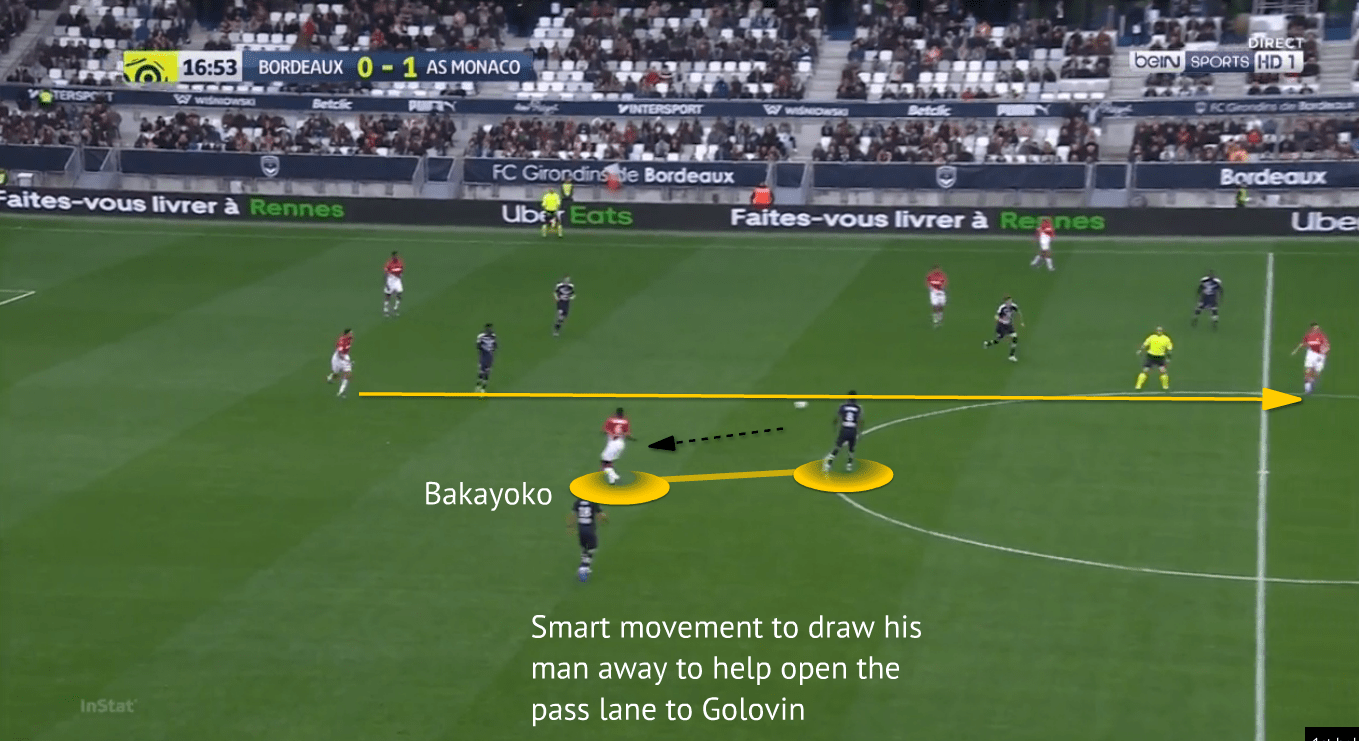 Smart movement to draw his man away to help open the pass lane to Golovin
A nice dynamic came when one of the forwards, Slimani and Wissam Ben Yedder, would pin defenders to generate space for him between the lines.

Crafty movement to receive between the lines
Embarking on some damaging, shrewdly timed forward runs into the final third that are so hard to track, this was another element to his armoury.

Great movement inside the box to be an option
By the numbers, his three touches inside the box, two dribbles, two progressive runs, four ball recoveries, three interceptions, three won aerial duels and two tackles depicted his impressive exertions.
Demonstrating yet again why he's such an indispensable member of Jardim's Monaco squad, Bakayoko's outing epitomised just what a brilliant operator he is, even if Monaco couldn't obtain all three points.
With a colossal clash coming up against Paris Saint-Germain next weekend, you can guarantee Bakayoko will be one of the first names on the teamsheet such is his undeniable importance to this Monaco side.