Having already played 41 Ligue 1 matches and made two appearances in the Champions League for AS Monaco, Benoit Badiashile's decision to commit his future to the club by signing a contract extension last week was a fantastic piece of news.
One of the most highly regarded young players in Europe, Monaco have done well to secure his services for now, for the likes of Barcelona, Chelsea, Manchester United, Borussia Dortmund, Valencia, Wolverhampton Wanderers and Newcastle United, all showed interest in him.
"I am very happy to extend my contract with AS Monaco, my youth club, where I started my professional career. I'm in my second season, I'm going to continue to work hard to progress, to cross the thresholds and to help the team fight for the best possible results," he told the club's official website.
Progressing brilliantly since making his professional debut last season against Paris Saint-Germain, his development has been a huge source of positivity for Les Monegasques, as he continues to go from strength to strength. Although there's been the odd error or lapse in judgement, which is to be expected considering he's just 18, it's been impressive to see how coolly he's adapted to life at the highest level to become an integral component within this Monaco team.
Catching the eye with his efforts on both sides of the ball, it's hardly surprising why he's so coveted by many of Europe's elite clubs.
Beginning with his offensive efforts, and the elegant Badiashile's ball playing ability sees him act as a crucial orchestrator when Monaco are building out from the back. So composed on the ball, his capacity to remain calm under pressure to make sound decisions is amazing to watch in someone so young.
Excellent at reading his teammates' movement ahead of him, this, in combination with his tidy passing range, means he's adept at breaking the opposition lines of pressure. Often cutting out four to seven players with a single pass, if he sees an opening he won't hesitate to play a penetrative vertical ball into the feet of his attackers or midfielders.

Amazing vertical ground pass to take out five defenders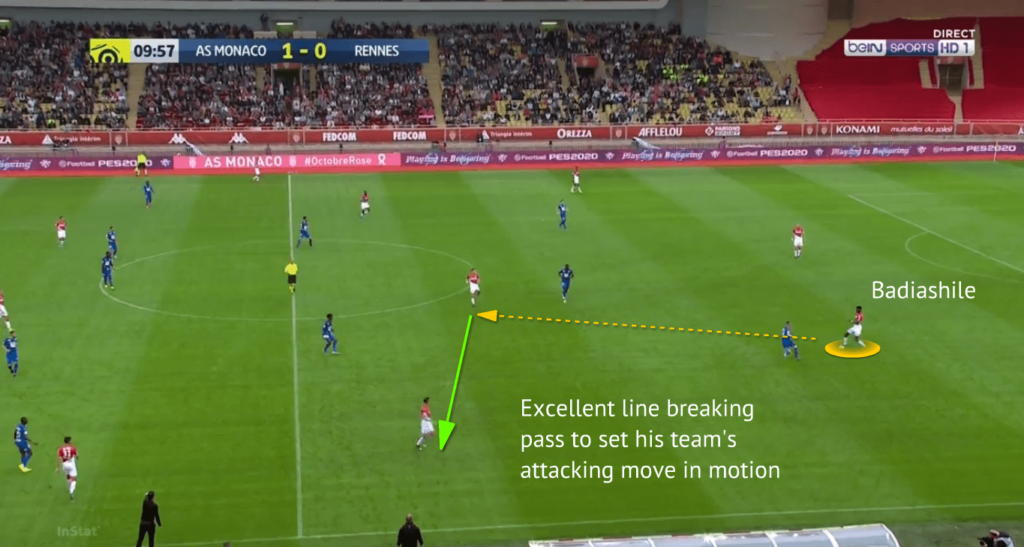 Excellent line breaking pass to set his team's attacking move in motion
Aside from hitting lethal ground passes, he can also switch the the play with conviction, hit measured through balls in behind, strike some tidy one touch passes and recirculate possession coherently if no upfield options are available.

Superbly measured through ball in behind
Meanwhile, when it comes to his ball carrying, this compounds issues for his adversaries, for his driving dribbles effectively provoke pressing actions from opponents to open pass lanes and create a free man ahead. Moreover, the fact he can lure out an opponent and beat them on the dribble enhances his worth, as this puts further stress on stopping structures, forcing another opponent to vacate their post and step out to him.

Quality dribble to lure out two markers before finding a teammate

Smartly provoking two pressers before finding a free man
By using some slick changes of direction, pass fakes and skill moves, Badiashile has done a fine job of buying time for himself, beating his man or unbalancing his man to progress forward.
The France U19 captain has notably illustrated his understanding of where best to position himself to help his team move upfield too. Whether playing in a central defensive back two or three, the way he'll push wide and help generate numerical and positional superiorities to benefit Monaco in stretching and disorganising the opposition first line of pressing line warrants praise. This is regularly the catalyst for him to dribble forward with gusto and add another dimension to his team's attacking forays.
Moving the focus onto his defensive exertions, and there's a lot to like about his work here, with the gifted prodigy performing his duties with impressive clarity and quality. Boasting solid pace and astute at reading the play, this sees him wide awake to his markers' movement, so he can track them diligently when they burst in behind, drop deep or make quick movements into the box.

Tracking his man deep to win the ball back high

Reacting sharply to the pressing trigger of his man dropping deep with his back to goal
Reacting sharply to triggers like when his man drops deep, is about to spring in behind, is receiving in an open posture or is preparing to make a run into the box or into the channel, he's usually awake to the threat so he can deal with them. His anticipation notably transfers over when helping mates too, as he'll jet across to cover runners wide or take on midfield runners if they slip through.

Nice awareness to get across and cover the wide runner

Smartly getting across to chime in with a smart interception
Being able to alternate between many tasks, this has meant he consistently knows when to drop back, shift across, hold his post, follow a runner or step out, with his positioning and situational awareness a highlight.
Exercising fine judgement when it comes to gauging the ball's trajectory so he can orient himself ideally to manage aerial situations or when confronted with low cutbacks into the box, this is another positive aspect of his armoury. In doing so, this enables him to time his leaps and respond accordingly to the ball's flight path, thus giving him the best chance to nullify threats.

Badiashile rising above his man to win the header as he uses his height and judgement expertly
Cool headed and not one to panic, it's not often to see Badiashile applying a sloppy tackle or intervention in duels, for he's pretty clean when breaking up attacks. Be it chiming in with a smooth tackle, crisp interception or bravely putting his body on the line by blocking a shot, his quality here means he doesn't get beaten easily.
By the numbers, his seven ball recoveries per game, six interceptions pg, 5.9 free ball pick ups pg, 1.61 tackles pg at 69%, 2.9 won aerial duels pg at 66%, 2.09 clearances pg, 0.48 blocked shots pg, 59 completed passes pg at 91%, 2.58 progressive runs pg (most of any defender in Ligue 1), 0.48 successful dribbles pg and 8.54 passes into the final third pg at around 80% demonstrate his worth.
While he's an amazing talent, he recognises he isn't the finished article yet and that there's still plenty of time for him to refine his skills in the now familiar confines of Ligue 1, which is why it's best he continues learning from experienced teammates such as Kamil Glik, Jemerson, Naldo and Guillermo Maripan than leaving.
"In this defence I feel good, even though it is true that we concede too many goals for my taste, but we have a good level of progress and it will improve over time," he explained.
"My teammates are always there for me, they know that I'm young, that I need help, they are really good with me, it helps me a lot. When the team is doing well like now, it's easier to play better. I try to follow the collective momentum and for now it works pretty well, I have to continue like this."
He then added this regarding his future, saying: "I always have had my head at AS Monaco. I still see myself being here a few more years; I do not look at the rumors and I think only about my future with AS Monaco."
A formidable presence already who's handled everything from the step up in class to the physicality of Ligue 1 since debuting a little over a year ago while playing with a maturity that belies his tender years, it'll be captivating to track his progress.
If he keeps up at this rate, there's every reason to suggest he appears destined for a long and successful career at the top of the sport.