Having arrived at Auxerre roughly five years ago from Reunion, Jean Harrison Marcelin's impressive progress since then ensured he caught the eye of many clubs across the continent. 
Rising through the ranks with AJA, the defensive prospect made his professional debut in 2018 as an 18-year-old when his team defeated AS Nancy in Ligue 2. Although he didn't truly establish himself in the 2018/2019 campaign, he still gained crucial first team minutes and experience throughout his seven appearances. 
This season emphatically saw Marcelin breakthrough, however, for he grew into a key piece of Jean-Marc Furlan's Auxerre puzzle. Playing 17 times and racking up 1473 minutes of action, he'd been one of the stars of Ligue 2. As a result, the likes of AC Milan, Schalke 04, Tottenham Hotspur and AS Monaco began to show their interest. 
Recognising his immense talent, Monaco duly snapped him up to win the race for his coveted signature, with him becoming the latest prodigy to join The Red and White. With the club intent on bringing in some of the brightest talent across the globe, signing the likes of Youssouf Fofana, Aurelien Tchouameni, Arthur Zagre, Strahinja Pavlovic, Radoslaw Majecki and of course Marcelin, demonstrates their shrewd dealings in the market this season.
A delighted Oleg Petrov, Monaco's executive vice president, was certainly happy about the club's latest acquisition, stating: "We are delighted with the arrival of Harisson Marcelin. Harisson was being courted by several European clubs and we are delighted that he is joining our project today. Harisson had a very good first half of the season and we are confident that he will achieve great things in the future with AS Monaco."
The player himself was just as happy, detailing his desire to do all he can to help his team. "I am aware of coming to a big club, with a lot of good players and competition in my position, but without the competition we cannot have fun. It pushes us to fight every day, to give us the means to succeed. And that's what I'm going to do," Marcelin asserted.
One of the finest players from the 2000 generation, the central defender who's drawn comparisons to French World Cup winner and Real Madrid star, Raphael Varane, plays with a maturity that belies his tender years. Very composed and calm, the way he handles whatever's thrown at him without too much panic is a great trait.
This inherently means he makes good decisions, which is aided by the awareness his head scanning gives him, thus allowing him to spot nearby dangers in front of him, besides him or slightly behind him depending on his body shape. 
Alert to threats of runners in behind, into the channels and into the box, he does a good job of monitoring his opponents even if he can seem a little too casual at times. Extremely quick and with notable acceleration, the languid stopper handles depth runs nicely, as he picks up smartly when his man is about to burst ahead. 
Tracking the run smartly as he gets across quickly
In addition, his speed importantly helps cover his colleagues if they need support or have blown a marking assignment, with him regularly on hand to snuff out danger. When doing the latter, it's admirable how he puts the brakes on opposition attacks (especially in transition), slowing them down by blocking their forward options, which allows his team to get back into shape. 
Awake to the midfield runner and quickly leaves his post to quell the threat
Getting across to snuff out the danger
Alert to react to runners wide and central
The France youth international's awareness also serves him well when his marker drops deep, for he's quick to get touchtight and prevent his man from controlling cleanly or passing the ball coherently. Keen to force errors and not let his man turn, this ensures he can either stop attacks dead but also help his team win back possession in prime areas to attack again against an unset opposition. 
Regaining possession with a tackle after tracking his man deep closely
Using his telescopic long legs, the way he can stretch out to apply his interventions benefits him hugely. Aside from increasing what a tough man to beat 1v1 he is, how he crouches into a powerful posture so he can change direction sharply and adjust to his opponent, has helped him too. Timing his challenges soundly for the most part, his judgment is typically spot on, thus meaning he isn't required to execute last ditch slide tackles too often despite him being pretty handy at them.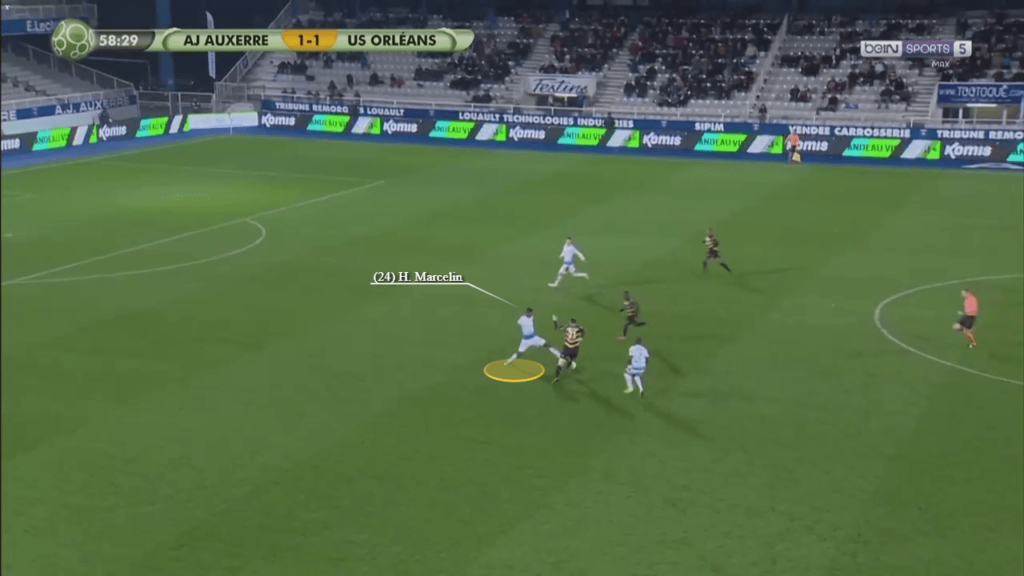 Fantastic tackle using his balance, long legs and anticipation
Superbly timed slide tackle inside the box
Improving all the time with his positioning, there's been much to like about his work here. Knowing when to step out, drop back, shift across, cover a mate or fulfill a marking assignment, Marcelin undertakes his actions efficiently. How he handles 2v1 situations has been interesting too, for he cleverly locates himself between two opponents to keep them at bay and slow down the move. In doing so, this guarantees he can hold the fort while teammates get back into structure, as he makes sure not to overcommit.
Standing a towering 197cm tall, it's unsurprising he handles himself in aerial duels. Customarily getting his timing on point by judging the ball flight and using all of his springy leap, Marcelin wins a respectable 61.9% of his headers. Indeed, his aptitude here helps him clear danger from crosses and set pieces, be a threat on offensive set pieces and help win second balls following long balls and goal kicks so his team can regain possession. 
To touch again on his quality on dead balls, and the way he evades his marker through slick zig zags and stop go movements, plus puts blocks on for colleagues, definitely enhances the threat his team poses from such instances.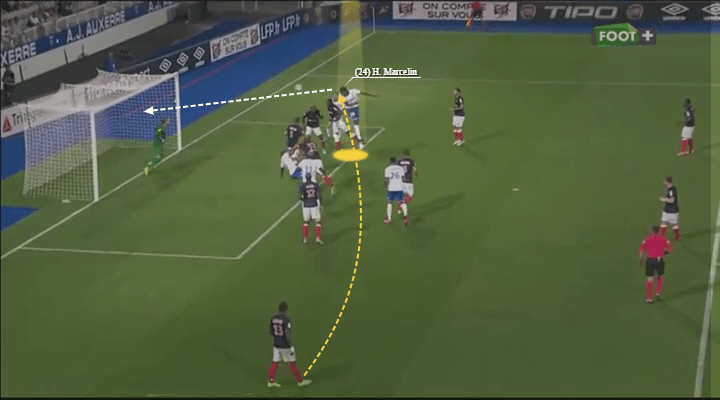 Fantastic leap and header as he scores a super goal
Rising above two defenders to win his header
Just like many up and coming defenders in the modern game, Marcelin's excellent with the ball at his feet, with his passing and ball carrying extra upsides to his game. If the conditions arise, he'll take the opportunity to dribble upfield, looking to either beat his man, gain territory or provoke a pressing action to open a passing lane or find a free man upfield. Able to change direction well, use changes of pace and the odd to shimmie to gain separation, this adds to his worth. 
Passing the ball coherently over long, short and medium distances, Marcelin finds his targets more often than not. Always looking comfortable when building out from the back, he makes sound selections whether to pass to the fullback, recirculate possession, switch the play or find a dropping midfielder. If the opening for a more progressive option comes up, the 20-year-old has the confidence to take it, with him striking many booming through balls and line breaking passes into the final third. 
Lovely through ball in behind
Wicked line breaking pass
Indeed, his 13.25 completed forward passes per game at 85.8%, 3.71 accurate passes into the final third pg at 85.4%, 1.90 accurate long balls pg at 68.4% and 40.79 overall completed passes pg at 92.6% illustrate his distribution skills.
Some additional numbers that underline what an exciting player he is come from his 1.02 dribbles pg, 1.52 progressive runs pg, 2.93 won aerial duels pg at 61.9%, 4.94 interceptions pg and 2.69 clearances.
With still much scope for improvement and development, he'll relish working under Robert Moreno and alongside the likes of Kamil Glik, Guillermo Maripan, Ruben Aguilar and Benoit Badiashile, which should see him progress quickly.
While not yet ready for the first-team and set to be eased in by Moreno while he adjusts to the demands of his system, expect the tremendously gifted Marcelin to be a household name in Ligue 1 one day.