While he's not been at his absolute best this season and come under plenty of criticism, there's no doubting what an asset Cesc Fabregas is to AS Monaco.
On top of being a real leader both on and off the pitch and a fantastic role model for the younger players of the squad, the Spaniard's still such an intelligent player who can impact matches. Despite not being as mobile as he once was, his technical skills, awareness and positional smarts mean his worth is undeniable even if his contribution isn't quite as tangible as the likes of Wissam Ben Yedder, Aleksandr Golovin and Islam Slimani. 
When quizzed on the topic of Fabgregas' output, Roberto Moreno emphatically backed up his countryman, stating just how valuable he is. "In your eyes, Cesc is not achieving what people want from him. But in our eyes, those of the staff, he is doing things well that go above what he is doing on the pitch," he insisted. "To have a player with his experience, with what he can bring to the squad, the control that he can give to play…"
"If you are waiting for Cesc to beat Bolt in a 100m race, no, that is not going to happen. But it was the exact same thing with Sergio Busquets in the national team. If you use Sergio Busquets in a specific context where the team does not play together with a certain pressure when balls are lost, he is not going to shine. There are no bad or good players, but contexts that either favour them or not."
His often underappreciated attributes were certainly on show in Monaco's disappointing 2-1 derby loss to OGC Nice – a match they dominated for large spells before succumbing to a late goal from Kasper Dolberg.
Reading the play sharply and so alert to his surroundings due to his persistent head scanning, which gave him an updated mental imagery of what was around him, Nice found it hard to stop him finding space to operate in
Quick to recognise when to drop deep to help his defenders pass out from the back or push wider out to the flank or in the half spaces, Fabregas timed his movement to help his team bypass the opposition's press. So good at supporting attacks and being unnoticed, where he exploited the blindside of opponents, he frequently created numerical and positional superiorities to help his team progress through the thirds.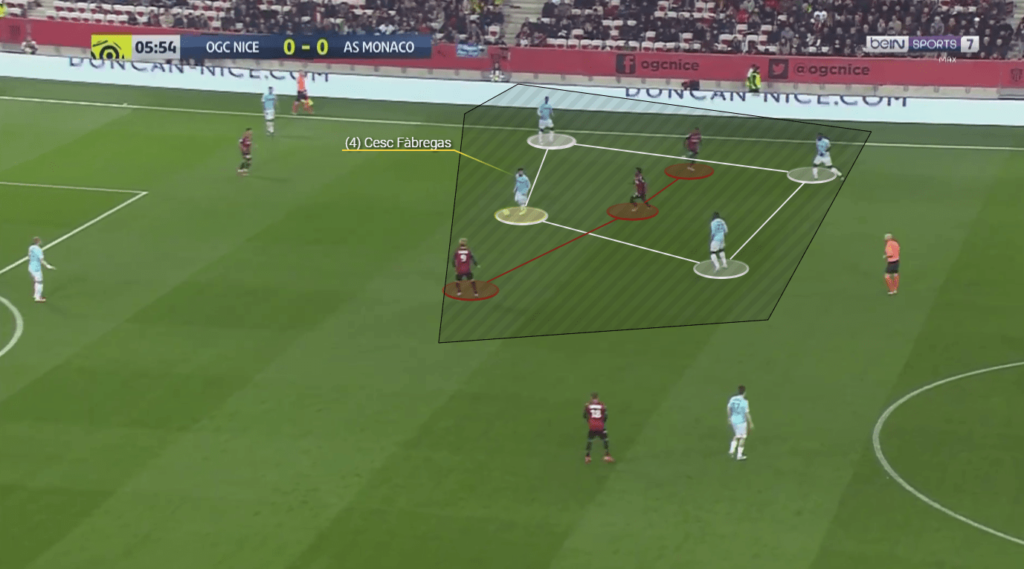 Dropping well to support the attack by creating a 4v3
Moving to generate a 3v2 to beat the press
Forming a 3v2 in central midfield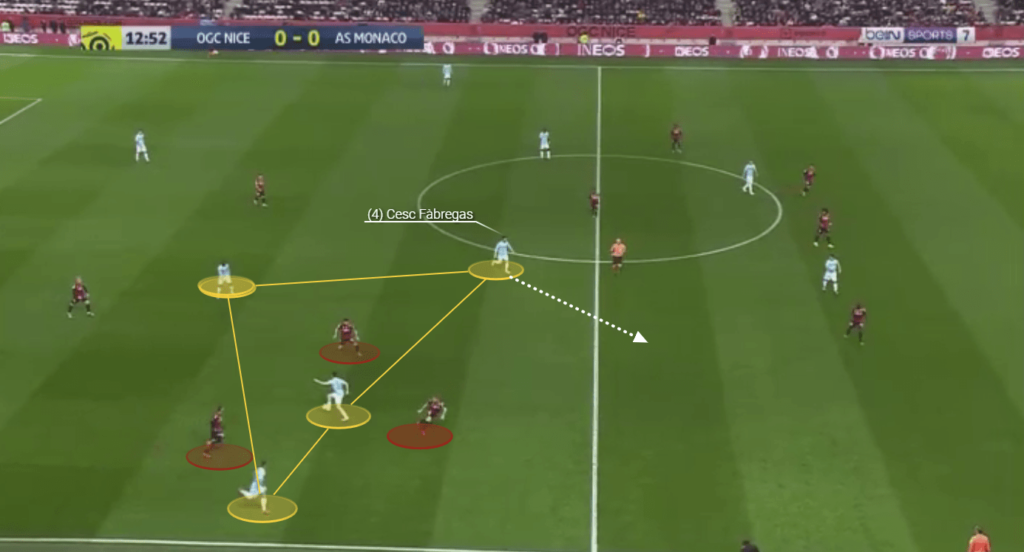 Fabregas ready to receive after moving to create a 4v3
Causing havoc in regards to who should mark him, his spatial understanding effectively unbalanced Nice's stopping structure while ensuring he enjoyed freedom on the ball to orchestrate passages with his incisive passing.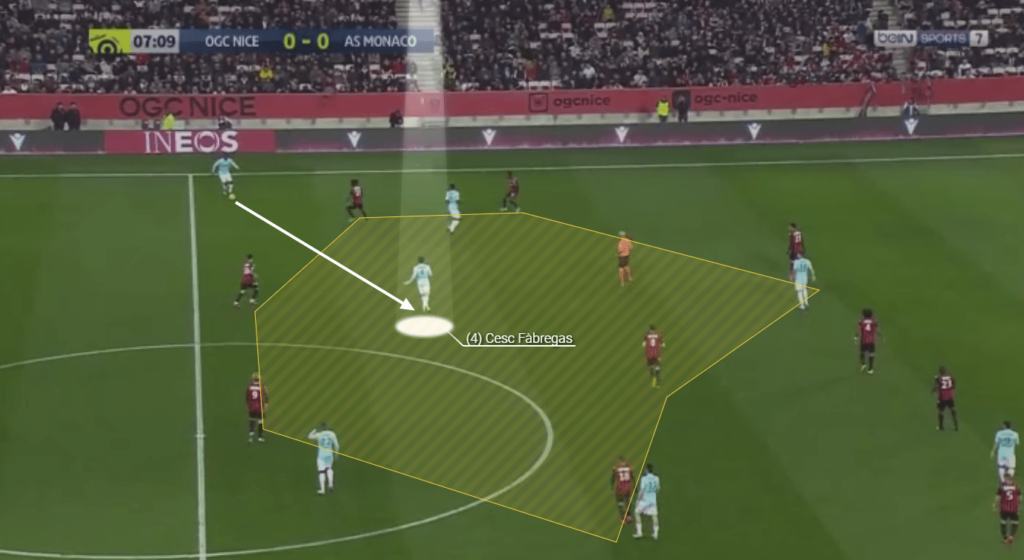 Top job of finding space between the lines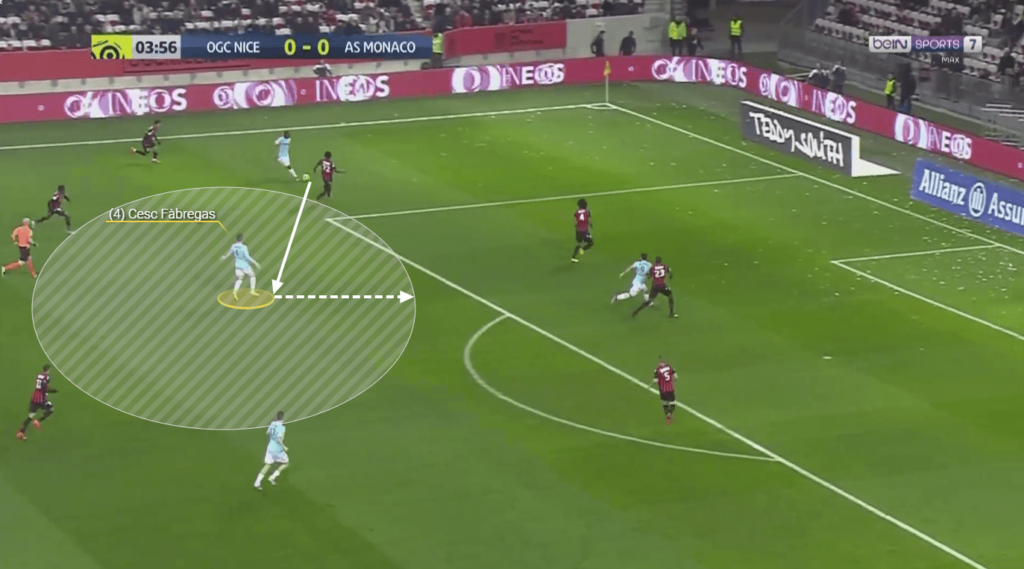 Great space finding at the edge of the box before firing off a shot
Moreover, to further complicate things for Nice, Fabregas subtly rotated with fellow midfielders, Golovin, Tiemoue Bakayoko and Youssouf Fofana from his flexible midfield post. Granted plenty of freedom by Moreno, this also saw him expertly pin and draw opponents to manufacture space and open passing lanes for others. 
Once in possession, the former Barcelona, Arsenal and Chelsea star distributed possession crisply to connect, construct and animate the Monegasques' forward forays. So calm and composed with the ball at his feet, the man with a slick first touch handled being pressed beautifully to remain clear of mind to execute his actions cleanly.
Hitting some wonderful line breaking vertical passes into the feet of his forwards, neat switches of play, slicing through balls and recirculating possession coherently while waiting for an opening, Fabregas' passing was at a customarily high level.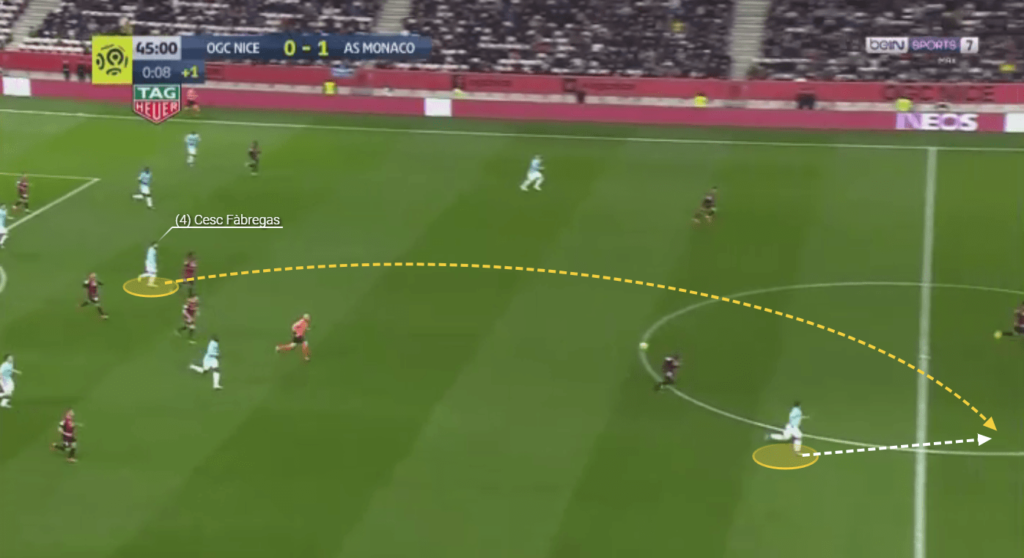 Sublime through ball right into Ben Yedder's path
Excellent vision and awareness to play a slick through ball
Crisp pass into Ben Yedder's feet after scanning well
Completing 48 of his 52 attempted passes, seven of 10 passes into the final third and three of four long balls, his wizardry here was a real highlight. Adding imagination, precision and a sense of clarity to Monaco's moves, there's no doubting how crucial the fast thinking midfielder was for his team.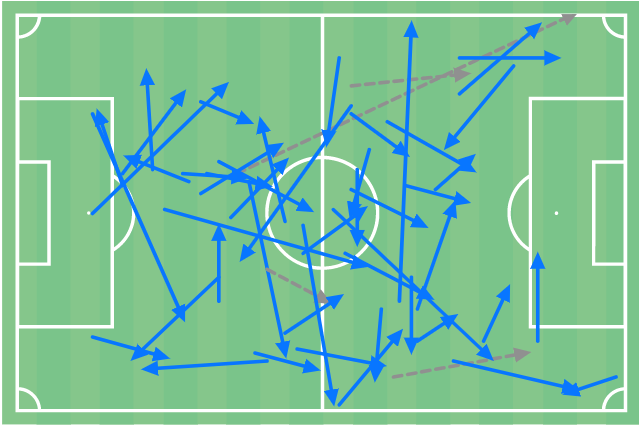 Fabregas' Pass Map
Although Monaco were unable to obtain all three points, there were certainly many positives to be drawn from their performance, with Fabregas' tidy display definitely one of them.
Whether or not he gets the credit he deserves, one thing's for sure, and that's that his manager and teammates fully appreciate his qualities even if he's not quite the player he once was.