Bursting onto the scene at Genoa by becoming the joint youngest ever player to make his Serie A debut at the age of 15, Pietro Pellegri rose to prominence rapidly. 
Fearless, confident and looking right at home at the professional level, the Italian caught the eye of many elite European clubs with his mature performances. Having become the first player born in 2001 to score a Serie A goal when he netted against AS Roma, a brilliant double then followed against Lazio, thus triggering additional interest in the gifted prospect. 
While many thought he would consolidate his strong start by remaining in the familiar confines of Genoa for a while longer, when AS Monaco offered him the chance to leave, he duly took it. Resisting the overtures of the likes of Manchester United, Juventus and Arsenal, Pellegri cited Monaco's proven track record of developing youngsters such as Kylian Mbappe, James Rodriguez, Bernardo Silva, Fabinho, Anthony Martial, Benjamin Mendy, Lucas Ocampos, Yannick Ferreira-Carrasco, Djibril Sidibe and Thomas Lemar as key in his decision. 
"I am very pleased to join AS Monaco. I was quickly convinced by the project which helps young players like me to be able to grow and flourish in the future. I'll work hard to become a major player in the club," the €20 million signing gleamed to the club's official website.
With the Red and White selling towering forward Guido Carillo to Southampton for €22 million, it appeared the stage was set for Pellegri, who'd even received a senior national team call-up, to stamp his mark as Radamel Falcao's deputy. 
But it's been far from smooth sailing for the man who idolises Zlatan Ibrahimovic, for a series of devastating and frustrating injuries have curtailed his desire to continue his development at the highest level. While his debut goal vs. Bordeaux some eight months after signing was a highlight, they've been extremely rare due to his injury struggles.
Already sidelined for a whopping 629 days and missing 90 games (as per data website transfermarkt) during his time at Monaco, hamstring and groin ailments have predominantly hampered him. If reports are to be believed, however, Pellegri's now back in training and should be ready for action when the league is safe to resume, in what would be a huge boost for both the player and the club. 
An immensely talented forward, who has so many of the characteristics needed to thrive in the modern game, his presence will add some additional depth to Monaco's already fearsome frontline. 
Sound with the ball at his feet, where his first touch and ball control typically serve him well, this allows him to link play coherently and drop deep to connect midfield and attack. Although he only averages 12.83 passes per game, his neat one touch play while under pressure and ability to fend off opponents to hold up play while he waits for an option or gains room to shoot ensures he's a good outlet.
So strong and physically intimidating, the way he uses his frame to withstand pressure by using his arms, shoulders and body to get himself between the ball and his man means he can win fouls or maintain possession when harried. 
Pellegri's aerial prowess adds to what a quality target and reference points for attacks he is. Giving an excellent option for goal kicks, set pieces, open play long balls and crosses, he's a super outlet in these scenarios. Whether his team needs to launch a long ball upfield when unable to beat the press or when providing a goalscoring threat in the box, he's a weapon for his team to win second balls high up and when finishing moves off.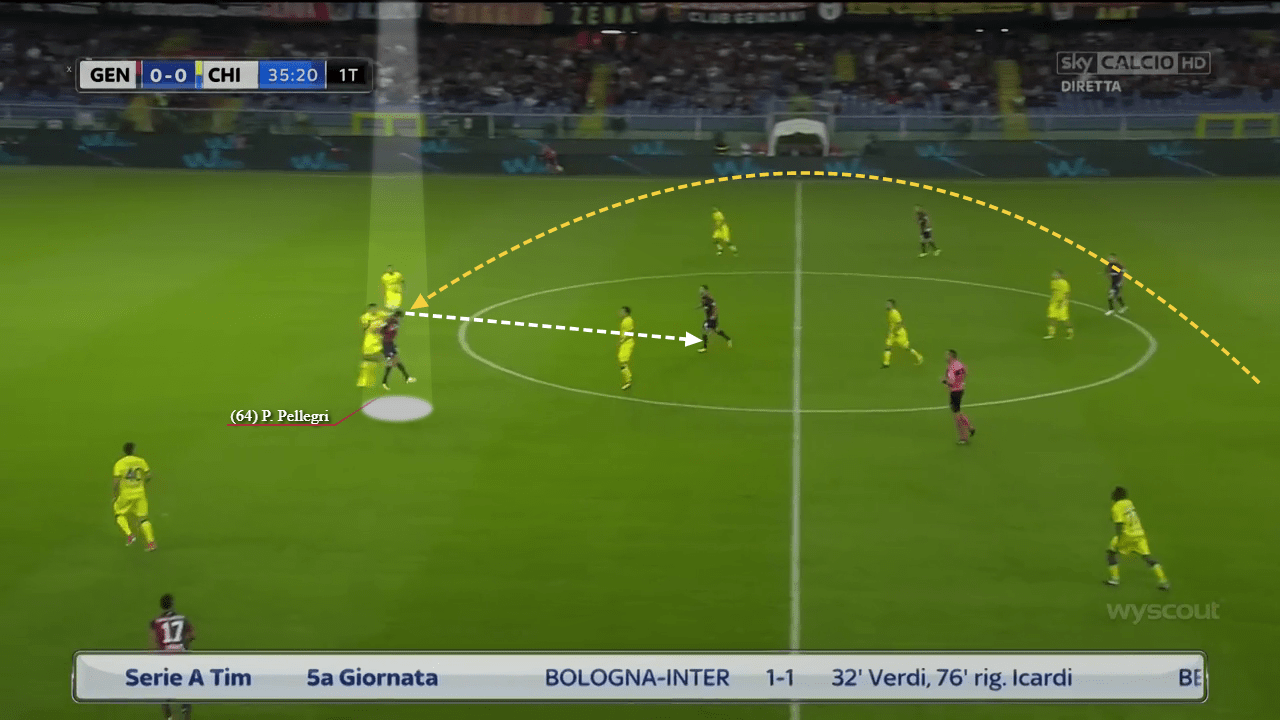 Excellent leap and header
Judging the ball's trajectory and speed proficiently, this sees him prepare himself for incoming deliveries, giving him the best chance possible to beat his opponent to the ball. In addition, the fact he's 188cm and has an athletic leap only amplifies his threat in such duels.
Supplementing this with his outstanding movement, which is arguably the standout aspect of his game, and this holds him in good stead to get into promising positions within the final third.
Causing constant headaches with his variety, this allows him to get the jump on his markers when surging in behind and into the box. Extremely quick to read the play and when his teammate has spotted him and the ball is located near their preferred foot, he then times his run accordingly to gain an edge. 
Brilliant depth run as he times and directs his movement wonderfully
Efficient at timing, bending and angling his runs in behind, he smartly takes advantage of many scenarios to burst ahead. These include making the most of gaps between defenders, exploring the space in the channels when the fullback steps out and peeling off his man to exploit the blindside of markers.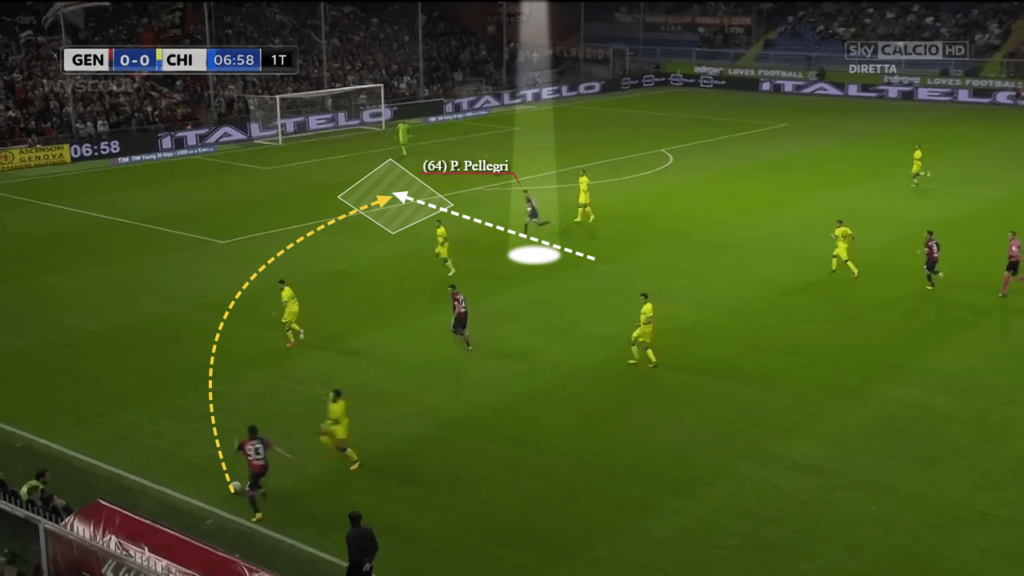 Wickedly angled run between defenders to get in behind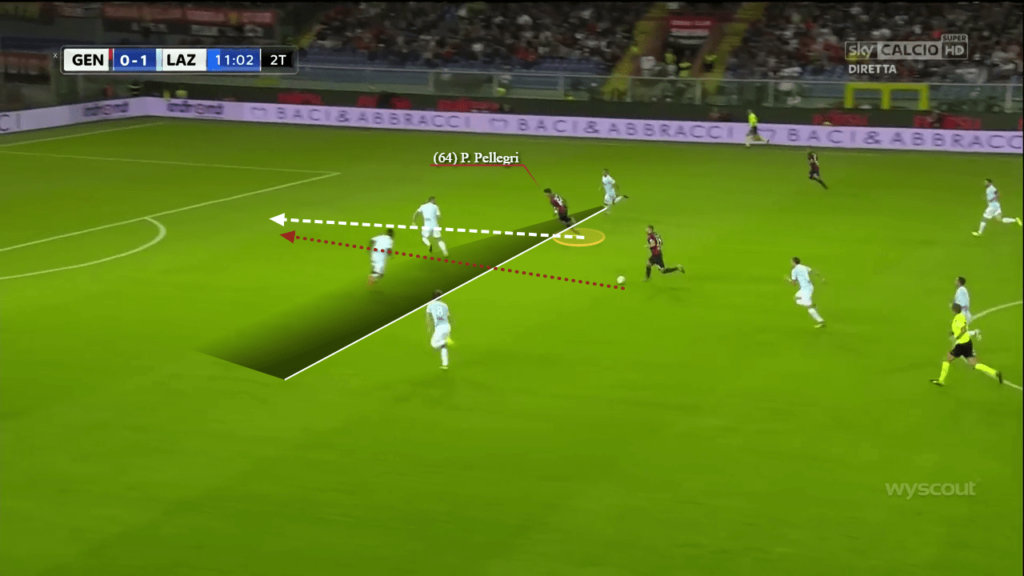 Superbly timed depth run as he peels off his man sharply
To focus on the latter, and this can be of particular importance, as embarking on runs on the blindside of adversaries gives him a dynamic advantage over more stationary opponents to be in ideal positions to reach through balls, cutbacks and crosses first in goal facing postures.
Crafty blindside run into the box to be in great scoring position
Meanwhile, as he ventures into the box, the instinctive forward craftily uses double movements, zig zags and stop gos to unbalance opponents to get into quality shooting areas. This sees him find openings to supply great options for teammates who are intent on spotting an attacker inside the box.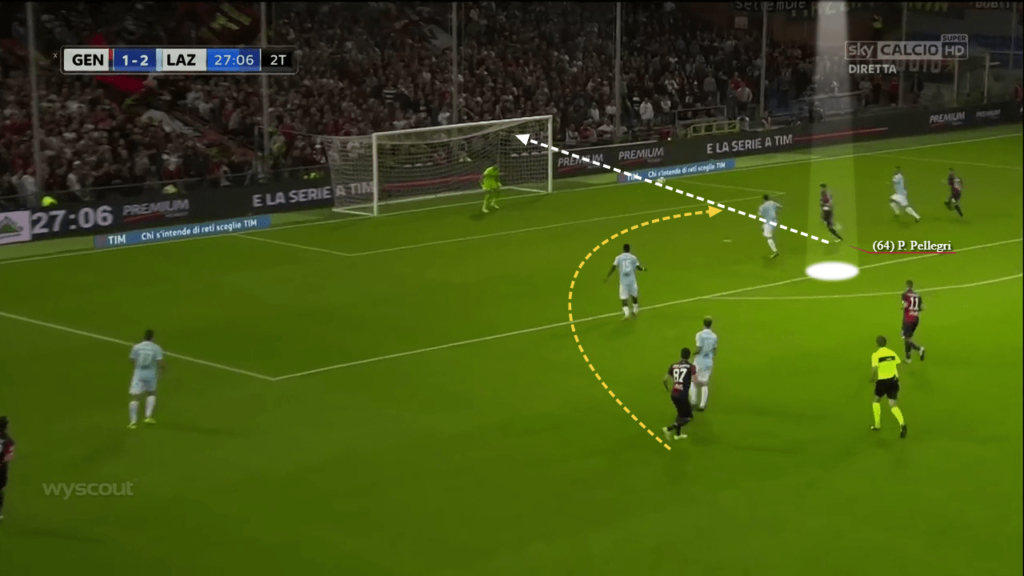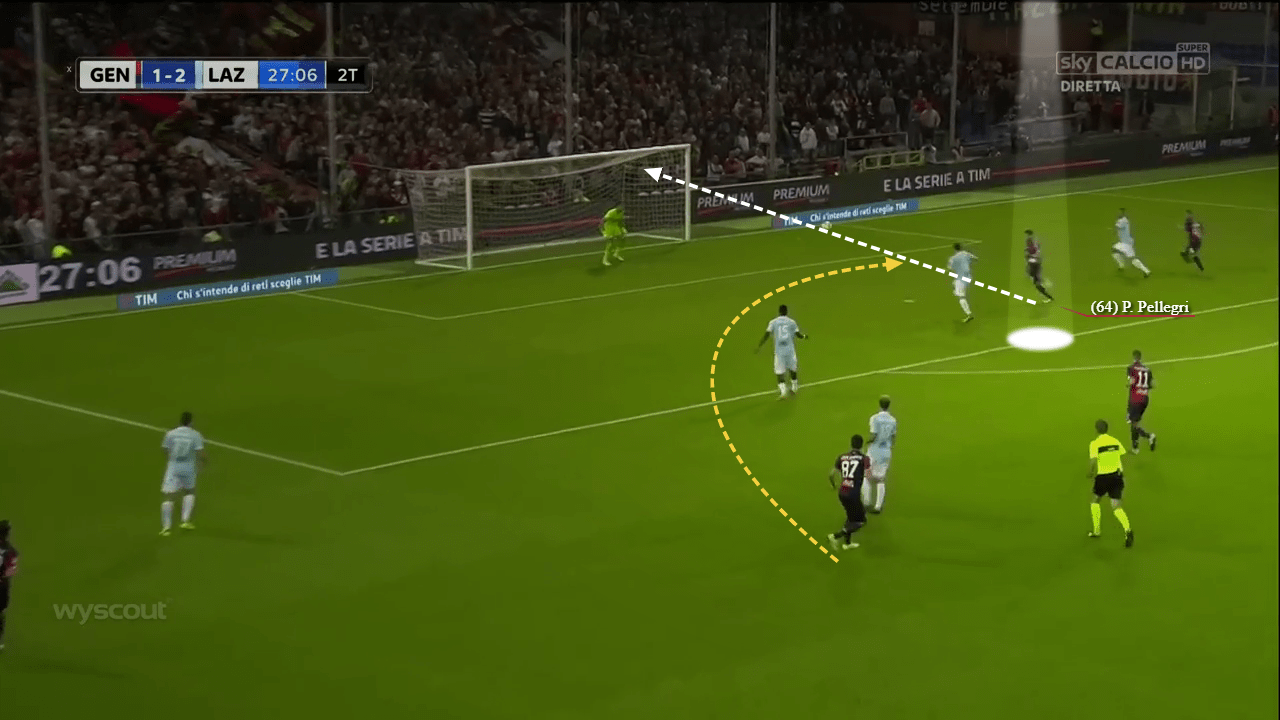 Sublime run and first touch finish
Another underappreciated element of his work is how he pins both centre backs due to his threat, thus preventing them from stepping out to teammates in the 10 spaces as they don't want to leave him 1v1 or give him space to spin in behind. Indeed, the image below depicts this aptly, where both defenders are hesitant to step out, something that allows his teammate to receive freely.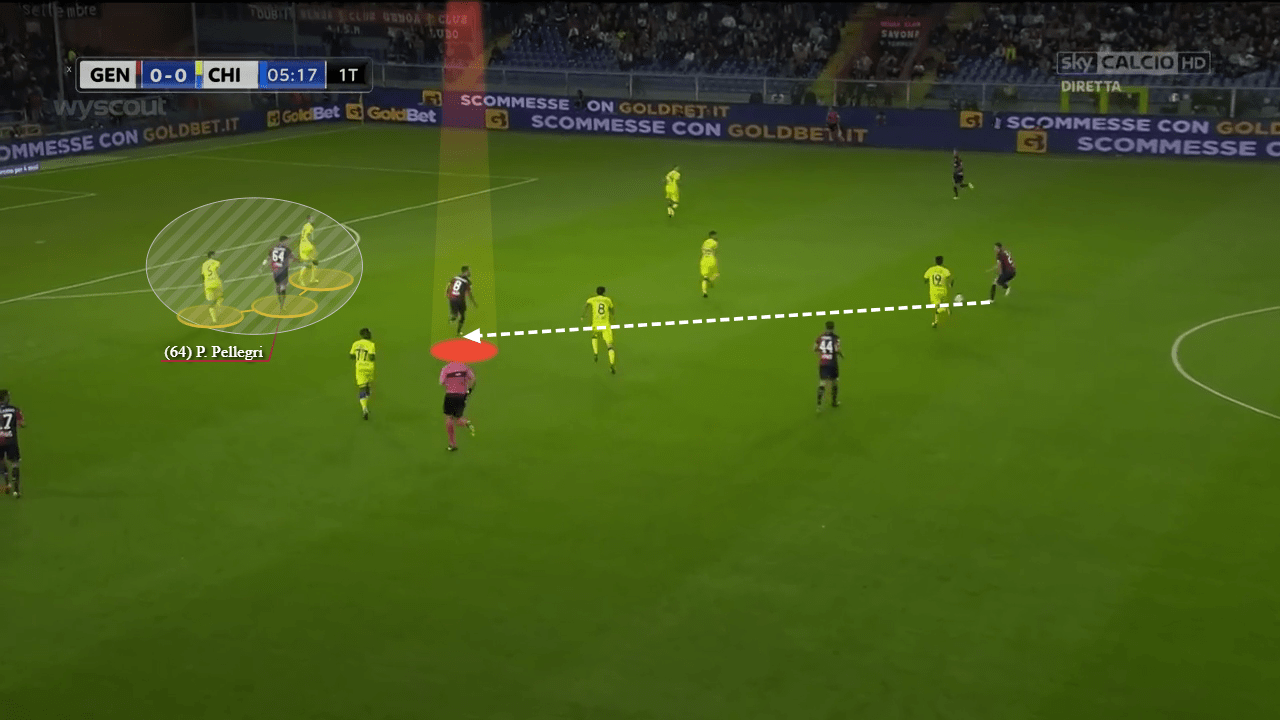 Smartly pinning two markers to create space for his teammate between the lines
From his reasonably small professional sample size at the highest level, how he's transferred his finishing from youth to the professional level has been admirable. Able to slot placed finishes, powerful blasts, neat tap ins, powerful headers and incisive 1v1 efforts against the keeper, he's a constant handful. Also crucial is how he keeps balanced when finishing and processes situations so cleanly.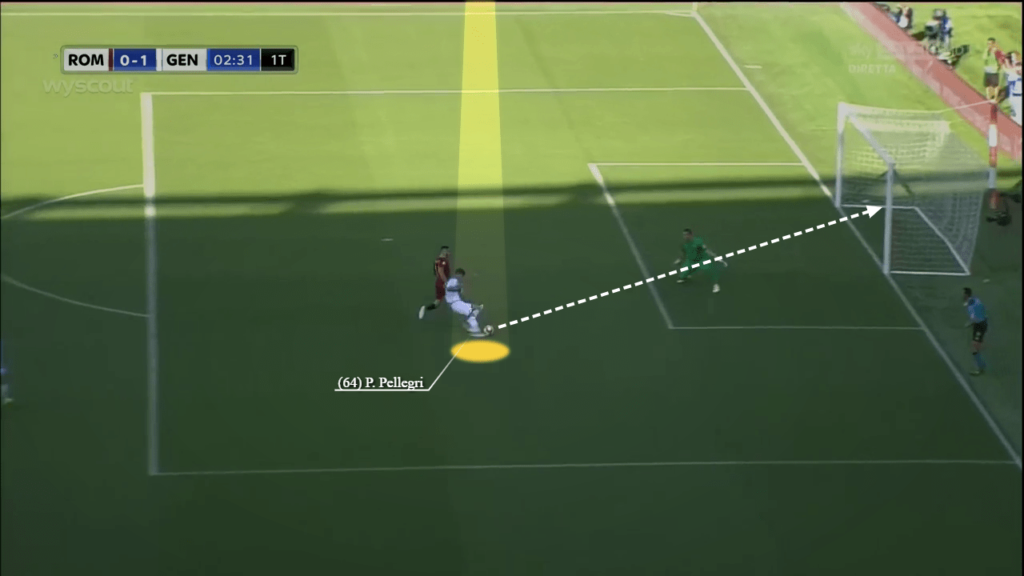 Wicked finish despite being under heavy duress
Sublime left footed finish when 1v1 under pressure
Looking at his statistics from the last four seasons, and this gives us glimpses of his class, as he's registered 0.56 goals per game, 2.87 touches inside the box pg, 2.71 won aerial duels pg, 1.59 dribbles pg, 1.51 shots pg, 1.28 progressive runs pg and 0.56 shot assists pg.  
Absolutely desperate to get back to the action, it'll be wonderful to see him return after such huge spells on the sidelines. Although time is on his side, as he's still just 19, finally getting some continuity that comes from obtaining vital game time should hopefully see him start fulfilling his enormous potential. 
Everyone associated with him and the club will certainly be hoping so, for he's got all the tools to be a superstar for the Monegasques.