Analysis: Nubel's masterclass secures a vital point for AS Monaco
Alexander Nubel underlined his quality with an outstanding, man of the match performance for AS Monaco in their 0-0 draw. vs Lille.
Playing an absolutely integral role in securing a crucial point for Les Monegasques in this huge clash that pitted fourth and fifth in the Ligue 1 standings, the gifted goalkeeper's host of expert saves were instrumental towards shutting out Lille.
Seeing as Monaco hadn't kept a clean sheet in around a month, the presence of Nubel was a real game-changer in a match where he kept his 10th clean sheet of the season and moved into second for most saves in Ligue 1.
Indeed, with ASM's top three push just about over, the focus has switched to locking in fourth, and thanks to Nubel's heroics over their direct rivals, Monaco maintained their five-point lead over Les Dogues.
Commanding his area brilliantly and incisive with his actions, there was much to admire about his accomplished body of work – just as there was last week against Angers.
While he was sound when coming out to claim through balls and crosses and handled the straightforward stops with minimal fuss, his ability to stop the difficult ones saw him really stand out.
Especially coming into his own in a rapid-fire spell in the second half, where Lille had three brilliant chances, Nubel stood tall to deny Les Dogues with a trio of immense saves.
Firstly, it was impressive how the German goalie, who was prepared on the balls of his feet, raced out to limit the distance Timothy Weah had to finish after he'd latched onto Remy Cabella's through ball before swiftly sticking out his left leg to produce a remarkable reflex stop.
It was Jonathan Bamba's turn to be rejected next, where Nubel once again came out to close the angle, made himself wide, reacted quickly and got his positioning on point to prevent the 27-year-old from scoring.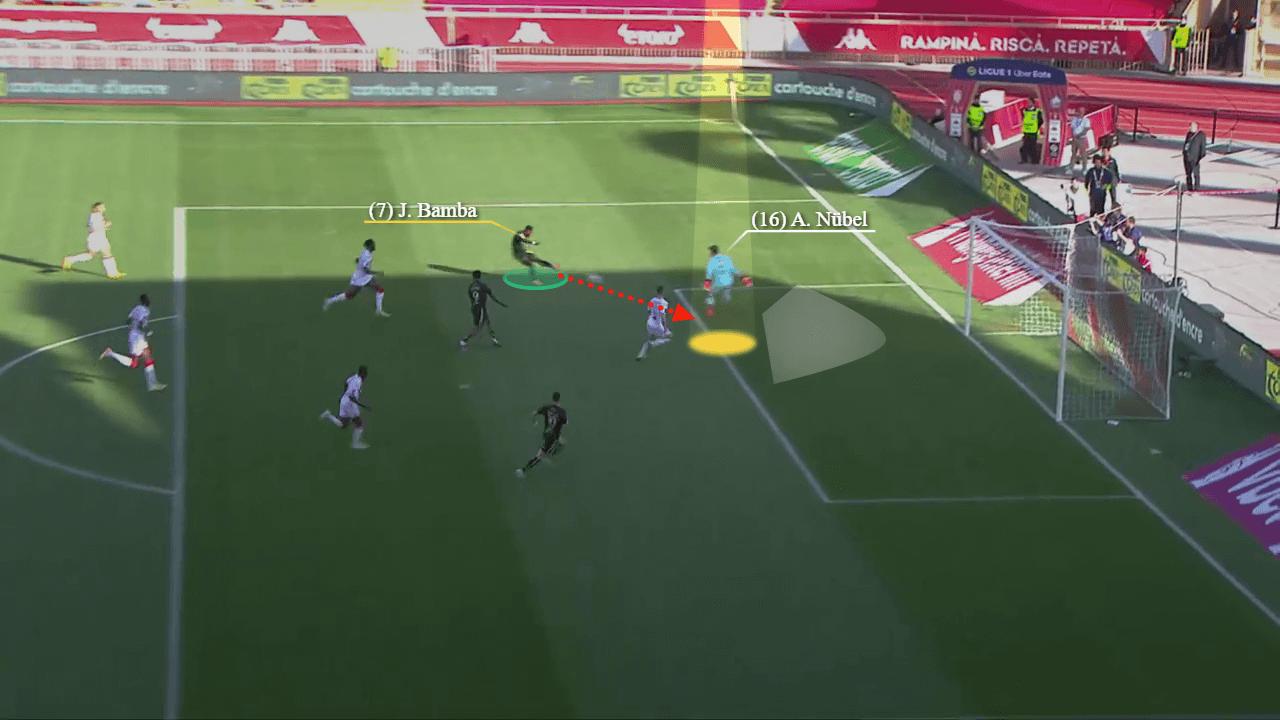 Lastly, the way he shrewdly dealt with Bamba's header by getting across briskly and precisely was key towards him stopping the effort, with his nifty footwork and strong base posture ensuring he could handle the situation with aplomb.
Additional upside could be extracted from his crisp passing out from the back, which saw him hit some accurate long balls, circulate possession cleanly and switch the angle of attacks nicely while making sure to not take any unnecessary risks.
By the numbers, his five ball recoveries, four saves from four shots directly faced, two interceptions, two won aerial duels and two clean exits punctuated his fantastic showing.
His Belgian manager, Philippe Clement, was rightfully full of praise for the 26-year-old between the posts when asked about his display, insisting: "Alex actually had a very good match today, but even against Montpellier despite the score (0-4), he had a very good performance. We saw it in training this week, Alex has regained his confidence, and that's important because you need to have a decisive goalkeeper in the big games."
Operating at a level resembling his best, making coherent decisions and hardly putting a foot wrong, Nubel will now be eager to carry his solid recent form into the remaining three fixtures.
Nubel himself gave an intriguing insight into his style and desire to continue elevating his craft. "I think that the opinion in a global way concerning me has evolved. Today, we know more about my style of play and the way I express myself. You know now that I am not spectacular since it is efficiency that simply counts," he told Monaco's official website.
"However, I think that I still have to improve in communication with the rest of my team, and in particular on crosses, set-pieces or aerial balls. I still have a margin at this level and I work every day with Frederic De Boever, the goalkeeping coach, as well as with my teammates in this position in order to improve."
With his future undecided and his two-year loan from Bayern Munich about to come to an end, it'll be interesting to see where he'll be plying his trade next term.
All that talk will have to wait for now, though, for his sole focus will be finishing the campaign on a high both on an individual and collective level, as his team aim to secure fourth in the table.
The rest will then take care of itself come season's end – just like Nubel took care of business vs. Lille.