If there is one place to visit in the Principality this summer, it is the Nouveau Musée National Monaco for their visceral exhibition "Variations" — Eugène Frey's Light Set Projections presented by João Maria Gusmão.
Standing in front of the beautiful Villa Paloma of the Nouveau Musée National Monaco, you are treated to the most breathtaking panoramic view of the Principality, if not the best. The Prince's Palace lies directly in the middle, while the breathtaking azure of the Mediterranean and the ports of Monaco lie on either side. The Jardin Exotique sits quietly below. Amongst the noise and (usual) bustle of the Rock in summer, the museum offers a true moment of calm. What awaits inside, until August 30th, is second best only to this view.
Combining the contemporary with the classic
The current exhibition "Variations" — Eugène Frey's Light Set Projections presented by João Maria Gusmão is a truly enjoyable, interactive presentation dedicated to the stage design technique, and lesser-known art, of projections. Frey, a Belgian native born in 1864, developed these light sets at the Opéra de Monte-Carlo stage up until the 1930s. The man interpreting his works, born over a century later, is one half of Portuguese experimental art duo Gusmão + Paiva, exploring techniques using analogue film, photography and installation.
On loan from collections owned by NMNM, Société des Bains de Mer and Musée Nicéphore Nièpce, this is the first time 300 of Frey's innovative works have gathered in one setting alongside contemporary interpretations.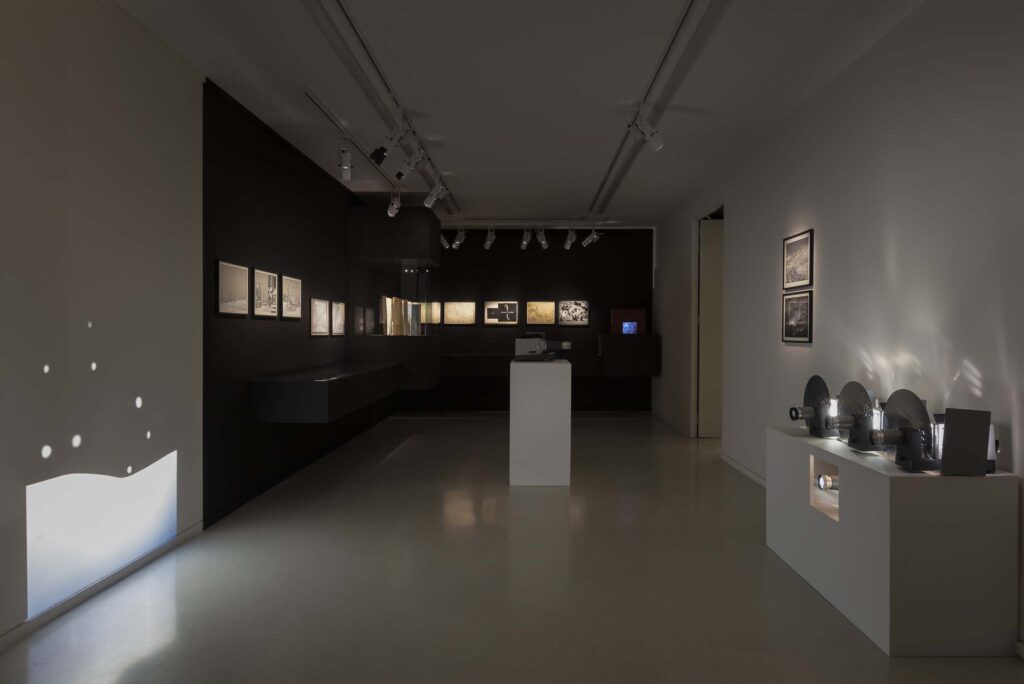 In hopes to rediscover the pioneer, museum curator Célia Bernasconi invited Gusmão to display the original works alongside his own explorations of light see projection as well as pieces which influenced or were influenced by light set projections. Venturing into the pre-cinema world, this exhibition contextualises Eugène Frey's theatrical projects through these contemporary experimental creations, artworks which would be right at home in the Centre Pompidou.
"I wished to combine a historical perspective with the contemporary vision of the artist João Maria Gusmão through his physical, film and literary work," explained Bernasconi. "It presents great diversity."
Mixed media exhibition
Various film installations and projections, as well as sketches and photo stills on glass plates, make for an intriguing exhibition, with each room offering a chance to discover original light set projections from the turn of the century. Gusmão has effortlessly linked analogue film, video installation, painting and shadow puppetry, including works from filmmakers Lourdes Castro, Michel Ocelot and Lotte Reiniger. It is a veritable feast for the eyes as well as the ears, Gusmão seamlessly tying each different media form together.
The most memorable moment of the exhibition is the Faust room. It takes us through the detailed conception of the Monte-Carlo Opera's 1905 trilogy of La Damnation de Faust by Hector Berlioz, Mefistofele by Arrigo de Boito, and Faust by Charles Gounod. Glass plates depicting hellish scenes glimmer across the walls, reminiscent of Goya's bloody and ghoulish works, allowing us to see the minute details of these turn-of-the-century "special fx."
Nouveau Musée National Monaco is one of Monaco's most astounding museums, yet it remains a hidden gem for tourists and residents alike. Since it reopened last week, there has been a handful of visitors a day. This only allows you to appreciate the exhibition at your own pace, taking in each of the works with the awe it deserves.
If there is one thing you must do this summer, it is this museum.
The exhibition will run until August 30th. For more information, visit their website.