Having made his professional debut for Independiente in May 2019 in their Copa Sudamericana clash against Rionegro Aguilas at the age of 16, Alan Velasco's certainly one of the brightest prospects in Argentina.
Although his career is only in its infancy, his talents have already caught the attention of many clubs despite only featuring on seven occasions for Independiente's first team this campaign. While he's also drawn admiring glances through his efforts for Argentina's U17 team, it's been remarkable how quickly he's hit the radar of some high profile European outfits.
Aside from interesting Newcastle United, he's also being monitored by Lyon and AS Monaco, as these teams clearly want to make their move early before he begins to further realise his tremendous potential and signs a revised deal. With his release clause apparently set at €18 million, he won't come cheap, but as we've seen with the likes of Vinicius Junior, Rodrygo and Reinier, who cost Real Madrid a combined €121 million as teenagers, this is how the market works for gifted youngsters. So in light of the aforementioned, he represents decent value.
While it's probably advisable a player of his age stays put and continues to hone his craft in the familiar confines of the club he joined as a nine-year-old, the fact Independiente aren't financially secure could mean they're keen to cash in on the starlet.
Velasco's recent comments during the enforced layoff due to the health crisis illustrate his preference to stay with El Rojo, with him stating: "I want to return to Independiente everything they gave me with a title. Hopefully it can happen soon. I arrived at the age of nine, I am at home here. I also want to consolidate myself in the first division and earn myself a place."
Regardless of whether he stays or leaves, there's no doubting his immense talent, which he's notably already demonstrated in the senior game in addition to his work in underage football domestically and at youth international level.
Excelling with the ball at his feet, the diminutive 167 cm attacker, who's at his best playing out wide but also competent playing off a striker, is a real danger whenever he receives possession.
Blessed with razor sharp close control and a lovely first touch, this sees him inherit the ball smoothly before undertaking his actions with conviction in both open space and high pressure situations. Able to twist and turn away from trouble using his awareness, that he gains from scanning his blindside to obtain an updated mental imagery of his surroundings, this is key towards him knowing where markers and the vacant spaces are.
Able to then unbalance his man using nifty alterations in pace and direction, stepovers, feints, shoulder drops, stop gos and fake passes, he's certainly a tough man to combat 1v1. It's also important to note how his team will regularly switch the play to him so he can be isolated against his opponent to use his dribbling prowess.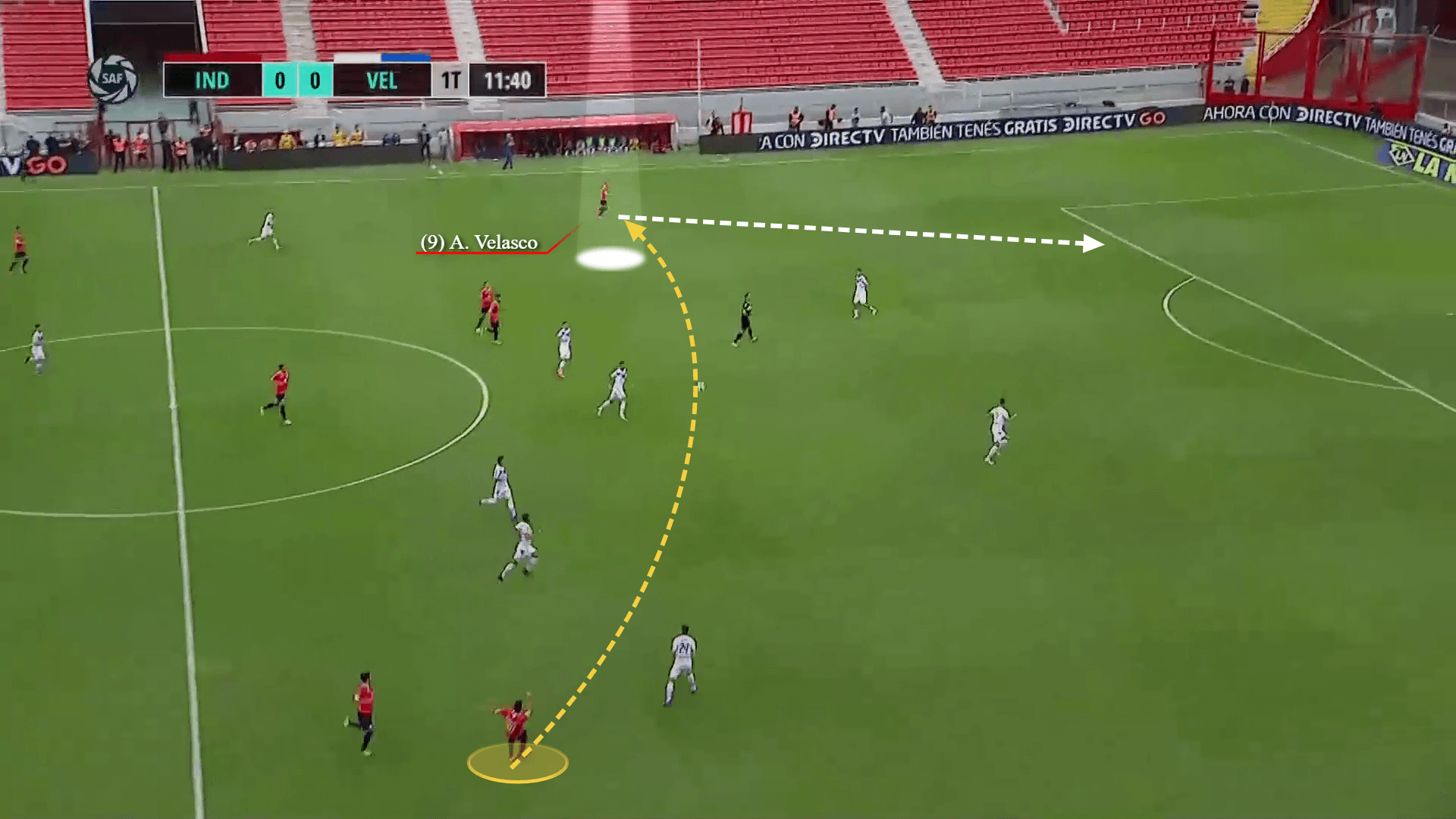 Hard to read what he'll do on the ball due to his close control and vast repertoire of ways to outfox his markers, Velasco subsequently draws many fouls when defenders overcommit or misjudge a challenge. In doing so, this ensures his team can win free kicks in dangerous areas in and around the box.
Despite his small stature, the way he holds his own when harried is impressive, for his low centre of gravity and power in his legs mean he can withstand pressure to remain balanced while spinning away or alternatively draw a foul.
Being so comfortable on the ball and when pressed sees him coolly provoke pressing actions from one or more opponents, allowing him to hold onto the ball before finding a free man upfield after the opposition have been lured out of shape to come at him.
Meanwhile, when it comes to his passing, there's been much to like too, with his technical qualities transferring over into this aspect of his game. While he recently admitted this part of his game needs work, it's been positive how he strikes progressive passes to put teammates into advantageous positions to shoot or assist. On top of sliding in some incisive through balls, how he's found colleagues between the lines, switched the play, combined in tight areas and struck some quality crosses and cutbacks has added another string to his bow.
Tying everything together with his movement, and Velasco's always looking to be an option to run in behind, stretch the opposition backline or connect play. Already adept at timing and angling his runs in behind, down the channels and into the box, watching him choose when to instigate his movement has been a highlight. Very alert at recognising when a teammate is ideally positioned to find him with their head up, he'll start his run accordingly.
Often beginning his runs out wide before curving his bursts inwards to latch onto the ball more centrally, his out-to-in runs have been a real weapon. Enabling him to gain a dynamic advantage over his more stationary and awkwardly oriented marker or exploiting their blindside, this has given him an edge to get the jump on his adversaries.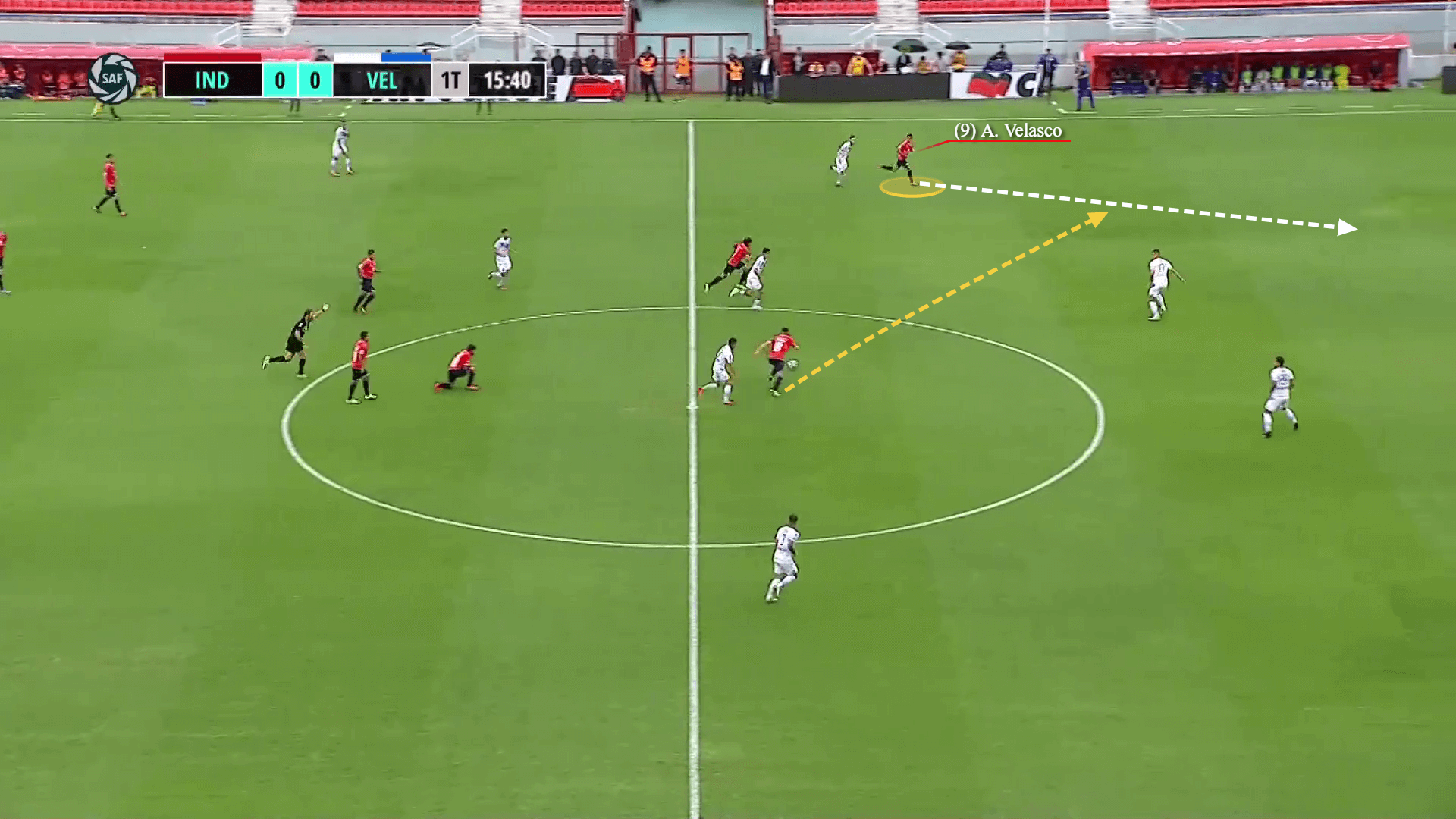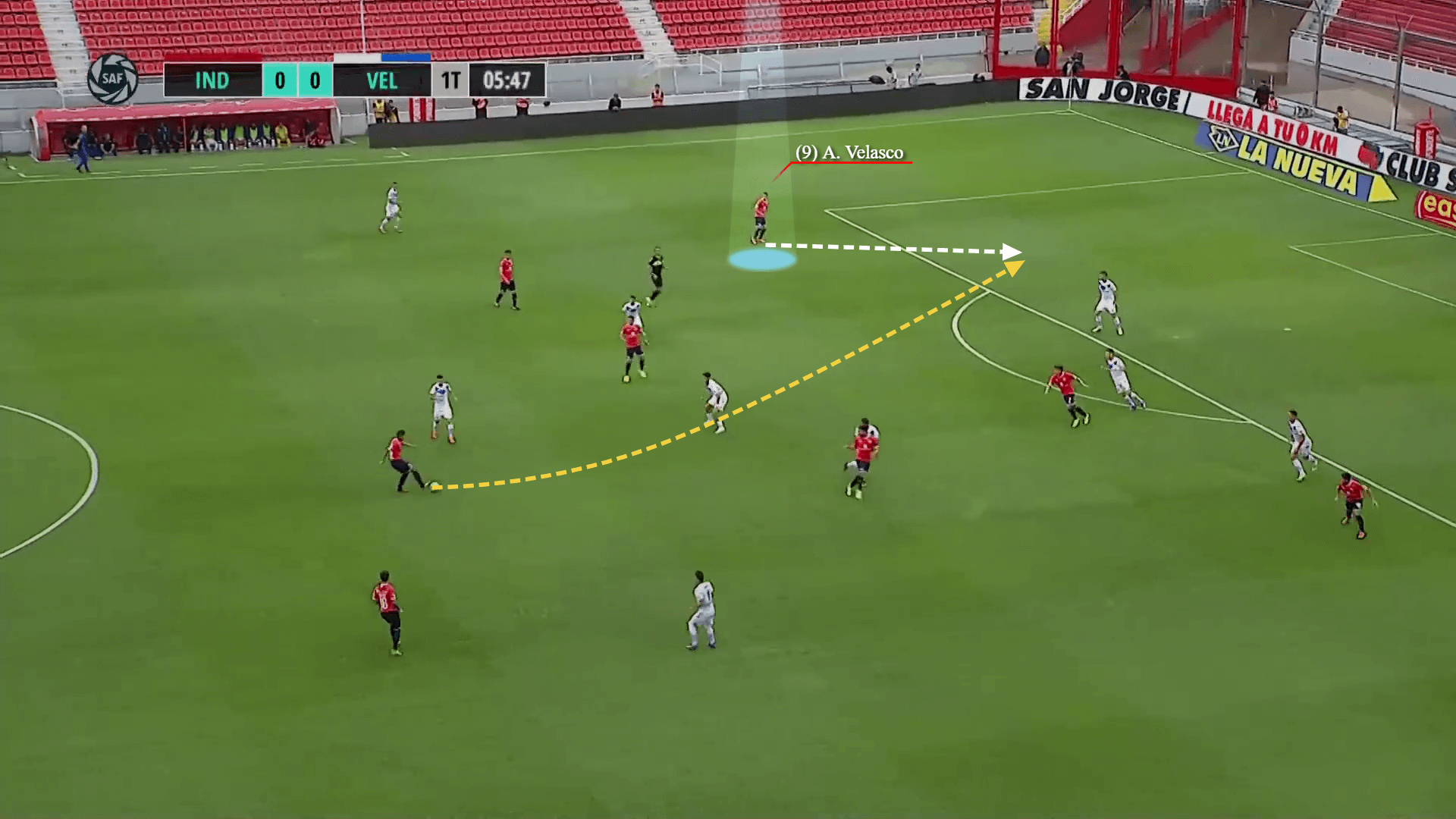 Moreover, in cases when he's ventured into the box, the way he gains separation from his man as they ball watch to give him room to shoot has been good to see.
Other points of note in relation to his positioning come from his ability to shrewdly rotate across his frontline or with his fullbacks, how he pins opponents to make room for runners, finds space between the lines and when he's formed overloads in wide or central areas to help his team break down their foes.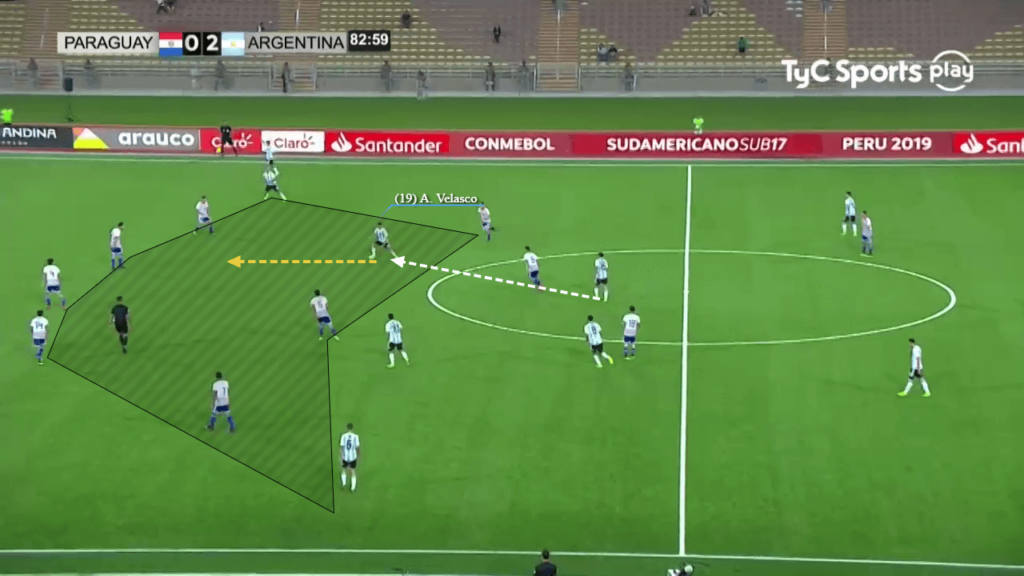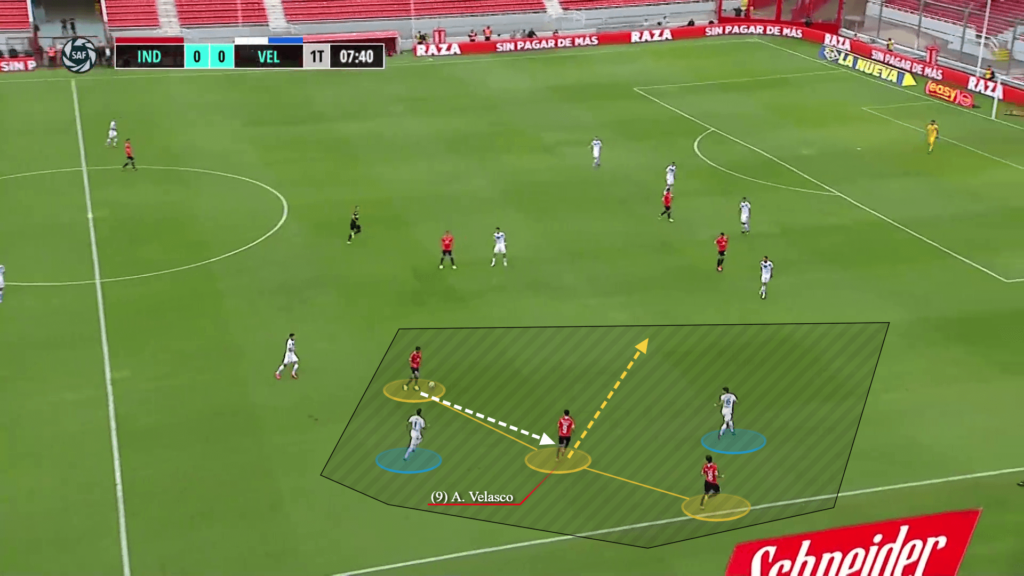 By the numbers in 2019/2020, his 5.90 dribbles per game, 3.71 fouls suffered pg, 3.2 touches inside the box pg, 2.7 progressive runs pg, 1.77 accurate crosses pg and 1.52 shot assists pg highlight his class.
Although he's a massive talent with the world seemingly at his feet, he importantly understands the need to develop his game, with his decision making and pass selection at times letting him down by trying to overdo it. However, for a player of his age, this is entirely expected and understandable.
Nimble, fleet footed and one of a host of exciting youngsters in Argentina, former manager Fernando Beron's praise of Velasco depicts how highly he's rated. "He is bold. In one on one he dribbles without problems and that marks his personality. If he grows, I have no doubt that the club has a diamond in the rough. He is a humble, educated kid. I see him with his head screwed on. He doesn't show arrogance at all and always wants to learn," he gleamed.
With his future a topic of hot discussion, it'll be captivating following where the man who turns 18 later this month will be plying his trade next season.
Wanting to fulfill his goals with his beloved boyhood team and follow in the footsteps of former Independiente star Ezequiel Barco, who left back in 2018 for MLS team Atlanta United, it would seem most likely he'll remain with Independiente for another season at least before switching to Europe.
But depending on how desperate his team needs the money, Velasco could be hitting the shores of Europe sooner than expected, as has happened on countless occasions in the past.