Mohamed Camara continues to underline his importance for AS Monaco
Although AS Monaco were far from their free flowing best in their valuable victory over AC Ajaccio, there was no doubting what a positive impact Mohamed Camara had on the match.
Back in contention for selection after recovering from injury, the energetic, all-action destroyer was immediately brought into the starting line-up for this must win clash away from home. He certainly vindicated his manager's decision by putting in a shift littered with upside on both sides of the ball throughout the 0-2 triumph.
Having not won in four matches heading into their trip to Corsica, a win was essential to keep in the hunt for Champions League qualification. And the diminutive midfielder's presence was crucial even though the second half red card for Cyrille Bayala definitely helped the ASM cause.
To start with his defensive output, and the tireless enforcer imposed himself impressively with his intelligent positioning, ferocity in the challenge and ball winning prowess.
So effective at breaking up play with his quality decision making, judgement, timing of his tackles and physicality, he swiftly broke up many an attack at the source. Whether it be stopping counter attacks before they could fully develop, nullifying foes 1v1 or chiming in with interceptions upon seeing a sloppy touch, underhit pass or if he predicted the intentions of an opponent, he was on it from the off.
Picking his moments astutely when to press the opposition build up, spring into life to counterpress to regain possession high, track runners and block passing lanes with his positioning on his way to generally performing his roles and responsibilities admirably, there was much to admire about his stopping output.
By the numbers defensively, the fact he won 17 duels and all of his four tackles, plus made eight interceptions, accentuated his excellence in this compartment.
Doing his job similarly coherently in possession, his movement and efforts on the ball ensured he was instrumental in helping his team progress through the thirds.
Concise with his movement and adhering to his manager's demands, it was great to watch him dropping deep between the central defenders, pushing wider into full back zones and slotting just ahead of the defenders behind the first line of pressure to form numerical and positional superiorities to beat the pressure. Making smart alterations to keep the opponents guessing and in two minds, Philippe Clement would've been pleased with his work here to give his team a sound foundation.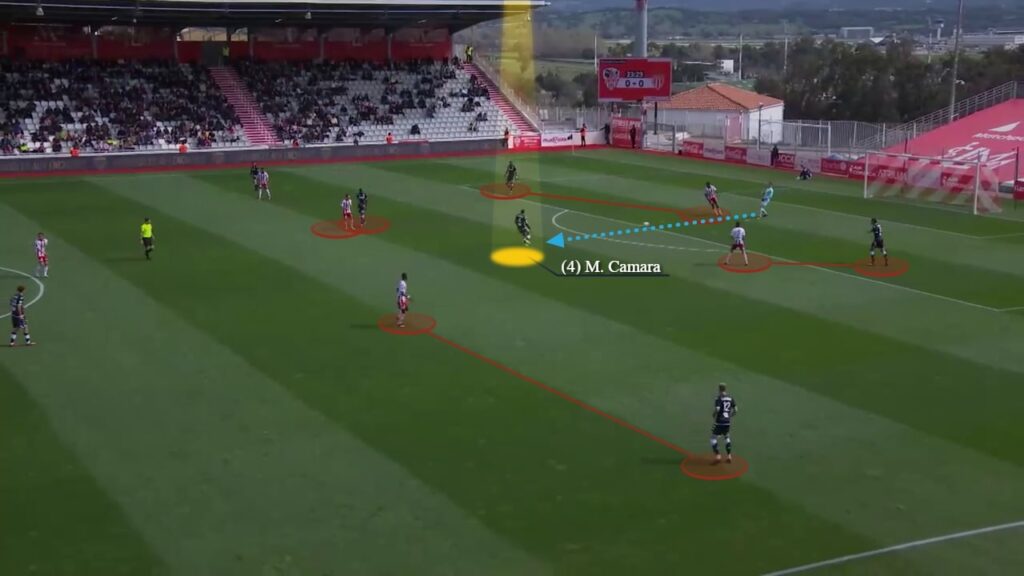 Meanwhile, in terms of his distribution, Camara kept things ticking over nicely with his considered and measured passing. Moreover, it was also positive to see him take the opportunity to strike incisive line breaking passes, through balls and switches of play when the chance arose, with his nifty assist unquestionably the highlight of his passing game.
The examples below and pass map illustrate his polished efforts in this area aptly in a game where he completed 50 of his 61 passes, four accurate long balls and eight accurate passes into the final third.
There were also many occasions when his driving dribbles came to the fore, with his underrated turn of speed, sharp turns and shimmies helping him complete all four of his four attempted dribbles.
Emphatically proving again what an important figure in the ASM squad he is, the multifaceted Malian's outstanding exertions were vital towards propelling his side to their first victory in almost a month.
While many unfairly expected him to fill the void left by Aurelien Tchouameni when the star Frenchman departed for Real Madrid, Camara deserves credit for maintaining his focus amid the noise and just letting his performances do all the talking. "I must not compare myself to Tchouameni. He did great things with Monaco, but everyone has their career to manage and I wish him the best. Being chosen is a source of motivation. I will put all my qualities at the service of the team," he explained.
Clement then added this earlier in the campaign on how he sees the pair: "He (Camara) is a different type of player, he isn't the new Tchouameni. We need to manage him in a different way. He has a different style. We will have to adapt to the players around him as well. In certain aspects, he can give more than Aurelien, in other aspects less. We must now stop comparing to Aurelien because it's a new team and a new season."
Stamping his mark and quickly going about making a name for himself in the French Riviera, expect the dedicated 23-year-old to continue his rapid development under Clement's tutelage.
His latest body of work vs. Ajaccio served as another testament to what a tremendous talent he is and what a bright future he looks set to enjoy at the highest level.