Analysis: AS Monaco's costly recent blip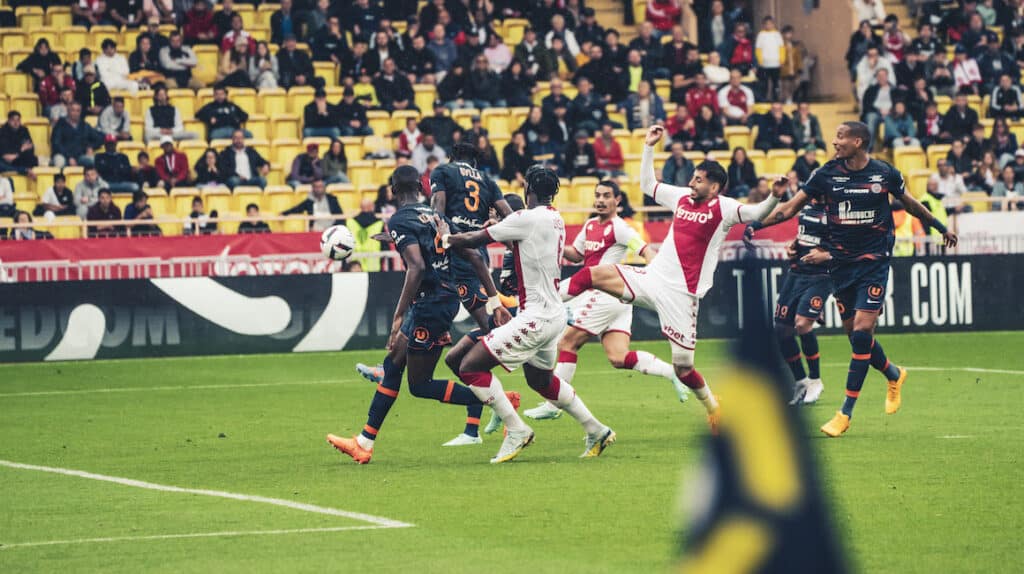 AS Monaco's two crushing recent losses have ostensibly ended their chances of securing Champions League football for next season.
Having firstly lost in devastating fashion to direct top three rivals RC Lens 3-0 before getting hammered 0-4 by Montpellier, these setbacks have all but put an end to their podium hopes.
Playing well below their best, they've lacked any real spark going forward, been way down on their usual intensity levels and defended poorly on their way to scoring zero and conceding a whopping seven in this pair of fixtures.
As a result, Philippe Clement's men now find themselves eight points behind Lens with only five Ligue 1 clashes remaining.
Although their Belgian manager still believes his team can react to spring back into life and make a coveted top three push, they'd need to embark on a miraculous run and hope results go in their favour.
"The two defeats of Lens and Montpellier hurt. There are still five games, and it's up to us to bounce back and prove that we deserve to play in Europe. It is also important for the players for their future. Football is not an individual sport, but a collective one. And we lost sight of that notion. We've been playing for the podium so far and it's still possible if we turn heads. But we must act quickly," he explained.
"We have to do one thing now and that's to show the true face of AS Monaco. We have to stop thinking about the last few weeks where we have been in difficulty. We have to go out there and make a difference. No one is happy with this result at the club. We are all aligned with the future. I believe in this group, and I want to work hard to get back to our best level. I work as hard as I can to get the best out of my squad."
Lying in fourth and now only two points ahead of Lille following their blip, it's imperative that they return to winning ways as quickly as possible, especially considering they face Les Dogues after their clash with Angers this weekend.
Seeing as Paulo Fonseca's side have only lost one of their last nine leagues, ASM will need to rapidly recalibrate their focus and get back on track if they're to salvage fourth.
Upon digging deeper into the numbers from their recent duo of losses, and their untimely slip in performance is illustrated by the fact they're way off their season averages in a host of metrics.
Well short in terms of goals scored, goals conceded, shots for, shots against, ball recoveries, defensive duels, corners, crosses, offensive duels, passes into the final third, progressive passes and smart passes, the statistics below from Wyscout illustrate their severe struggles.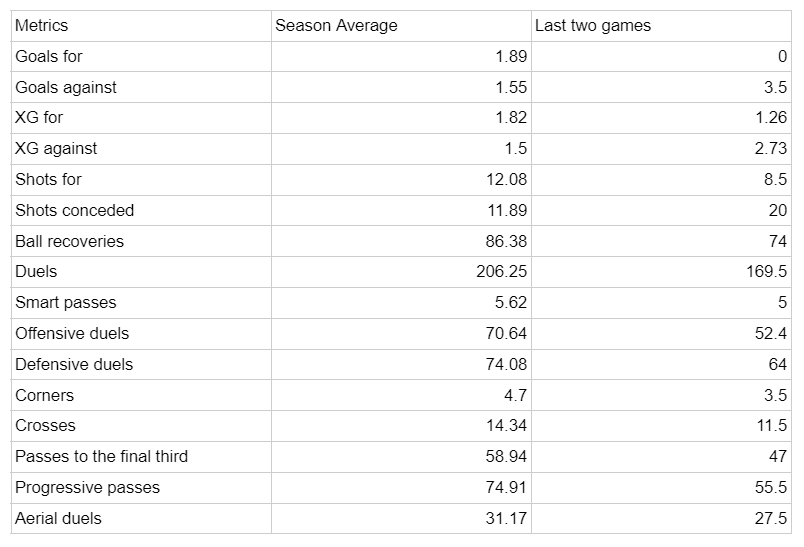 It's also been worrying how Monaco have been outclassed, outworked and outthought against Lens and Montpellier. Knowing the meticulous and tactically adept Clement, you can bet he'll be doing everything in his power to arrest this slide so it doesn't turn into a full-on slump.
Despite time being on their side to claim fourth and close their campaign positively, the decisive damage done in the last two match days appears to be irreversible, leaving them having to most likely settle for Europa League action in 2023/2024.
After missing out on qualifying for the Champions League at the final hurdle in the last two terms, this latest misstep will unquestionably sting.
It's not all bad, though, for there's still been plenty of upside attached to Monaco's crusade, which has mainly come in the form of some fantastic displays collectively and individually and through the emergence of many exciting youngsters.
All in all, while this stutter has been a massive source of frustration, this shouldn't take away from all the good that has come from this season for Les Monegasques, which should hold them in fine stead to reach greater heights next time around.