Recognising AS Monaco could do with a reinforcement to support number one keeper, Benjamin Lecomte, and his deputy, Radoslaw Majecki, Paul Mitchell shrewdly acquired Vito Mannone.
Adding some vital experience and depth to their keeping ranks, signing the well travelled Italian, who's enjoyed stints with the likes of Arsenal, Hull City, Reading, Sunderland, Barnsley and Minnesota United, was certainly a smart piece of business. "We are very happy to welcome Vito Mannone to AS Monaco," sporting director, Mitchell, explained. 
"After Kevin Volland, the arrival of Vito marks our desire to bring quality players as well as experience to a squad that includes many young talents, in order to provide the right balance between potential and experience. Vito has shown a high level of performance during his past experiences in different leagues and I am convinced that he has a lot to contribute to the squad."
Happy to serve as Lecomte's backup, he was quickly thrust into action when the Frenchman suffered a hand injury at the start of November. In the beginning, his performances were mixed, with a mistake against OGC Nice in the derby tarnishing much of his good work. Niko Kovac importantly kept faith in his netminder, as he's now hitting form to repay his manager's trust and played in four straight matches for Les Monegasques.
"Already I'm very happy to have had the opportunity to play. We are doing well at the moment, we are winning matches and personally I've started well. I couldn't ask for better than this, although there is obviously still a lot to do. We can all still progress individually and collectively," Mannone explained.
His latest body of work was his best effort yet. Putting in an accomplished showing despite Monaco losing 2-1 to an excellent Lille outfit, Mannone was definitely one of his team's better players.
Even though he was powerless to stop Les Dogues goals, he commanded his area nicely and was assured in executing his actions on his way to making many brilliant saves. Coming up big with some huge stops, his first key moment arrived when Jonathan Bamba cut infield from the left before firing off a wicked, curling shot. With the effort destined for the top corner, Mannone launched across to parry it away with authority. 
The next time he saved his side came early in the second half, where Burak Yilmaz struck a nigh on perfect free kick from all of 35 yards. Reading the ball's flight superbly, Mannone's sharp footwork and powerful dive combined to see him stretch out to make an exceptional save.
Arguably his most outstanding piece of work came in the dying embers of the clash, though. Following a nicely worked Lille goal kick, Timothy Weah found himself near the edge of the box in a quality position to shoot. The American then unleashed a venomous low drive, but Mannone was up to the task, throwing himself low and to his right to produce a super stop.
Showing elite reactions to get down and get a strong right hand on the shot, this explosive reflex save capped off his classy output between the posts.
Attentive and aware to threats, his concentration remained at a high level throughout as he also dealt with the few aerial duels he was forced to handle. Giving his team and especially his defenders ahead of him much confidence, it was extremely positive to see him continue to build on his relationships with his colleagues.
Due to Kovac's preference to build out from the back, the 32-year-old contributed admirably with his sharp passing. Typically keeping things simple by passing to the feet of his defenders, midfielders and fullbacks, he performed his role smoothly. On the odd occasion, though, he expertly broke the lines to find the free man or struck some incisive long balls so his team could battle for second balls higher up.
"This (passing) is the style that we have worked on and that's what I like, to be honest," he told Monaco's website.
"The coach loves to play football and he loves to have the goalkeepers involved in helping the team. So even in going through the goalie, it's important to have possession. And for that you have to stay very focused, work every day, and if we can keep the ball, with the young and talented team that we have, we can do good things against everyone."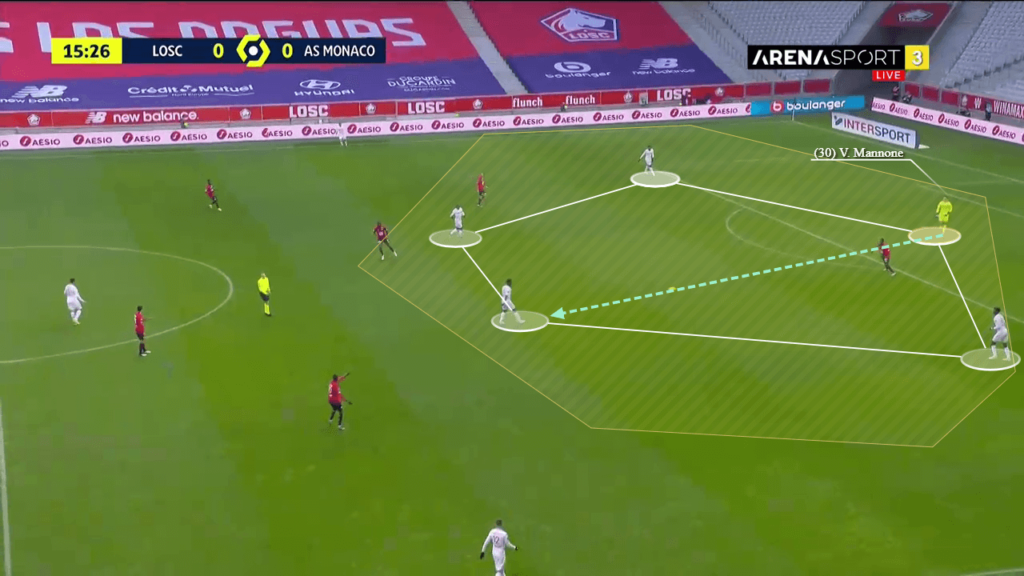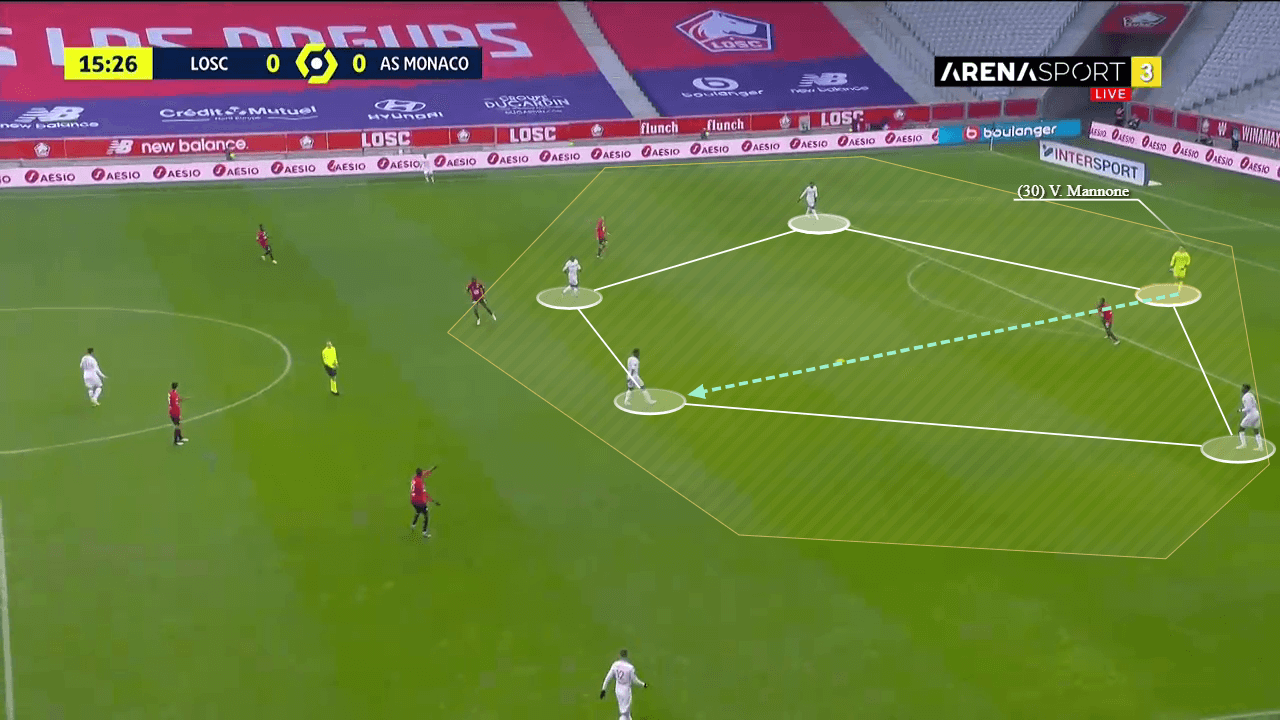 His presence also helped Monaco generate overloads so either he or a teammate could be the extra player to progress attacks, which is demonstrated in the graphics below.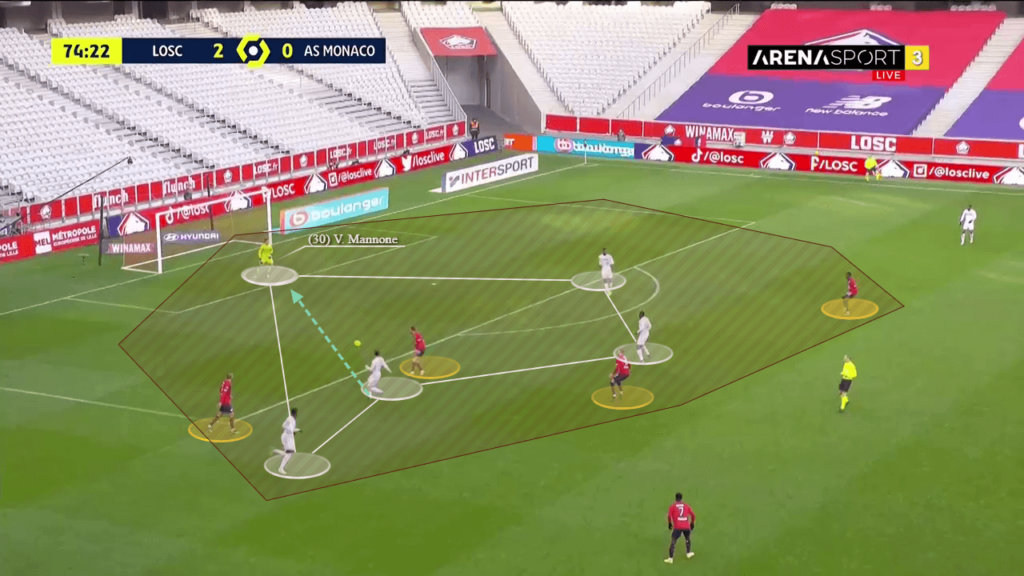 Completing 27 of his 28 passes and four of four long balls, this depicted his cleanness and clarity in possession.
Growing with every passing week, that early error vs. Nice appears well and truly behind him, for the Italian's form's been solid over the last month.
Just what the club needs from their reserve keeper, the experienced and battle hardened Mannone's certainly working out to be a shrewd signing.