Obtaining a goalkeeper of real quality, AS Monaco's acquisition of Benjamin Lecomte from Montpellier is unquestionably a superb piece of business by the club.
Especially establishing himself as a high quality Ligue 1 keeper during his two campaigns with Montpellier, the man who initially rose to prominence at Lorient kept an impressive 25 clean sheets for La Paillade over 79 appearances.
Proving a key figure in Montpellier conceding the second least goals in his first season, he then backed that up last term by playing an integral role in the club securing a brilliant sixth placed league finish. Deservedly earning nominations for the Ligue 1 Goalkeeper of the Year award in both his seasons at Montpellier, this serves as a further testament to his quality.
Speaking on his arrival at Monaco, a delighted Lecomte fully believes his new team is an ideal environment to take his game to the next level, as he dreams of making France's 2020 Euro squad after rightfully receiving his first call up to Didier Deschamps' side last year. "That's part of the goals (to make the Euros). I want to progress further to win titles. The Euro is next year and a season passes extremely fast. It will be my club performances and what I give in the league that will allow me to be or not be in the list of three (keepers) for this Euro," he explained.
Athletic, well concentrated and operating with clarity, the consistent, reliable Lecomte will be a huge asset for Leonardo Jardim's men.
An extremely effective shot stopper, his sound positional sense allows him to close off angles to attackers, put him in strong locations to complete his actions successfully and generally give him the best chance possible to handle whatever comes his way.
Possessing razor sharp reflexes, he reacts instinctively and gets down quickly to low shots and efforts to his side. Key to this is how he gets himself into powerful, balanced postures so he's ideally placed to propel himself in any direction to extend out, downwards or upwards to kept out opponents.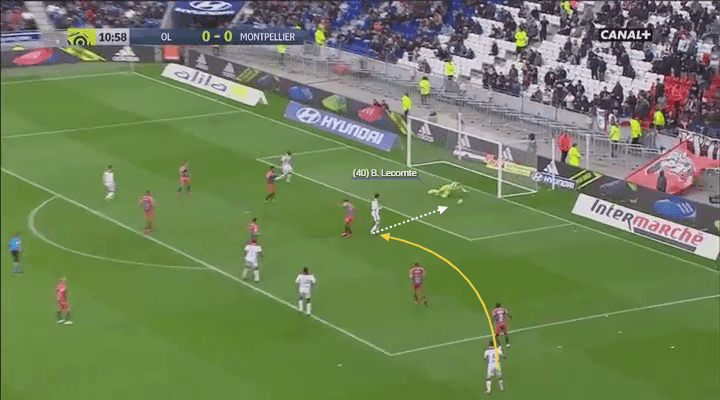 Fantastic reaction save as he rapidly moves low and across

Brilliant diving save as he stretches out superbly
In addition, his aptitude here also notably sees him move swiftly to stop long range strikes when his vision is impaired by a sea of players and when he uses his legs to make slick saves.

Making a smart save despite having his view impeded
Coming off his line with authority, he exercises good judgement when surging out to cut out attacks, as his pace, agility and reading of the play serve him admirably. His anticipation also transfers to when he's dealing with set pieces, open play crosses and cutbacks, for he smartly picks up the ball's trajectory and velocity so he knows what action to take. Commanding his area adeptly, he claims crosses robustly and is never afraid to put his body on the line to deal with whatever situation confronts him.

Responds with conviction to jump out and claim the cutback

Expertly claiming a corner to deal with the cross admirably
Another aspect of his armoury that warrants mention is how he recognises the shot mechanics of the ball striker and what body posture they are in to give him an insight into what type of strike they're hitting and where it's directed.
While he's committed the odd error, there's no doubting he's a largely secure net custodian who does so many things well to limit the productivity of his adversaries.
Capable with the ball at his feet too, he strikes some excellent passes to either build up the attack or when going longer to his attackers. Even though he didn't persistently get to showcase his short and mid range passing as much as he might have liked due to Montpellier's style, which saw them hit the most long passes per game in Ligue 1 with 59.86, he still illustrated his quality here.
Getting the chance to launch many aerial passes from the back, he displayed how effectively he can hit the fullbacks or wingers, play long to his attackers and even recognise when numerical superiority situations had arisen so his team had a heightened chance of winning the second ball.

Superbly accurate goal kick

Incisive goal kick to an ideal 3v2
Furthermore, his long throws also warrant mention, for these precise deliveries can kick start counter attacks rapidly and really breathe life into attacks.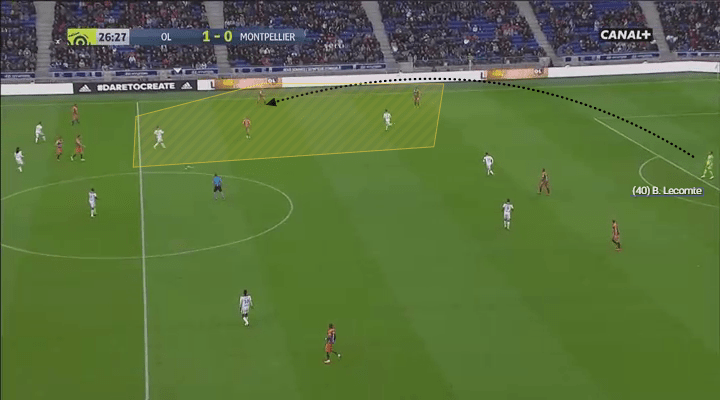 Wicked throw to an advantageous 3v2 situation for his team
Despite interest from the likes of Barcelona and Olympique Marseille, Monaco have done wonderfully to secure the services of the experienced and talented Lecomte. Signing a five-year deal and joining in the prime of a keeper's career at 28, he's expected to be a mainstay for the Monegasques for many years to come.
As we draw closer to the new crusade beginning, Monaco's shrewd signing of Lecomte is another important step in their efforts to obtain Champions League qualification and challenge again at the top of Ligue 1.