Joël Bouzou (Peace and Sport): "Sport is a vehicle for promoting equal opportunities"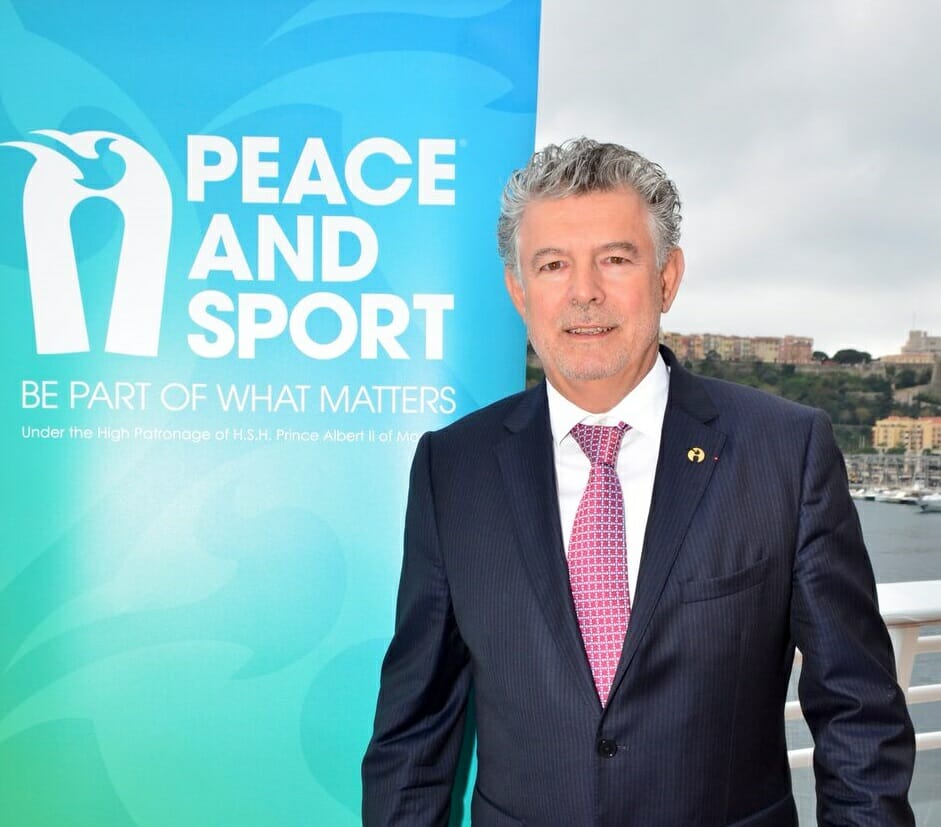 Founder and President of the organisation Peace and Sport, based in Monaco and founded in 2007, Joël Bouzou spoke at length to Monaco Tribune about the organisation and what challenges it is currently facing.
"Today, the world is global. I think that the notion of equity that sport conveys is becoming increasingly more important. It is clear that illnesses suffered by those with less money also affect the rich. Coronavirus does not differentiate between the two. It is therefore necessary to take care of everyone in order to preserve our planet." The fight led by Joël Bouzou for many years has been growing steadily. Fully committed to maintaining world peace through sport, the Founding President of Peace and Sport, Olympic medalist and 1987 world champion in modern pentathlon, took some time to express his thoughts on the complex period we currently face.
Joël, explain to us how sport, in a broad sense, can be a vehicle for peace and prosperity?
We use sporting values as a tool. What interests us is the relationships surrounding the notion of equity. Everyone talks about equality, but it does not exist. What is fabulous in sport is that there is equality before the rules and therefore there is equity. Sport is a vehicle to promote equality of opportunity. You do not shine in sport just by being born, but by realising your potential and respecting the rules. This concept is fundamental when we talk about areas suffering from extreme poverty. Equity in sport promotes access to dignity for the poorest. But dignity is not something that can be given to people or recognised. You have to be able to exercise it, to develop it within yourself, to have real access to it. Sport, in its simplest and most essential essence, allows access to dignity for everyone. In this way, poverty is not the absence of dignity.
We broke the record for people recognising sport as a means of peace and mobilising with us
How did Peace and Sport adapt to the current pandemic and economic crisis?
Last December, at the biennial International Forum in Monaco, we launched an app for peace and education through sport, which can be downloaded on mobile phones and is available worldwide. The fact that we had already done all this digital work beforehand allowed us to be much more efficient during lockdown, knowing that people could not meet in groups. We trained educators during this period, thanks to this app, by training them without having them physically present. The second important point is the success of the #WhiteCard campaign. When gatherings were possible, last year in particular, we set a record of reaching 98 million people. This year, despite the difficulties faced and the fact that people were unable to travel, we reached 117 million. We broke the record for people recognising sport as a means of peace and mobilising with us, particularly through social networks. This success fills us with hope because it demonstrates that the efforts we've been making for years have been rewarded with success thanks to this campaign.
Could the economic crisis upset this balance?
For the past seven years, we have been capitalising on what we call "Simple Sport". We have been working with fifty international federations to develop low-cost solutions that can be made with recycled or waste materials. We can make boxing rings with tires and ropes. We have had to be imaginative and use our varied expertise to practice sport even with very limited resources. Is it going to be more difficult to practice sport due to fewer resources? Certainly for more sophisticated sports, for a while. But for simple sports, I don't think so. It will be necessary to choose appropriate activities so that everything relating to citizenship through sport, access to dignity, social cohesion, continues to be possible. We are working with several governments on this issue. We'll have an international forum in Medellín, Colombia at the end of 2021, specialising in everything to do with conventional and digital sports. We can't forget that sport is not just about movement or downtime; it is about maintaining your physical health. Above all, and what we are most interested in, it's a vehicle for cohesion and bringing communities together. As such, sport deserves investment, especially when low-cost solutions are found.
Are many of your donors still involved?
It's always difficult but I'm very happy that one of our partners who was supposed to re-sign at the moment, who we've had for about ten years, has just re-signed for another five. It gave me a lot of trouble for a while. But we already have this reassurance. We're still working to find additional revenues and increase the organisation's capacity for action. I'd also like to thank the Prince's Government for its support.
What are some of Peace and Sport's current and future projects?
We still have the Friendship Games which take place in the Great Lakes of Africa. The aim is to be able to set up this concept on other continents. For that, we need to develop contacts with governments, National Olympic Committees, National and International Federations. We also need to be able to meet them at our annual Forums. We also have the app's development, a worldwide project. The main tool we have been using so far is football because it can be played all over the world, simply. But we are tending to move towards a rugby field as well, notably with the help of Siya Kolisi (captain of the South African team, world champion in 2019), who is one of our Champions for Peace.
The aim is to bring young people who are misplaced in society to the working world, using sport to do so.
Can you tell us more about the role played by the Champions for Peace, many of which have joined the organisation over the years?
Our Champions for Peace are more and more involved as the years go on. Our work with them has become more specialised than before, depending on their sport. Some of them are high profile, others less so, but what is important to us is their ability to influence young people in communities. A champion who speaks to youth in a region is as important as an international champion who can speak to a country. Today, we have more than a hundred Champions for Peace, who help us develop our initiatives or bring their own projects. In Mali, for example, we have a peace caravan mission with one of our taekwondo champions, Marlène Harnois. This is a project that was developed a very long time ago, which she took over and modernised. We also have an app on sports workshops developed with kayaker Benjamin Boukpeti, a growing movement in France. The aim is to bring young people who are misplaced in society to the working world, using sport to do so. The aim is to restructure their self-esteem, the relationship with time and other young people. We realised that in France there were a lot of people available for training, but that their skills were often misused. Young people drop out because they are not personally ready to be part of a group. Funding available for this training is often lost because such missions can fail. With these workshops, we manage to get them on board with the idea of being in a group and having a purpose. We're seeing great success with these missions, which we would like to export abroad.
How are they selected to be part of your programmes?
The Champions for Peace are first and foremost examples to young people. They're leaders as they get a lot of media coverage. Siya Kolisi, with rugby, reaches a large community. Didier Drogba, who is now Vice-President of Peace and Sport, has a huge influence. He's in a position to represent us and our work to government leaders to explain that sport is not just some luxury product, but above all an investment in nationwide cohesion. Didier Drogba has been concretely involved in the peace process, bringing cohesion to his home country, Côte d'Ivoire. He has an immense influence that we must capitalise on. We have operations on the ground, dealing directly with people, but also diplomatic work, as we did in Cyprus. One of our advantages lies in our neutrality thanks to Monaco, as well as the ability to be listened to and to talk to everyone. Our main goal is to work on peace without judging anyone, only creating better opportunities wherever we go. We have this credibility thanks to our base being in the Principality and the figure of the Sovereign Prince too, who is an example all over the world due to his Olympic career.
What influence does the Principality and Prince Albert have on Peace and Sport and vice versa?
I think it's a model, a champion of equity, a place that knows and understands sport inside-out. Prince Albert is not just a one-discipline sportsman. He has tried almost every sport. He even did a team pentathlon with me (he smiles). For example, he understands that riding a horse after having competed in fencing and swimming on the same day is not the same as riding a horse when you are fresh in the morning. He has this credibility, especially being a member of the IOC. So we talk a lot about Peace and Sport, which I think can, in turn, also help to promote Monaco's neutrality. It is a vector that can be interesting from a diplomatic point of view. We also draw a lot of resources from the international influence that the Sovereign has, and his credibility in being able to speak with everyone.