Enjoying the best season of his career with Partizan Belgrade, Umar Sadiq's exploits have been nothing short of exceptional.
Having amassed 17 goals and 17 assists in 39 appearances for the Serbian giants, it's been great to see him find a club where he can prove himself. Now on his ninth club in the last six years, the Nigerian, who's struggled to gain any real traction with the likes of AS Roma, Torino, Bologna, NAC Breda and Rangers, is finally beginning to fulfill his immense potential.
Still only 23, the languid and difficult to play against forward has attracted the interest of many top clubs including Manchester United, Bayer Leverkusen, Lille and AS Monaco, he's certainly emerged as a man in demand. Listening to him speak on his time with Partizan, it's clear how much he's enjoyed playing for the club. "Partizan have helped me a lot in my career. I found my way, and now I just follow what they ask of me," he explained to Republika.
"I think this is just the beginning of my success, and the motivation is there. We work thoroughly before every game. We don't only talk about tactics and video analysis, but also human relationships. Whether it's the manager, Savo Milosevic, or someone else from the coaching staff, they are always there for us."
However, if a bid in the region of €15-20 million comes in, Partizan would find it hard to turn down, which would put Monaco at the front of the queue. With Partizan and Les Monegasques sharing a good relationship and recently brokering a deal for Strahinja Pavlovic, this should hold them in reasonable stead to negotiate a deal.
Moreover, the fact Islam Slimani's set to not be retained, meaning an opening for a target man style striker to accompany Wissam Ben Yedder is present, sees the deal make sound sense.
Standing a towering 192 cm, possessing pace, mobility, a tidy leap, underrated strength and good in the air, his physicality and athleticism ensure he's a handful for any defender. To start with his runs in behind, and his swiftness, in combination with his knowledge of when to time and bend his movement, gives him an edge when latching onto passes in behind. Keen to exploit gaps between defenders, outfox them with out-to-in blindside runs and when they're caught ball watching or preoccupied, Sadiq picks his moments nicely.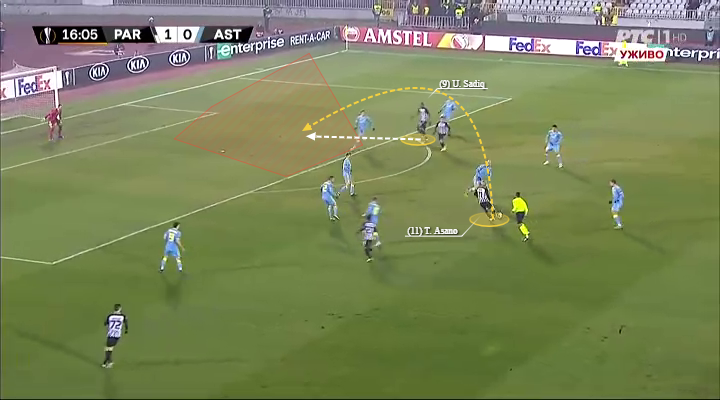 Also shrewd at finding space inside the box, he makes sharp adjustments by attacking the box with speed, holding his runs at the edge of the box as the defence collapses or motoring to the back post, this enhances his threat. Another key is how he gains separation prior to embarking on his runs so defenders can't impede him with a body check or their arms.
Meanwhile, when dropping towards the ball, the lanky forward's shown how effective he can be. Choosing ideal moments when to come short to find space, once in possession, his composure and decent strength has enabled him to hold the ball up cleanly.
Able to protect the ball using the power in his legs, core and arms, this, in conjunction with his long legs, allows him to keep markers at bay and get a good distance between his man and the ball. From here, he either waits for an option to find or can twist away from his marker with his agility and slick, hard to read footwork (more on this later).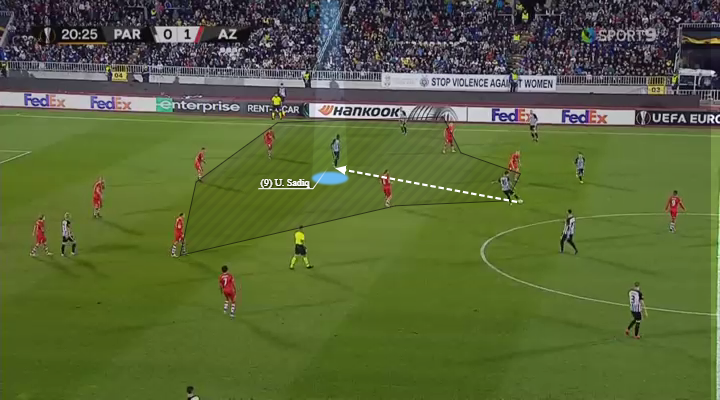 In terms of his heading, Sadiq's height and jumping causes major issues for adversaries, who are already at a disadvantage due to his stature. Posing as an excellent option for crosses and set pieces into the box, plus when an outball is needed for goal kicks or if defenders are under pressure, his presence is very handy indeed. Furthermore, his aptitude in this area means his fellow attackers and midfielders can position themselves to get on the end of headed knock downs or flick ons.
Switching the focus to his finishing, and the Nigerian frontman's given Partizan so much impetus, with him capable of scoring a wide range of goals. These include placed finishes, powerful drives, calculated 1v1s with the keeper, deft chips, clinical first touch tap ins and well directed headers. Other keys have been how he uses his telescopic legs to poke the ball past the keeper, how he reacts rapidly to rebounds and that he strikes penalties coherently.
Although he can look a touch awkward, his dribbling is a big asset, for it's so difficult to predict what he'll do next, thus allowing him to generate room before shooting or when beating his man. Factor in his aforementioned speed and his repertoire of moves to beat trackers, which consists of shimmies, changes of pace, body swerves, stop gos and fake shots, and this adds to his menace.
It's worth noting how efficient he is at laying on assists for his colleagues, with his eight league assists the best in the Serbian top flight. Having formed wonderful relationships with Seydouba Soumah, Zoran Tosic (ex Manchester United) and Takuma Asano (formerly of Arsenal), he's dovetailed brilliantly with this gifted trio. Quick to recognise when an opponent is in a top area to use, his vision, awareness and execution have seen him pick out teammates in promising areas.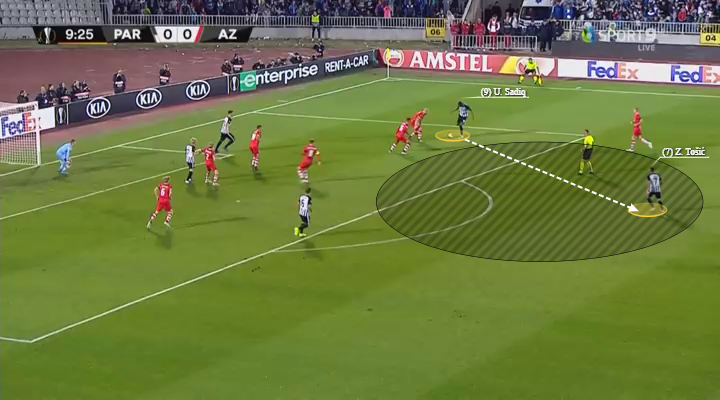 While he's produced the odd cutting through ball and artful assist, most of the time he's teed up opponents with calculated, well delivered passes. Indeed, his 17 overall assists have showcased how efficient he's been.
By the numbers, his 4.27 shots p90 (third highest in the Super Liga among forwards), 1.41 shot assists p90 (20th best), 5.73 touches inside the box p90 (sixth best), 3.30 dribbles p90 (13th best), 1.89 progressive runs p90 and 3.12 fouls suffered p90 depicts his immense threat.
Instinctive, clinical and a fine athlete who possesses that rare ability to both score and create, it's little wonder why he's such a coveted striker at present. Choosing where he'll ply his trade next season poses an intriguing conundrum for him, for his options consist of gaining further traction with Partizan or stepping up in class where he runs the risk of not being the star man.
Seeing as Monaco's new sporting director, Paul Mitchell, is always on the lookout for exciting young players, Sadiq certainly fits the bill, for he still has immense scope for improvement while still being able to have an impact immediately.
Watching what he decides to do with the next step in his career will definitely be fascinating, as many clubs will be intrigued to learn of his intentions.