The Great Barrier Reef laid bare at the Oceanographic Museum of Monaco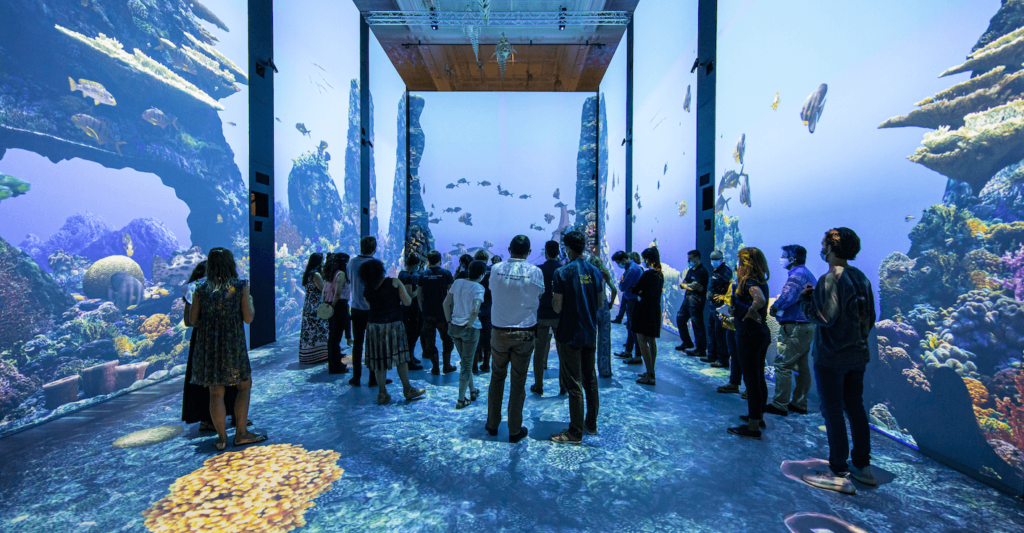 Since 18th July, the Oceanographic Museum of Monaco has been offering "Immersion", its brand new interactive exhibition highlighting the Great Barrier Reef, one of the seven natural wonders of the world.
Some 2,300 km long and 348,000 m² in surface area, the Great Barrier Reef is the largest animal construction on the planet. Since 1981, this wonder of nature has been classified as a UNESCO World Heritage Site. Today, it sees itself gravely threatened by global warming.
A most realistic experience
To help people discover this great natural wonder as well as raise public awareness about its protection, the Oceanographic Museum has set up "a virtual and immersive aquatic ballet" in the Whale Room. With 40 video projectors fixed on nine-metre-high walls, the public can submerge themselves straight into the Great Barrier Reef. It adds up to roughly 250 m² of interactive installation projected across these walls, allowing for visitors to discover 60 marine species in a day and night cycle. Discoveries to be made include humpback whales, manta rays, green turtles, barracudas and fluorescent corals.
It is a novel device developed using state-of-the-art technology and a real-time projection system. "The visitor, like any diver during an exploration, sees around themself the natural course of different species interacting with each other, according to their behaviour, movements and gestures," explains the museum. This exhibition, which will be accessible for more than a year, is the highlight of the museum's 2020 programme, dedicated to coral reefs.