Returning from injury and playing his first game for AS Monaco since making his deserved France international debut in November, Ruben Aguilar was straight back to his best against Nimes.
Performing excellently on both sides of the ball, the hard running right back was nigh on flawless in the dominant 3-0 win over Les Crocodiles. Aside from supplying a lovely assist for Gelson Martins, the fact he had more touches than anyone (99) and created the most chances (six) of any player illustrated his telling contribution.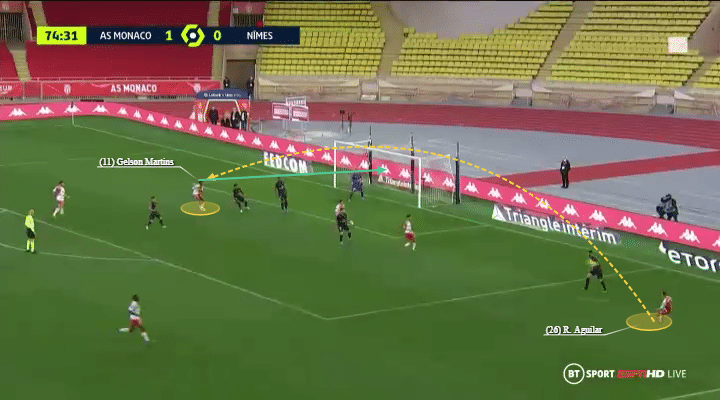 "Regarding Ruben, we could see that he was in full confidence, in full possession of his abilities, especially on the goal by Gelson Martins where he recorded an assist. He has become an international, which is very positive for us. He must continue to play like this," Niko Kovac explained afterwards.
To continue on the theme of his work in possession, and his crossing was a real highlight. Quick to get his head up to assess his options before striking some superbly accurate and weighted balls into the area, his deliveries were at an elite level. Showing fine technique and balance, Aguilar's range was on display, hitting driven, lofted, chipped and curling efforts to oblige his colleagues' runs.
His cutbacks were notably wicked too, where he pinpointed free colleagues in and around the box so they could be in advantageous areas to take shots. Maintaining his composure and still executing his passes coherently despite being at full speed warranted praise, for he made it look so much easier than it is.
While obviously his assist drew the headlines, he should have probably had more, but unfortunately his teammates couldn't apply finishing touches to all his passes.
When not hitting the aforementioned passes, the 27-year-old calmly recirculated possession with his defenders and midfielders while they waited for openings to exploit, plus struck the odd through ball in behind or into the channel and combined neatly in wide areas, which added to his worth on the ball.
The former Montpellier star's movement ensured he could be in such promising positions to wreak havoc. Timing, angling and directing his runs ideally, this saw him stretch Nimes' backline horizontally and vertically while allowing him to add width and depth to attacks. Considering nominal right winger, Sofiane Diop would tuck infield and draw his man with him, this created plentiful room for Aguilar to exploit, which he duly did. The strategic pinning of the Nimes backline by Diop and the forwards was a theme throughout, which narrowed off their opposition shape to generate the conditions for Aguilar to receive in oceans of space on the overlap.
Aguilar would return the favour too when he'd switch positions with Diop, so the youngster could enjoy the freedom. In such instances, Aguilar would wait for pressure to be applied before embarking on a slick underlapping run down the channel to give his team an additional option against the disoriented defence.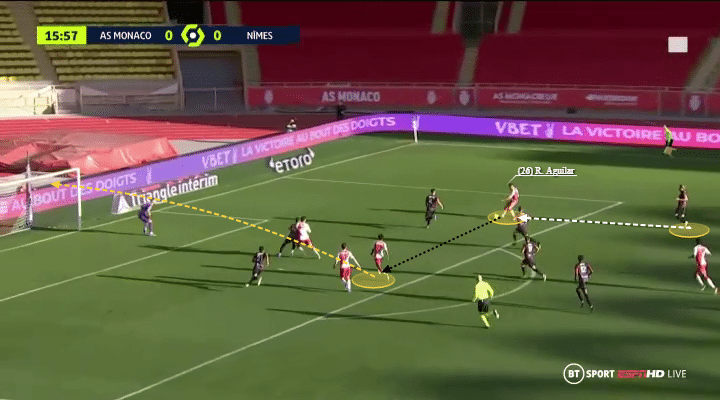 His damaging runs into the box enhanced his team's threat significantly, where his masterfully timed blindside runs were a nice source of impetus. By expertly exploiting the blindside of opponents, he gained a dynamic advantage over his ball facing adversaries so he could burst forward unimpeded and gain momentum on his stationary opponents. The fact he had an outstanding five touches inside the area illustrated what a force he was.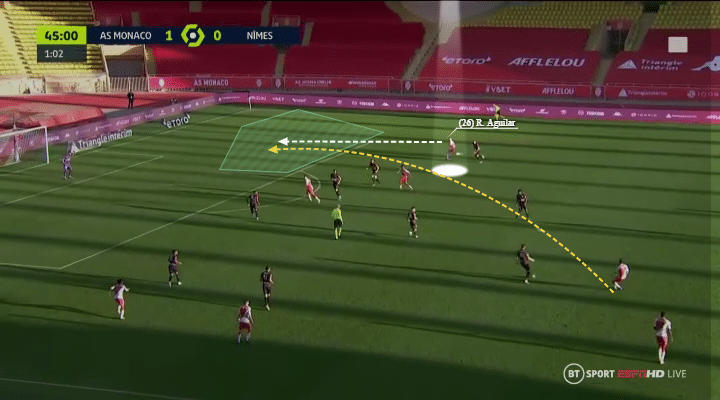 Although he wasn't required to complete a vast amount of defensive work, he undertook his duties cleanly and effectively. Marking Renaud Ripart in the first half and Niclas Eliasson in the second, it was admirable how he adapted his game to handle these different threats. Knowing Ripart had a 10cm height advantage over Aguilar, it was notable how Axel Disasi would come across to help when Nimes went long towards Ripart, while Aguilar dropped back to cover in behind. 
Handling 1v1s coolly and tracking runners sharply, this, in combination with his strength and speed, ensured he nullified his foes pretty comfortably. Aggressive and authoritative in the challenge and when pressing, opponents found it hard to get much joy against him.
Some extra numbers of note arose from his 12 ball recoveries, four interceptions, three clearances and three progressive runs.
A sturdy presence on the defensive end and full of energy going forward, Aguilar continues to prove what an integral member of Monaco's team he is.
Going from strength to strength under Kovac, Aguilar's form's been a massive positive. Consistent, determined and ultra fit, if he keeps up his high level like against Nimes, there's every chance he can help propel Monaco to great things at club level and earn a coveted spot in France's squad for the European Championships.