"Business lunches", reduced-price meals at lunchtime in Monaco
Some of the Principality's top restaurants offer quick, tasty and inexpensive lunch menus. Good news for the local clientele!
Maya Jah
At the Larvotto, a gateway to the Orient at an affordable price.
Mediterranean cuisine blended with oriental flavours make up this lunch menu at 22 euros. A meal that will satisfy you in every sense of the word, with a starter, a main course and dessert. The current menu? There are several choices, but we recommend you kick off with the ceviche of sea bream with a spicy cocktail sauce as a starter, followed by the poultry cooked with madras curry, and to finish, a treat for your taste buds with a fresh red fruit ice-cream sundae.
Quai des Artistes
Head for the Port Hercule, where the Quai des Artistes offers a taste of the great Parisian brasseries of the Belle Époque through both its food and decor.
Although there is a set menu, with either starter and main course or main course and dessert, the content of the dishes changes along with the days and the seasons. The alcohol-free menu will cost you 25 euros, the menu including an alcoholic drink is at 27 euros.
This attracts "a local clientele who come to eat quickly and at a reasonable price" according to Alfredo, a waiter at the Quai des Artistes. "It's our core business, it keeps the restaurant going," he adds.
>> SEE ALSO : Experience lunch with works of art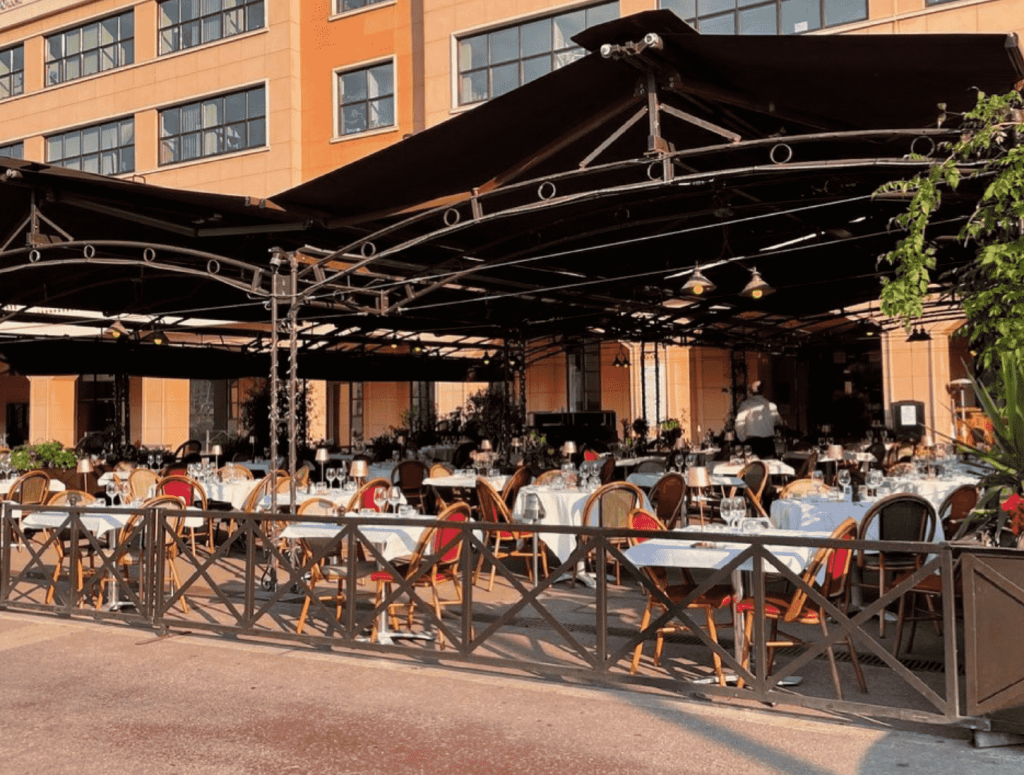 Beefbar
The Beefbar provides a luxurious setting overlooking Fontvieille port, and a veritable taste experience for its meat-loving customers.
For lunch, the Beefbar serves a quinoa superbowl with fresh produce accompanied by a poultry supreme or grilled salmon for 26 euros. Alternatively, you can opt for the tagliata formula for 29 euros: starter or gazpacho of the day, then a tagliata with fresh fries. Both formulas include a glass of wine.
"The concept is always the same for each formula, but the starter and the dish of the day vary at the Beefbar depending on what's in season" explains Riccardo Giraudi, director of the Monaco Restaurant Group of which the Beefbar is part. He adds:"This allows us to attract a local clientele, workers who want to have a sit-down restaurant lunch quickly, at an affordable average price".
Cantinetta Antinori
Cantinetta Antinori is a great fine dining venue at Larvotto where Tuscan cuisine blends with exceptional wines.
If you'd like a little bit of Italy on your plate, the restaurant offers a set menu with starter and main course: the Cantinetta menu at 24 euros. For starters, as an antipasti, would you prefer veal fillet or tomato soup? Then, for the main course, the restaurant serves meat, fish or the day's pasta dish.
What better way to round off your meal than with a glass of Villa Antinori white wine. There is also something for every taste (and colour) with glasses of red and rosé.
Moshi Moshi
Cherry blossom, marble, and elegant wood… a Japanese atmosphere in Fontvieille. On the menu, the restaurant offers not one, but four selections.
The sushi lunch for 23 euros has a selection of sashimi, makis and rolls of the day. Products that "adapt […] according to the availability of our fish and vegetables" explains Riccardo Giraudi (Moshi Moshi is also part of the Monaco Restaurant Group).
Alternatively, there's a bento box menu for 26 euros with an assortment of vegetable and prawn tempura as well as a chirashi with a variety of fish and prawns. Otherwise, you could opt for the day's ramen at 26 euros or put together a poke bowl for 27 euros. The menus "all include a glass of wine and are served quickly" guarantees Riccardo Giraudi.
>> SEE ALSO: "Ghost kitchens": how the restaurant industry is going virtual