Analysis: Why lively Minamino can be a real asset for AS Monaco
While it hasn't all been plain sailing for Takumi Minamino since joining AS Monaco in the summer from Liverpool, as he's struggled to truly make his mark, it was positive to see him take a step in the right direction by putting in an upside-filled shift vs. Clermont Foot.
Handed just his seventh Ligue 1 start of the crusade due to the absence of young starlet, Eliesse Ben Seghir, Minamino made the most of the opportunity granted to him by Philippe Clement.
Deployed in a flexible central attacking role that saw him operate as a mix between a 10 and a striker, the Japanese international relished the freedom to wreak havoc throughout the 2-0 triumph.
Forever probing and so alert to vacant spaces, his movement offered a fine foundation for him to heavily impact proceedings. To start with his checks towards the ball, and these saw him persistently drop into midfield or between the lines to offer himself as an option to progress attacks while forming numerical and positional superiorities.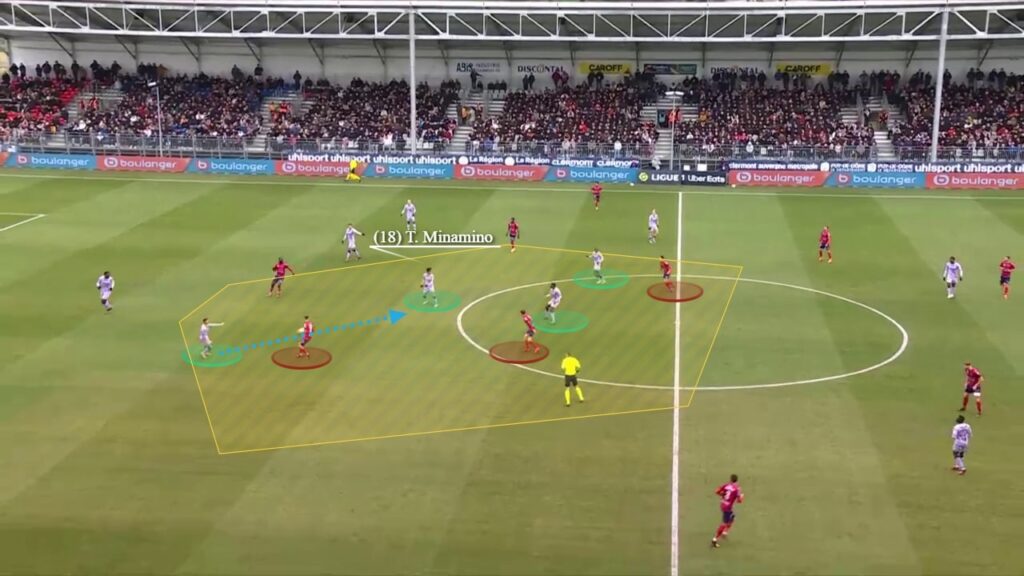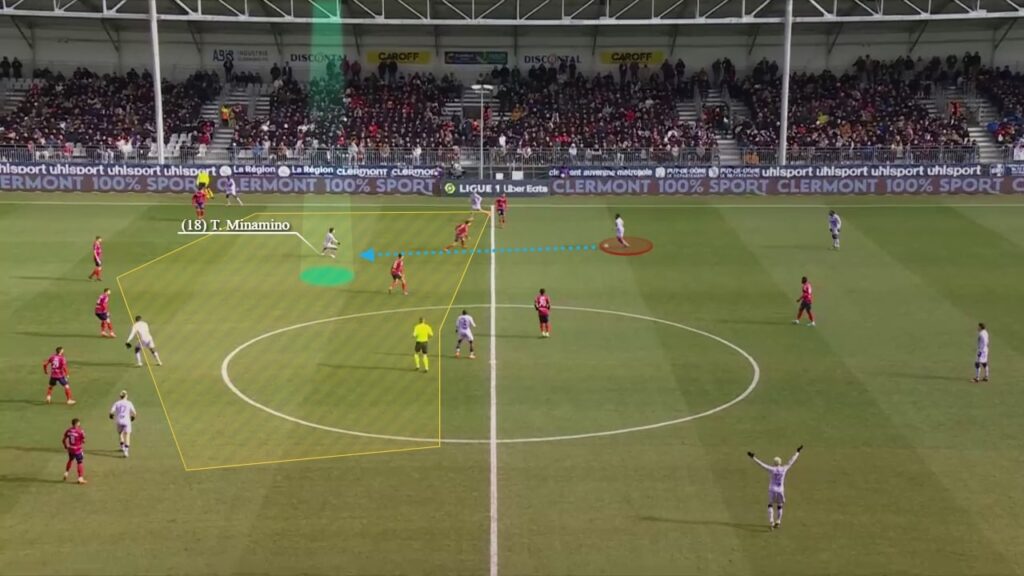 Due to him varying his position so often and his intelligence and knowledge of when to pounce, defenders found it tough to stop him, with them unsure who should be marking him in what area of the field.
With him and Breel Embolo frequently alternating who dropped and who stayed high, this compounded issues for their adversaries, with this amplifying their ability to break free from the shackles of markers.
Doing a crafty job of connecting play and giving the ball holder a viable option, his buzzing movement proved a constant thorn in the side of Clermont.
Meanwhile, when it came to running in behind and exploiting areas inside the box, he shone here too. Alert to gaps within the backline, plus when defenders were pinned, preoccupied or ball watching, he smartly got on his bike to make the most of any imbalances.
The graphics below depict his menace here, with him timing, angling and directing his runs wisely, plus using zig zags and double movements, to gain valuable separation. Although he wasn't always found, some of his neatly held runs in and around the box as the defence collapsed deep warranted special mention.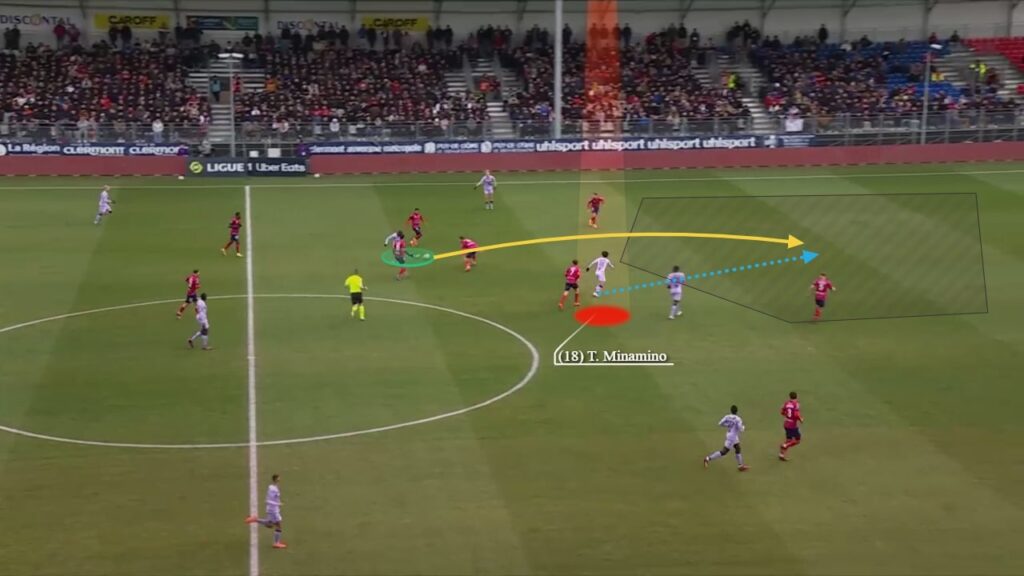 Shifting the focus to his work with the ball at his feet, and he did many quality things here as well. Blessed with a slick first touch, razor sharp ball control, immense acceleration, a low centre of gravity and underrated strength, these combined to see him weave away from danger adeptly or outfox foes to gain room to execute his actions.
Balanced, able to withstand pressure and knowing where opponents were courtesy of his calculated scanning, this added to his worth when it came to turning foes, evading danger, attracting pressure or beating opponents.
Further upside could be extracted from some of his measured through balls, tidy combination play and how he switched the angle of attacks, in a game where his brilliant run and pass, after he expertly recovered possession, served as the catalyst for Monaco's second and encapsulated what he brings to the table.
To expand on his defensive work, and there was no doubting the man who's extremely well versed in the art of pressing from his time at Red Bull Salzburg and working under Jurgen Klopp at Liverpool is a huge asset here. Harrying his foes doggedly and with tenacity, there were multiple occasions where he regained the ball or indirectly forced a turnover.
Whether relentlessly hunting down his targets, astutely using his cover shadow to block passing lanes or always being on hand to support his teammates, it was a fitting reward that his aforementioned intervention served as the catalyst for his team to double their lead.
By the numbers, his seven ball recoveries, six interceptions, four touches inside the box, three dribbles and two shot assists accentuated his polished all-round effort.
When asked on the contribution of Minamino, it was pleasing to hear Clement praise his output while explaining how fierce the competition for offensive places is. "Today, Eliesse (Ben Seghir) wasn't available, but Taki was ready, and he had a good match. I watch everyone's training sessions. And unfortunately, I can't give starting roles to everyone because there are only eleven places on the pitch. Moreover, several players have done a very good job in recent weeks like Myron (Boadu) for example," he insisted.
"Kevin (Volland) has also returned from injury, so there is competition in all positions on the pitch. The energy in the team is very good and everyone must show that they are ready. I am seeing this state of mind more, it must be our strength in the coming weeks. I have more and more attacking options, which makes it more difficult for me to choose eleven or twenty players. I hope this will be the case until the end of the season."
His classy body of work will hopefully now be a turning point for the dynamic attacker to recapture a level resembling his best and to restore his confidence.
Showing his manager he has what it takes to deserve more starts and that he can be trusted to do his job for the team, it'll be intriguing seeing if he can use this as a springboard to breathe life into his Monaco career.
Possessing so many of the desired traits needed in a modern attacker, the challenge for the tireless and technical Minamino, who does so much on both sides of the ball, will be finding that all-important consistency in his quest to become a bonafide starter for Les Monegasques.