Analysis: Exciting talent Edan Diop demonstrates his class for AS Monaco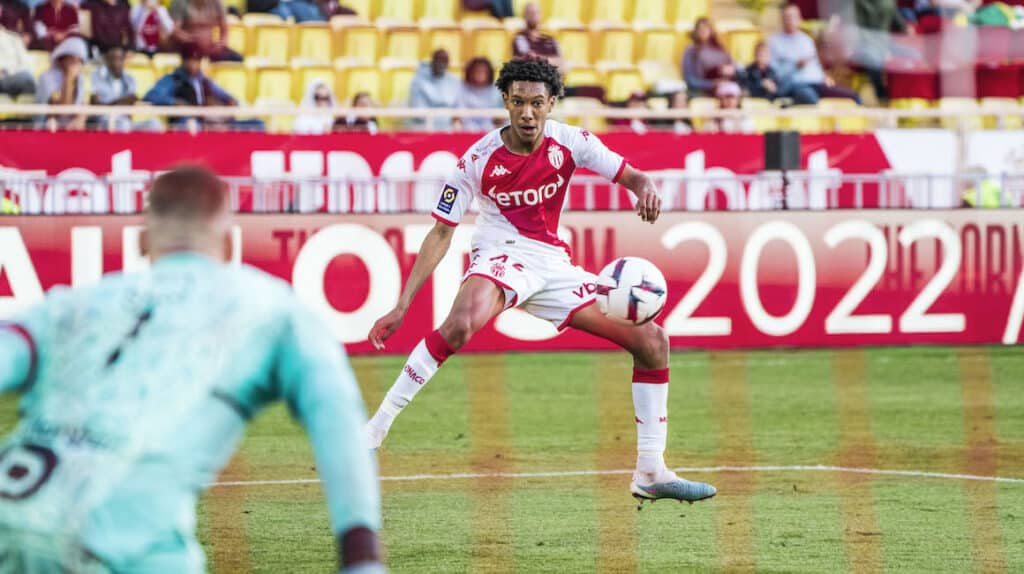 Trailing at the interval and needing some inspiration in the second-half against Strasbourg, Philippe Clement's decision to introduce exciting youngster Edan Diop paid off emphatically.
Having already received minutes against Bayer Leverkusen, OGC Nice and Troyes, plus shone for France's U19s in the recent international break, Diop stamped his mark on proceedings with an exceptional cameo.
Not only did he score a crucial goal, that was his first at the professional level, but he also played his part in ASM's second goal, with these tangible contributions pivotal towards ASM claiming all three points.
Coming on for Ruben Aguilar at the half-time, it was admirable how expertly the 18-year-old rose to the occasion successfully, with his presence integral for Monaco in turning the tide and shifting the momentum back in his team's favour.
Causing havoc with his calculated movement, his aptitude here caused his foes major issues and didn't allow them to settle into a rhythm of how best to stop him.
Posing an immense threat with his shrewdly timed runs in behind, this gave ASM a terrific option to stretch the Strasbourg backline. Fast across the turf and gaining separation prior to embarking on his runs, much upside could be extracted from how he got the jump on his foes.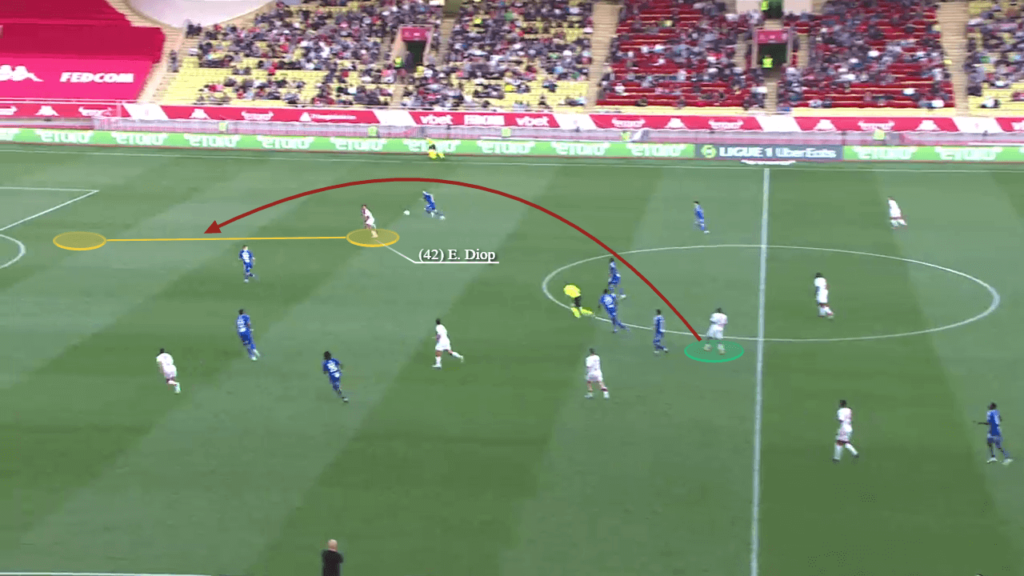 Superbly timed run in behind
Nicely timed run into the box
Exploiting the blindside of opponents and gaps between markers wisely, there were many occasions where his aptitude here bore fruit, with his masterfully taken finish most notably owing plenty to his wonderful upfield surge.
Brilliant run ahead of his goal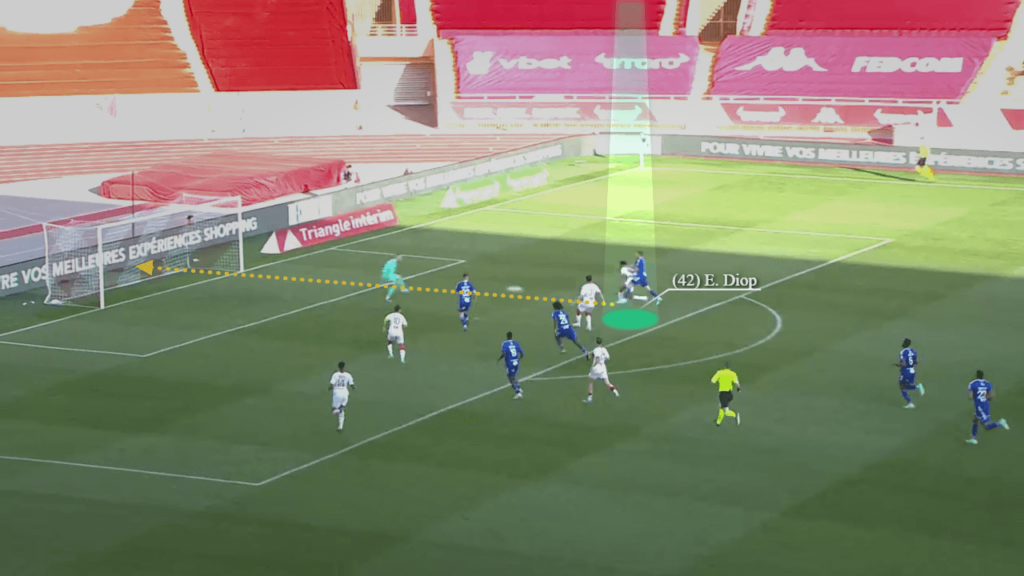 Expert first-time finish while under heavy pressure
The way he'd hug the touchline to receive switches of play to be isolated 1v1 and how he smartly dropped deep with his back to goal to connect play amplified his menace.
Wide positioning ready to receive the switch
To focus on the latter, and how strategically checked towards the ball enabled him to be a viable passing option, get free of his man to turn or execute his actions cleanly and draw opponents to create room for colleagues to attack directly or via third man combinations.
Smartly finding space between the lines
The well built, athletic youngster also provided a quality outlet for his team when they wanted to go long, with his ability to head and chest down long balls, plus hold off his opponents, helping his team to regain second balls high up.
Strong and using his body effectively to protect the ball, this, in combination with his polished ball control and first touch, ensured he maintained possession competently under pressure.
The way he used his mazy dribbling to drive his team forward in transition and in 1v1s, plus demonstrated his handy passing qualities to engage in some crisp combination play and hit some measured through balls and crosses, enhanced his menace.
Nifty line breaking pass
A prime example of his passing skills arose ahead of Eliesse Ben Seghir's goal, where his dangerous cross was the catalyst for the chaos that allowed the wonderkid to score from close range.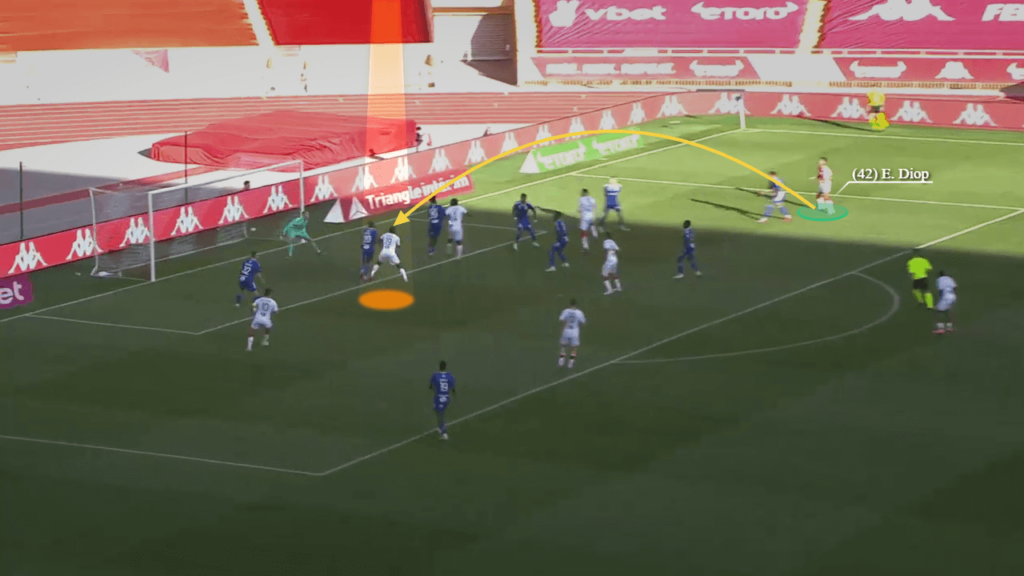 Quality cross ahead of Monaco's second
It also warranted mention what a brilliant defensive shift he put in, for he tracked back diligently, chimed in with a host of vital interventions, pressed aggressively and supported his teammates. Indeed, with Monaco being shorthanded following Youssouf Fofana's 78th minute red card, his determination and commitment certainly helped them secure a tense 4-3 victory.
By the numbers, his nine ball recoveries, nine won defensive duels at 69%, five interceptions, four touches inside the box, three progressive runs and two shots underlined his impressive efforts.
Diop's Heat Map
Proving a real game changer for Les Monegasques, it was little wonder Clement was full of praise for both he and Ben Seghir after the clash, in a match that represented the first time that two players aged under 20 have scored for Monaco in the same Ligue 1 match since September 20, 2015 against Lorient ( Thomas Lemar and Almamy Toure). 
"They had a big role in this game. This is very important because young players are the heart of the club's project," the Belgian explained.
"Beyond the statistics, it is their implications for the collective that I appreciated. I don't give game time for free, just because they're young. I do it because they deserve it given their work in matches and during the sessions. We can be proud to have two 18-year-old starters, they can still progress enormously."
He then added this on Diop: "He was successful with his selection by scoring, but also in training with us this week. He is dangerous with the ball and that's what the team needed. Then he is at the service of the collective. There are certainly still things to work on, but he is young so I'm not currently too concerned with that."
Set to be filled with confidence following his memorable night at the Stade Louis II, where he made another stride in the right direction in his development, he'll hope to use this as a springboard to kick on further.
Whether he can or not will be captivating to see, especially seeing as the competition for places is so fierce, but he certainly showed his manager that he's ready to step up when called upon vs. Strasbourg.