The 2016/2017 AS Monaco team will always be remembered fondly for their exceptional season, as not only did they win Ligue 1 by eight points over Paris Saint-Germain, but they also reached the semi-finals of the Champions League and the Coupe de France, plus made the final of the Coupe de la Ligue.
With so many outstanding performances coming across that campaign, Leonardo Jardim's men were a very special team indeed. Boasting talent all over the pitch in the form of captain Radamel Falcao, Kylian Mbappe, Bernardo Silva, Fabinho, Thomas Lemar, Joao Moutinho, Kamil Glik, Djibril Sidibe, Valere Germain and Benjamin Mendy.
The last man on that list, Mendy, certainly enjoyed an incredible season, which was to be his one and only at the club. Having signed from Olympique de Marseille, where he'd honed his craft working under tactical genius Marcelo Bielsa, for a very reasonable £11 million, the deal proved a masterstroke.
Aside from being crowned league champion, Mendy also earned his place in the Ligue 1 team of the season along with five colleagues and subsequently left for Manchester City for a whopping £52 million fee at the completion of the crusade.
Displaying his dynamism and talent throughout, the left back excelled in the Champions League too, where his four assists and all-round play were instrumental towards their remarkable run. Unquestionably one of his most memorable outings came in Monaco's thrilling 3-1 Round of 16 second leg triumph over Manchester City at the Stade Louis II.
Performing his duties on both sides of the ball brilliantly against the might of Pep Guardiola's City, Mendy attacked with vigour and handled whatever City threw at him.
Making the most of every opportunity to burst forward and join attacks, his presence was keenly felt in this compartment. Dovetailing beautifully with Lemar and Mbappe who'd persistently position themselves in the half spaces to pin the opposition fullback infield, Mendy relished the space this generated out wide to maraud into.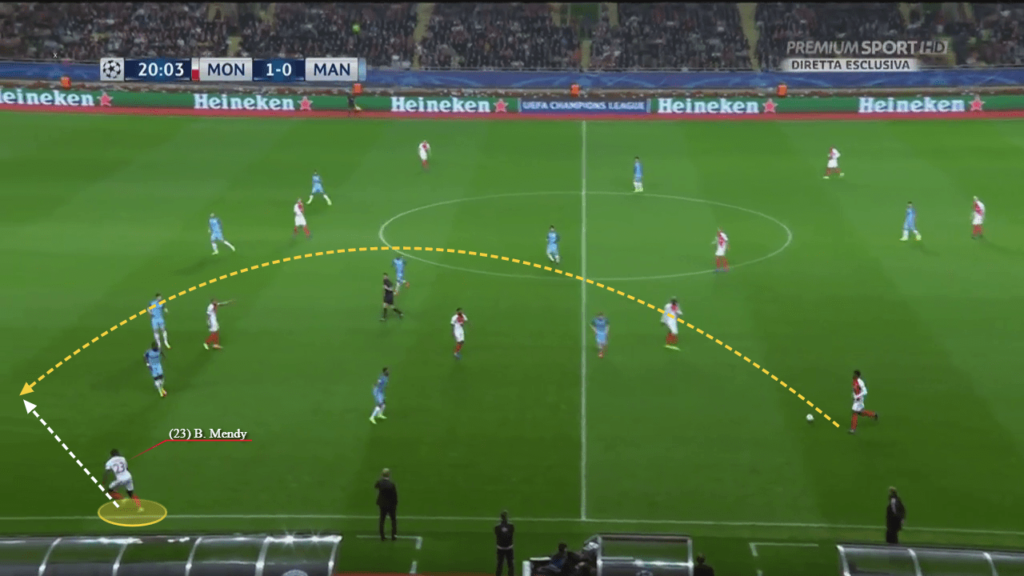 Crafty run in behind as he exploits the space
Nicely timed run as he adds width and depth to the attack
Getting up the field with gusto and intent, the former Le Havre sensation's speed and energy gave Les Monegasques another dimension going forward as he provided width and depth to attacks. Catching City off guard with his pace, third man runs and with the timing of his movement, City struggled to contain the Frenchman who stretched their backline horizontally and vertically.
Quality third man run out wide
In addition, he complemented his threat on the overlap with the odd underlapping run, where he'd interchange with his winger and look to attack the spaces between City's defenders. This added some variety and constantly placed doubt in his adversaries' minds on how to combat him.
Smart rotation with Lemar as Mendy makes a good underlapping run
Then, when it came to his work with the ball at his feet, he was equally impressive. Powerful on the dribble and keen to drive at his opponents, his speed and sharp changes of pace and direction was an unsettling presence for his foes. Drawing one or more markers with his mazy ball carrying, this forced opponents out of shape, thus leaving gaps open for a teammate to exploit.
Indeed, one of his crafty runs played a key role in Monaco's opener, where he beat two men, Leroy Sane and Sergio Aguero, before venturing into the box. He then launched a shot on goal that was blocked, but the rebound fell to Silva who then pinpointed Mbappe to score.
Super dribble to beat two men before firing a shot that led to Monaco's opener
Another feature of his attacking play arose from his excellent crossing ability. Blessed with a wand of a left foot, Mendy showed off his prowess here, firing in plenty of dangerous deliveries into the area. Getting immense whip, dip, swerve and hitting his crosses and cutbacks with accuracy, he provided excellent service to the likes of Falcao and Germain.
Wicked whipping delivery into the box
His magnificent assist punctuated what a weapon his distribution was, with him striking a precise cutback perfectly into the path of Fabinho. The Brazilian then applied an outstanding finish to put Monaco 2-0 up, as this put them well on their way to successfully overturning the 5-3 deficit from the first leg.
Blistering cutback assist for Fabinho's goal
Meanwhile, on the defensive end, his athleticism and physicality, in combination with his awareness, ensured he fulfilled his duties with aplomb. Having to deal with the likes of Aguero, Raheem Sterling, David Silva and Sane whenever they pushed into his designated area of operation, the way he handed whatever was placed in front of him was notable.
Alert to runners in behind or into the channels, it was admirable how swiftly he recognised when his marker made their move. Furthermore, the fact he's so rapid only enhanced his effectiveness, for even if his opponent got the jump on him, his speed meant he could quickly recover his position. This aspect of his game also helped him get back and support his backline in transition situations, as he snuffed out many attacks with his backtracking.
Excellent tracking back to stop De Bruyne
When defending 1v1, Mendy demonstrated fine anticipation skills, strength and reaction times to ensure he was a challenging proposition to overcome. Being so strong and nimble undoubtedly helped his cause too, with him able to outmuscle and unbalance his enemies shrewdly.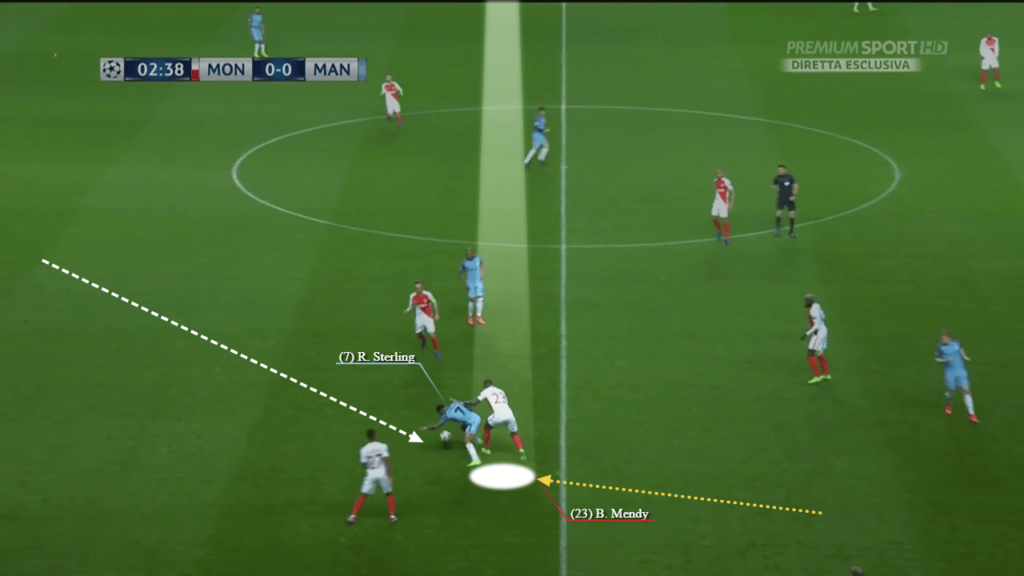 Mendy pressuring Sterling to overpower him and regain the ball
His numbers punctuated his splendid body of work, as he completed two accurate crosses, two dribbles, two progressive runs, eight interceptions, four clearances and won 10 of his 15 defensive duels.
While he's gone on to become a World Cup winner and won the Premier League twice within Guardiola's Manchester City, reflecting back on his tremendous year on the French Riviera, and that match vs. City, highlighted just what a special talent he is when fully fit.
After seeing him struggle with a slew of frustrating injuries in recent years, City fans and Mendy himself will be desperate to see a return to his supreme form from that season, which saw him make waves both domestically and in Europe.