Louis Ducruet leaves AS Monaco: Let's look back on his five years at the club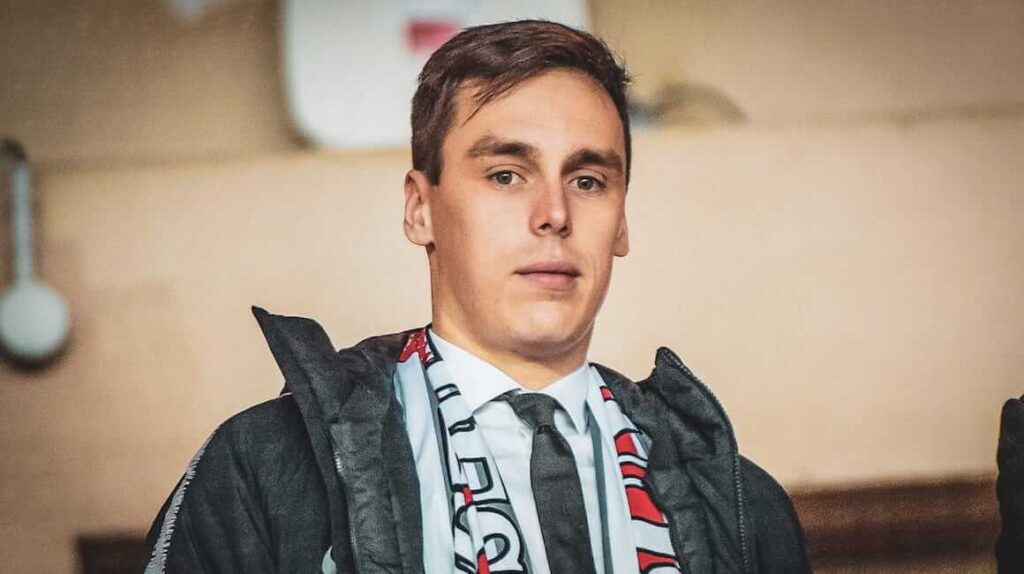 On 23rd July, the son of Princess Stéphanie of Monaco and Daniel Ducruet announced on social networks his departure from AS Monaco. Let's take a look back at his five years with the club.
"It's time for me to try a new adventure, a new challenge, which will allow me to gain more experience," said Louis Ducruet via his Instagram account on 23rd July. After five years of loyal service for AS Monaco, the 27-year-old has decided to leave the nest. "Thank you to the club for all these unforgettable moments: the exceptional courses in the Champions League but also the title of French Champion of 2017".
His beginnings as an international recruiter
In his first few months with the Red and Whites, he was taken on as a trainee in 2015. Interning at the Western Carolina University, Louis Ducruet started out in the marketing department of the club. With a degree under his belt, he was then hired at just 23 years of age as an international recruiter. He was tasked with find potential future players for the club. "We supervise players from other teams abroad and then report back to the club's management who decide whether or not to go further. It's an important behind-the-scenes role," he told Forbes earlier this year.
He said he "loved" the field position, which he says he had never experienced before. "I learned on the job. Senior recruiters gave me advice and, above all, the sports directors, Luis Campos and then Antonio Gordon, accompanied me," he added in his interview with the business magazine.
Assistant to AS Monaco's Vice-President
He took the next step in February 2019 by becoming Assistant to the Vice President and General Manager. He worked first for Vadim Vasilyev and then with his successor, Oleg Petrov, who retained him in his position. After more than a year at the side of AS Monaco's vice-president, Louis Ducruet decided to take a different path.
At just 27 years of age, Ducruet is aware that he still has a lot to learn. "I don't have the ability to take on the responsibility, I don't have the experience (…) I must first get these experiences, acquire knowledge and learn the job." He admitted to a local newspaper La Gazette de Monaco in an interview published in March.
Speculation was already surrounded his departure. According to Eurosport, which quoted several sources close to the club, Princess Stephanie's son may go on to work for the body that manages the clubs Olympiakos Piraeus in Greece and Nottingham Forest in England. However, his links with Monegasque sport will not be entirely broken. Since January, Louis Ducruet has been President of the Monaco eSport Federation.