Despite missing four months of this campaign with a troublesome thigh tear that kept him out longer than expected, since returning in January Rony Lopes has been a key figure for AS Monaco.
In what's been a challenging season for the Monégasques, where they've endured some unwanted managerial turmoil and spent time in the relegation zone, Lopes has been an integral part of their revival since Leonardo Jardim was brought back as coach in January.
Now out of the dreaded drop zone, Jardim's had a positive, stabilising impact, as his team have only lost twice in his 11 league matches at the helm and currently sit four points clear of the relegation play-off spot in sixteenth.
Bagging two goals and one assist, plus putting in many promising displays, Lopes is clearly reslishing working under his countryman's tutelage again, who was so instrumental towards Lopes' fantastic form last season, where he scored 17 goals and supplied 12 assists in all competitions.
"Jardim is a great coach, very organised and with attention to details. He gets the team playing as he wants and also has the ability to guide each player to take advantage of their own particular skills and put them in favour of the team," explained Lopes.
"That makes him one of the best in Europe and in the world, I'm sure. Everyone likes to have Jardim as their leader."
Granted plenty of freedom to weave his magic, the Brazilian born Portuguese international's added some crucial creativity, imagination and unpredictability into Les Rouges et Blancs offensive passages.
Possessing sublime technical qualities, the 23-year-old is a real master with the ball at his feet, as he drives his team forward with his incisive passing and mesmerising dribbling. In terms of the latter, his sharp first touch, razor sharp ball control and nifty array of maneuvers to outfox defenders, including neat stepovers, feints, shoulder drops, shimmies and spins, ensure he's a handful for any opponent. In addition, the way he uses his razor sharp changes of pace and direction has been another asset.
Factor in his low centre of gravity and underrated strength, which means he can remain balanced when pressured or when holding up the play while waiting for an option, and it's easy to see what a challenging customer he is to come up against.
So comfortable under pressure, the former Benfica, Manchester City and Lille talent's used this to smartly provoke pressing actions from one or more markers to generate a free man upfield or open passing lanes to a colleague. This can come especially in handy in counter attacking scenarios against unset, retreating backlines, for he can draw them out of shape before pinpointing a teammate.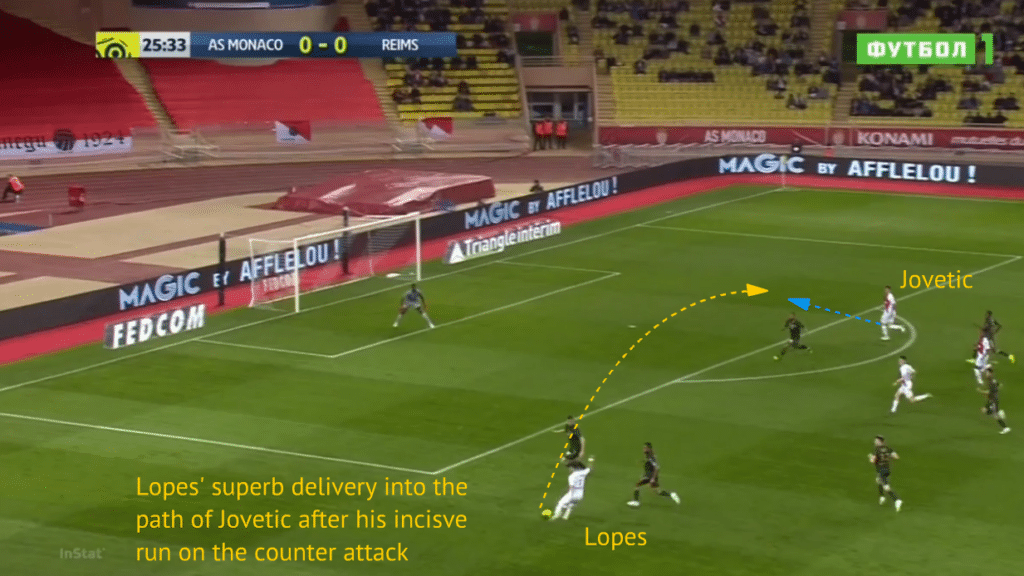 Lopes' lovely pass after a damaging dribble on the counter attack
Blessed with a tidy range of passing, Lopes contributes tremendously in this regard too. Progressive and full of ambition, he's constantly on the lookout to unlock his foes' backline to unleash his attackers. Whether hitting searing switches of play, crafty balls over the top, penetrative vertical passes or partaking in intricate link play with flicks and back heels, there's no doubting his talents here.

Lopes playing a neat through ball

Lopes hits a superb through ball despite being double marked
Even though he can at times be too expansive trying to force a breakthrough, his intent and confidence to trust his ability far outweighs any negatives.
Undertaking frequent head scans prior to inheriting the ball, this allows him to arm himself with the information where his teammates, opponents and the vacant spaces are located, thus meaning he can enhance his chances of making sound decisions.
Lopes' wonderful set pieces also warrant special mention, for his deliveries amplify his team's prospects of finding the back of the net. Striking these dead balls in a variety of ways, he's equally adept at hitting outswingers, inswingers, driven efforts or lofted balls depending on his location and the opposition.

Lopes' wicked outswinging corner

Another superb Lopes corner
The diminutive playmaker, who's capable of operating anywhere across the frontline, ties all of the aforementioned together with his clever movement. By having a cohesive understanding with his fellow frontmen, he's able to perform slick rotations that effectively destabilise stopping structures and cause decisional problems on who should mark who. Monaco's recent match with Reims offered a fine example of how he interchanges so cleanly with his mates, as he popped up on the left wing, right wing, centre forward position and as the number 10 all within the opening 24 minutes.
Identifying expertly where the exploitable spaces are present, he expertly takes up areas in between the lines to link play, pushes out to the flanks to support wide attacks or bursts in behind. Importantly, if he's not in a position to be an option, he has the presence of mind to draw his marker away from usable space to manufacture openings for his teammates.

Lopes finding room between the lines

Lopes' astute space finding

Lopes' intelligent run in behind
Moreover, his well angled and directed runs into the box serve him effectively too. By usually embarking on these runs on the blindside of his man, this gives him a dynamic advantage over his more awkwardly oriented marker to reach crosses or cutbacks first to place him advantageous scoring zones.

Lopes' well executed blindside run

Lopes slick movement into the box
Demonstrating his shooting prowess and striking instincts, he doesn't pass up an opening to fire off shots on goal. While his expected goals reading is a decent 0.21 per game, this an aspect of his armoury that has enormous scope for improvement. But he has, however, got a strong base to work from, as shown by his eye-catching goalscoring efforts of last season.
Parlaying power and finesse to good effect, which his sublime individual goals vs. Guingamp and Olympique Lyon emphatically depicted, he's been a real shining light in Monaco's turbulent crusade. By the numbers, his 3.46 successful dribbles pg, 1.93 shot assists pg, 2.74 touches in the box pg, 2.43 progressive runs pg and 2.38 shots pg aptly demonstrate his worth.

Lopes' magnificent bicycle kick goal
As a consequence of Monaco's torrid term many questioned the mentality of the team, but Lopes was certainly not one to fall into this category. "He has lived in France for four years: including a year-and-a-half on loan (in Lille)," said Jardim. "Then he had six beautiful months in 2018 before getting hurt (in September). He knows what needs to be done to stay at the highest level. He has a big mentality. And always keeps a good attitude."
Having recently signed a new contract with Monaco that will keep him at the club until 2022, Lopes will unquestionably be an indispensable asset both now and in the future. Seeing as he's such a highly rated player and drawn interest from many elite European clubs, maintaining his services was a massive coup for the Monégasques.
Looking ahead, he'll be desperately hoping he can remain fit and continue to improve his already terrific, game changing skill set, for if he can, there's no reason to suggest he can't develop into one of the finest offensively minded players in Europe.
Now we'll all just have to wait and see if can, in fact, fulfill this immense potential.
All graphics created using analysis platform InStat