Having scored 14 of AS Monaco's 36 Ligue 1 goals this season, Falcao's contribution for his struggling side can't be underestimated.
Current sitting in 17th just above the relegation playoff spot, it's unimaginable to think what position they'd be in without their inspirational captain's goalscoring heroics. Having scored five goals in his last eight matches, the Colombian's doing everything in his power to steer his team away from the dreaded drop zone and to put his team back on the right track.
Despite turning 33 earlier in the year, the man who's been one of the most consistent forwards in European football since initially joining FC Porto in 2009, it's amazing to see him week in, week out playing at such a high level.
His form has been so impressive, in fact, that many elite clubs across the continent are interested in acquiring his services for next season, including Arsenal, Inter Milan, AC Milan, Wolverhampton Wanderers and one of his former clubs in Atletico Madrid.
When asked about his future plans, the coveted frontman wasn't willing to let too much slip except that he's still feeling on top of his game. "I still have one more year of my contract to do. Every year you ask me the same question," he explained. "So far, I'm very focused on this season. My only ambition as a player is to play at the highest level.
"I still feel very good. I can play at this level for many years, here, or in another country in Europe. But I feel good in Monaco and have one year of my contract remaining."
Upon analysing his performances, it's abundantly clear he still has what it takes to stamp his mark at the highest level, with his athleticism, physicality, technique and intelligence ensuring he's a force to be reckoned with.
His intuitive off the ball movement is a great place to begin, for he's persistently probing to generate promising situations for himself and his colleagues in and around the final third. A master at timing and directing his runs into the box, Falcao's aptitude in this regard provides his team with a threat in behind and when firing in crosses and cutbacks from out wide.
Falcao's instinctive run into the box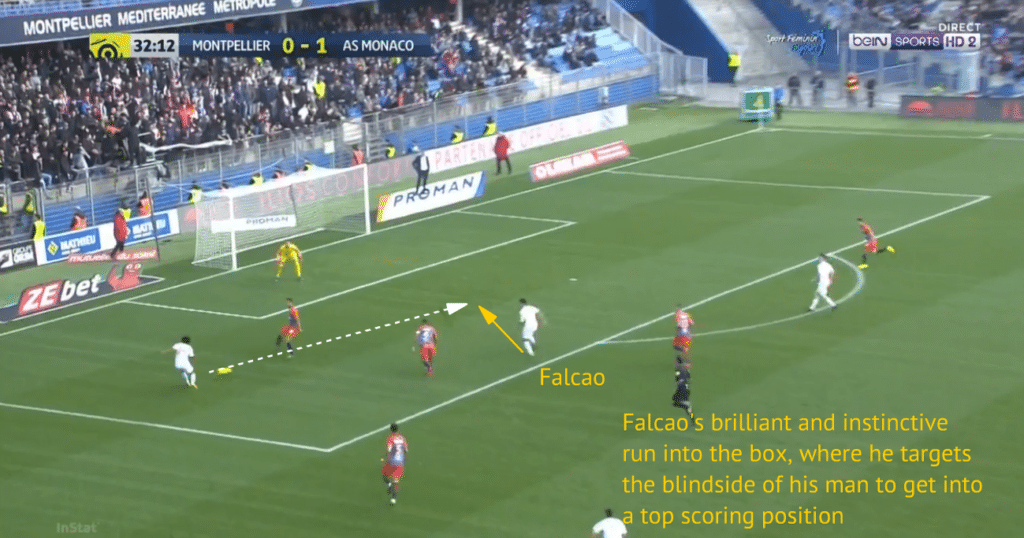 An expert at gaining separation from his tracker, his subtle movements to unbalance his adversary are vital towards his success, as he uses clever stop gos, sharp alterations in direction, nifty changes of pace and peels off the back of his man smartly. Although these dismarking methods may seem rather innocuous, they work beautifully to briefly disorient markers and give him the split second of time needed to wreak havoc.
Falcao's cunning movement

Falcao's superbly timed depth run

Shrewdly varying his movement, in combination with applying the aforementioned principles and how he reads the play so coherently, means he provides an outlet for so many situations from everything from aerial balls to intricate passes into his path.
Falcao's crafty angled run in transition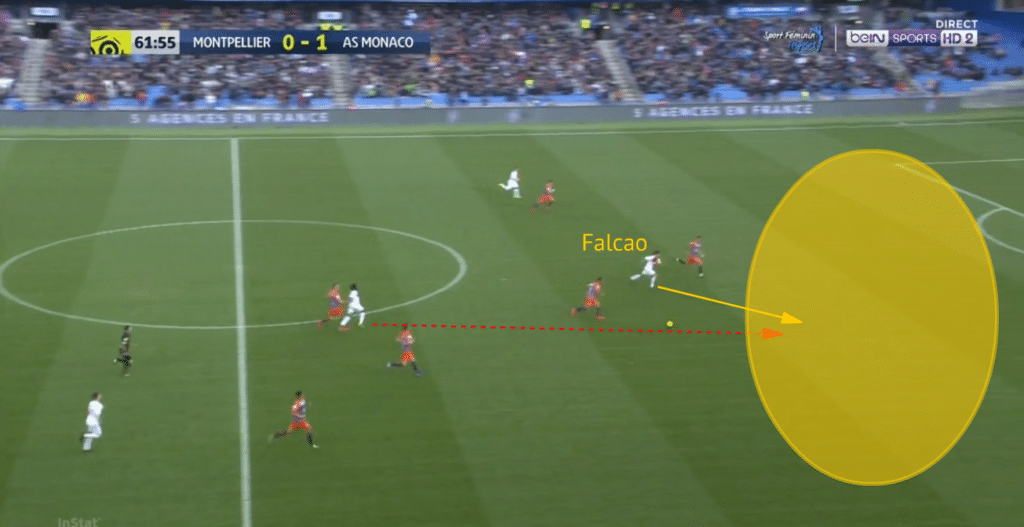 The way he waits for the ball holder to receive or be in position to receive possession as he makes his run warrants mention too, something that allows him to get the jump on his man and have a momentum advantage.
Falcao's times his run perfectly when Fabregas is about to receive possession

A key byproduct of his crafty movement comes from how it regularly draws and pins one or more trackers to generate room for a colleague to exploit by creating an imbalance in their structure.
Falcao pinning two men to create space

Falcao's stretching run creates space

Falcao creating a 3v2 on the counter

Moreover, the way he strategically coordinates his movement with his colleagues by using opposite movements and subtle rotations with his fellow attackers only compounds issues for his foes.
Falcao nicely coordinated opposite movement

Picking his moments astutely when to drop deep and knit play together, he connects and animates his team's offensive forays coherently. A tidy distributor, who remains calm under pressure, the imposing Colombian's passing is another valuable asset, for he combines nicely in confined spaces, can spread the play, hit through balls or play clever dinks and flicks.
Falcao creates a chance with a neat pass

Keeping on the theme of his technical execution, and his clean first touch, sharp control and accomplished finishing are all keys to his success. Taking up strong body postures so he gives himself every chance of controlling the ball so he can perform his next action smoothly, he gets these detail spot on to either dribble upfield or hit his passes.
To focus on his finishing, and El Tigre's proficiency here sees him parlay power, placement and finesse. Capable of finding the back of the net with wicked headers, blistering finishes from range, with pinpoint accuracy from outside and inside the box or with his razor fast reactions, he's very adept at scoring a wide range of goals.
Accurate driven finish

Superbly placed header

Falcao's lovely left footed finish

Falcao's wicked leap and placed headed finish

Strong, forceful and boasting nice acceleration, he uses these to comfortably fend off his markers, outmuscle them in duels and get into advantageous positions.
Statistically speaking, his season averages of 0.47 goals per game, 0.53 expected goals pg, 3.14 shots pg, 2.17 won aerial duels pg, 3.61 touches inside the box pg, 1.24 dribbles pg and the fact he completes 16.96 passes pg at 83.1% aptly depicts his quality.
Full of nous, experience and artistry, Falcao's multifaceted skill set allows him to hurt his opposition in a multitude of ways. The former Manchester United and Chelsea man's emphatically shown this in spades this term on his way to proving age is no barrier to him.
Feeling confident and still in peak condition, the Monegasques will be desperately hoping he'll remain with the club next season, as they're hoping to challenge again at the top end of the table and make it back into the Champions League.
In such hot demand and with so many options set to be bestowed upon him, only time will tell where his future lies. But regardless of what happens, Monaco will be grateful for his brilliant form this season being integral towards keeping them in the top flight.
All graphics created using football scouting analysis platform InStat