Despite only joining AS Monaco in January, it's been impressive to observe how quickly Youssouf Fofana's stamped his mark for the Monegasques. 
Hitting the ground running and adapting rapidly to Robert Moreno's philosophy, the former Strasbourg star's already supplied two assists while operating with authority, consistency and quality on both sides of the ball.
Joining for a very reasonable fee of €15 million, Fofana's quickly gone about repaying the club's faith in him, with his performances key towards Monaco's strong recent form, which has seen them move into fifth and within touching distance of the top three.
Deployed mostly as a holding midfielder under Moreno, which is a slight alteration from his more typical advanced eight role, he's done a top job adapting to his manager's demands.  "To be honest, I feel more comfortable in a 4-3-3 than in a 4-4-2. This system allows me to take up various positions, with a well defined role. In any case, I am there for the team and are there when they need me," he explained. 
Providing great energy and physicality on the defensive end, the athletic midfielder's shown his effectiveness in breaking up the play. A shrewd reader of the play and keen scanner, this ensures he's aware of his surroundings and can react accordingly. This sees him position himself smartly to block passing lanes, plus ensures he knows when to shift across, drop back to support his defence or when to step out and press. Concentrated and alert, if there's any dropping number 10s or forwards nearby, he'll notice them sharply and take on these assignments.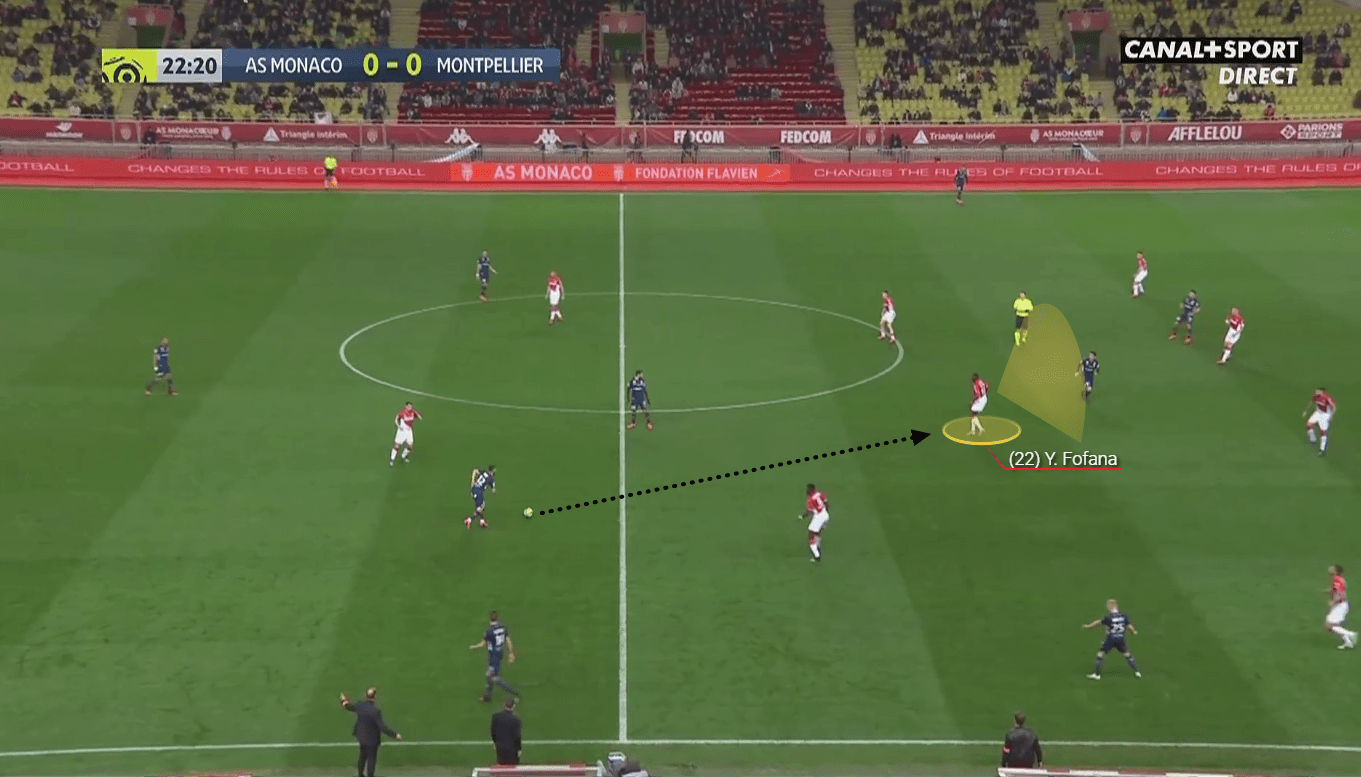 Great positioning to block the passing lane to the attacker behind him
Well angled press to use his cover shadow to block the pass lane behind him
Top job dropping back to defend the cross
Responding to pressing cues when an opponent is in his designated area of operation and when he believes he can pounce without jeopardising his team's backline, Fofana jumps out with authority. When applying his challenges, the Frenchman exercises good judgement while using a good amount of force, as he's largely clean in his attempts to win back possession.
Covering the turf effortlessly, how he tracks runners, gets back to help his defence and uses his long legs to increase his chances of recovering possession adds to his worth.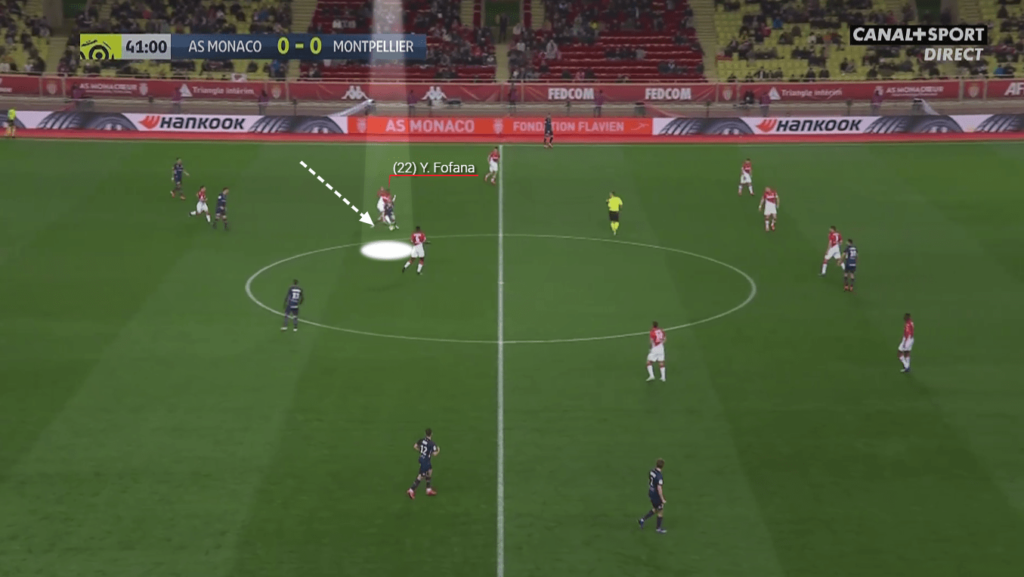 Using his long legs to nip in and recover possession
Strong and boasting an excellent leap, when it comes to aerial duels, he holds his own in such confrontations. Indeed, his aptitude here benefits his team in their quest to win second balls and for set pieces at both ends.
The Frenchman contributes equally well on the offensive side, for he's so good in many compartments. To start with his passing, and the two footed 21-year-old's demonstrated his quality in this area by orchestrating and facilitating a good chunk of Monaco's upfield forays.
Showcasing his impressive range of passing, it's been his measured through balls over the top that have really caught the eye. Often dropping deeper to collect the ball before launching these deliveries, this gives him the time and space he needs to assess his options and pinpoint a runner. Striking his passes with immaculate technique, this has been a good source of chance creation, with his assist for Stevan Jovetic's recent goal a testament to his quality here.
Sublime long range assist for Jovetic
Superb through ball in behind to Ben Yedder
Assured in possession and confident, his capacity to break the lines with vertical passes, switch the play, combine intricately in confined areas and recirculate possession patiently while waiting for an opening has been valuable too.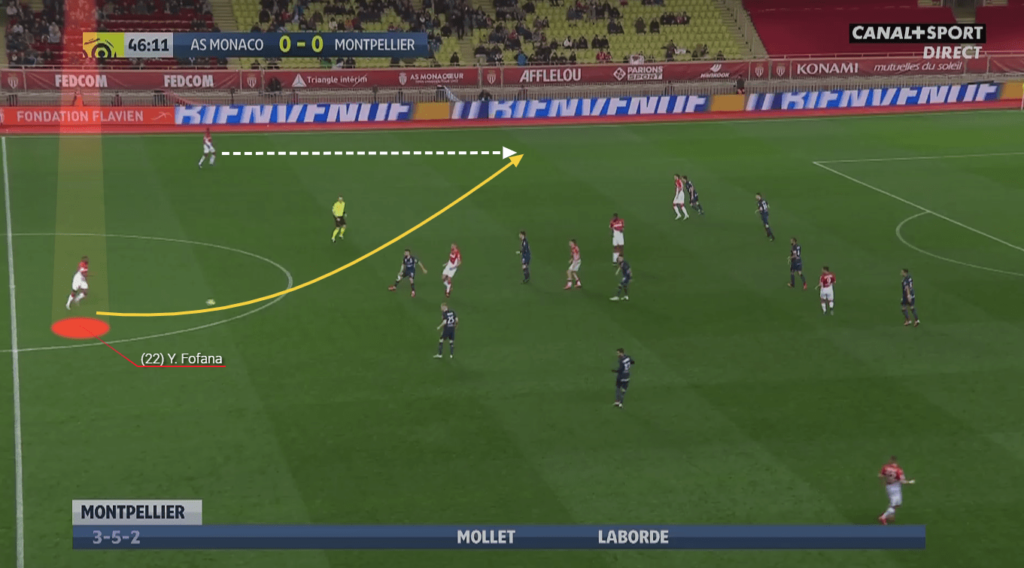 Wicked one touch switch of play
Wonderful switch of play to Ballo-Toure
Fofana's also progressive with his ball carrying, for he'll powerfully stride forward when the opportunity to do so is right. Strong and riding challenges well, he's a tough man to slow down without fouling, as not only does his dribbling draw fouls but it also provokes pressing actions, which frees up a colleague ahead.
If not in a position to surge upfield, he'll smartly alter his body shape so he can protect the ball, as his ball control, first touch and press resistance allow him to turn away from danger, shield the ball as he searches for an option or beat his man with a piece of skill. 
Meanwhile, his positioning and movement has added a further layer of nuisance for opponents, with him shrewd at being situated to support attacks. Often tasked with dropping deeper near the central defenders, this has helped Monaco enjoy a numerical superiority over their opposition's first line of pressure. In doing so, Monaco can gain an extra number to pass out cleaner and kickstart their attacks. From this location, he can subsequently dictate the play, giving vital control and stability to their possession phases.
The way he'll slickly rotate with a fellow midfielder has given him some extra licence to maraud forward while unbalancing the opposition defensive structure. Indeed, these little variations can be key at throwing off deep sitting blocks due to how marking assignments can get blurred, thus allowing Monaco to exploit the indecision.
Knowing when to hold his post and help his teammates deal with counter attacks while being an infield option, shift wide to help wide attacks, push on or drop back, his decision making has been spot on.
Getting across to cover the space behind fullbacks
The Paris born prodigy's numbers this term illustrate his worth, with him completing over two accurate long balls pg, roughly 1.5 dribbles pg, 1.5 won aerial duels pg, 1.33 progressive runs pg, 0.57 shot assists pg, 6.22 accurate passes into the box and final third pg, 36.56 passes pg at 88%, 3.27 interceptions pg, 1.8 tackles pg and 1.6 clearances pg.
While it'll take some time before he's completely settled on the French Riviera, his encouraging start has been a key driving force behind Monaco's promising recent form. Still on the hunt for a top three finish, the ultra fit and multifaceted Fofana will unquestionably be an integral figure of Monaco's plans to fulfil their ambition of Champions League qualification.