Heading into the 2003/2004 season, Fernando Morientes knew he had to leave his beloved Real Madrid, where he'd been since 1997, in order to get the vital playing time he craved. 
Having enjoyed a remarkable first five years with Los Merengues, where he formed a formidable partnership with Raul, as he helped Madrid to three Champions League triumphs and two La Liga titles, once Ronaldo joined in 2002, he was pushed down the pecking order. 
Not content to sit on the bench, Morientes requested a move away from the Santiago Bernabeu. While the club agreed, they stated he couldn't join another Spanish team and he could only leave on loan. With time running out in the transfer window and a proposed move to Schalke 04 falling through, the Spaniard finally joined AS Monaco on deadline day, in what proved to be an inspired choice. 
"I had to leave Madrid to play and to be happy," he told UEFA's website. "I felt so low that I even thought I was not good enough for this profession. 
"I have come to Monaco with humility. Most of the players here have never played in the Champions League, unlike me, so I thought I would help with my experience." 
Scoring an impressive 22 goals in his 42 appearances, Morientes was an instrumental figure towards Monaco finishing third in Ligue 1 and in their breathtaking run to the Champions League final, which they unfortunately lost to Jose Morinho's FC Porto.
Unquestionably, however, his finest contributions came in Europe, where his nine Champions League goals saw him finish as the top goal scorer in Europe's elite competition. Although he was brilliant in scoring against Lokomotiv Moscow, PSV Eindhoven, AEK Athens and in both semi final legs against Chelsea, his performance vs. parent club Real Madrid was the stuff of legend. 
Having lost the first leg in Madrid 4-2, where Morientes bagged a vital 83rd minute goal to give the Monegasques their second away goal, they headed to the Principality knowing they needed a famous victory to progress. And progress they did by defeating a star studded Madrid 3-1, that included the likes of Zinedine Zidane, Ronaldo, Luis Figo and Raul, with Morientes grabbing a goal and an assist.
Exacting a form of revenge on the club who discarded him and showing Madrid what they were missing out on, the 28-year-old's performance was full of class.
Operating upfront within Monaco's fluid frontline that saw him coalesce nicely with Ludovic Giuly and Dado Prso, his movement caused constant issues for Carlos Queiroz's men. Enjoying the freedom afforded to him by manager Didier Deschamps, the way he expertly dropped deep in between the lines to connect midfield and attack was key. With the Madrid defenders often unwilling to follow him due to them not wanting to leave their post, he found room to turn and dribble or link play smoothly.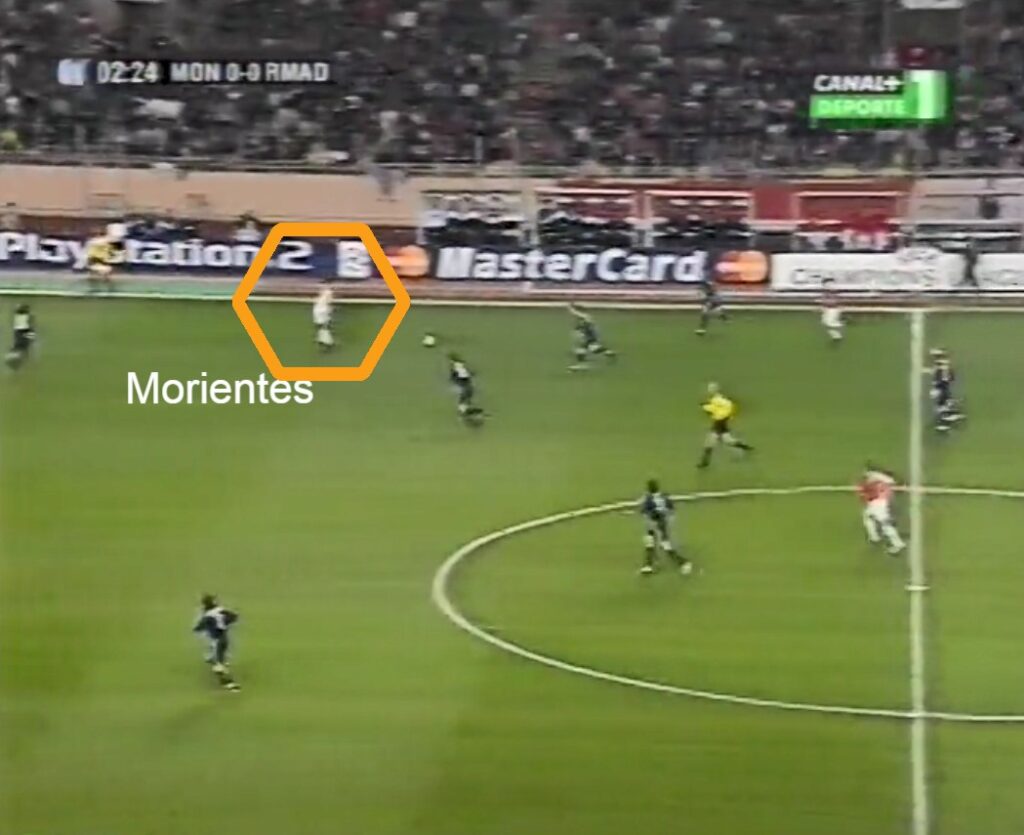 Great space finding between the lines
On the occasion he was tracked, the way he used his body, size, skill and strength to flawlessly hold up the ball was a joy to watch. So press resistant and comfortable under extreme duress, how he twisted away from danger and kept possession calmly while waiting for an option was a lesson for any youngster.
Equally effective when running in behind and into the area, Morientes' timing and awareness to pick the gaps between defenders, when one stepped out or was caught ball watching saw him pounce efficiently. 
Super run between defenders as Prso drops deep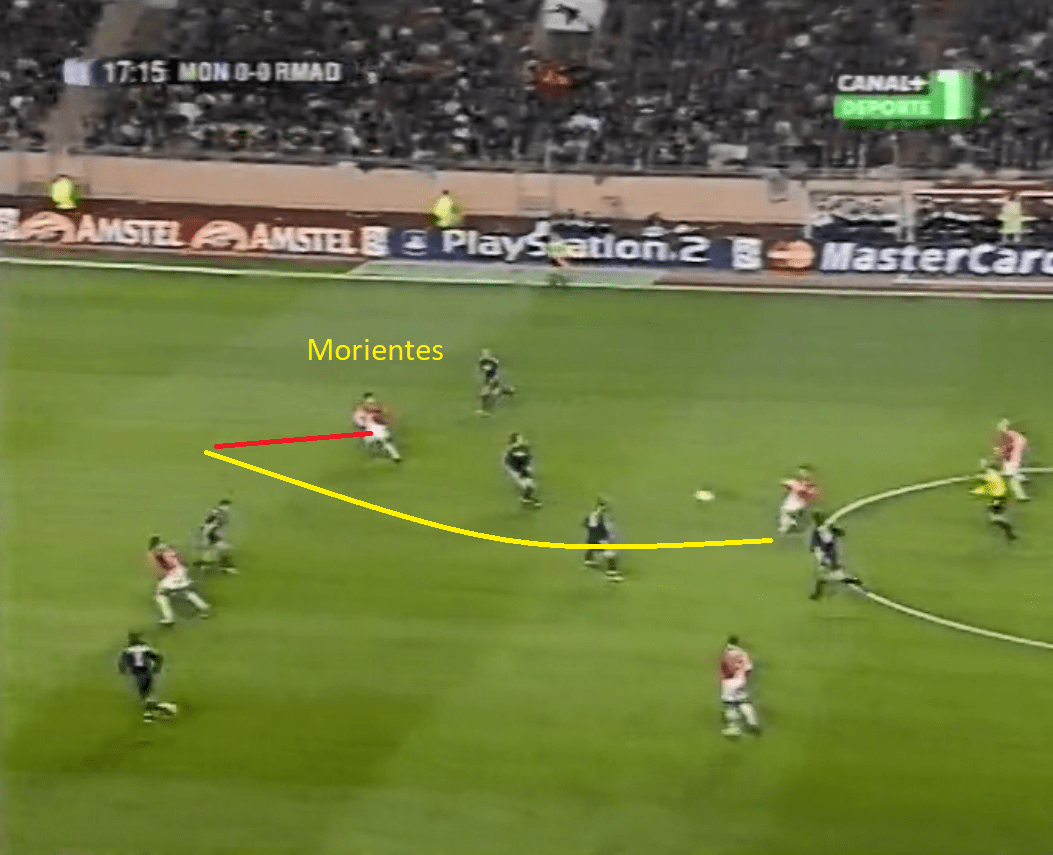 Beautifully timed run in behind
On top of angling and directing his runs smartly to remain onside and exploit the blindside of his man, how he peeled off his marker and held back his runs into the box was crucial, allowing him to get separation before shooting or finding a teammate with a lay off.
Wicked blindside run in behind before launching a shot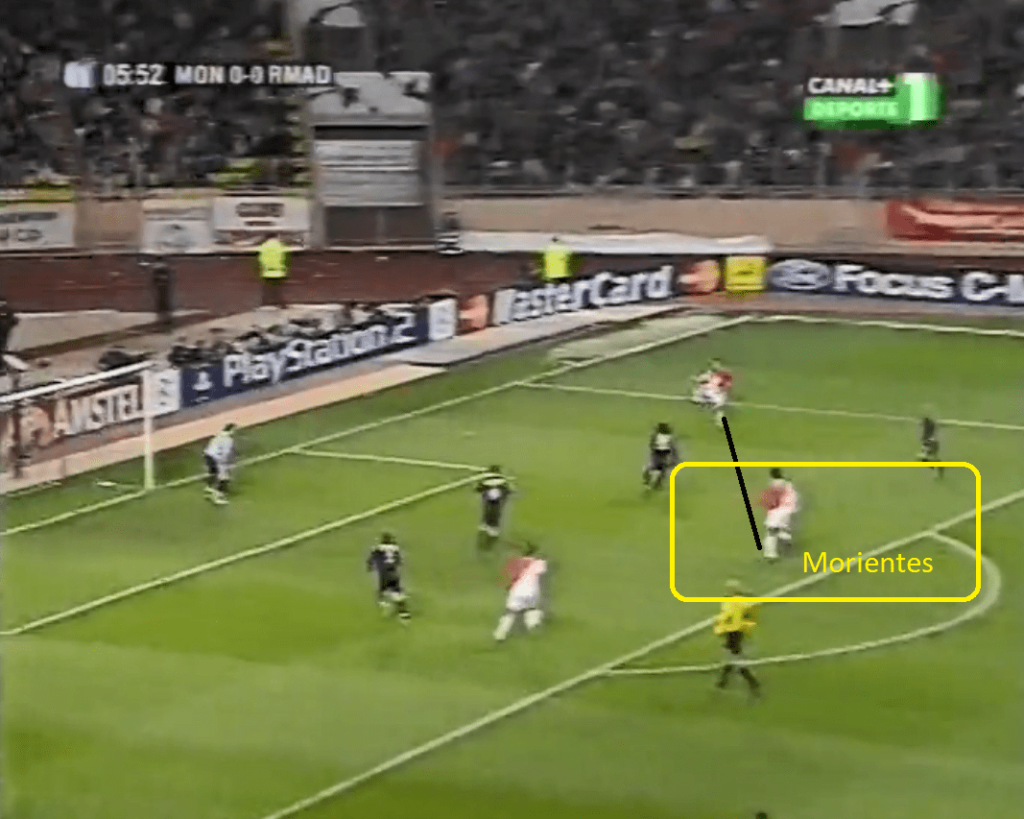 Smart space finding at the edge of the box
Upon factoring in his instinctive movement inside the box, his quick reading of the ball's trajectory and aerial prowess, and these combined to wreak havoc on Madrid, as the aforementioned were significant towards him having a hand in two of Monaco's goals. Judging the ball's flight path immaculately for both strikes, this unquestionably helped him get the better of his marker, Alvaro Mejia, on both occasions. 
For the first he initially backpedalled to get the jump on his man before rising high to win his header into the path of Giuly, who powered home a sensational volley to level the scores.
Great headed knock down to assist Giuly's goal
Then, for his second, he towered above Mejia again, picking up Patrice Evra's cross rapidly before rising athletically to nod home a wonderfully placed go ahead goal. Pivotal here was his timing and how he initially took a couple of steps back to then give him a run up and dynamic advantage over the hapless Mejia, thus meaning he could outjump his man and get enough purchase on his wicked header.
Fantastic headed goal as he times his leap superbly
Meanwhile, when it came to his passing, this amplified issues for Madrid's backline. Whether combining intricately with some neat flicks or lay offs, hitting sharp through balls or breaking the lines, this saw him add another layer of threat for the home team. 
Image 8 – Lovely through ball to Nonda
Supplementing this with some lovely dribbles, which he punctuated with his crisp first touch, control and nifty array of feints, shimmies and skills, and this added to his elusiveness. One moment stood out especially, where he performed a masterful roulette spin, that Zidane would've been proud of, to outfox three opponents. 
Persistently asking questions of his adversaries and hurting them in so many ways due to his diverse skill set, his contribution towards the unlikely victory was nothing short of incredible.
His comments after the game illustrated how he'll never forget Madrid, but also how happy he was at Monaco. "My heart is in Real Madrid, but I also have a part of it in Monaco now," he explained.
"I suffered a lot at Real last year, but now I am an important player in this team. It has given me a new lease of life." 
While he only played the one season with Monaco, he certainly left his mark in that memorable crusade, which teammate at the time, Jerome Rothen, summed up beautifully. "He always gave priority to the team. He could score three or four per game, it did not change anything. He has always been humble. This guy is just exceptional."
Although Monaco fell painfully short in the final against Porto, the night where Morientes shone so brightly to help Monaco defeat that exceptional Madrid outfit will be remembered forever on the French Riviera.