Representing the Principality of Monaco in the Davis Cup, Hugo Nys, 29, is one of the leaders of the Monaco Tennis Federation, alongside Lucas Catarina and Romain Arneodo, with whom he plays to form a formidable doubles pair. One of the discipline's best players in the world (ranked n°68 in the ATP doubles list), the Evian-les-Bains native one day dreams of winning a Grand Slam, while making Monaco shine on the international scene. Monaco Tribune spoke to the elegant one-handed right-handed backhander (phew!).
"Coming from the shores of Lake Geneva to the sunny coastline of the Principality, it often feels like they're a stones throw away," recalls Hugo Nys, who is always a little nostalgic when it comes to his native region. "I came down to the South almost ten years ago. I really like going back home, to go hiking or sailing on the lake with my dad," he smiles. "But in Monaco, I also feel at home. We are a small family. I feel completely Monegasque and I am very proud to represent the Principality internationally." For nearly seven years now, Hugo Nys has been playing on courts all over the world, wearing Monaco's colours proudly.
Although a marriage of reason, his seat in Monaco's tennis scene has managed to blossom into a passionate alliance, the fruit of a fleeting encounter and an ambition reborn. "The Monaco Tennis Federation was determined to shine once again in the Davis Cup after Jean-René Lisnard's retirement," explains the Evian native, a big fan of the Roca Team. "It was a very ambitious project and exciting challenge so immediately I wanted to apply. Representing Monaco, competing in the Davis Cup in front of the Prince, is just incredible."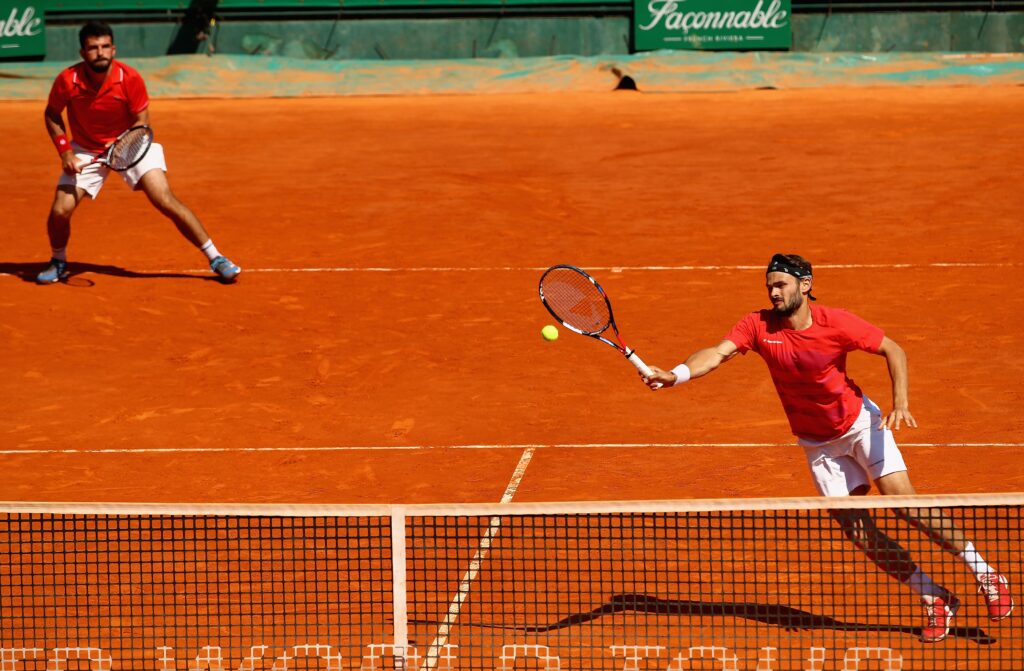 Three years after his arrival in the South of France at the ISP Academy (now known worldwide as the Mouratoglou Tennis Academy), the one-handed right-handed backhander (phew, again) was welcomed onto the Monte-Carlo Country Club's clay court with one objective in mind: to restore the Principality's image at the worlds' most prestigious competitions. "Since the Davis Cup changed its format, we have been relegated to Group III. But our goals have not changed. As soon as the competition resumes, we will aim for promotion to Group II, while aiming in the coming years to move up to Group I." It is an ambitious project, which could enable Monaco to challenge the world's greatest nations, particularly France. Hugo Nys could once again cross paths with a certain Pierre-Hugues Herbert, a consistent opponent throughout his youth. "We are from the same generation. We played the same tournaments when we were younger. Today, Pierre-Hugues is one of the best doubles players in the world."
Solo career or a life playing doubles?
It is a question that Hugo Nys will increasingly start asking himself in the next few years. "I decided just under three years ago to concentrate almost exclusively on doubles to earn a better living and play in the biggest tournaments in the world. My game has always been more suited to doubles. My dream is to be one of the best players in the world and one day win a Grand Slam."
While on his epic journey to the semi-finals of 2017 Rolex Monte-Carlo Masters with his Davis Cup teammate Romain Arneodo, Nys, who paired up with Argentina's Andrés Molteni earlier this year at the Australian Open, is hoping to continue his unstoppable rise as the competition circuit gets back on track. "In the short term, I hope to be in the Top 50."
For coach Guillaume Couillard, it is a measured ambition, well within his grasp. "Hugo still has plenty of room for improvement," said the Monaco Davis Cup coach. "In a tournament, anything is possible. When he reaches the semi-finals of the Rolex Monte-Carlo Masters with Romain Arneodo, the best doubles pairs are there. I think he has the capacity to one day reach the Top 10 while trying to win big titles in doubles."
A family affair
Such a title would be a just reward for this passionate fan of the little yellow ball, who was immersed in tennis at a very young age thanks to his father and grandfather, a coach and one the best French players in the 1950s respectively.
"I spent my childhood in tennis. It's a passion that I've had since I was a child. No one ever forced me," said the ardent doubles advocate, a discipline often overshadowed by singles and recently criticised by former Wimbledon winner Marion Bartoli for having overpaid players. "Doubles is considered a subcategory," he said. "We often hear that doubles players are less talented. But the discipline is a real learning curve compared to singles; how to improve your serve, your return, at the net. We're sorely lacking in media coverage. Nicolas Mahut had an interesting idea, which consists of playing the doubles final on Saturday between two singles semi-finals, rather than playing the final on the same day as the singles final, often in front of less crowded stands."
Hugo Nys, who has very little singles action outside of Davis Cup (he reached his highest singles ranking in 2019 with a 327th place on the ATP rankings), is now one of those players who is fully committed to doubles and is seeking recognition for this spectacular discipline. "In addition to being quick and lively, Hugo has very good reflexes," said Guillaume Couillard. He likes to shorten the exchange and finish the points on the fly. "The magic recipe of an excellent doubles player, on his way to write his own history and that of Monaco, more determined than ever to caress the peaks of the legendary Davis Cup.