The race is heating up to sign Getafe enforcer, Mauro Arambarri, with many big teams staking their claim to bring in the fearless Uruguayan.
As hard as nails and never one to take a backwards step, the dogged midfielder's been an integral figure towards Getafe's tremendous season, which has seen them recently defeat Ajax in the Europa League and currently occupy fifth place in La Liga.
Embodying his manager's aggressive, physical and relentless approach, Jose Bordalas has certainly gotten the best out of the diminutive and durable destroyer, who's played 31 matches totalling 2589 minutes in all competitions. Partnered in midfield typically by the similarly excellent, Nemanja Maksimovic, they've formed a formidable, dogged duo for opponents to come up against. "Getafe's midfield pair is one of the most combative in Europe," La Vanguardia's Juan José Lahuerta aptly stated.
"Tireless, they accumulate many kilometers on their legs in each game of the team led by Jose Bordalas. Both are key pieces of an armor that would collapse if the contribution in the midfield of two vital men for the Alicante coach failed."
With the likes of Inter Milan, Atletico Madrid and AS Monaco being touted as potential destinations, he has a challenging decision to make in regards to his future. In the case of Robert Moreno's Monaco, Arambarri would be a super addition, for he'd add some much needed bite, grit, intensity and steel into their midfield ranks. Furthermore, the way he'd complement the more technically gifted and attack minded midfielders like Cesc Fabregas, Aleksandr Golovin, Tiemoue Bakayoko, Adrien Silva, Youssouf Fofana and Aurelien Tchouameni would be a big plus for the team's balance.
The fact he speaks Spanish and could therefore converse with the likes of the coach Moreno, Fabregas, Guillermo Mapripan, Wissam Ben Yedder, Keita Balde and Stevan Jovetic would importantly ease his integration process.
Set to cost around the €25-30 million mark, it's easy to understand why he's such a man in demand, for he's quite a unique midfielder in the way he goes about his work.
Full of passion, tenacity and determination, the defensive side of his game is a super place to begin. An absolute pressing machine, Arambarri's harrying is at an elite level, as not only does he read triggers rapidly but he has the athleticism to get to opponents swiftly. Responding brilliantly to cues like an opponent receiving a back pass, a sideways pass, an underhit pass, with their back to goal or in an open body posture, he knows precisely when to press.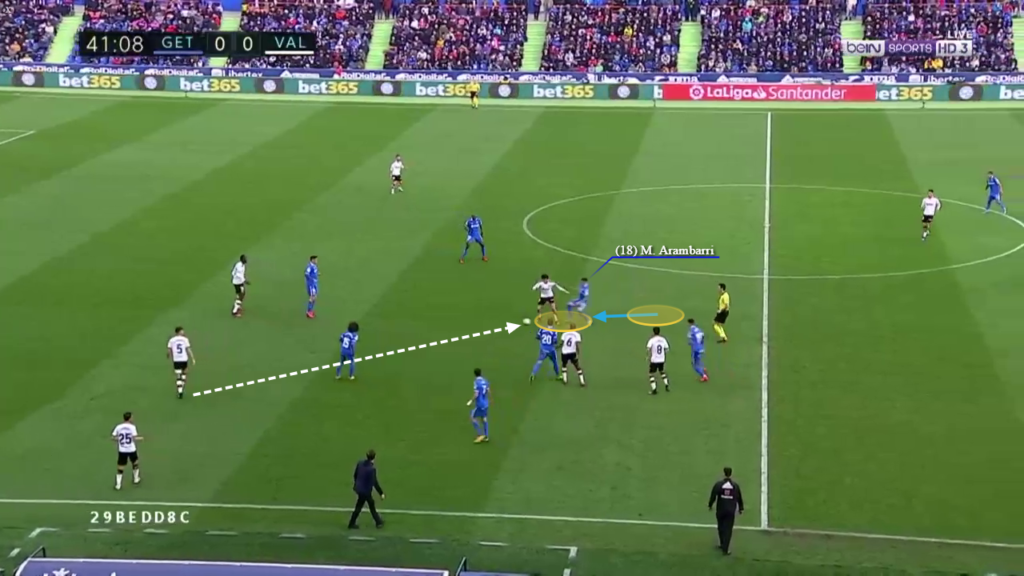 Awesome pressing when his man is in an open body posture
Excellent pressing as his marker receives with his back to goal
This transfers over to when his team loses possession, for he springs into life vigorously, hunting down opponents with fierce counterpressing. Keen to jump out and look to win back possession as quickly as possible, this stifles opposition attempts to instigate counters while allowing his team to recover the ball high up to attack again.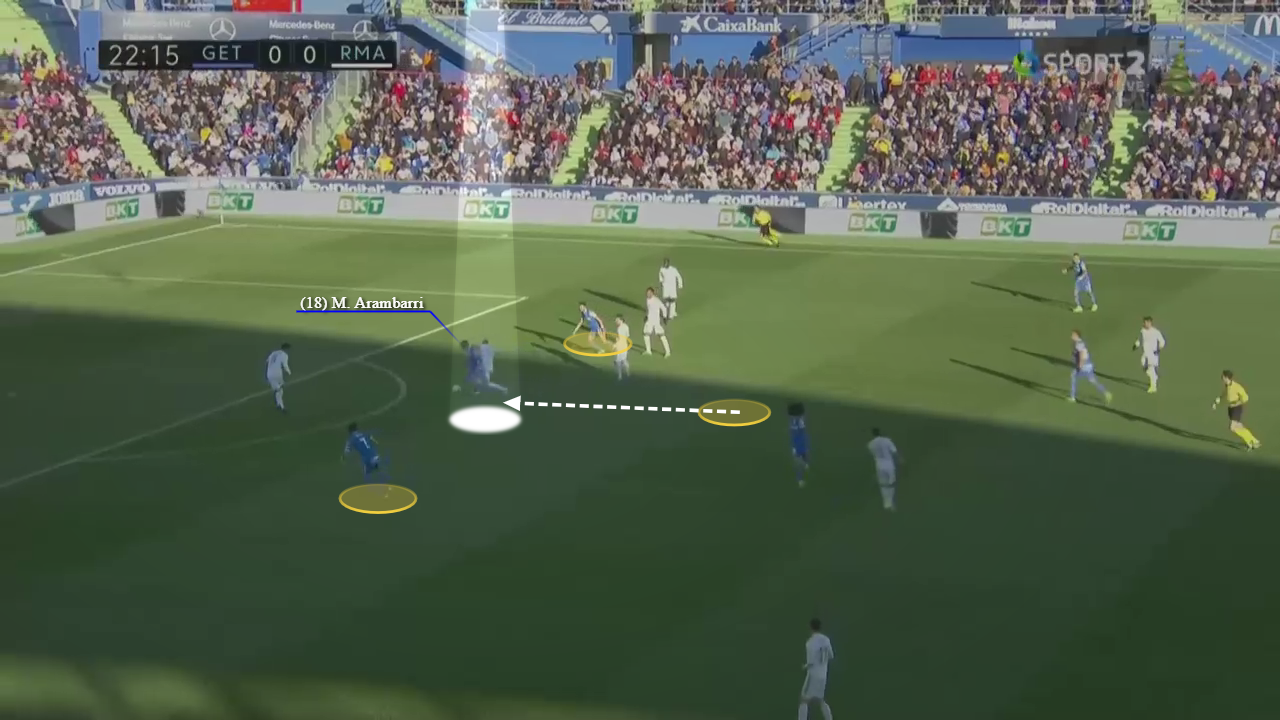 Superb counterpressing as he wins back the ball to create a chance for Getafe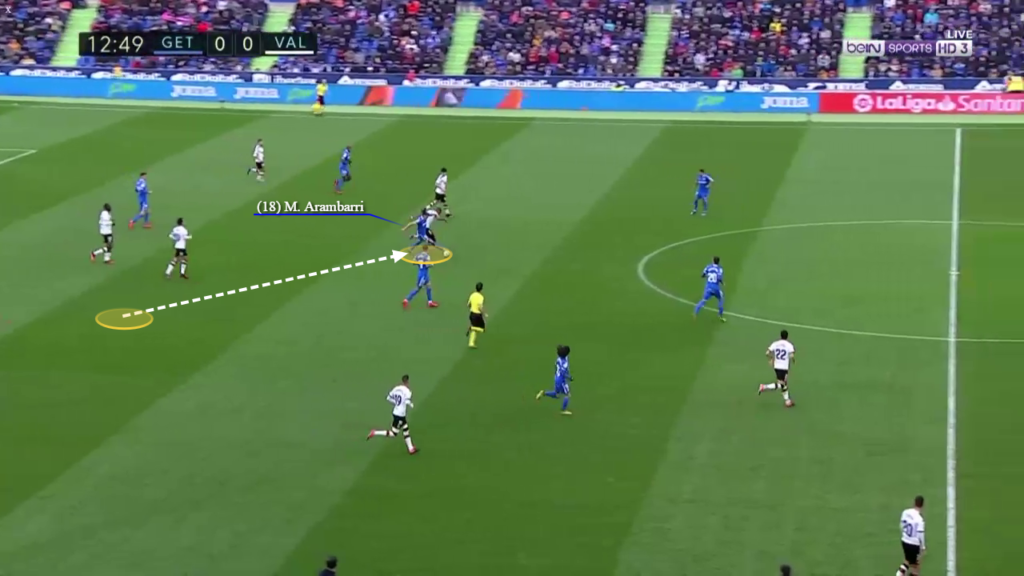 Counterpressing from the blindside to dispossess Kondogbia
Although he's recorded one red card and eight yellow cards, many of which have been crude but understandable tactical fouls, his manager wouldn't mind, for his approach has been a perfect symbolisation of Bordalas' demands. Setting the tone for his colleagues to follow, the unbelievable stamina and desire to keep going be it in the first or last minute has been remarkable to see.
How he generates perceived pressure with his intimidating, forceful approach also leads to markers being unsettled and can produce errors even if he's not right on their tail.
When not launching himself at markers, he's crucially shown how he can drop back into a mid block and remain in an organised compact shape alongside his colleagues. Switching from side to side, covering in behind his fullback or midfield partner, dropping back into defence and awake to monitoring runners, he's made largely excellent decisions. By doing so, he's helped his side maintain structural security and so they're not badly exposed by some clever work by opponents. 
His judgement holds him in good stead when applying his challenges and duels, with him exhibiting neat timing even if he can be a tad overzealous on occasion. What's more, how he recalibrates his body position when defending 1v1 has allowed him to nip in and outfox his adversaries.
Despite standing only 175 cm tall, it's been admirable how manfully he competes in aerial duels, with him never scared to challenge taller foes in his quest to come out on top.
By the numbers, his defensive numbers tell the story of his stopping supremacy, as he's completing 4.9 interceptions per game, 2.01 aerial duels pg, 9.22 ball recoveries pg, 6.05 couterpressing recoveries pg and 1.2 clearances pg.
When it comes to his offensive output, Arambarri's gone about his work in a calculated and coherent manner. Moving the ball quickly and with accuracy, the 24-year-old gets the ball proficiently upfield, recycles it with clarity and does a top job of getting the ball into the feet of the attackers.
Adept at striking raking crossfield diagonals, getting rid of the ball under pressure and hitting the odd line breaking pass or through ball, he's good at hitting a range of passes. A fierce shooter, who relishes every opportunity to strike powerful efforts from range especially, this adds another string to his bow.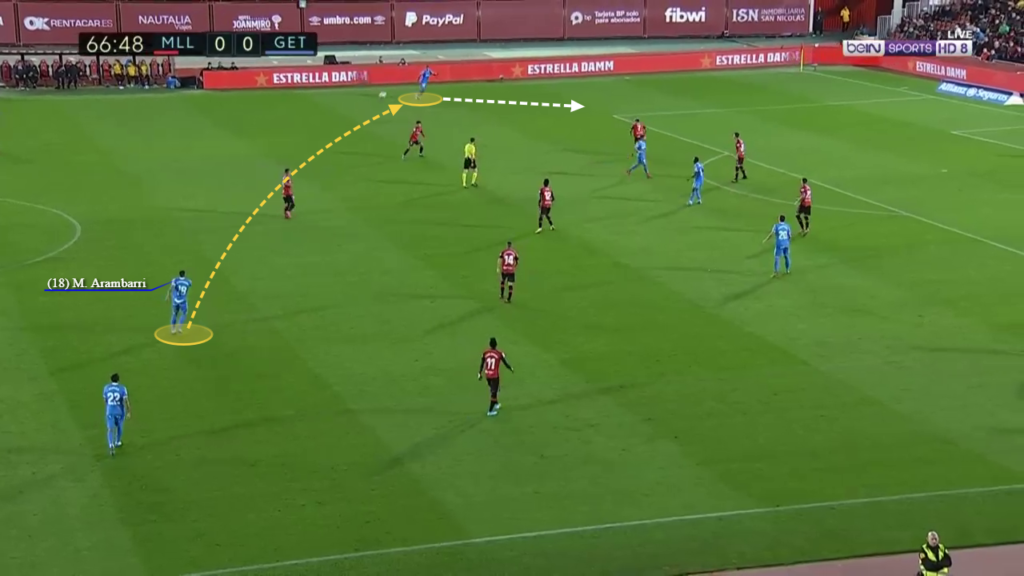 Wicked crossfield diagonal pass
Beautifully weighted through ball in behind
Blistering long range goal
Knowing his role so thoroughly, he takes up good positions to support offensive passages. Whether it be dropping deep nearby his defenders to generate an overload, bursting forward into the box, supporting wide attacks to give numerical and positional superiority or pinning an opponent to open passing lanes, he moves strategically.
Superbly timed forward run from deep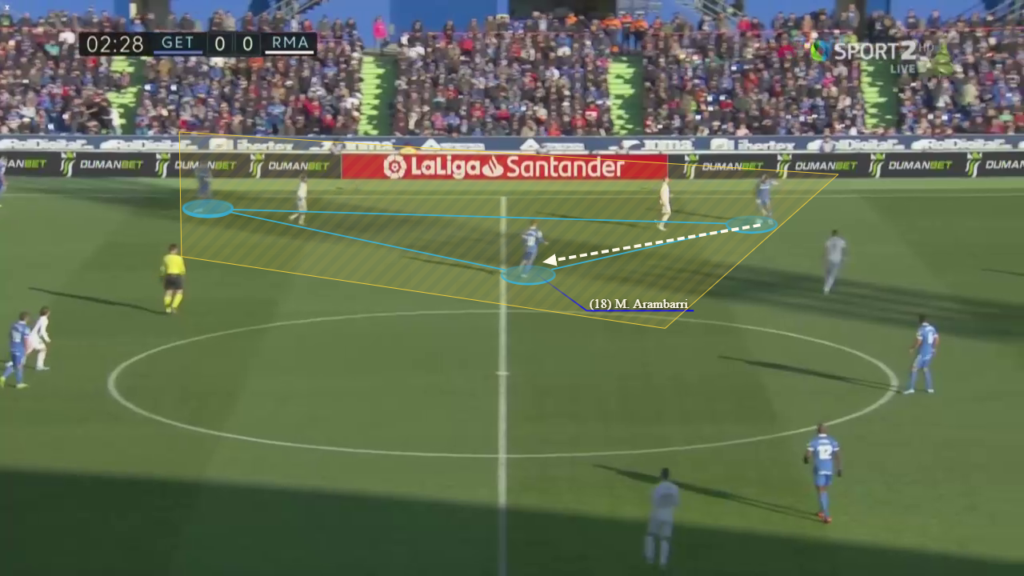 Finding space to form a 3v2 to progress his team
Forming a 5v4 down the right as he also covers the space behind the fullback and wingers as they advance
Coming into the peak of his powers, the man who's incredibly not been capped by Uruguay yet, would be an intriguing acquisition for Monaco. A transfer that would be filled with upside and address a need in the squad, watching the club's pursuit of Arambarri will be something to monitor closely.
Getting the fundamentals spot on and blessed with a fantastic work ethic and desire to continually improve, it would undoubtedly be a huge coup for the club if they could get this deal over the line. In the case of Arambarri's future, it'll certainly be a case of watch this space.