Inside the Casino de Monte-Carlo: "Just like in James Bond!"
French roulette croupier Roman Auréglia and slot machine supervisor Jean-Luc Guenier might have different jobs and come from different backgrounds, but their mission is one and the same: bringing the myth of the Monte-Carlo Casino to life.
There are monuments that make you feel the weight of their history as soon as you walk through their door. The Casino de Monte-Carlo is one of them. Built in 1856, the Casino made Monaco what it is today. We meet Roman Auréglia and Jean-Luc Guenier around a French roulette table. Above us is one of the many gilded ceilings of the Casino, below us rich carpeting, in front of us the coveted gaming table. Auréglia and Guenier quickly try to explain to us the rules of roulette, a game that they say "awakens customers."
Roman Auréglia is a master of the game. "I am trained in all games, but French roulette is the grail, the ultimate art. It's very complex, it requires daily practice, like a sportsman, so I avoid getting lost in other games," he says.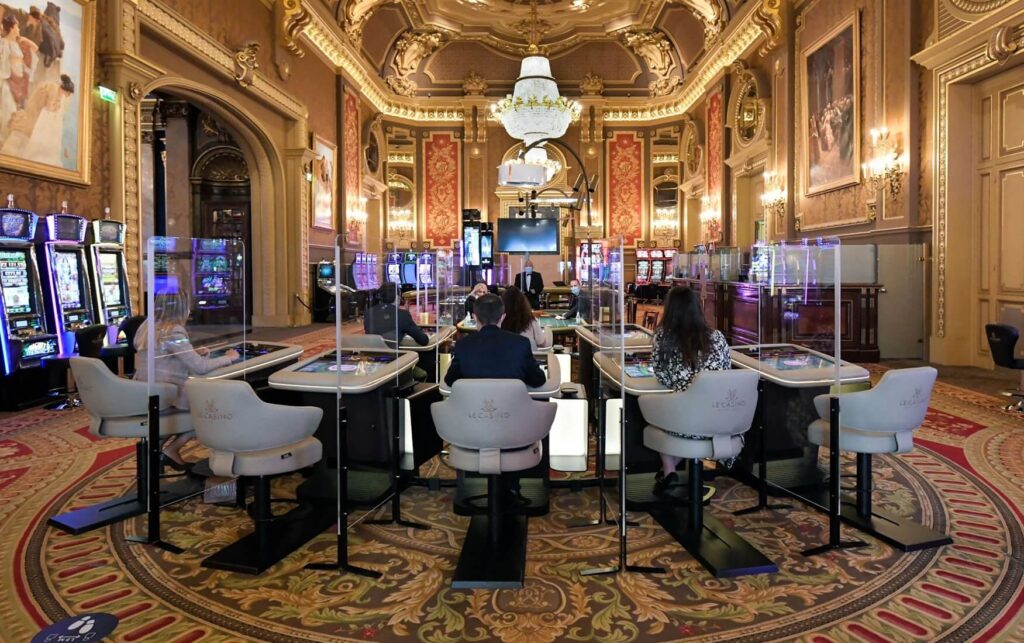 A place of myth and charm
Auréglia ended up at the Monte-Carlo Casino unexpectedly. "I started out as a canoeist in the port and joined the Société des Bains de Mer (SBM) in 2002 as an office boy – I was taking mail to all the different departments, which was what really introduced me to the whole complex. In 2003, I became a valet, that is a waiter, at the Casino," he explains.
>> READ ALSO : Leila Ghandi, Monaco's multicultural wonder woman
Four years later, Auréglia joins the Casino as a games attendant and never looks back. "When I discovered the world of nightlife and games, I liked it immediately. I knew that it was what I wanted to do," he says. He still remembers his first day as a croupier: "All I wanted to do was fight, I wanted to show what I could do, like a boxer in the ring," he says with a smile.
The enthusiasm is still the same, even after thirteen years on the job: "I like everything about this job: the excitement of the game, the excitement around the table… When you experience it as a gambling employee, it's even more exciting! There is also the beauty of the place, the SBM, the people are well dressed, the presence that you yourself as a croupier have to have… It's mythical!" he says.
"It's like a ballet, a choreography"
And so, Auréglia and his colleagues bring the Monte-Carlo Casino dream to life. "French roulette is also about teamwork, we help each other. It's like a ballet, a choreography, everyone knows what they have to do," he says. Auréglia talks about his job as if it were a scene from a film. "It can be really noisy, people shout, just like in James Bond! Tension is high, but all our guests never lose their composure and their elegance. It's art, it really is!"
Meanwhile, Jean-Luc Guenier supervises the slot machines. "We take care of all our customers' needs, VIP or not. The Casino is also a place where people socialise. Guests enjoy spending time here. You know their habits, they remember you, they look for you in the lounge, and even tell you: "when you're there, I win."
>> READ ALSO : Meet Patrice Frank, at the head of the world's biggest hotel wine cellar
Before he worked at the Casino, Guenier was a fireman in Menton. "I hated being locked up, I was 23 years old and I wanted to be a mountain rescuer. One day, I was offered to work in fire safety with the Casino fire brigade, it was a great opportunity," he explains. It was in 1983 that Jean-Luc Guenier discovered the inner-workings of the Casino.
In his time at the Casino, Guenier has kept the same qualities that distinguished him back in the day as a fireman. "As a supervisor of the automatic machines, it's my job to listen to the customers, to pamper them, to bring a more personalised enjoyment, we know when they are going to come, what rooms they'll need… It's not just about playing slot machines," he says.
One of the first casinos to open after lockdown
Covid-19 has forced the Casino to reinvent itself. All tables and seats must be cleaned before a new client sits down and there are microphones to make sure that everyone can understand what's being said behind the masks. The list goes on: all cards are now destroyed after being used, playing chips are constantly disinfected and hand sanitiser is never far away.
>> MORE ON THE TOPIC : What do I need to know before visiting Monte-Carlo Casino?
Maximum security was a prerequisite for being able to reopen after an almost three-month-long closure from 14 March to 5 June. "The Casino had never closed since the war. It was awful, some people were crying…" admits Roman Auréglia. "We are all the more proud now that it is open again. Everyone wanted to come back, we all did everything we could to make an early come-back possible," he says.
The Monte-Carlo Casino was one of the first casinos to reopen after the first lockdown. "We're really lucky to work here. We're really lucky to be open. You adapt, you bounce back, you move forward. Monaco really is an exception," Auréglia concludes proudly.