Courtesy of his marvellous form in the opening months of the Turkish Super Lig, Fenerbahce's powerful forward, Vedat Muriqi, has emerged as one of the most in demand players ahead of the January transfer window.
Having blasted home 10 goals in 15 appearances for Fenerbahce and scored many vital goals for Kosovo in the Euro qualifiers, including against England, the Czech Republic and Montenegro, Muriqi's unsurprisingly attracting interest from all over Europe.
According to reports, the likes of Tottenham Hotspur, Manchester United, Napoli, Lazio, Eintracht Frankfurt, Leicester City and AS Monaco have all been scouting or showing interest in signing the man who wears the number 94 shirt for Fener.
Standing 194 cm and weighing in at 92 kg, Muriqi's physicality certainly makes him a force to be reckoned with, as the intimidating frontman relishes individual battles and wins a good portion of them too. Using his strength well to hold the ball up while keeping his man at bay as he waits for an option, when pushing past his man on the dribble and to remain balanced in aerial confrontations, his towering frame is put to good use. To further touch on his aerial prowess, and this lets his team go long to bypass the press to win second balls high up, with him acting as an excellent target man.
Supplementing the aforementioned with his movement, the 25-year-old shrewdly identifies space to exploit in a variety of areas on the pitch. To begin with, the way he times his drops towards the ball carrier to link play to impact proceedings between the lines or generate overloads in midfield, serves his team well.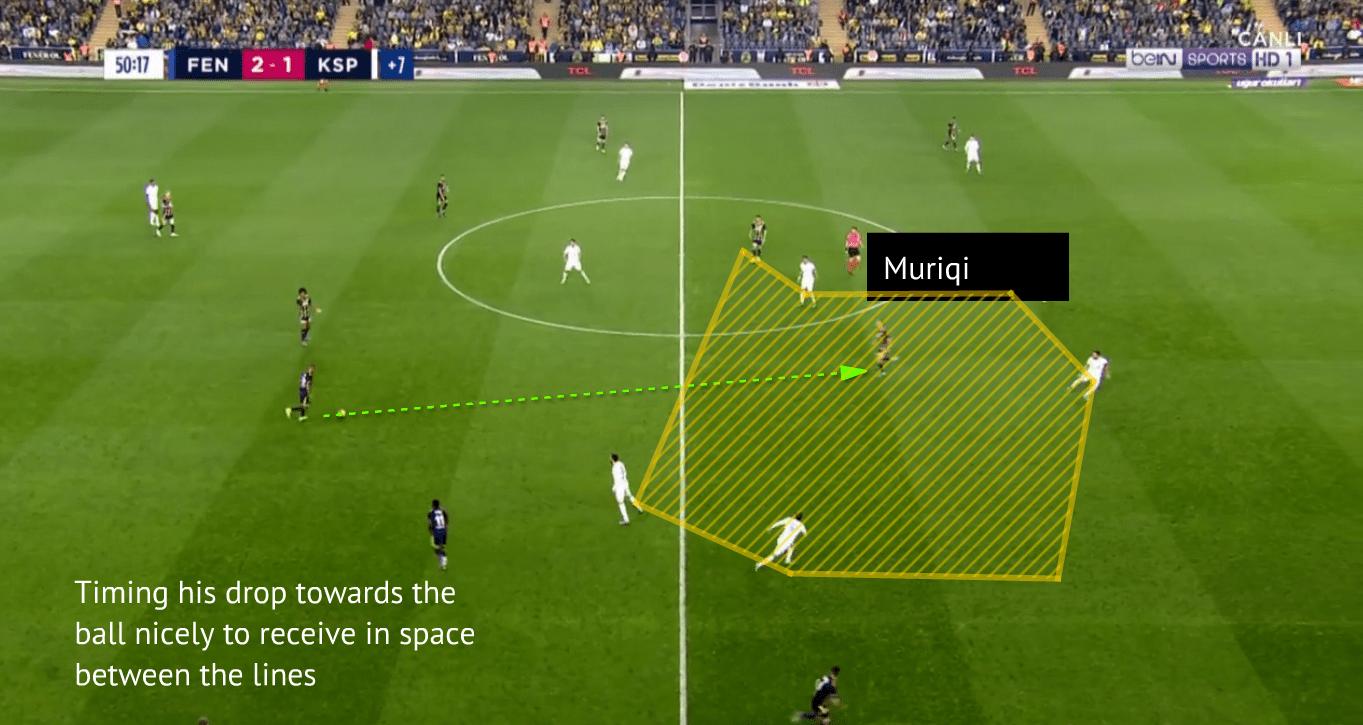 Well timed drop towards the ball
Running in behind with plenty of purpose and nous, he angles, times and directs his movement to gain an edge. Very efficient at targeting the blindside of his marker so he can gain a dynamic advantage over his more awkwardly oriented marker, this means he can use his momentum to rise above his marker for headers or ghost in behind them to get into good scoring positions.

Muriqi's excellently angled run in behind

Superbly timed run in behind

Super blindside run as he angles his run expertly to provide a fine option
Instinctive and attentive, Muriqi takes full advantage of a defender getting dragged out of shape or getting caught ball watching, as he embarks on his runs cunningly to give himself the upper hand to latch onto crosses, cutbacks or through balls. Using double movement and zig zags inside the box, this ensures he can outfox his tracker and gain separation to fire off shots on net too.
When not directly involved in offensive passages, his ability to pin and draw adversaries to create room for others is another highlight. As seen in the graphics below, space has neatly been manufactured for a teammate by him pinning one or more opponents, which gives his teammate some vital extra time and space to execute their actions.

Muriqi pinning two markers to create space

Drawing two markers to free up space for a mate
Some other reasons for positivity comes from how he peels wide to be an outlet for counter attacks, rotates slickly with his fellow attackers and how he'll push wide onto a fullback to generate 2v1s with his winger to enhance his team's chances of winning a headed knock down or flick on.

Drifting wide to create a 2v1 against the fullback
Technically sound and able to combine tidily with teammates with some crisp one touch passes and layoffs, plus by hitting the occasional through ball, he amplifies his value here.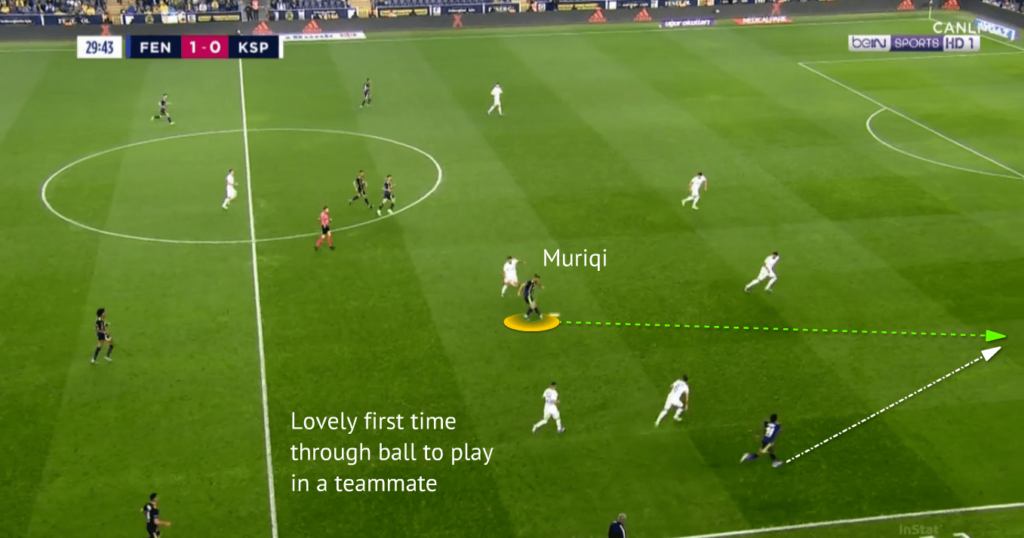 Wicked first time through ball in behind
Possessing a pretty good touch too and able to protect the ball with his body shape, Muriqi usually controls the ball efficiently to move things on quickly or to surge on a dribble upfield.
Meanwhile, when focusing on his finishing, and the clinical marksman's very lethal in front of goal. Boasting 0.64 goals per game form an XG of 0.67 pg, he's brilliant at finding the back of the net using his quality finishing repertoire. Whether it be hitting authoritative 1v1 finishes, accurate tap ins, powerful or glanced headers, venomous long range strikes or remaining balanced to finish from an angle or when under pressure, Muriqi's a real handful for defenders.

Masterful right footed finish from the angle

Fine headed goal after finding space well

Sensational long range goal
Some extra numbers of note that depict what a weapon he is come from his three shots per game, 5.04 touches inside the box pg, 4.36 won aerial battles pg, 1.04 dribbles pg and 1.20 shot assists pg.
Courtesy of his size and well-rounded skill set, it's hardly surprising he's attracting so much interest from some of Europe's elite. In the case of Monaco, his acquisition would certainly add some crucial depth and give their already tremendous attacking duo of Islam Slimani and Wissam Ben Yedder some competition and allow for rotation.
With his future far from sorted and more clubs seemingly joining the queue to sign him all the time, who knows where his future lies. But, one thing's for sure, whoever snaps him up will be getting a fantastic man to lead the line for them.