Nearly 40 vacancies at the Oceanographic Museum of Monaco
Get your CVs up to date! A recruitment day is being organised on 5 April. 
As the summer season approaches, the Oceanographic Institute is looking to strengthen its staffing levels. As indicated on the specially created poster below, there are several available positions as sales assistant, exhibition manager, customer liaison, salesperson, tour guide and ticket office cashier.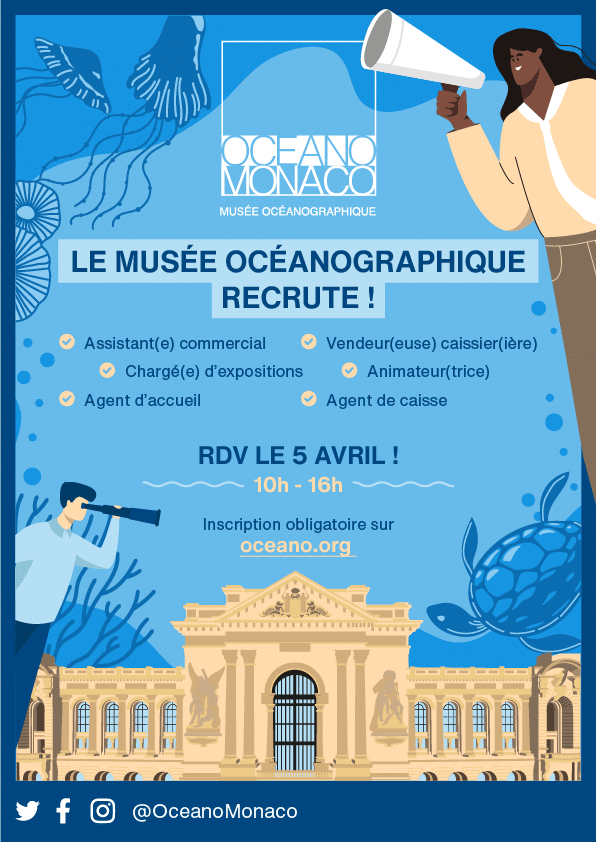 A total of 39 jobs are on offer:
> 20 full-time seasonal contracts with a 39-hour week (Monday to Sunday, including public holidays):
4 tour guides
4 salespersons at the museum shop or summer kiosk
3 ticket office cashiers
9 multi-skilled customer liaison staff
> 17 part-time contracts for ad-hoc assignments of under 40 hours per month (mainly during weekends, public holidays and school holidays):
5 part-time tour guides from 1 April 2023 to 30 September 2023
8 part-time multi-skilled customer liaison staff
4 part-time salespersons at the museum shop or summer kiosk
> 2 fixed-term contracts for 12 months, full time, 39 hours per week:
1 sales assistant
1 experienced exhibition manager
If you are interested, head over to the museum's famous Salle des Conférences on Wednesday 5 April between 10 a.m. and 4 p.m. Applicants will be granted a personal interview with the museum's management. It is also an opportunity to discover the staff, the different professions on offer and to 'dive into' the world of this exceptional venue.
Remember to sign up in advance via this link. Please note that you must be over 18 years of age when the contract begins.