Ocean Space Forum: using space to save the oceans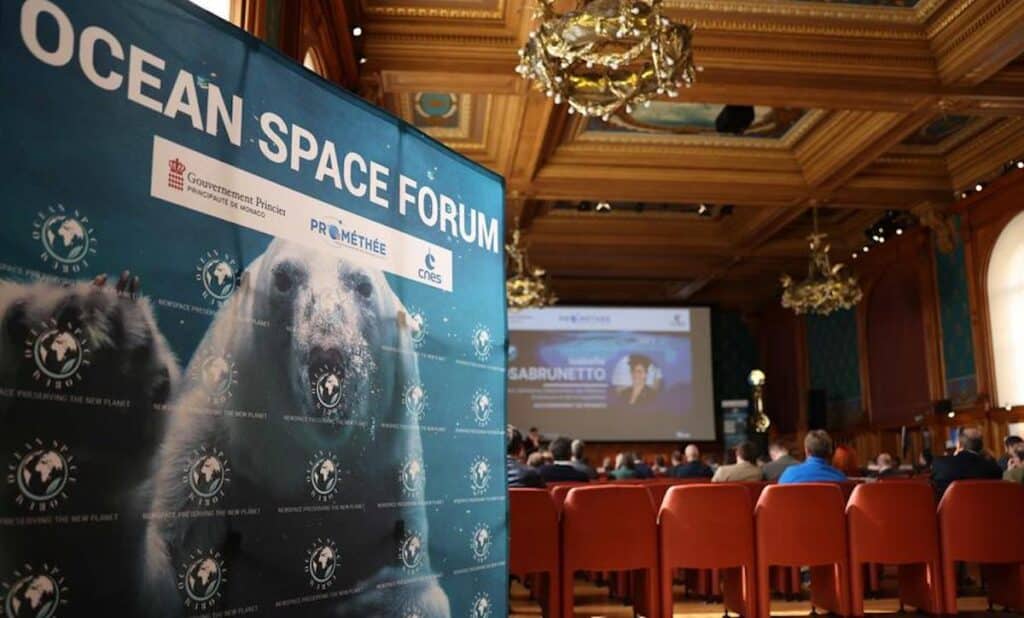 On April 4, the Monaco Office of Space Affairs, in partnership with France's Centre National d'Etudes Spatiales (CNES – National Centre for Space Studies) and the French company Prométhée, organised the first edition of the Ocean Space Forum in the Oceanographic Museum of Monaco.
The event was all about Newspace. It is a new industrial field to do with space and its assets for ocean preservation and management. With the advent of on-board artificial intelligence and observation from space, ocean monitoring indicators are becoming more accurate and enable better responsiveness. All these subjects were discussed during the event at the Oceanographic Museum, where French and Monegasque players from the private and public sectors took part in round tables.
At the opening session of the Forum, Isabelle Rosabrunetto, Director General of the Department of Foreign Affairs and Cooperation, spoke about the ecological, security, economic and strategic stakes involved in the observation of maritime spaces and the Principality's efforts to raise international awareness on the subject. She underlined the contribution of "innovative tools for effective environmental intelligence" and the importance of "monitoring ecosystems, showcasing conservation efforts, anticipating extreme weather events, preserving coastal communities, optimising maritime traffic and detecting illegal fishing activities, applications that are all made possible by satellite observation data."
"The data from existing satellite constellations are becoming increasingly accurate and are already a gold mine for raising awareness of the impact human society is having on our planet's fragile ecosystem," explained Christophe Pierre, Director of the Monaco Office of Space Affairs, before concluding "While the development of a space programme is not one of our priorities, the creation of strategic partnerships regarding space's potential to benefit many areas, is. My Office, along with its partners CNES and Prométhée, wishes to build bridges between the different scientific communities who are pursuing the Sustainable Development Goals, and space observation specialists, and to foster constructive, ongoing conversations with a common goal: life on Earth."