Sustainability is becoming an increasingly fundamental factor in building a successful fashion brand. With consumers being more conscious than ever of what they wear on their backs, it is worth looking at precisely where we can find such innovative labels on the Côte d'Azur.
In a recent study carried out by IBM, it was shown that nearly six in ten consumers would change their shopping habits to reduce environmental impact. Some eight in ten indicated that sustainability influenced their choices. Clearly, consumers are making smarter, more eco-friendly decisions as years of being told to "buy more" pass on.
The Monte-Carlo Fashion Week, hallmark of championing sustainable fashion within the Principality, this year launched their digital campaign to recognise sustainable, eco-friendly brands around the world. Below are just some of the labels they brought to the Riviera's attention, as well as Monaco Tribune's own handpicked choices.
Lavacopenhagen
A brand born out of Danish eco-mentality and Monegasque eco-consciousness, this is one of Monaco's leading sustainable fashion brands. Although luscious, fitted winter coats with fur lining are perhaps not your first thought for the Riviera's summer fashion, this trans-seasonal and multifunctional line is directly inspired by the Prince Albert II of Monaco Foundation.
Their eco-capsule, or "ocean collection", uses ECONYL, a material which is made entirely out of fishing nets and plastic waste. Engineered with the help of nanochemists, each garment is "built" around the materials used, rather than the other way round, to ensure it can be worn in every season. It ensures that not only does this brand avoid using new materials and thus polluting further, but they are also removing some of this waste from the ocean.
Lavacopenhagen is a family business, with co-founder Alexandra Bessmertnaia being inspired by her family's trade as fur trappers some generations ago. Her grandfather even helped source the materials for the very first coat made by the brand.
As a whole, the brand is not 100% sustainable. But for many new labels, it takes some time to strike the right balance between economically viable decisions and launching into the world of sustainability. However, their very structure is based on eco-friendly fashion; with only two lines per year instead of the usual six, and each item being custom made, the brand is taking the term slow fashion very seriously. They have recently launched an eco pop-up shop in Copenhagen.
Our top pick
Save the Ocean jacket — with summer heating up on the Rock, Lavacopenhagen's beautiful fur coats will have to wait a few months. But this lightweight, versatile piece will keep you covered from cooler nights here on the Riviera.
1083
"Did you know that conventional jeans travel up to 65,000 km when they are made, while only 1083km separate the two furthest cities in France? In 2013, we set ourselves the challenge of relocating the manufacture of jeans and shoes to a location less than 1083 km from your home."

1083
Although not strictly a Riviera-based brand, it is impossible to ignore this label which has been inspired by the coast. It also happens to be one of the least wasteful, eco-friendly brands in the country.
1083 based in Auvergne-Rhone-Alpes, sold all over the Riviera, and last year launched their Menton collection, inspired directly by our neighbouring town. In 2014, the founder Thomas cycled this same route, travelling from Menton down to Fréjus, Toulon and Marseille before heading up and inland. The stunning coast inspired him to use soft peach and teal colours in his clothing.
Their jeans are manufactured entirely from GOTS-certified cotton or recycled fibres, and their stringent process on knowing the source of every material, dye and thread they use means that not only are they sustainable, but they are also ethically sourced too. With dyes sourced from France, cotton and denim spun in Belgium, Greece and France and all its workforce based here too, every penny spent on their items fuels the French or European economy and ensures your wardrobe stays eco-friendly.
It is shocking to know that one pair of jeans requires roughly 3,800 litres of water to make. By using GOTS-certified cotton, 1083 ensures that all wastewater from cotton production is treated or reused; thus, saving a valuable, but steadily depleting resource.
Our top pick
Le 202 jean – the boot cut is a fashion trend that we look back and regret, but is making a comeback. Pair with platform heels or the latest streetwear trainer from Oslo and you'll be making fashion waves this summer.
Awahi
Even at the gym is it possible to look good and dress sustainably. This Marseille based brand creates sportswear out of recycled plastic bottles. Some 6.3 billion tons of plastic waste has accumulated over the years, 79% of it ending up in nature; it is this scourge that Awahi hope to tackle.
As the fashion industry itself is the second most polluting industry of the world, the Awahi team decided to take drastic measures in both avoiding the production of extra waste in their own industry, and helping fight the seemingly impossible tide of plastic waste.
The garments are made out of plastic bottles and a recycled polyester which meets global ecological standards – the material is made in Italy as France is currently lagging far behind in the recycled material industry. However, the material travels 900km in total to reach the atelier; a very reasonable distance for your clothes to "travel".
Championing a brand called Oeko-tex, which only uses natural pigments, the same level of eco-consciousness can be seen in their use of dyes. They ensure that no harmful materials or chemicals will enter into the environment by producing your clothes or when we wash them at home. Given that the World Bank estimates that roughly 20% of all water pollution is caused by dyeing in the fashion industry, sustainable dyes are certainly rising on the list of customer concerns in 2020.
Amongst its first products are leggings and swimwear for women but founder Sandro Pasero soon hopes to launch a men's line.
Personal Made For You
Claudia Signature Monte-Carlo was launched by Claudia Cherki, a business graduate from Monaco with a great passion for design. In the label's latest venture Personal Made For You, a series of men's and women's fitted shirts and dresses have been crafted from recycled materials.
Precisely what recycled materials is not disclosed on their website, however, her line Dr Fit, which also makes swimwear, ensures that all pieces are made from ecological cotton and recycled polyester materials. As this service is order only, further measures to combat waste reduction have been tackled by the very structure of the business — only creating a piece when it is needed.
Diana d'Orville
Sustainable luxury on the French Riviera. Their motto is undoubtedly enough to make us delve into the world of d'Orville's custom made pieces.
Mainly through their continued support for traditional and local tailoring techniques, short production cycles, 'upcycling' initiatives, as well as using mainly natural, biodegradable and recyclable fabrics, the collection is taking luxury fashion one step further into the realms of sustainability. The brand is focused on human and labour rights too, as all their lines are made in the south of France.
Using the know-how of French craftsmanship as well as what they call "family silks", the brand keeps its manufacturing close to Monaco. Marketing themselves as "ethical & sustainable luxury", Diana d'Orville also package and ship everything via French partners.
Our top pick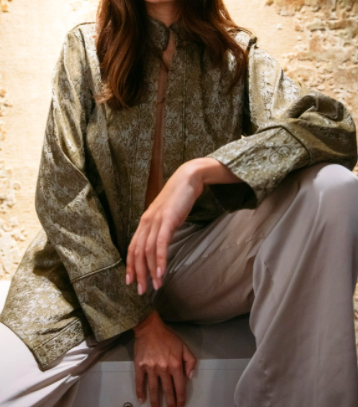 Soliman brocard jacket — named after Suleiman, the longest ruling Sultan of the Ottoman empire, this stunning jacket will transport you straight to Constantinople. Bang on trend with its fitted cut and embossed stitching, this lightweight jacket will again see you through some cooler evenings while you enjoy an Aperol spritz by the Mediterranean.
Alter Designs
We couldn't possibly write an article about sustainable fashion on the Riviera and not include the Princely Family's own designer and sustainable pioneer, Pauline Ducruet. Daughter of Princess Stéphanie of Monaco, Ducruet launched her own unisex brand last year Alter Designs. She has since walked multiple fashions with her label, showcasing her designs in Paris and New York, as well as crafting a pop-up shop here in Monaco some weeks ago.
Alter Designs is deeply influenced by Ducruet's uncle, Prince Albert II, and his own work with environmental protection. Only using recycled denim and silks, the label is again battling water waste in material production. According to the Higg Index, silk is one of the most damaging materials to the environment, given the vast amounts of water required to produce it. Although reusing silks sourced from just over the border in Italy, this brand is, like Lavacopenhagen, not entirely sustainable. Yet the slow fashion concept that it follows, producing two collections a year rather than six, is further testament to their eco mindset.
Our top pick
Draped tunic from the SS20 — the epitome of Alter Designs' latest collection, the shimmering cream or vibrant yellow satin is a statement to take to the Rock this summer.