Going organic in Monaco: more expensive but why not?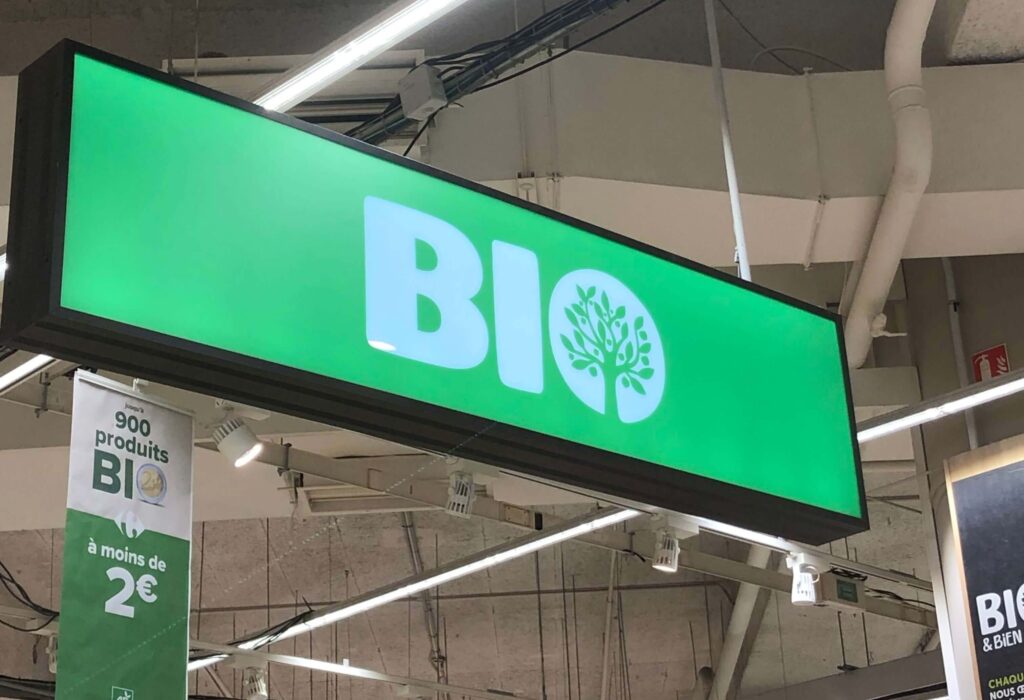 "Organic is expensive": it's perhaps a bit of a cliché, but not necessarily untrue. We went to meet the Principality's organic lifestyle consumers. 
The price of organic products is said to be 75% higher on average than that of conventional products. At least that's what the food retail magazine Linéaires revealed in 2020.  This average does not apply to all products, but can certainly be felt in our wallets.
Cheaper in the supermarket?
In the organic section of Monaco's Carrefour, the largest supermarket in the Principality, a few customers stroll along the organic aisles. There is a lot of choice. There are four complete shelves for organic products, in addition to the fruit and vegetable counters.
In Christian's shopping cart: milk, crisps, apples, condiments, all with the organic logo. This pensioner lives alone and when he goes to the supermarket once a week, he makes a beeline for the organic section. "Organic is more expensive but I am retired and I want to treat myself. I don't look at the prices," admits Christian, who lives in Menton. He is also a regular at an organic store there: "Yes, it's more expensive than here but they stock local products there so I don't mind."
Four packets of organic semolina in hand, Cindy steers clear of the organic fruit and vegetable counters. The Monegasque resident's diet is 90% organic: "[Organic fruits and vegetables] are the only things I don't eat all the time, fresh vegetables are much more expensive."
A few random examples. A kilo of organic courgettes costs €4.39, compared to €2.69 for a non-organic kilo. Organic cucumber costs 20 cents more than its conventional equivalent, while a kilo of organic tomatoes costs 1.30€ more. Organic apple and kiwi lovers will pay €3.29 for four and €3.59 for six respectively.
Specialist stores: more expensive but popular
The customers we met in the supermarket also frequent specialist organic shops. There are about a dozen of them in the Principality.
Biocoop is certainly the best known, and is the biggest chain of organic stores in France. We talked to the customers about the recent price rises in France, due to inflation (+ 1.26% in March compared to last year, according to a study by NielsenQ). Organic food isn't exempt, but regulars, like Olga, aren't surprised: "Everything is going up! Restaurants, shopping, it's only natural that organic is even more expensive!"
SEE ALSO: Have your say: your feelings about spending power as an employee in Monaco
Biocoop's prices are already slightly higher than Carrefour to start with, but the 30-year-old comes here for a specific reason. "I am allergic to lactose and I can only find what I need in this store, they even have totally organic household products that are excellent for the home," she smiles.
Further on, Isabelle and Franck's arms are full of vegetables. According to them, "Biocoop is ahead on quality compared to a supermarket" and this "justifies a slightly higher price."
A "better quality" that the majority of the clients we met championed. For Christian, Cindy, Olga, Isabelle and Franck, a 'healthier' lifestyle – implicitly promised by organic food – justifies a more expensive diet.
In Monaco, on the shelves of supermarkets or in specialisT shops, price is a key factor in organic food, but quality seems to take precedence over everything else.