Olivier Wenden: "We must remain optimistic about the environment"
The vice-president and managing director of the Prince Albert II Foundation spoke about his career, his achievements, and objectives for 2023. 
With his packed diary, it was difficult to find a slot to meet Olivier Wenden. We did manage it however, one January evening at the headquarters of the Foundation – a fabulous Belle Époque house on the Boulevard de Suisse – whose role has been to fight climate change, since its creation in 2006.
He started by looking back with great modesty over his prestigious career. Growing up in the Principality, Olivier Wenden attended the Lycée Albert I before moving to Paris and then to Bordeaux to study Political Science. He completed a Master's degree at the Sorbonne in international trade, while attending summer camps in the United States.
Eager to serve Monaco
"I knew very early on that I wanted to work in diplomacy, to serve Monaco. And when I finished my studies in Paris in 2003, I came up against a harsh truth that threw me. As a Monegasque, it wasn't so easy find a job in the capital, because there were still certain misconceptions, that we didn't necessarily need to work," recalls Olivier Wenden, who seized the opportunity to join the Grimaldi Forum shortly afterwards. He describes this experience as "two absolutely incredible years" during which he marketed the major summer exhibitions.
After spending a year creating his own company, Olivier Wenden joined Stéphane Valeri's team at the National Council. "Thanks to my level of English and my international outlook in particular, I was soon put in charge of international relations as well as the communication department. " A five-year mission that he left to join the Department of Foreign Affairs and Cooperation in the Prince's Government.
A phone call changed everything
A year later, Olivier Wenden received a call from the Prince Albert II Foundation. A new position had been created: Executive Director, one he would hold from 2014 to 2019. "It was a pretty incredible opportunity, I was 33, and there were a lot of challenges to overcome. Plus working for the Sovereign is a great challenge in itself."
A challenge he has certainly met, since Olivier Wenden was promoted to vice-president and managing director of the foundation in October 2019. His remit? "To implement the strategy approved by the Board of Directors under the Presidency of the Prince, to accompany him on his travels for the Foundation's events, such as the COPs, to lead the staff at headquarters, but also the Foundation's network of foreign branches," he explains, adding that the next one, the eleventh, will be in Sao Paulo, Brazil.
"We hope the following one will be on the African continent. We need to have a foothold in the countries that are the worst polluters, such as China, but also in those that can provide the best solutions. Brazil is vital because there is the Amazon region, for example."
Olivier Wenden is also involved in what he calls "the lifeblood" : fundraising. "We can be proud today of the fact that we can invest or give out up to ten million euros per year, between our actions and the projects we support."
Projects by the thousands
When Olivier Wenden is asked to name a particular project that is close to his heart, he finds it hard to answer. "The Prince himself says that it is very difficult to name just one of the Foundation's projects, but we can be proud that in just 16 years we have managed to save species such as the bluefin tuna, the bearded vulture and the bald ibis. Monk seals are the next challenge," the enthusiast announces.
Another reason for these successes is that the Foundation is chaired by a sitting Head of State. "The Sovereign's positive image, his very sincere personal commitment that is recognised by everyone, his credibility and that of the Princes of Monaco in general, opens ears," Olivier Wenden is pleased to say, and he proudly acknowledges that he has "a bond of respect and trust" with the Prince.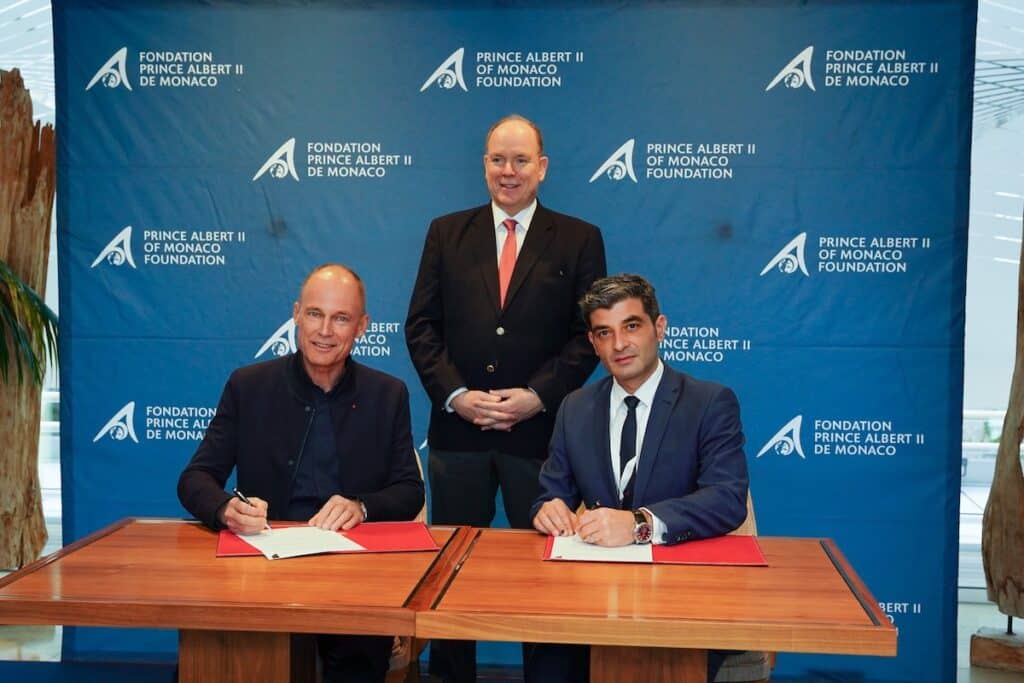 The Vice-President has his work cut out in 2023. "We are launching an initiative for young leaders under 35, as well as an initiative on forests and indigenous communities, to give them more of a voice. This will take the form of a major seminar at the end of November 2023. We are also consolidating what already exists, such as Monaco Ocean Week, which involves 45 events over the week, and the 16th Foundation prize-giving ceremony which will take place in Philadelphia on 27 October 2023 in the presence of the Sovereign."
His relationship with nature
With part of his family from Haute-Savoie and another from Corsica, Olivier Wenden was introduced to nature conservation from a very early age. "My brother and I were lucky to have been brought up with common sense: little waste, not too much plastic at home.. And since I became a father, I am all the more careful about what I eat, and in general about what I buy," he confides.
And when asked whether he is optimistic or pessimistic about the future of the planet, he immediately replies: "We must remain optimistic. There are some very good things happening, despite the frustrations. We can see that solutions exist. We can see it in the new generation. Their purchasing decisions are different as ethics and the environment come into play. The second-hand market is also growing. As a result, there is also a growing awareness on the part of companies and a change is taking place."