Parking in Monaco: all you need to know
Whether you are a tourist, employee or resident, we can tell you where to find a spot, and at what price.
For aesthetic reasons in particular, there is little on-street parking in Monaco. In fact, there are only 1000 places available. Apart from free parking for electric cars and for all motorists on Sundays (on-street only), the usual rate is €2.40 per hour, payable directly at the parking metres or via the PayByPhone and Monapass applications. You should also be aware that the maximum parking time is two hours in most neighbourhoods. Fee-paying car parks are therefore the best option.
Where to park in Monaco?
The Annonciade, the Grimaldi Forum, the Jardin Exotique… Around forty public car parks and nearly 20,000 parking bays are dotted around the Principality.  An interactive map lets you see where spots are free, in real time. Enter the desired location and the intended parking time, and it will show the nearest car park by means of a flashing blue dot.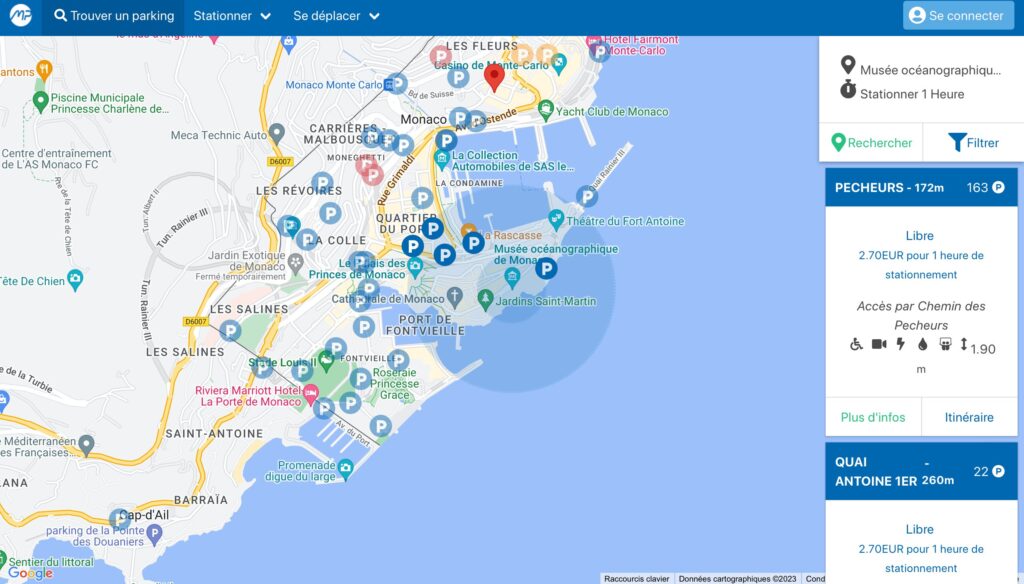 For tourists who wish to visit the Prince's Palace or the Oceanographic Museum of Monaco, the best option is the Parking des Pêcheurs, for example.
A banner on the right also shows a full list of all car parks. To make it even easier, the street from which the car park can be accessed and a prediction of the number of remaining spaces are also provided.
Car park rates
With the exception of six specific car parks (the two park-and-ride facilities and the Abbaye, Place d'Armes, Les Oliviers and Bellevue car parks), all Monaco car parks charge the same rates.
It is free of charge if you stay for under an hour. However, charges are 2.70 euros for 1hr15, €4.20 for 1hr30, €5.70 for 1hr45 and 7 euros for 2 hours. There is a sliding scale of charges, with 3 hours of parking costing 11 euros, and €14.50 for 4 hours…
Prices are lower at night – between 7pm and 8am –  at €0.70 per hour. For 24-hour parking, the price is 20 euros. Lost tickets incur a flat charge of 25 euros per day.
Please note: entry is not free on Saturdays or Sundays, the weekend rates are the same as those charged during the week.
Monthly season tickets
For more peace of mind, it is possible to rent a parking bay in a public car park in Monaco. Convenient, but as L'Observateur de Monaco reports, 10,000 applications are currently pending. Priority is given to Monegasque residents who do not have private parking in their building.
Principality employees can also apply. Priority is given to drivers who drive electric vehicles and/or have a carpooling subscription.
Rates were increased for the new year, with monthly season ticket rates as follows: for Principality residents, the subscription is €112.50 per month in 2023 (compared to €107.50 in 2022) excluding discounts.
For employees, the 2023 subscription charge is €98 (€93.50 in 2022) per month, for 300 hours of parking. Civil servants and government employees have discount rates. Finally, for employees who have a season ticket in a park-and-ride facility (details below), a discount of €42 is applied. The season ticket therefore costs €56.
Park-and-ride is cheaper
The aim of park-and-ride facilities (also known as city entrance car parks) is simple: to ensure that as many motorists as possible park on the outskirts and therefore ease congestion on the Principality's roads. For the moment, the only park-and-ride facility near Monaco is the Zac Saint-Antoine in Cap d'Ail. Another is planned for 2024, at the Jardin Exotique.
Commuters and visitors will have the choice of travelling to their place of work, or elsewhere, between buses with a free subscription, or the Salines tunnel which, once completed, will enable them to reach Princess Grace Hospital and Fontvieille on foot.
Without a subscription as mentioned above, the park-and-ride facility is still cheaper: 4 euros per two-hour period, compared to 7 euros in a 'normal' car park.
Handy:
---
Artificial intelligence in car parks… 
While number plate scanning has been in operation for more than ten years at the entrances and exits to most Monegasque car parks, new artificial intelligence sensors should be appearing in the coming months. The aim is to eventually do away with paper tickets.