The #100 Nice-Monaco-Menton bus in 2023: routes, timetables, fares, changes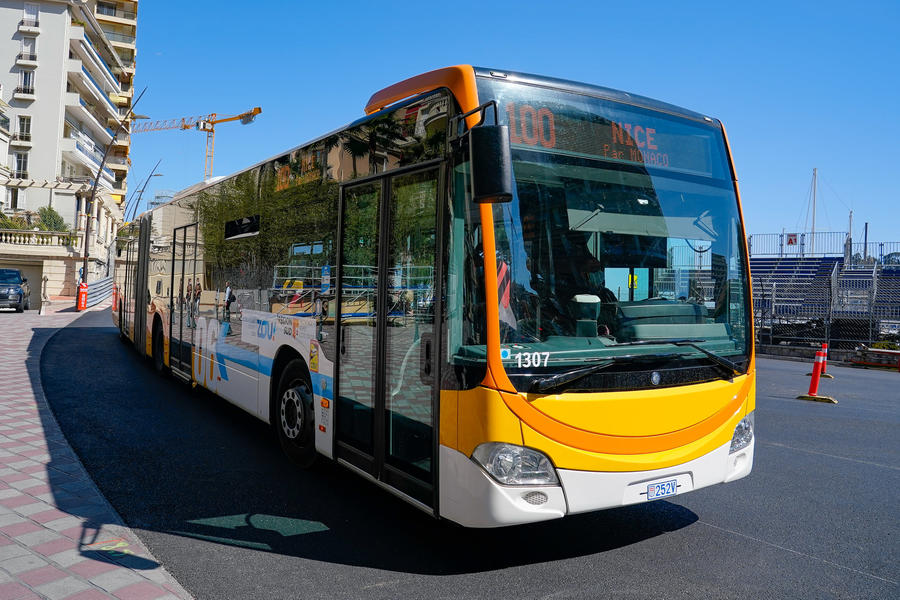 The n° 100 bus route is currently divided into two routes – 607 and 608.
As the work at Roquebrune-Cap-Martin is not finished – it is due to last until April 2024 – the n° 100 Nice-Monaco-Menton route is still split into two routes: n° 607, which runs between Nice and Monaco, and n° 608, which goes to Menton.
Maps and timetables
The n° 607 covers the usual route between Nice and Monaco to the Saint-Roman MC stop, via Place d'Armes. This is the route and timetable:
NB: the Port Lympia stop in Nice, which is the first/last stop, has been moved. It is now called Square Normandie and is located in the Nice Riquier district, near the Carrefour TNL.
The n° 608 (Menton-Monaco) leaves Menton towards Monaco-Place d'Armes, then follows a diversion via the "Moyenne Corniche" then back towards Roquebrune-Cap-Martin at the "4 chemins" roundabout. This is the route and timetable: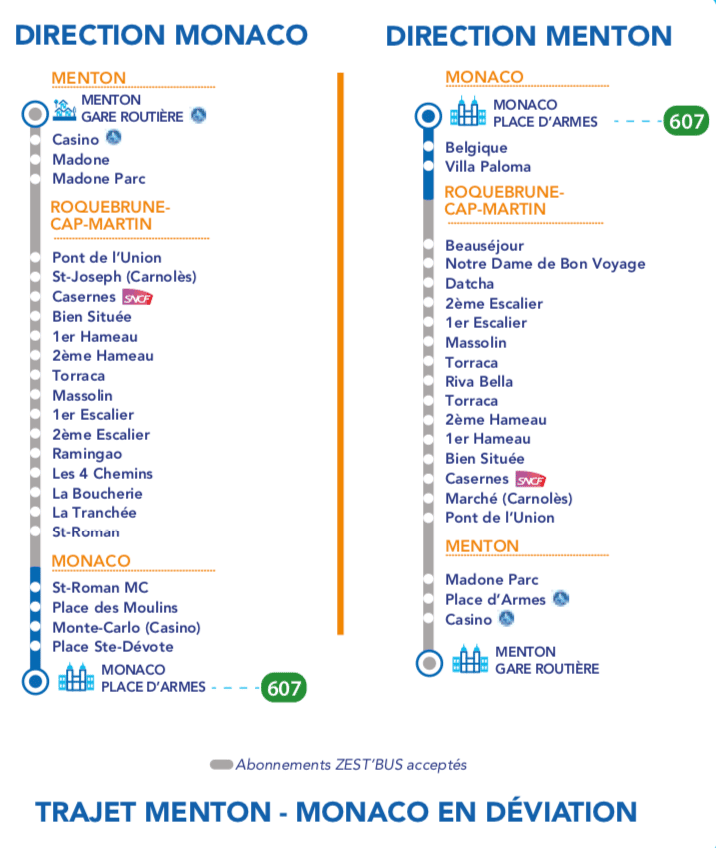 It runs Monday to Friday from 5.55 am to 9 pm, with buses every 15 to 30 minutes, and at weekends from 6.20 am to 9.09 pm, with buses every 20 to 45 minutes.
People who need to travel during the evening, or at night, are welcome on board the n° 601 (formerly called Noctambus). With a shuttle service every 1.5 hours, it runs from Menton Bastion to the Parc Phœnix every Thursday, Friday and Saturday evening, and every evening in July and August, from 9.30pm for departures from Nice, and from 11.15pm from Menton), as well as on the eves of public holidays.
It serves Villefranche-sur-Mer, Beaulieu-sur-Mer, Èze-sur-Mer, Cap d'Ail, Roquebrune-Cap-Martin and Monaco, but it is possible to get off between stops. This is the route and timetable:
Fares
On route 100, split into 608 and 607, a "Ticket Azur" costs €2.50. Tickets can be bought directly from the driver in cash (credit cards will be accepted soon), online or in the usual sales outlets, and will allow you to travel between Nice and Menton, switching from one bus to another.
You can use Lignes d'Azur tickets if you are travelling between Nice and Monaco without entering the Principality. Similarly, if you are travelling between Monaco and Menton, without entering the Principality, Zestbus season tickets are accepted (grey area on the map).
Please note that Lignes d'Azur and Zestbus urban tickets are not accepted on route 601. Budget for €2.50, like during the day, if you are buying your ticket from the driver.