How does the British press view Sir Jim Ratcliffe's interest in Manchester United?
The CEO of the Ineos group and owner of OGC Nice is vying with Qatar to buy the legendary Manchester club and is said to be the preferred choice of Red Devils fans and many followers in the UK.
Spotted at Old Trafford a few days ago, Sir Jim Ratcliffe and his team spent time at the Carrington training centre and met with the team's coach Erik ten Hag, as well as Red Devils' chief executive Richard Arnold.
In full seduction mode as he tries to buy his beloved club, and competing against Sheikh Jassim Bin Hamad Al Thani, chairman of Qatar Islamic Bank (QIB), the Monaco resident is said to be confident about his chances of acquiring Manchester United, currently owned by the Glazers family.
And with good reason. Sir Jim Ratcliffe is the more popular choice among United supporters, according to a poll by The Athletic. The owner of OGC Nice appears to have the fans' vote, ahead of the Qatari royal family. A few weeks ago, one of Manchester United's main supporters' groups warned against a takeover of the club by a country where homosexual relationships are illegal. According to The Guardian, Sir Jim Ratcliffe is more in keeping with the Manchester fans' values.
Enough to make him the "white knight" who can save Manchester United? While some supporters remain cautious about the British billionaire's offer, pointing to doubts over sporting impartiality, since Ineos also owns OGC Nice, most fans stress Sir Jim Ratcliffe's attachment to Manchester, a city where he was born and raised.
The same could be said if the Qatari bid were to go through, since Paris Saint-Germain is owned by Qatar Sports Investments. As they are aware that this could be an issue for UEFA, Qatar has legally distanced itself from QSI via the Nine Two foundation, led by Jassim Bin Hamad Al Thani. Sir Jim Ratcliffe and Ineos would have to follow the same pattern to clearly separate Manchester United and OGC Nice.
In comments reported by The Times, Sir Jim Ratcliffe had said that his was a domestic bid, setting himself apart from the Qatari offer. "We want a Manchester United anchored in its proud history and roots in the North-West of England, putting the Manchester back into Manchester United."
Dave Brailsford already set to work by Sir Jim Ratcliffe?
Knowing that he has a real chance of getting his hands on England's most decorated club as he is (currently) the only opponent to Qatar, Sir Jim Ratcliffe has, according to The Times, already set the former boss of British Cycling and Ineos Grenadiers Dave Brailsford to work on a grand strategic plan, opening discussions with leading figures in recruitment, analytics, sports science, and infrastructure.
But Sir Jim Ratcliffe will not commit at just any price. The Ineos boss, who already owns OGC Nice, said as much to the Wall Street Journal, while Reuters says that any sale of United would likely exceed the biggest sports deal to date.
"How do you decide the price of a painting?" he said. "How do you decide the price of a house? It's not related to how much it cost to build or how much it cost to paint. What you don't want to do is pay stupid prices for things because then you regret it subsequently."
Among the obstacles that could frustrate Sir Jim Ratcliffe's bid is the Qataris' stated desire to buy 100% of the club and not minority shares. If the Glazer family decides to sell United, Sir James Ratcliffe would like to buy back their entire stake, which represents 69% of the club.
Disgruntled as they are with the Glazer family, which has run the club since 2005, Red Devils fans would prefer a full takeover, which is not what Sir Jim Ratcliffe's bid represents.
And while Sir Jim Ratcliffe's and Qatar's interests have had the most media coverage over the last few weeks, other potential buyers (from the United States? Saudi Arabia ? Asia?) cannot be ruled out from also entering the fray, as revealed by Sky News, which also claimed on Monday 20 March that Sheikh Jassim and Sir James Ratcliffe were preparing revised bids before the 21 March deadline. The fierce battle for the European giant is only just beginning.
---
Manchester United, the North Star in the Ineos firmament?
Sir Jim Ratcliffe has been investing heavily in sport since 2017, starting with the purchase of Football Club Lausanne-Sport in Switzerland, his first football investment, before taking over the reins of the British Sky cycling team in 2019, which has won everything in its discipline.
In the same year, Ineos officially bought OGC Nice before becoming an equal shareholder in the Mercedes F1 team in 2020 with Daimler and Toto Wolff.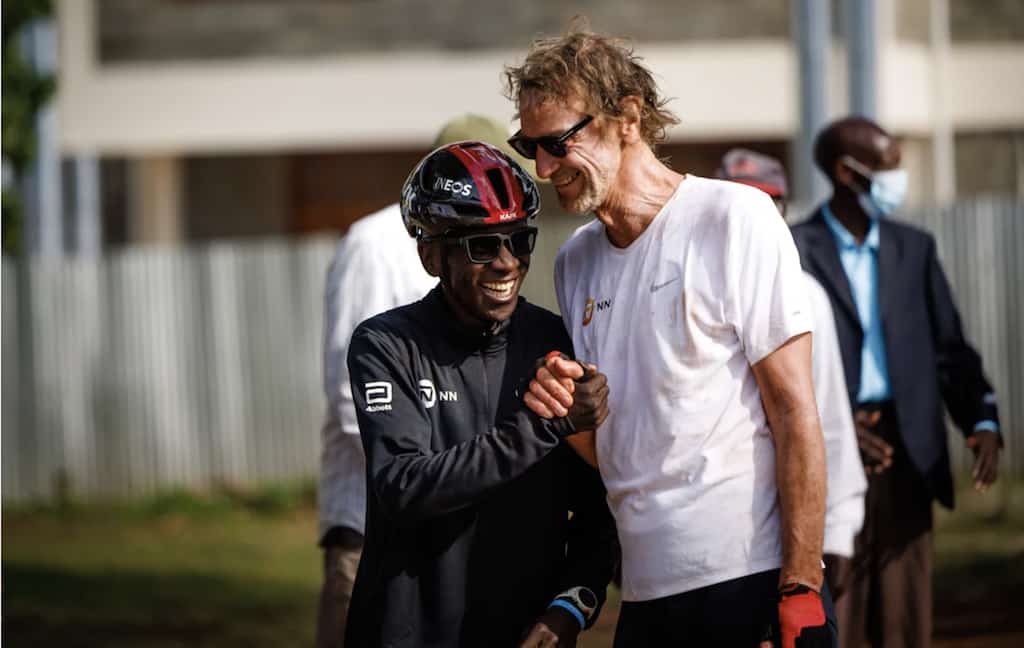 The following year, Ineos invested £110 million in Ineos Team UK's participation in the America's Cup. Close to Eliud Kipchoge, who broke the two-hour barrier in a marathon in Vienna on 12 October 2019 at an event called Ineos 1:59, Sir Jim Ratcliffe has also launched a new cycling academy in Kenya.
Recently, Jean-Claude Blanc, General Manager of Paris Saint-Germain for more than ten years, was promoted to General Manager of Ineos Sport, with the task of running all these projects. And Manchester United could well be the next addition to the chemical giant's sporting portfolio.