PHOTOS. Prince Albert II receives citizenship of Genoa
The Sovereign Prince was also able to attend the opening of the twelfth edition of the Euroflora exhibition.
Direction: north-west Italy. After visiting several municipalities in Puglia, in the south of the country, Prince Albert II headed for Genoa on 23 April. The Sovereign Prince attended the opening of the twelfth edition of Euroflora, an exhibition dedicated to flowers and ornamental plants, which carries on until May 8.
Accompanied by the mayor, Marco Bucci, the president of the Liguria region, Giovanni Toti, the president of Porto Antico Genova, Mauro Ferrando and the director of Euroflora, Salvatore Suracce, Prince Albert II discovered the Jardin Exotique (Exotic Garden) of Monaco's stand, which is taking part in the exhibition, with its trademark succulents and cacti.
The Sovereign Prince was also able to admire the "Princess of Monaco" rose, a magnificent bloom dedicated to Princess Grace, and grown in Genoa's own Parchi di Nervi rose garden. Princess Grace and Prince Rainier III visited this exhibition in 1966, and the Princess returned in 1971. The local authorities took the opportunity of presenting Prince Albert II with the Genoa rose but also a framed photo of his parents' visit more than fifty years perviously.
After the beautiful floral exhibition, Prince Albert II went on to the Giannina Gaslini pediatric hospital to meet nursing staff and sign the guest book. The Sovereign Prince then visited Casa Rossa, a recently opened home for the families of hospitalised children, run by the Gaslini Band Band charity. The Prince met with the association's volunteers, guided by Professor Pierluigi Bruschettini.
After a lunch with Prince Domenico Pallavicino, Honorary Consul General of Monaco in Genoa, Prince Albert II went to the Villa del Principe for a private visit. The Sovereign was able to see the interior of the Palace, before participating in a round table on the research work carried out in partnership with Genoese entities as part of the ongoing project to restore the frescoes in the Prince's Palace in Monaco.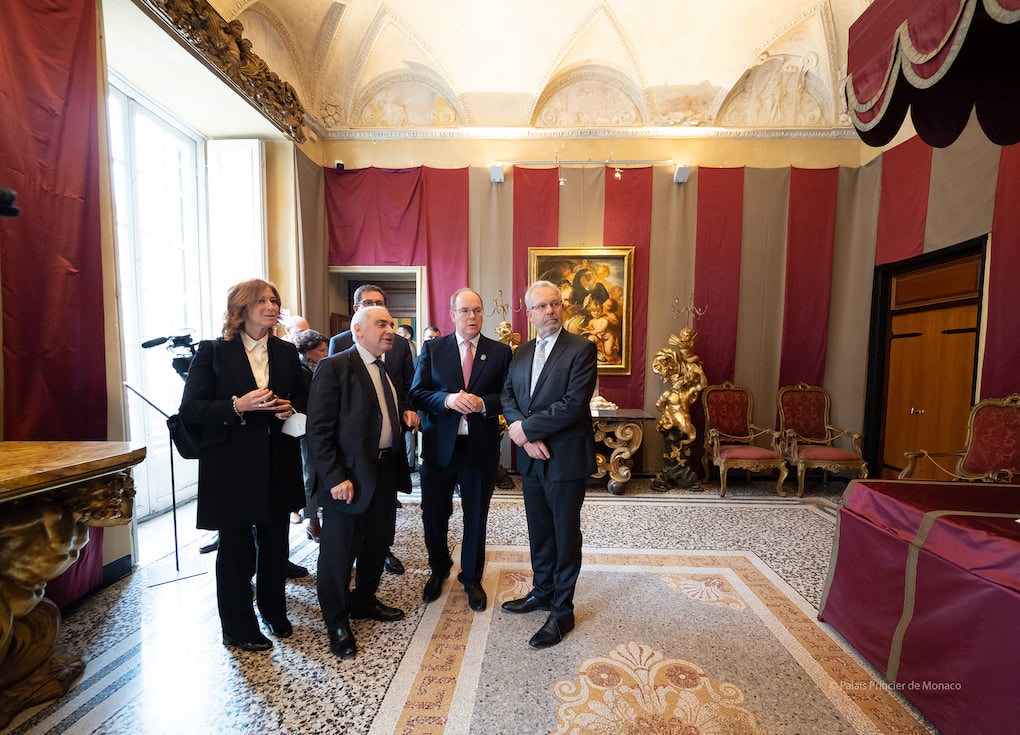 At the end of the day, Prince Albert II took part in the third edition of the Festa della Bandiera, at the Palazzo Ducale. Organised by Genoa's City Council, this day celebrates the white flag with a red cross that has been a symbol of the city since the time of the Crusades. At the end of the ceremony, the Prince received the citizenship of the municipality of Genoa, after a presentation by the art historian Giacomo Montanari on the long-standing ties between Genoa and Monaco.